🚨Emergency Series🚨 Tenants and Rent with Sarah Coupland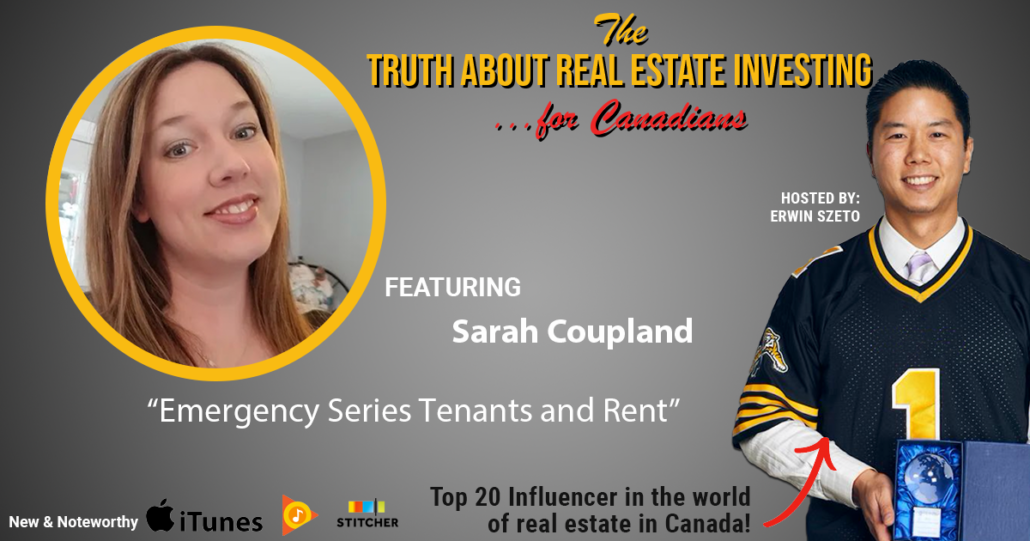 Hello Wealth Hackers,
I'm podcasting to you while in self isolation from my usual place, my home office. 
My fourteen days have passed since we returned from a wedding in Florida, fifteen now at time of recording and no symptoms to report. We got home before all heck broke loose and self quarantine was required so we were just extra diligent about our self monitoring for symptoms while maintaining our distance.
I want to thank everyone for all the birthday wishes that poured in! I'm surprised I didn't get any hate over what's going on in the stock market but I did get a nasty iTunes review…
The difference a year makes… last year I turned 40 and Cherry surprised me with a big party at the place that serves alcohol, allows throwing of daggers, axes, and archery.  You just can't bring your drink into the action areas.
40 something friends and family attended. Fast forward to the present, I enjoyed one of my favourite meals, a whole ton of sushi out of takeout containers at my kitchen table with Cherry and the kids.
No cake, no family and friends, not even my brother, sister and dad who all live within an hour.  My dad is a doctor and my brother has a biology degree so they know full well the importance of staying two meters away from non household members. 
Am I disappointed? Way more disappointed in my stock market losses, but in the grand scheme of things, life is pretty good. 
We have heat, a full tank of cheap gas in my car, we actually have too much food in the house as I'm receiving a quarter grass fed cow tomorrow. 
I read somewhere to compare our everyday life to the King of England in the 1600 or 1800's. I have a smart phone where I can google the answer to anything, watch cat videos, or Ripley's Aquarium live stream of feeding their penguins. 
I can get in my car and drive to the local Korean restaurant for my daily support of a local business and take out a lot of fine sushi. My expected life time is likely more than double that of a royal family member from the 1800's.
My kids are vaccinated for many horrific diseases.
The richest man in all the world in the 1800's didn't even have air conditioning, hence physical distancing to me is not a big deal.  
My kids are managing quite well. Our nanny keeps them busy playing board games, doing home work, riding their bikes in the court. 
Kids are so resilient, they have so little life experience that what ever they're doing they consider normal.
We bring the kids with us to the office that we are calling the wealth hacker hub to inspect the work and plan our furniture layout, colours, finishings, kitchen, most importantly our classroom, as we call it, where we will host our friends and clients.  
Check out on my website www.truthaboutrealestateinvesting.ca or on my Instagram Erwin Szeto for my kids chasing the laser from my laser measure.
When sports are back on, I'll have an 8 foot projector screen to watch the game with friends, talk real estate and stocks.  It will be legendary.
Anyways, my kids will grow up thinking it's normal to invest in the stock market, real estate, commercial real estate, etc…
They'll understand economics, sales and marketing, risk management.  All the basics of being an investopreneur.
They'll grow up thinking being one's own boss and owning assets is the path to financial peace vs. going to university and get a good job and pension.
There's nothing wrong with that path, my baby cousin is on the path as he's now a member of our Canadian Armed Forces as an aircraft mechanic and I couldn't be more proud.  However I'm raising renegades who will have no boundaries.
On to something about investing! We are finally turning around our stock hacking investments. I am down close to $40,000, however last week was neutral.
I just transferred more cash to my trading and account and we had a wonderful surprise, my wife Cherry funded her account and made a nice and tidy four figure return in USD, all realized profits.  
We are having a friendly competition of he vs. she trader and she's ahead of me this week as well. 
It is anyone's guess which way the stock market goes from here.
My best guess is we are a few weeks away from the bottom, things could get worse, yet I have positions that will profit in all markets, including having bought shares in a little company called Zoom.  A lot of you working from home are likely now familiar with the company.
More on the all new Stock Hacker Academy version 2.0 with the Godfather of stock option investing next week.
Quick announcement, we have moved our highly demanded free training sessions on the #1 investment strategy in real estate online. 
Normally we sell out in hours of an email going out. The room we reserved can only hold 50, as per fire code. However the show must go on.
This strategy, that will protect you in down markets and accelerate your returns in up markets, is a must know.
For now these classes are free, social distance friendly and I personally attend them so if you want to come by say hi, learn the #1 investment strategy that is practiced by all the top investors I know including today's guest then you'll want to sign up at https://www.investortraining.ca/freeclass
In the real estate world, the top 2 concerns are tenants not paying rent and to defer mortgage payments or not to defer.
Our JV partner went ahead and deferred one of our mortgages for six months with one of the major banks.  All she did was phone in. Wait times are long but it was pretty easy.
Please do be sure to read and understand what you are doing. The best terms I'm hearing is the deferred mortgage payments are spread over the remaining years of your entire mortgage and not just the term, which to me is fantastic. 
All lenders are different, so get your info directly from the lender. I'm lucky to be part of the iWIN community, so I'll get all the real world updates.
Do keep in mind your other expenses: property taxes, utilities, phone, car. I'm hearing deferrals available everywhere should you be in financial distress. 
Take care of your mental health, yes, however, taking care of your financial health will greatly improve your stress levels.
🚨Emergency Series🚨 Tenants and Rent with Sarah Coupland
Tenants under financial distress and their ability to pay rent is the subject of this week's interview.
This is the first in a series of emergency webinars. I'm asking friends who are leading experts in the community for favours to come on my webinar and podcast to share what they are doing, starting with multifamily expert and investor Sarah Coupland.
She is a talented multifamily investor, owner of https://tagproperties.ca/ with over 10 years experience. Sarah's a friend, my regular go to for tenant challenges, and when you listen to this interview you'll understand why. 
Download the letters to tenants here:
Letter for St. Catharines Tenants
Without further ado, I give you Sarah Coupland.
To Listen:

To follow the Infill developers:
TAG Property Management: https://tagproperties.ca/
Sarah's website (coming soon): www.sarahcoupland.ca
Instagram: https://www.instagram.com/couplandsarah/?hl=en
NO MORE Confusion
After all the Youtube videos, books, and forum posts, you're probably still left with questions. Starting in real estate is a tricky thing.
Frustrated beginners often ask how a legal basement suite conversion actually works. Most of the time we can only give general answers. But now, we get to dive in.
At this in-depth, free class you'll learn how to take your first steps as a real estate investor.
Nothing is held back. Everything from analyzing basement suite conversion deals, to renting out your first property at a profit, and even how to refinance and do it all again!
More secrets you'll uncover are:
Profiting in a HOT market…

Municipal bylaws to watch out for…

Mortgage terms that favour refinancing…

AND one barely used tactic for higher appraisals…
If you're frustrated, unsure of how to get started, this is for you.
 Sign up now for the Invitation List and be one of the first to get an invite to the next class.
Sponsored by:
Infinity Wealth Investment Network – would you like to know how our investors returned 341.8% on positive cash flowing real estate over the last five years? On average, that was 68.4% per year, just imagine what winning in real estate could do for you. If you would like to know how we did it, ask us how by calling 289-288-5019 or email us at meaghan@infinitywealth.ca. Don't delay, the top markets we focus in are trending upward in price, so you can pay today's price or tomorrow's price.
Till next time, just do it because I believe in you.
Erwin
Hamilton, St. Catharines and Toronto Land Development, Real Estate Investor, and soon to be builder.
W: erwinszeto.com
FB: https://www.facebook.com/erwin.szeto
IG: https://www.instagram.com/erwinszeto/

https://www.truthaboutrealestateinvesting.ca/wp-content/uploads/2020/03/Sarah-Coupland.png
630
1200
Erwin Szeto
https://www.truthaboutrealestateinvesting.ca/wp-content/uploads/2017/06/TruthRectangleLogo.png
Erwin Szeto
2020-03-30 07:30:00
2020-04-03 15:34:52
🚨Emergency Series🚨 Tenants and Rent with Sarah Coupland