Building a 7 Figure, 100 Unit Airbnb Business By Age 27 With Avery Birch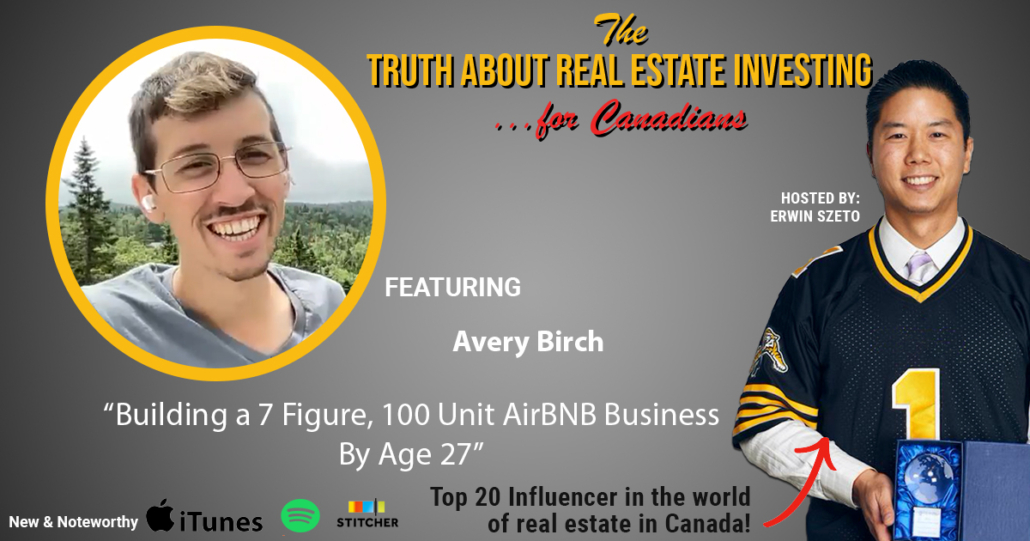 Hello, Real Estate and Stock investors, AKA Wealth Hackers!
How's your summer going? Best summer since 2019?  I hope so. 
Cherry and I are having a blast and have much to be grateful for.
One of our Accounting clients, a power couple tearing things up in the multifamily space, invited us to Sherkston Shore, a private summer resort of vacation properties on the beach, for fun in the sun and a catered BBQ dinner back at their house in the resort.
 

 

View this post on Instagram

 
The day was awesome for many reasons. 
Other than hanging out outdoors, Cherry and I got to meet and network with some movers and shakers from the Keyspire community, real estate investors with 40-400 unit portfolios and growing.
I'm usually socially awkward at these types of events when I don't know anyone, but we all had real estate in common, so it was cool to mix family, fun, business and learning.  
Hopefully, I wasn't too prying with all my questions; I'm naturally inquisitive and firmly believe learning is through listening, not speaking, and getting invited to more Keyspire meetups… So much fun to learn, yet so little time.  
I hope you're all maximizing your summer and time as it's the most precious resource. 
Building a 7 Figure, 100 Unit Airbnb Business By Age 27 With Avery Birch
Seeing how much folks are travelling these days, a trend I expect to continue, how do real estate investors capitalize?  
Well, today, we just so happen to have an Airbnb expert who manages 100 doors for Airbnb use and only owns one of them, a 250-acre property he's going to develop into a vacation resort. Wait till you hear the numbers; they will astound you!
I met Avery Birch at a conference in Quebec City a few months ago. Having real estate in common and 7-figure entrepreneurs, we connected right away.
Do you see what extent I go to to bring you, my 17 listeners, interesting guests?
Since covid restrictions loosened, I've really enjoyed getting back out there and networking with like-minded investors and entrepreneurs.  
If you're looking for the next can't-miss conference, you'll want to save the date, Saturday, November 12th, all day for the Wealth Hacker Conference, live and in-person near the airport with plenty of free parking.  
We've hired speakers and sponsors for everything you need for your most efficient path to your financial goals so you may have more freedom with how you spend your time: building your own business, retirement, travel, etc.
After interviewing Avery, maybe I'll diversify a bit into AirBNB because with all the experience Avery shares today in operating 100 Airbnbs, we get an insider's look into which Airbnbs offer the highest returns, and it's not what you think. 
Please enjoy the show. 
This episode is brought to you by me! We don't have sponsors for this show, I only share with you services owned by my wife Cherry and I.  Real estate investing is a staple in my life and allowed me to build wealth and more importantly, achieve financial peace about the future knowing our retirement is taken care of and my kids will be able to afford a home when they grow up.  If you too are interested in my systematic strategy to implement the #1 investment strategy, the same one pretty much all my guests are doing themselves, then go visit www.infinitywealth.ca/events and register for our next FREE Online Training Class.  We will be back in person once legally allowed to do so but for now we are 100% virtual.
No need for you to reinvent the wheel, we have our system down pat. Again that's  www.infinitywealth.ca/events and register for the FREE Online Training Class.
This episode is also brought to you www.stockhackeracademy.ca where everyday real estate investors learn the best practices in stock investing to earn cash flow in about 15-30 mins per day from their mobile phones. After real estate, Stock Hacking is the next best hustle as you've heard from many past guests on this show. Among our students last year, 31 trades were shared with them. 30 were profitable for an over 96% success rate and 12% return on capital. I will be giving free demonstrations online, very similar to the one I gave my kid cousin, a full time musician and he just made 50% return in 2021.  Past of course does not predict the future but if you'd like a free demonstration go to www.stockhackeracademy.ca in the top right, click FREE Demo.  At the demonstration I'll have special bonuses. We do not advertise publicly for all my favourite listeners and I only have two more demos to give in the next few weeks.
Don't delay www.stockhackeracademy.ca, what I consider the future of side hustles with real estate so unaffordable for many.
We're hiring!
Just a friendly reminder that we are hiring more investment Realtors who want a full-time challenge to help our clients, regular everyday people, mostly from the GTA, invest in the top investment towns west of the GTA. 
This is for driven folks who want to multiply their current incomes.
APPLY HERE: https://www.infinitywealth.ca/hiring
To Listen:
Audio Transcript
**Transcripts are auto-generated.

Erwin  
Greetings everyone, real estate investors and stock investors, aka wealth hackers, as I like to call them, How's your summer going? Best summer since 2019. I certainly help So Jerry and I are having a blast and have much to be grateful for one of our accounting clients AJ Callen and Manpreet Hendra superpower, a couple, I think, most know, AJ is retired engineer, and he went full time in real estate, and around the mid round, 2015 ish. And Manpreet is extremely popular real estate lawyer. She's done some of our deals. We've referred her clients in the past. They are a super power couple, and they're tearing things up in the multifamily space. No surprise there. Everyone in the spire knows them. They invited us to I don't know why. They invited us as little plugs Jerry and I, my family and my kids. They invited us to search the shore, which is a private 500 property, summer resort, and they're all vacation properties. So it's a three season resort. None of these properties are winterized. Some of them are trailers, some of these are telling trailer park but a bit nicer a lot of these houses are quite nicely renovated, including AJ Manpreet, has quite nicely renovated their properties not quite on the beach, but we met on the beach, there is a beach within this rich summer resort for some fun in the sun, and a catered BBQ dinner back at their house, which is also within their resort. They're celebrating their 10th anniversary, and party and style. Because it's kind of like we're partying like it's 2019. With COVID restrictions a lot reduced, the entire thing is done outdoors. So that's very nice. The day was awesome for many reasons other than of course hanging out doors. Cheering I get to meet and network with some movers and shakers from the keestrack community real estate investors with like as little as 40 doors to 400 doors and growing. Normally, I'm pretty socially awkward at these types of events, like regular, you know, regular like weddings and anniversary parties, where I don't know anyone. But in this case, we all had real estate in common. So it was cool to mix. Family Fun. And kids are they're going to beach and join the barbecue joints.
Erwin  
At this resort, and pretty much all the property owners own one or two golf carts. So my kids and I took a Jays actually is actually we took Manpreet Sacco cart, golf cart for a ride. It's a bit nicer than your typical golf cart. Anyways, I posted on my Facebook, but it's fun to combine family and fun and business and learning. Hopefully it wasn't prying with all my questions. I asked a lot of these investors a lot of questions what they're up to what are they seeing opportunity, as I'm naturally inquisitive, as you can probably tell from the show. And I firmly firmly believe that learning is through listening that speaking. That's why you don't see me speaking much and letting the people who know what they're doing talk and hopefully I get invited Marquis buyer meetups, it was a lot of fun to learn a lot and so little time. Hopefully, you're all out there maximising your summer in time, as time is your most precious resource. See how much folks are travelling these days to try and extract to continue? As I record Airbnb reports, their earnings today, it's August 2, I imagine they're going to kill it. And just from experience and talking to other Airbnb investors, they're all pretty booked. So it sounds like yeah, travel travel is is hot these days and I expect the trend to continue. So how do real estate investors capitalise? Well today it just so happens we have an Airbnb expert who manages 100 doors for Airbnb use, and only owns one Wildling ones one of those properties. The other 99 are not owned by him. He manages them for other landlords. Avery actually recently bought a 250 acre property, he's going to develop into a vacation resort, similar ideas where I was just talking about insurance in the shirts an example. But wait to hear the numbers. They will astound you. I'm at Avery birch at a conference in New Mexico just a few months ago, I was having real estate in common and being filled with seven figure entrepreneurs we connected right away. So we've been we've been texting we've been chatting our zoom booked with them I think tomorrow as well to just chat about some other business opportunities. But do you see what extent I go to to bring you my 17 listeners interesting guests. Every is definitely interesting. Ever since COVID, restrictions loosened. I've been enjoying going back to conferences and networking events with like minded investors and entrepreneurs. So if you're looking for the next camp Miss conference, you'll want to save the date, Saturday, November 12. All day for the wealth hacker conference live and in person, there's no zoom option. There's no virtual option near the airport with plenty of free parking, just go to www dot while hacker.ca for details. And also if you're following me on social media or on my email list, you'll see opportunities for no save money. We have promos running from time to time, but the truth about the conference pricing, the sooner you buy, the more you save, because the prices will just consistently go up until the date of the event. And if you're one of those who likes the VIP experience, those tickets will sell out. So you probably wanna take advantage of cheaper prices and making sure you actually get a ticket so you avoid disappointment. We've hired speakers and sponsors for all the things that you need to be on the most efficient path to your financial goals. So you may have more freedom in your life, and how you spend your time to be building your own business or folio, to be retirement to be travel, whatever it is, you're going to take away some have some takeaways from the conference wealth hacker.ca for details after interviewing Avery, maybe I'll diversify into Airbnb a bit because with all the experience every shares today and operating 100 Airbnb s, we get an insider's look into what which property style. For me, Airbnb offers the highest return, including what every avoids. And also he shares a story about how he identified properties to start managing for, especially for younger investors out there who don't have a lot of capital. Again, Avery does not own the vast majority of the properties he manages. So he actually gives some tips on how he got started. And I don't see why anyone and young hustler cannot do the same. Please enjoy the show. 
Erwin  
Hi Avery what's keeping you busy these days. 
Avery  
What keeps me busy running a skid steer, building roads that are new property. 
Erwin  
Okay, I'm cityfolk explain what that means. 
Avery  
I am running this piece of equipments to build roads, because in 11 days, we have our grand opening for our adventure getaway resort. I don't know if the video is clear, but got about 300 acres of wilderness and a lake and trying to get people in to see it. 
Erwin  
Alright, so the shameless plug, we do have a YouTube channel, folks. So if you want to see every we are doing this video, and Avery's background is stunning. So check it out on our YouTube channel as well. So every what it is in your background. 
Avery  
So what we're looking at behind me is I'm standing on the peak of a mountain overlooking a lake. And we're looking at Raw Nova Scotian wilderness is about 40 minutes away from the main city and just untouched forest. What we're trying to promote get people outdoors. 
Erwin  
Sounds amazing. Okay, so we are Canadians. Everybody that listens to this show. What's the main city Halifax? What is it? 
Avery  
Yeah, we're based out of Halifax, Nova Scotia. 
Erwin  
And I love Halifax. It's funny, because like when talking to people, oh, we're asking people about travel, like, Oh, I'm going to Nova Scotia. And like, that's very much like leaving the country it's like from from Ontario. It is it's very different colours are totally different, like car stop for pedestrians. 
Avery  
That is it's funny. We're trained at a very young age to do that. And so that's why it keeps working. 
Erwin  
Yeah. And so yeah. Again, I love Nova Scotia, I love vibe. So we got introduced through a mutual friend at a conference. So we both members of entrepreneurs organisation, for those who don't know, just stating facts, and I hate to brag about anything, members of entrepreneurs organisation are required to have a seven figure business US dollars. So that's a million dollars of revenue US per year. And every built the master pretty sizable, real estate business. Can you tell us more about it? 
Avery  
Absolutely. We've been operating for about five and a half years at this point. And over the course of this time, and through a pandemic, we've become the number one and the largest air b&b operator in Nova Scotia, in Atlantic Canada. And along the way, we've now grown to have 100 different properties under our management's and we've got about a staff of 20 people that run the show. Now we're growing into developing, which is why I'm standing on the peak of a mountain because it's the only way to get cell service, but we've moved from managing and to creating. 
Erwin  
Okay, so we'll get into the development because I want to get into it. But I want to know, folks understand how you would dig into managing 100 different properties. So you own all these properties. 
Avery  
We don't own any of the properties. I'm one of them. Well, we just got one. Wonderful 100 Okay, got it. Yeah, no, we don't own anything. We have either management contracts with the people who own the spaces, or we'll take on commercial leases in the right zoned areas and turn them into essentially a boutique hotel. But we're essentially catering to people that come into the city for seven days to 20 days. That's our typical. 
Erwin  
So what's gets gets covered in the news is often you know, we're a tenant, like a regular tenant will sign a lease for the landlord. And then without the owner knowing the operating Airbnb, is that what you accomplished? You duped 100 homeowners into renting out to you and you convert them into Airbnb? 
Avery  
I wish I was that interesting. No. Yeah, I hear that story a lot. To get our very first property I would say I wasn't very exact with what my intentions were. However, once So I had that one, I could point to it for all the ones to come and say, Look, we're successful. This is what I plan to do, please let me do this. And then later, I've become very close friends with the person who gave us the very first property. So we're all good. But yeah, it was a it was an interesting start. And then from there, we're 100%. aboveboard, and landlords love us because we are just super, super diligent. So we treat their spaces, like nobody else does. sort of funny. 
Erwin  
What's the terminology for this? There's all these new terms like house hacking, for example, I only learned like two years ago. Is there a common term for this? 
Avery  
Yeah, in in the short term rental space called Master lease. So you Google that master lease, short term rentals, you can learn all sorts of things about it. Essentially, we get a lease furnish rent for a markup, we're catering to clientele that need to be in for different things that a year. Interesting. 
Erwin  
Okay. Okay, just to put out a joke because it's in my head, I have to say it is in real estate here. Master bedroom is no longer the master bedroom. So that's the principal or the primary bedroom. So maybe, maybe you and I here, we'll we'll start the term primary lease. Funny, James, yeah, let's do it. He managed to start promoting it. We have primary leases. And then you'll coined the terms. 
Avery  
I sort of like that, like in pitch and saying, Yeah, we're the primary lease holder. And here's what we do. That's great. Thank you probably like that. 
Erwin  
Yeah, it's very politically correct. Because we're inclusive on this show. The capitalist socialist, we love them all here. As much as him today. What is the typical property is their typical property? Are you talking about apartment buildings? 30 units are you talking about like single family homes that on you know, on Main Street, Halifax,
Avery  
Anything go? The only one that we don't touch is condos. Some cities as we've looked to scale out our condo cities and some cities, our apartment cities, for instance, Calgary is primarily condos and Halifax is primarily apartments, they're completely flipped of each other. So well touch apartments will touch single family will touch duplexes, basically anything but condos is everything. And they each have different things we looked at, and we've got tools that we've analysed, but every different property has a different strategy. And what we start seeing over time is that different properties, they only have only so many buckets that we fit into. So once we've developed the strategy for X, when we see x come along, again, we just rinse and repeat. Yeah, I think that's a good answer to that. 
Erwin  
Tell me about Okay, so what would you do like a regular single family home? And a Suburban? Or actually, do you have a preference? Do you prefer a more urban setting, or suburban or rural, or you probably have a model for each, don't you? 
Avery  
Yeah. It's in different growth cycles of the business where the preference has changed. At this point. In our lifespan, we're now looking for very unique combinations, something that we can truly put our mark on, and no one else can duplicate. In the past, we've really focused on commodity I think Airbnb fell into two buckets, commodity, and once or niche. So for a commodity, there's no brand loyalty, except to Airbnb or VRBO, the platform, but that we're a brand within a brand. There's no loyalty for commodities, people need to be in the city, therefore, it will stay busy supply just always comes, it never stops. Unless there's a pandemic, then we're gonna get scrappy, or niches and once like what we're building, it's not a commodity. People don't need to be here, they will wants to be here. Therefore, loyalty means people come back, because it's unique. So there's two buckets that we really look at. I don't know how he got here. But fun fact, 
Erwin  
That's just a good point. But the journey like you didn't know what the journey would look like from the beginning. 
Avery  
No. One, like, let's get five. Let's get 25. Let's get to 50. And then before you knew it, okay, I think the idea of what we're doing now, 
Erwin  
Interesting, other than condos, is there any other property style that you don't want, 
Avery  
There's no style, it doesn't work. It just comes down to working with your neighbours and the rules on the environment. So condos have the most challenging environments, therefore, we don't even look at it. There's so much opportunity that there's no need for us to ever spend time there. You can you can run a condo it just takes extra work that we don't want to do. 
Erwin  
Right? Yeah, cuz it's, I live near Toronto. So it's a big, it's all condo people want to do it, but it's because they want they can't cashflow otherwise, but then your neighbours are not happy. 
Avery  
Yeah, it's it's extra work. Whereas in the park building, it goes through the management and they make a call. So when we come in and build a great relationship, we're there won't take. And we're starting to get into a situation where we've asked to say we'll take a whole floor. And that keeps it nice and separate versus an apartment building next door can be frustrating. So getting addition of doing a whole floor or a whole building, got it, the game changer total game changer, then we have complete oversight. And it's really helps. 
Erwin  
That makes a lot of sense. Because for example, if I'm on a guy's trip, and we know we're going to be rowdy, we'll ask the hotel when we book our rooms to be put in a section where no one else is. You're trying to do the same thing you're trying to isolate. That's a great idea, right? I'm an empathetic person, right? When I want my sleep, I want my sleep, I don't want to be disturbed. So please put us somewhere where we're not going to bother anyone else. 
Avery  
And if you said that to us, we would know exactly where to put you. No one ever says that that's actually very polite, 
Erwin  
At least a checkbox you put in like you're putting in maybe one of your forms. We do you need a place where you can be loud. four acre property where the the nearest neighbours half a mile away. 
Avery  
Oh, I'm gonna add that's incredible. You need to be loud. There'll be a checkbox. 
Erwin  
And maybe just be a group that you like, oh, sorry, we have nothing for you. Quiet or network? It's like a filter for like parties that you know. So you don't want them? Actually, can you do cater for party? Do you have any options for that?
Avery  
We don't, it's not our bread and butter. And some of our research along the way. We found some really cool spaces that do. And they can charge a premium. The one that I'll never forget, as I saw one in Montreal when we were looking at growth there. And it said party pad and, and like the walls were stainless steel and the rest was tile. It looked like at the end of each reservation, they came in with a friggin pressure washer. And just spray the whole place that like it like it was expensive. But it was like it was geared for parties. It's like a bachelor pad place. I don't know if Halifax would support that. Maybe just not a bread and butter. 
Erwin  
And then this seems like a pretty hot topic or hot button issue for people to who are avoiding doing short term rentals. And then also always, it often makes headlines as well. How do you prevent it? And when I'm trying to find party? I mean like excessive drinking, excessive substance abuse, excessive noise and property damage, of course. Yeah, sure, sure. But I'm talking about like, you know, five people having a beer watching hockey night in Canada. disrespecting disrespecting the state. Yeah, yeah, actually, as literally on the golf course. Yesterday, I was asked on the golf pro about they ever have problems. Yeah, we call the cops like, what are people doing? Excessive drinking, reckless driving with the golf carts. These things happen. 
Avery  
I think it depends on the location, we're mostly focused around commodity. At this point, we're just starting to build out niche. I suspect we're gonna have more of that, now that we're diving into that market. But if it was a golf course, that to me is not commodity that is niche. So probably more people have means that want to have parties will probably go versus on the commodity side. It's because people need it, they're not going on a party, they might be relocating moving into the country there temporarily as a student, very few people come to our spaces to just have a weekend away, only in peak season. But there's two things that really keep parties are people who disrespect the space away price and minimum stay requirements. That was a game changer. When we've had we've had problems in the past. There's got to be at least one. And it's almost like clockwork, but I think we might have snapped the habit. It was like once once every year for four years in a row was a bagel, drug party. And we'd have to go and it's like, it was like clockwork, yeah, there it is. All right, do the thing. We got used to it, but never any damage, very respectful people in Nova Scotia, they just wanted to have their time. However, they became loud and disruptive. So we had to kick them out. There's rules around that if you wanted to dive into that subject, but you can get bring the police in, they're not actually a tenant. So they're a guest in your house means you can forcibly remove them, etc, etc. So there's mitigation. But why that happens over and over and over was price. It was in the winter, when we were most eager to get bookings. And we lowered the floor too low. And that allowed it to be something attractive for let's say, if the space was $100 You know, for people chip that is 25 bucks. So don't be the lowest priced in the market. It's not it's just not 
Erwin  
That's actually wonderful advice. 
Avery  
That's the biggest takeaway. 
Erwin  
And that's pretty much all you need to do the screen 
Avery  
Yeah, price in there's other things too. Okay. Another one other big screening test. think that our managers use is if someone is reserving a space within our city limits, like if it says they're from Halifax? Well, they better give us a good reason as to what they're doing. And we'll actually meet them on checking, just to make sure the argument or anybody else is not from Halifax. It's all automated check in. You're coming here from Arkansas, you know, you probably need to be here. But if you're if you're from Halifax for one weekend, and like, I don't know, I don't think we believe you. So that's a very small percentage. But those those two things price and anyone in the local area meet on check in and if they're carrying bottles of vodka, and we've actually caught people in the process and say, no, no, you're not doing it, you can cancel and give your money back. Just leave. Okay. 
Erwin  
And there's no recourse for them to like, leave like a one star review or something like that. 
Avery  
They know what they mean. Sure, anybody can do that. But in these scenarios, people know what they're doing. They're having a party, anything that people who have had party, other spaces have lived the best reviews because they felt that which is sort of funny. Hey, we know we were really ridiculous to deal with. So you did great five stars. 
Erwin  
Okay, I think there's a Nova Scotia thing. I don't think it'll happen Ontario. 
Avery  
It's East Coast hospitality. I think.
Erwin  
That's hilarious. It's funny, because I booked an Airbnb for Ottawa recently. And I know I understand their concern. So they ask the audio in town for like, I'm here. I'm coming from from Toronto, with my living staying with my wife, my videographer, and we're here for business, taking some meetings. You know, I'm 40 plus years old. Feel free to Google my name. You know, I'm not a partier. I didn't say that. Right. I didn't say I'm not a partier. I think that's probably a red herring. 
Avery  
Or something I just thought of. And one thing that's always stuck with me, for anybody who's listening that wants to get into the Airbnb space, or was already in it, and has had a very unfortunate booking where people have been disrespectful, the percentage of that happening is so small. Anybody who's experienced that as an individual property owner, or maybe two, it's just, it's just bad chance that roll the dice because we've got 100 units, we have one incident in your 99% just fine. So like 99.5% Fine. So anybody who gets one stays just truly unlucky. 
Erwin  
This is all fascinating. Okay, if you don't know how much time you have, I have a lot more questions. I'll ramble. Okay, question around management, then. Have you ever had a short term person stay in cause damage, and you've had to go back to them to get money? 
Avery  
Yeah, it's always small things never anything big. And you just do it through the resolution centre, Airbnb, though, they'll cover it, you'll always get it somehow. The larger the cost, the more annoying you have to follow up with Airbnb, but it's all quite easy. And when it comes back, this might take some time. 
Erwin  
Maybe it's a cultural thing. I'm just impressed how little problems you've had, or it's just good screening. 
Avery  
I, I don't know when you probably do have problems. I've just I've built a good team. We've got good processes, and we're just diligent, so it might just be Halifax is a very special place. Yeah. It's pretty smooth, very smooth. 
Erwin  
For someone looking to start a to say the same wants to do Airbnb their own property. What do they need to start with? 
Avery  
Find a place that is absolutely fine to places. dishevelled that is not nice that is not put together but no, seriously. The places that are nice means there's demand means the landlords have power and why would they trust you places that are just shovelled means they're not in demand. And if you come along, making an offer, let's actually get looked at and typically place people who have to shovel places or small mom and pop landlords that you can actually have a conversation with the decision maker. So grab a dishevelled spot for a low rent, and then paint it. We used to not paint spaces because I don't think I'd get the cost out of there. But you sign say, hey, I want a two year lease on this spot. You can get the value back from that painting. So painted, decorated really well celebrated works in your listing, and you'll make the best margin and you'll be able to get your foot in the door right away. Do not go premium to start I made that mistake. 
Erwin  
I think I've made that mistake too. By everybody was nice. 
Avery  
My very first face was dishevelled but we quickly after thought we need to go premium. So I did start with the dishevelled space and then looking back at it. That was the best decision now we do it time and time again we look for places that are not perfect. Because we get a good deal. We have a good conversation and it just goes longer now will sound like five year lease. someplace, 
Erwin  
Right, but I'm thinking whether the dishevelled place like, the landscaping will likely need a lot of work as well. And that's something you'll take care of a typical dishevelled property, especially rental properties. And this is why neighbours often don't like rental properties is the light, like, for example, the landscaping has been taken care of. So that's something you'd take care of as well take care of it. 
Avery  
Our goal is, we never want to talk to the landlord, we run the property as if it was our own. So we've got we'll bring in landscaping, bring in all the cleaning, we've got our own maintenance, like if we've got a problem, we just deal with it. And then after the fact that here's some stuff we've paid for, and we get some of this back. No, well, all right, we make the margin we need and to serve as our customers, it's a cost of doing business. That's how this up for a while it's it's not looking at who I was what, just at the end of the day, this is the business, we have the space to maintain it. If it cost us it's unfortunate, but the margin is still plenty, 
Erwin  
Just to clarify, is looking for to show a property are you still looking for in good neighbourhoods? 
Avery  
Ah, whatever the data supports, neighbourhood doesn't matter. Right? Okay, there's a there's a customer for every neighbourhood.
Erwin  
This is cool. Like he every I find a lot people meet again, myself, I'm I my decisions are largely data driven, versus people are largely emotional motional decisions like, again, like I have a realtor business, I've worked with people on the ground, and I'm showing people invest in properties. And people will say, I don't like the kitchen, I don't think this is a good investment property. Right? Something something like that. I don't like the colour of the countertop, and like, but they don't understand, like, you're not the customer, you're not the one who's gonna be renting it, I know you're buying it, you aren't a customer that way. But your your audience for the for who's gonna be paying you rent, right? 
Avery  
So they should be looking at the numbers versus how the kitchen is spit out. That's yeah, they're not the one buying the kitchen. 
Erwin  
Exactly every piece of real estate ever I ever look at or recommend to a client is because it's it's all data driven decision, all I see is ones and zeros and dollar signs. Right? I don't care about anything else. Like it. Obviously, there's soft parts of it, like how I judge a quality safe neighbourhood with nice neighbours and stuff like that. But again, all I see dollar signs behind that is I don't know if it's a nice neighbourhood scenario, nice school and get more rent. So again, it comes down to $1. Figure. 
Avery  
So there is a platform for that, that we use that anybody listening, listening, who hasn't looked it up, just make data driven decisions. There's a company called Air DNA, we've all used it. If you haven't use it, I should get some promo from this company. I've recommended them to everybody. But it's the only way you make decisions, you just literally can type in the address. And it will spit out comparables, it'll show you a seasonality chart tells you exactly how much you're gonna make by making this type of listing. So just you run the cost this much will make this much. Here's the neighbourhood. Okay. And your work? 
Erwin  
Yeah, I've used air DNA as well, or dna.co. So erdene.co is a great for that as well. I paid for it as well. So I've used it fully. I actually find it pretty helpful. Just even just go look at to serve your neighbourhood for me. VRBO and to see what kind of availability they have as well. 
Avery  
Yeah, and it's funny you can you can surf and see how much your neighbour is making on their property because it tells you it scrapes the data and says this property is making this much funny when you can see oh, no, I know our neighbours making 70 grand on their basement suite. Interesting. Interesting. Fun to know. 
Erwin  
Yeah. And then, obviously, the term the marketing terms hack, I'll dig into why they get more rent than I do. I'll go through their listing and understand try to understand what features they have. And maybe that's why they get more rent than I do. For example, your friend of mine. He has vacation properties in Niagara Falls, and his his niche his go to strategies hot tubs. Yeah. All right. That sounds good all on Tom's, I believe he said that his properties get double the rental income of properties that don't have hot tubs within his own portfolio. So he's you better believe he's getting a hot tub for every property even though it means his maintenance costs go up, his cleaning costs go up. But the rents are more than covered. 
Avery  
That's actually a strategy of vacation. The world's largest short term rental manager. They have a hot tub programme, where if you want a hot tub it your stays, they will pay for it cashflow it, and take it off your monthly earnings until it's paid for. So they know how well hot tubs work that they'll put their money where their mouth is and they'll buy it and then you pay it back. increases revenue by 30% on average. 30% Wow. Market dependent Yeah, it was also steady but hot tubs which ones do the best and near colder areas, mountains and activity doesn't make the same effect in a city or hot places of course. So if he's in the mountains, the absolutely like if you're at a ski if you're at a ski hill and you're like a hot tub isn't SVP of activity called M mountains. So it's not triple whammy. 
Erwin  
I have this FOMO issue. I feel I feel like I'm just questions I'm not asking. I'm sure my listeners really have a full, full of questions as well. And David asked this question, 
Avery  
Then travelling with some of the really hard part is done some of the hardest ones that you will learn anywhere else. No, actually ever, ever, ever, ever did. 
Erwin  
To me. It's a ridiculous story. So I just got back from Belleville, which is like, to me the vibe was like Niagara than the lake east of Toronto, right? We rented out a shack, they literally called the The Shack, they were very transparent what it was. And when we got to the property, my friend booked it. So I had no idea I was finding out when I saw the property. So it was actually the original house on the property. They've since the owners have since built a beautiful custom home, it's probably over 3000 square feet with a pool and beautiful head of another house on the property as well. That was probably the second house that was built on the property. We're living in the original. I was on the property tiny, it being called really as a one plus one one bedroom. And the attic was finished and had four bedrooms, the place including the attic, under 700 square foot for sure. As the kitchen has a bathroom, low ceilings, whatever. We paid $460 for the night. Literally a shack. 
Avery  
It's amazing what will go if the value is there. I don't know what the value. But you had a shack in the woods that is a customer Hey, work for you. 
Erwin  
And for that market, there was nothing else that was actually the last property available at market. It was just there. Nothing else specifically, it's just Prince Edward County. So there was nothing else the demand was just that high. Because like Niagara on the Lake is the weekend. I stayed at a hotel the night before all the hotels were sold out. The vacation demand was just that crazy. So it wasn't like actually spectacular, but it was more so supply driven. That's what I would say. I think some people would think that's a nice experience. When I saw the place like, yes, we're in the middle of the country, the lake is you know, 100 metre walk away. Right? But when I first started like, you know, let's go back to the hotel, just by the highway. But again, I'm not their target customer, obviously. But they got their money. So I'm very impressed get on them. I'm a social capitalist. So you got that money get on you. You are in debt. You are in debt. Like I don't feel robbed by any means. If this is the last place available to rent, you burned it. All right. I don't know what my point was. But there's to your point about niche. I actually think some people would have liked this experience like a rustic experience. And like for example, I want my kids to like the cottages my my kids see these days are all a fully renovated. It's not like for my generation when When did I friend's cottage is when I was growing up? You know, the shock and awe of it? Yeah, like for example, the walls between bedrooms wouldn't go all the way to the roofline, right? Oh, yeah. That's whatever. Right? You know, I mean, so there's basically no division between rooms really, you can hear everything. You know, I mean, that was my that was my context for cottages. You know, they're not winterized. Like the heating is done through a wood stove. There is no gas furnace, there is no air conditioning. Am I right? Is there a market there is a market for this experience 
Avery  
Making a big comeback pandemic ignited it's and it was strong before. So what makes going anywhere, but it puts tremendous pressure on the space, local travel and whatnot. But that's what we're doing. We're we're building these tiny, you think 700 square feet small. We're doing 200 hanging, just to get away in the woods. Our nightly rate is much less to get away.
Erwin  
Okay, yes. Tell us about the development are your 200 square foot. What? 
Avery  
Oh, cabinets. It's a small cabin. winterized. It's got a propane stove on the inside. Right off of the lake comes with hot tub comes with hiking trails, or wheeling. It's just it's an adventure getaway. So it's not so much the space and the size of the space that matters. It's what value does the person get for being there? One thing that inspired me for just how simple things can be is I once read the story five years ago that someone built an igloo. And what's the park in New York again, the main one central park, Central Park, they built an igloo in Central Park, put it on Airbnb for $16 a night. And they had customers it sold out instantly. It's like, Oh, that's great. It's you could do any anything. They took snow from a park that wasn't theirs. And they said come on in. We're open for business. That's amazing. So we got shut down after a week but you know, they made 600 bucks. So there we go. Great. It's again, it's not the space. It's the Experience, space is just a vessel to have the experience. We're building tiny combinations, building glamping accommodations, like Safari tents with really nice furnishings, nice stove inside. And what it comes down to is all the amenities that we get. So our turnkey costs for Safari tent is around 5500 set up, and then in peak season, they will turn out 4040 500. So basically pays itself off in about 40 days, retirement, right. And then the rest is product. So we can invest that profit into the property and the amenities. And that's what we're doing here. It's essentially a place for people to get out of the city, unwind, kick back, relax, and then get back to do what they do best. So try to peel back the onion and prove people's life. 
Erwin  
This is wild. Because again, you have because why I want to talk to you just again, you have a large data sample to draw from to make your decisions and to share on the show with our listeners are 17 listeners. Yeah, no one listens to the show. By the way. I don't know why you drink. What do you decide to come on? I just like talking to you. So you could have done anything. And this is what you've chosen to put your own your own money into. Yeah, you start off you started off pretty early in the podcasting. Like you want you want Unique and this sounds very unique. And there's no ski hill, nothing like that. It is just like that's coming in your screens. Sorry. You're saying go build a ski hill. 
Avery  
It's gonna be one run, it's gonna be just for me. But yes, buildings. We're gonna pump from that lake and put the water onto this. And then go snowboarding. But just for me 
Erwin  
What I mean just for you, okay, so your your intake, your ATV up the hill are tearing it up the hill. 
Avery  
I've seen these things on YouTube where people can, I can make an electric winch setup for like 5000 bucks, you can pull me up. I don't need a lift. I don't need a fancy tow rope. I just need a motor and a pulley. And then you're done. So I $1,000 I can get up there. 
Erwin  
We'll just be able to use this. 
Avery  
Yeah, once we work the safety part out because I don't think $5,000 winch is very safe. So maybe, maybe we'll invest a bit more but it's starting for me. And then soon yes, we're doing a Nordic Spa here. We're doing rock climbing, skiing, all sorts of things. 
Erwin  
Nordic Spas are like really hot here. 
Avery  
Like everywhere, everywhere. So the one secret sauce that we're looked at is not exposed kill it happens in the woods kill it. And activity arcs kill it. Why aren't all these three things in one place? We're doing sounds like it's gonna be like a bachelorette Haven. Oh, yeah. So you held your whole and Bakmi real Why am I bringing this up? Well serve all kinds of people, people who want private we can put over there. And people who want not private can go over there. This is this is this is huge. It's like 300 acres over here. Looks like a screensaver back to the checkbox and said do you want noise? Yes, you want no and no. 
Erwin  
One thing that drives you bonkers but nor exposes you have Be quiet. Yeah, so actually going to what's called a banya. I've never been to one of these before. I'm going to pick up some Russian thing. Apologies for my ignorance the listeners might have one of our 17 listeners actually knows what I'm talking about. But yeah, like the Russian spa, where you are allowed to talk and socialise and even have an adult beverage like sauna in and like hot and cold treatments whenever. And then my own experience. I've been calling Collingwood in Ontario, which is the private best ski is the biggest public ski resort in Ontario. It's a massive bachelorette destination is Blue Mountain. Yes, Blue Mountains, a massive bachelorette destination in the summer. And the wishes are off season because the Nordic Spas and quote unquote, mountains that's Ontario. It's not it's not mountains, like out east or west or Alberta. But yeah, it's mountains. And yeah. And it's it's an hour from the city, but they draw and they charge ridiculous amounts of money and they're busy. Yeah. So I imagined that can't be the same for you.
Avery  
You know, there's actually really, you're totally right. And thank you. This is a fun. There's this conversation around reoccurring revenue. Building a business around reoccurring revenue is the smartest way to build a strong company. And for the longest time, I started searching everywhere else to think how can I have a company that has recurring and someone made it evidently aware to me that we do have a reoccurring revenue business, but it only really gets activated in the niche part, not the commodity part. Because we built the space that is accommodating, affordable, and people keep coming back over and over and over. So with that knowledge we've considered maybe we had a subscription or something but Airbnbs can be reoccurring. revenue, which is an incredible investment. 
Erwin  
Fascinating. And then Okay, so for the novice explain, why not just build your own platform, have your own website and do all your bookings on your own on your own e business business whenever. Versus why would why would you host on Airbnb like, for example, what is Airbnb? What do you have to pay? What do you have to pay to Airbnb? 
Avery  
Airbnb bills the customer, not the host. And unique way that we don't really feel it. But they're marking it up 10 to 14% sort of theory, no explanation, but we never see it. So it doesn't feel it doesn't hurt. We don't see it. We don't hear it. We don't feel it. So I just don't, it doesn't even happen. Other booking platforms like booking.com bills, the house. So we actually get an invoice saying, hey, this money, it feels different. Airbnb did something right in their design, that it's a no brainer. And for the novice, the big lesson, I learned years back that led to my growth to come here was sell in bulk. Don't sell individually, you're going to spend the same amount of time might as well sell in bulk. Airbnb is the world's largest platform, Wi Fi. I'm not trying to win that race. So work with them. Well, let's do better. 
Erwin  
And what was your experience with the other platforms like VRBO, for example? 
Avery  
Yeah, we started on Airbnb natively. And afterwards wanted to bring another business depends on what their DNA again gets the demographics of where the buyers are coming from. Most buyers in Canada are Airbnb, the largest holding of VRBO is us. And booking.com is European. So depending upon what customers are coming to your market, you might want to consider those two channels from our experience. So we went through setting up on booking and VRBO and Expedia and these other ones, it really became so clear why Airbnb became a unicorn. They made it easy. And the others made it unfortunately, complicated for no reason. No reason. So that's the difference. Airbnb is just effortless. And that's why it took off. 
Erwin  
So okay, I have a lot of questions. There's actually a question I miss. Apologies for coming back to it. So for your business, I'm sure people who want to start this business I'm sure they're wondering, how do I convince a homeowner property owner to rent to me? That's a good one. Like what kind of shirt use do you give them? Like? Because again, I'm sure the same people have read the same headlines. You know, see, you want to Airbnb you want to do? What's my property? It's gonna be bachelor parties and your people puking throwing the tech to the window, kinda like all those stories to get around student rentals as well. 
Avery  
That's, uh, I actually coach someone on on that question. It's really anything that you can offer is going to help you're going after the disabled space is the best way because you're gonna get your foot in the door. It's all about getting your foot in the door. When we want when we see a listing that we like, well message, say I love the space. And like I said, the viewing in person, you do the pitch, you don't do the pitch before you meet otherwise, you'll never get the space. And we don't say Hey, I like your listing, can I Airbnb? It would answer that, I don't know, right? So anyway, love the space would love to love to view it, then you're there you meet and say, hey, you know, this will actually do really well for what I'm looking for. And here's what we do. I can say what we do now, because we've got that. But once you have one space, you can point back to it and have success. So getting the first one, it just requires a little bit of grit and cool offer that a friend of mine came up with for him starting was huge offer, like I can pay you six months in advance rent right now. And I was like, oh, that's clever. So having the ability to do a heck of an offer. Yeah. So like, you want to get your first space, make an offer, they can't turn down and call it marketing. Because every space after that is going to be a lot easier because you can point to saying I'm successful. And I'm going to do it again. Versus in the beginning. I don't know what I'm doing because I have this. It's the bad pitch. So six months up front was one thing and see money talks in real estate. So if you can put more down up front, it's fine. You just gotta believe and you'll make it back. And then if you don't have that money to put down, it's really talking about character. It's like, this is my job. I have stable income. I want to create a side hustle and get into property management. I've made a surefire plan. Here's my steps. This is why this space works. I'd love to have it and then you just have a conversation. It's just negotiation, you'll get turned down four to five times. But the fifth one just look at five places. Four to five, I think as the fifth place so it's not like KFC you didn't thinking 1000 pitches at the time. Yeah, so it's much better than that. Yeah. 
Erwin  
So as the 100 Proper 100 properties Under doors, how many clients do you have are some of them bigger, and they have a sizable portfolio or a lot of these, like, Mom and Pop landlords like one, three properties. 
Avery  
It's mostly Mom and Pop. But then we started working, we started working with small to mid size property management companies. And at this point, we have organic referrals because we do a good job and are accountable. So what's actually happened on our side is just kept showing up. Number one rule of entrepreneurship just kept showing up, and they'd start sending us spaces. Hey, this one just come up came online, do you want it? So we'll get first kick at the can because we are reliable. They always pay. We always maintain it, and they don't hear a peep. So we're like their outsourced management company. It's just easier to rent to us. 
Erwin  
Okay, that's fascinating. So apartment management, wants you as a repeat tenant, scalable repeat tenant, and they still they still get paid their regular, 
Avery  
I get paid, they get paid, they can start cutting back on their service request, because we're taking care of most of the just because we have to it's like a nature of the base. Like we'll work with them. And we'll we'll offload as much as we can to save money. But at the end of the day, if I'm looking at $100 Night reservation for two weeks coming up, and I've got a plumbing issue. No, that's getting planted today. So well, yeah, they like us. Because exactly they they like us, because we run their property, they just forget it exists. So that's why we keep getting more spaces. Oh, wow. Fascinating, right? It's so simple. 
Erwin  
It's so fascinating. And there's another question I've missed is are you worried about or any of these areas? Do you have issues with legislation? Like you see my posts on Facebook, I highly recommend everyone like my Facebook and see me Duff doing watch he does golf balls. In in Ontario, we have a lot of issues around lashes, a lot of condos, and then national we're seeing a lot of municipalities now, banning short term rentals. London was the was the latest case where I can recall of one is not allowed to rent out their property in less than 30 days. Are you seeing that in your market? Or do you have any concerns? Can you still operate in that environment
Avery  
That's coming down the pipeline, there are certain neighbourhoods like what it really comes down to his only issues come from respecting neighbours, like that is where all the push comes from. So there's certain properties we have in certain neighbourhoods that we've just flipped to do 30 Day minimums. And all all this regulation we see around the world, when I keep repeating to people that ask this only affects things under 30 days. And the reason why is because if you look at the Tenancy Act in your province, it states how many days sublet can exist in a sublet is anything after 30 or more days. So there was never any rules written or anything below it. And that's why they're all being written now. So if you have someone for 30 days, or plus, it's already written into the provincial and federal code from decades ago, it's not going to change very quickly. So that even might get bumped around. And coming years after they push all the everyone to 30 day minimums, then we might address that as well. But that's our strategy. So we really focus on getting those longer term reservations. People that come to stick around 30 days or 45, when we have some properties in downtown commercial zones, and if they want to come in and say no Airbnbs over a commercial operator, this is a commercial property. And here's our commercial lease. So this is what we do. We host people that the end of the day regulations are only impacting areas that are zoned for residential that are being flipped in the Airbnb is because the neighbours are annoyed. All it is. And we look for commercial areas, and we look for 30 Day minimums in neighbourhoods. That's it. So we're proactively adapting to that, just expecting it. We've been making a slow shift for the last couple of years. So whenever it comes, won't affect us. But that's the strategy. 
Erwin  
Can you elaborate on what you mean when you look for commercial areas, 
Avery  
Like we've got apartments that's above a pizza shop. It's on it's on a main strip. And while the our apartments that building is zoned commercially, so we can operate it, one that we took it on was downtown, it was above a convenience store what was apartments. Again, the zoning allowed us to make it into a boutique hotel. Zoning matters. We don't actually dive into like, setting all these things up on all these permits and whatnot, but we look for the right safety net. And if the student situation comes where we're talking to them, we say well, we're in the right spot. And we haven't had problems yet but we have a we have contingencies for it that does come up Long, that's been our growth. Now it's really focusing on commercially zoned areas just to be able to the race. When I look at an investment now it's like, okay, commercially zoned on Airbnb site, what we're just did were opened up a hotel, they actually took on a 25 unit, abandoned hotel, and, again, partially zoned, we just made an Airbnb. And we're gonna start doing more of these because they're awesome, the margins are incredible. It just needs a really good interior decorator, and you're done. I'm gonna apologise to everyone because I think modern listeners are gonna buy every single abandoned hotel in the next 30 days across the country. I'm going to show on Netflix about motel flipping. Now, I can see why if we did, our first one is motels, if you know the historical hotel in your mind, they're never very appealing. So make it appealing. And you already have spaces. And there's a market for it. And so they just don't do well online and they don't look appealing. So you fix those two things. And you had a bargain on your spaces. 
Erwin  
Fascinating. Clean it up in that hot tubs. You're probably good to go. That's it. Clean the hundreds. Yeah, I can't imagine the reviews if you don't have a clean hot tub. Oh. Bad thing in my mind. I get so every Can you to rank for me your preference for investment then. So unique will come will be at the very top, I'm guessing. And then build a commercial? Yeah. And then below that would be like a commodity regular residential. Yeah. So that can be I can be urban, that could be Suburban. 
Avery  
Exactly. If I was going to rank in that order. That's I never thought of it that way. But that's exactly how we've morphed over time. So to do things that are niche, again, finding space to make that happen, a little more challenging. That's why we've jumped into now by personal plans. And we'll build a tiny accommodation, because we're doing our thing you can hear like we're off away, expensive in the city easier, just so we're going more into unique now because it's stronger in the long run.
Erwin  
Got it every day. But I want to thank you because that's a really helpful point. Because from from what I'm hearing from investors, often they look to Airbnb to convert whatever their rental is, what the current use of the rental is, for example, it can be a condo, it can be a single family home in the suburb in suburbia. And then I think it would go Airbnb, but you're saying that's, that's a bit lower on your on your preference level for an optimised investment. 
Avery  
Exactly. We still one arm of our business, and we'll keep growing that and that's fine. But so here's a here's a really good example for this. This is a startup and wanting to share, it blew my mind one year ago, when I dove into it. And why we started becoming developers is an average city space, it takes something here's a number that can sort of translate across almost majority of cities. For average space not topped here, if you're just gonna say like, let's go on the averages. Take something like 18 days to break even and remaining 12 To profit. Yeah. So the margins okay, but you got to sell every one of those nights. So if there's turnover days that you don't capitalise capture, you're just losing profits. So there it is 18 breakeven 12 profit over the course of the year the summer is different the summer peak seasons like five days, breakeven candy with our cabins is three, three days, four days to breakeven rest profit. So it's quantum to quantum shift. It's almost like eight times better so we can take comfort if there's vacancies we don't need to lower our price we've established this is what this is worth. This is our price but slower in the winter and that's fine we don't need to sell and that's what sort of happens in the commodity space and Airbnb is during offseason well it takes 18 days to break even so that's not happening and like oh no no wins the race to the bottom. So this is why we've made the switch is just it's a lot more consistent in the cash the margin goes from like 30% to 6570 crazy.
Erwin  
I have a feeling your winter months gonna be busy like just what I see here like like ski has slammed private membership ski clubs I think they're all their initiatives are double Wow. Like they went from like no one no one was interested failing businesses to having like waiting lists now for private ski clubs. Right? Oh, what a pandemic will change. I don't know what's gonna happen going forward. I don't know if people will change you know, I mean, it like for example, even though we're we're all this recession talk. For example. Amazon Prime just had their best Amazon Prime ever. Right? Which is like a week ago. Yeah, it is the best ever. Even though we're approaching, we still have supply chain issues, we're approaching recession or we were in a recession already. But just because I my guess is part of it is because they have so many new customers. Right. And I think people have had a taste of more outdoor experiences. And I think that might persist. It may Trump may come down a little bit, I still think a lot of it will persist. Right? 
Avery  
Yeah, there's, there's definitely some things that have become sticky. And one trend that we've noticed as people became more familiar with their province, their country, travelling internationally might not be the question. And even now that we can, we're still finding new spots. And, you know, within three hours that we really want to do, we're now talking about exploring Canada. And it's, it was a thing like, where the pandemic, people had the shift of I need to go to Paris, well, you can just go to Collinwood, actually, and now you've been exposed to it, although you've always noticed that you've never actually been. That's, that's a trend that sort of has stuck around. And it's been motivating us. 
Erwin  
And then we have barriers. Now, just our airports are too busy. People's luggage is lost. I don't really want to go too far. And then crossing a border, all issues around COVID Stuff like I personally don't, and I fight with my mom with my kids. I definitely don't want to be crossing a border, right at this moment. Because I don't want to be you know, so you test positive when you're trying to cross when you try to come back to Canada. Now you're stuck with my kids. We're all stuck here. Now. I can imagine what the expense is going to be. So I'm naturally worrywart. All right. Again, I'm so sorry to my listener, because I'm sure there's a lot of questions that they want ask how much is 300 acres costs in Nova Scotia? 
Avery  
Oh, sure. Who Yeah, when I first was 250. And when I first got into this to say, let's figure out real estate, I thought like, Okay, that's a good chunk of change. I don't have it, but I'll find it. What have later learned is that it is such a bargain, especially for anybody in the US. So this was 750 grand. 
Erwin  
Excuse me, his exact square foot condo in Toronto. Sorry, we need to reiterate this out. How much land Did you buy for 750 K. 
Avery  
We we have a small town of land 250 acres. Small small Township is what we have. I guess whole background behind me this is just a smidgen of it. You can see this. We have a lake on this Canadian dollar. Yeah, and it's got some cool zoning too, that allows basically anything except fish processing and tires. I don't know. But we can do anything here right you're good? No fish processing. We don't have it. 
Erwin  
So no fish processing your entire processing. That's that's your invitation. Okay, that's it. All right. 
Avery  
Yeah, no, but this is a cool investment. And later after the ACA realise just how, how good of a deal. Nova Scotia and Atlantic Canada property is it's almost oceanfront, we looked at a piece of ocean and Brian does 40 acres per 60 zoning was weird. We left it's still under percent. It's my most popular speech. We part of the process looked at 258 islands that was connected by a small causeway so we could build a road that was 2 million island. It has like 14 kilometres of ocean frontage. It's crazy. The everyday mind. 
Erwin  
Thanks for projections on what this twinner for the acre property is gonna generate, like seven. This is This is insane. Well, what are the property taxes on 250 acres? No, no. Who cares? Please cash probably counting all sorted out. 
Avery  
It's so the easiest way to break it down is to say how much how much does a space generate? Use the word space because not a cabin. It's not a dome suntan like whatever space that's matters because we've had scope creep and we've dialled back our cost per capita. Any space in this atmosphere we generate 30,000 Every year, excuse me. 22 inch square foot. very grand. Yeah, low end 25. If we really nail it, we can get 45 but I think it's gonna fall on 30. So for each combination we put up, we just run the math. So we want to turn that Since we're a million dollar operation, and the goal is to get to 40 spaces for the next three years, however, we've totally deconstructed our, our scaling model. And that's part of our secret sauce, which anyone wants to talk about in this call. But essentially, we've just driven down the cost to get to, I think you can hit a million dollar business in our first nine months, which would be awesome. I can only do that because you've done it before. But I want to do it again. And and under a year. 
Erwin  
You mentioned you didn't have the money, how are you? Financing capitalising this?
Avery  
There's really cool programmes that exist. We had, it was a mix of private investment, we brought in sort of a 350 private investment, the land cost 750. And to develop it out, we're gonna do one and a half million. So the bank saw half a million. Yeah, as our project, build out, the bank side is okay, you need you need to have X amount percentage of one and a half million, and then they'll fund the rest. So one method was we did a vendor take back seller financing to get part of that downpayment, finance the rest of the friends and family. And then the bank came in, in Canada, there's a federal Canada backed loan, up to a million dollars the loan over 20 years really favourable interest, and we'll start with Business Development Bank of Canada. No, that's the only one that doesn't do it. But any bank, however, anybody? We've got the most success at credit unions, I love credit unions, credit unions will take a chance on you. And whereas big banks, put your number in a computer, and it says sorry. Peter said no. Anyways, it was a mix of credit union know about federal programmes, and then better take back mine with private financing. It was painful process, but we figured it out. 
Erwin  
Oh, financing developments are painful processes. To listener like listener like this is a straight up shows culturas about real estate investing, these things aren't easy. This sounds crazy. 
Avery  
We're going to scale again, though, is vendor take backs. That's been our biggest tack to scale our business, we're using that to buy our properties that we have landlords that Airbnb is with. We're using that to buy development properties. Make a deal? Hey, I'll give you your asking price you contribute 100,000, this will pay it back over two years plus interest depends on the discussion. It depends. It always depends, right? 
Erwin  
And of course, to me, it means of course, you're speaking directly to the to the owner, you're not going through an agent to have a VTB discussion when we went through the age for this to be able to have a good agent offence.
Avery  
Oh, yeah. But it also came because we had went looked at for three properties. And the last one, we went to go make an offer on someone else took it on the night of my wedding. And I was like I'm done. I'm done searching to come back to the drawing board picked five places and said, What's your ideal space? We ended up with this one. And by this point, we had been done all of our research, we know exactly what we needed. And we have been turned down multiple times. So when we came into this meeting, we just said we want it. We'll give you the price. But we need your your seller to play ball with us for some seller financing. They can throw 100 grand our way, we'll figure out the terms are in and just sheer confidence after failing is what got us through. Because the first people didn't too complicated. But sheer confidence in a very good agent is how we got it done. 
Erwin  
Yeah, you won't keep that person's number for life. Most agents, in my experience have no idea what vendor financing means their learning in this market. works a lot better in a buyers market too. Yeah. Oh, and just just out of curiosity, and I'm sorry. I know. We're way over time. So I'll let you go soon. Curiosity you choose to cut down on roads to build. How long are these properties sitting on the market? Like for example, like this, this 250 acres that you you're you're developing? How long? How long was it available for? 
Avery  
That's a good question. I don't think it was too long. I think it was maybe different targets. I think it was like 150 days. So anyone could Yes. In some at some of them, like the person we looked at had been on for years on and off. Although there's a huge there's a huge boom for people buying houses and markets. Some houses are on for day, most per day. Yeah, that didn't seem to affect large land parcels, small home sized land parcels maybe more affected, but medium and large, lots of opportunity. And then the cost per acre is way less too. So, you know, part of our follow up plan, if we failed was, we could cut a chunk out and sell it for some capital. So if you can finance a medium sized portion like anything that's like maybe 10 acres and above, less competition on it. 
Erwin  
Every year, apologies. I didn't ask any early journey questions. How did you fall into this business? Oh, that's yeah. I for short term rentals, 
Avery  
my whole life, I've thought I was an entrepreneur. So I kept trying and trying and trying failed and about 10 Different things that had no connection or relevance, just being part of the story. And I was running a painting franchise, college pro student works, this kind of thing. And that taught me all the fundamentals of how to run a business. So then all those my failures started producing. And one day a friend named Keith, which a room on Airbnb, I tried it. I had two bedroom, not one bedroom paid for my whole rent. So I thought, well, this is great. 
Erwin  
So your house hacking. 
Avery  
Alright, so I live in a two bedroom I had one and I rented out the other room and one room paid for my rent. Okay, I'm living for free now. This is great. How do I do more? And then I got home. And when I look back later at why this really stuck for me and why I love promoting it to others is totally inhibits my core value of fun. I just I can't get involved in anything that I can't have a little mayhem. Okay, Austin and Airbnb allows that allows flexibility and time freedom. Investment. I love promoting it to others because you can get the full 40 Hour Workweek you can train it, you can put whatever you want. It's whatever you want. It's blank, blank canvas big or as small as you want to go to market. 
Erwin  
Hey, I'm thoroughly enjoying this. I'd use up your whole afternoon if I could. But I only asked you for an hour now. Any anything? Anything I've forgotten to ask anything else you want to talk about? But what actually no, I said I asked you, you're going to explain where the name of the of the resort came from. I don't know if that's even the right term. tortures peak orders peak. 
Avery  
Well, there is a lake a very well known lake in Nova Scotia called porters lake. And this is right up against it. And that's at the very end and it has a mountain on so borders peak with it just it gave us the right alliteration sounded good to say. It was multifunctional so we can grow into it quarters peak spa orders keep refining orders thanks snowboarding orders people. There's so many effects everything. And we also we also get the natural SEO for when people type in orders Lake orders. Oh let's partner is key. So we might get accidental visitors. They're just trying to go to the lake. 
Erwin  
I frickin love it. It's such a I studied business in school. So I'm a bit of a marketing business geek as well. You borrow from an established brand, which is Porter's Lake to build it into your own business versus some people would do Avery's resort. Did you know SEO value? Yeah, so when you're typing, you go to Google and it's almost already on Apple Maps. We've even done frickin love it. And then the URL is Porter's peak.com. Yeah. Good for you. And then I mentioned the opp before we start recording I thought was I thought it was Porter's Porter speaks. Speak Porter speak. Probably I probably actually help people remember the name Porter pushers peak. Obviously there's no apostrophe. Yeah, just Porter Porter's peak. Anything else or anything else you want to tell us about the development that I haven't asked? Other than the Instagram is also Porter's Porter's peak. 
Avery  
Follow our Instagram, one of my co founders, my business partner, Victoria, she runs the Instagram and it is not only entertaining, there's also educational and it's also going to make you want to come here. So our Instagram is very lively. Please check it out. And this is something that we're growing. We're going to be taking this model across the country. And a dream of mine is still a company across Canada and this is this is our knee. It's our bread and butter and you are interested to learn more or want to learn how to do it yourself. I'm happy to take your email and If you need to talk I was wondering if we're not working together I will happily help you. Because you know, there's no such thing as competition that space is part. I don't want people competing for your time. Competing with me for your talk doesn't exist. Oh, time lab. Oh, God. You'll pick up all this barley appointment slots in your town, we I'd love to take this offline too. This is a fun chat. I want to learn more about what you do to r1 podcast. 
Erwin  
I'll stop the recording that and we can keep going. I don't want to bore the listener with what I do for listener one, one last time, use the Instagram Porter's peak, all supporters peak.com. Avery, thank you so much for doing this. I knew you're a big time, man. Is this ever fascinating. I love how we got into the weeds. You know, I was actually thinking like, how am I going to title this show? I think the title of the show is if you're gonna listen to a podcast on Airbnb, you have to listen to this. So thank you so much for being a wonderful guest and being so open. Yeah. And you know, it's hilarious how we met introduction. We were both at the same conference in our mutual our mutual friend met you there. You already knew me. Well, it's Oh, yeah, yes. And you meet this every guy. Right? And if if you weren't there, I wouldn't have never gotten the introduction to you. So my point I'm trying to get to his folks is like, you need to get out there. Right? You can't just sit back on your Facebook or Instagram and think you're gonna meet people and make connections. Alright, so yeah, okay, point. Yeah, get out there. Shake the tree when you're stuck when someone's gonna take up all your time. So I get the value by 70 listeners getting all the value for Avery this amazing, thanks. Thanks again so much for doing this. Let's go check out the recording. Oh, in any final words, anything else you need other final words, 
Avery  
Go out there and get your first base started and you will never regret it. 
Erwin  
Alright, thanks so much.
Erwin  
Before you go if you're interested in learning more about an alternative means of cash flowing like hundreds of other real estate investors have already then sign up to my newsletter and you'll learn of the next free demonstration webinar I'll be delivering on the subject of stock hacking. It's much improved demonstration over the one that I gave to my cousin chubby at Thanksgiving dinner in 2019. He now averages 1% cash flow per week, and he's a musician by trade. As a real estate investor myself, I got into real estate for the cash flow. But with the rising costs to operate a rental business, it's just not the same as it was five to 10 years ago when I started there. Forgive the cash flow reduces your risk. The more you have, the more lumps you can absorb. And if you have none, or limited cash flow, you're going to be paying out of your pocket like it did on a recent basement flood at my student rental in St. Catharines. Ontario. If you're interested in learning more, but it's true for free for my newsletter at www dot truth about real estate investing.ca. Enter your name and email address on the right side. We'll include in the newsletter when we announce our next free stock hacker demonstration. Find out for yourself but so many real estate investors are doing to diversify and increase our cash flow. And if you can't tell I love teaching and sharing this stuff.

To Connect with Avery:
Web: https://www.365x.ca/
Web: https://www.porterspeak.com/
Instagram: @porterspeak
Facebook: https://m.facebook.com/porterspeak/
HELP US OUT!
Please help us reach new listeners on iTunes by leaving us a rating and review!
UPCOMING EVENTS
You are the average of the five people you spend the most time with! Build connections with empire builders and trailblazers at our iWIN events.
BEFORE YOU GO…
If you're interested in being a successful real estate investor like those who have been featured on this podcast and our hundreds of successful clients please let us know.
It is our honour to give back and educate others on how we build cash flowing real estate portfolios using all the best practices shared on this podcast, from the lessons of our hundreds of clients and of course our own experience in owning investment real estate.
If you didn't know already, we pride ourselves on being the best of the best real estate coaches, having the best property managers, contractors, handy people, cleaners, lawyers, accountants, everyone you need on your power team and we're happy to share them with our clients to ensure your success. 
New investor or seasoned veteran investor, we can help anyone by providing our award winning coaching services and this isn't all talk.
We have been awarded Realtor of the Year to Investors in 2015 by the Real Estate Investment Network, 2016 by the Canadian Real Estate Wealth Magazine and again in 2017 because no one told the judges no one is supposed to win the award twice but on merit, our peers deemed us as the best.  In 2018, we again won the same award by the Real Estate Investment Network.
Hopefully being the most decorated team of Realtors in Ontario will make you consider us for your first or next real estate investment.  Even if you don't invest in our areas, there's a good chance I know who would be ideal for you. 
I've been around for a while, some Realtors are talented at servicing investors there are many with great ethics.  The intersection of the two, talent and ethics is limited to a handful in each city or town.
Only work with the best is what my father always taught me.  If you're interested, drop us an email at iwin@infinitywealth.ca.
I hope to meet you at one of our meetups soon.
Again that's iwin@infinitywealth.ca
Sponsored by:
Infinity Wealth Investment Network – would you like to know how our investors returned 341.8% on positive cash flowing real estate over the last five years? On average, that was 68.4% per year.
Just imagine what winning in real estate could do for you.
If you would like to know how we did it, ask us how by calling 289-288-5019 or email us at iwin@infinitywealth.ca.
Don't delay, the top markets we focus in are trending upward in price, so you can pay today's price or tomorrow's price.
Till next time, just do it because I believe in you.
Erwin
Hamilton, St. Catharines and Toronto Land Development, Real Estate Investor, and soon to be builder.
W: erwinszeto.com
FB: https://www.facebook.com/erwin.szeto
IG: https://www.instagram.com/erwinszeto/
https://www.truthaboutrealestateinvesting.ca/wp-content/uploads/2022/08/Avery-Birch.jpg
630
1200
Erwin Szeto
https://www.truthaboutrealestateinvesting.ca/wp-content/uploads/2017/06/TruthRectangleLogo.png
Erwin Szeto
2022-08-08 20:18:41
2023-05-25 17:29:22
Building a 7 Figure, 100 Unit Airbnb Business By Age 27 With Avery Birch