Preacher's Son, Ran Away From Home at 12, 365 Days In Rehab To Real Estate Success With Ben Oosterveld
Summer is in full swing! We've had our July Halton REI meeting and we are taking the month of August off, but don't worry! There will be a tour mid August for investment opportunities in St. Catharines.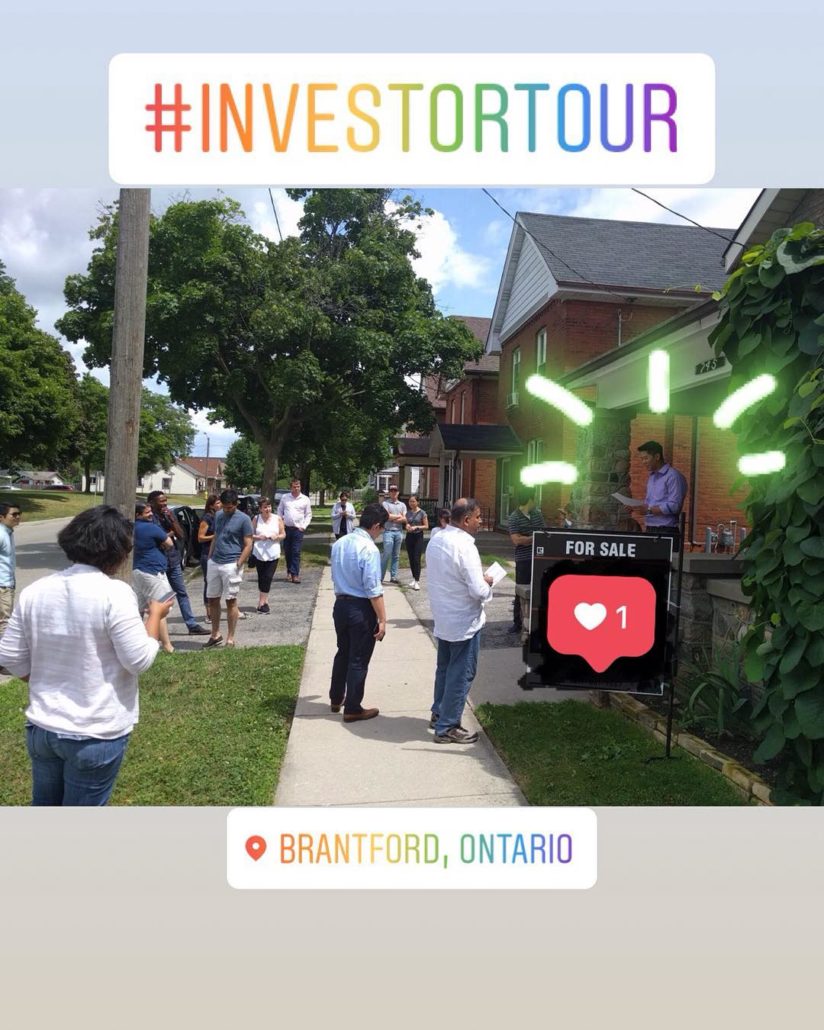 This past Saturday, our Street Smart Tour brought us to a city truly open for business in Brantford, Ontario with my team, the Team Titans, and our friend Paisley Mackenzie, former Economic Development Office of Brantford. Paisley has nearly 30 years experience working around investments and Brantford so it was a special treat to have her along.
Brantford is an underrated market, as many regular Brantford investors know who are enjoying the returns in a market that is flying under the radar. Brantford is situated between Hamilton and Cambridge, Ontario and there are not many hotter markets than these two for those who care about the ripple affect. What many do not know, is how good the Planning Department is. They are consistent in following Ontario Building Code and, sadly, not all cities can say the same.
Days on market are some of the best I've seen in years, as this is summer when prices typically retreat, and we toured two pretty sweet properties that have been on market for around 60 days at prices mid 300 to low 400,000. Terrific affordability when compared to the neighbouring KWC and Hamilton markets.
On to this week's show!!
Preacher's Son, Ran Away From Home at 12, 365 Days In Rehab To Real Estate Success With Ben Oosterveld
Today's Ben Oosterveld is crazy successful. Dad to four kids, happily married, booming business, he earned over $800,000 in 2017, in one 14 month stretch he acquired 41 properties.
By all definitions, Ben is killing it, but he wasn't always successful. Ben, a preacher's son, ran away from home at 12, abused drugs and alcohol until the age of 20, crawled home to his parents, checked into a 12 month rehabilitation program and turned his life around.
Ben talks about learning lessons on raising a challenging child such as himself, owning investments with other people's money during the crash, being bullied by an investment partner, and what he would do differently with his investments if he could do it all over again. This is the first time Ben has publicly shared his challenges as an investor.
Sponsored by:
TitanInvestmentRealEstate.com – would you like to know how our investors returned 341.8% on positive cash flowing real estate over the last five years? On average, that was 68.4% per year, just imagine what winning in real estate could do for you. If you would like to know how we did it, ask us how by calling 289-288-5019 or email us at admin@mrhamilton.ca. Don't delay, the top markets we focus in are trending upward in price, so you can pay today's price or tomorrow's price.
HaltonREI.ca – This episode is brought to you by my networking group, the Halton REI. We meet in Oakville (part of the Halton Region), but mainly invest in the top investment towns west of Halton: Brantford, Hamilton, Niagara Region.
We regularly feature the top speakers from our industry. The vast majority of our attendees are seasoned investors, so you will want to spend more time around these folks, as you are the average of the five people you spend the most time with. Your net worth is your network, so choose how you spend your time wisely.
Knowledge is power. Every meeting we share the latest in market rents, prices in the top neighbourhoods, and strategies for investment. We share the best property available as our Best Buy Property of the Month. We share the best tips and tricks for you to implement immediately to your investment businesses to fast track YOU on your journey to financial freedom. It's up to you if you'd like to be on said journey.
To get on the invite list please register at https://www.truthaboutrealestateinvesting.ca/meeting/ and you will receive an invite to the next Halton REI meeting once announced.
But don't listen to me, here's what members of our community are saying about the Halton REI!!
To reach out to Ben:
web: http://teamoosterveld.com/
podcast: http://businessfromwithinpodcast.com/
FB: https://www.facebook.com/ben.oosterveld
Till next time, Just do it because I believe in you.
Erwin
Hamilton, St. Catharines, Toronto, Land Development, soon to be builder and Real Estate Investor
FB: https://www.facebook.com/erwin.szeto
IG: https://www.instagram.com/erwinszeto/
https://www.truthaboutrealestateinvesting.ca/wp-content/uploads/2018/07/Screen-Shot-2018-07-31-at-2.49.30-PM-1.png
538
800
Erwin Szeto
https://www.truthaboutrealestateinvesting.ca/wp-content/uploads/2017/06/TruthRectangleLogo.png
Erwin Szeto
2018-07-31 19:41:22
2020-02-03 14:52:14
Preacher's Son, Ran Away From Home at 12, 365 Days In Rehab To Real Estate Success With Ben Oosterveld