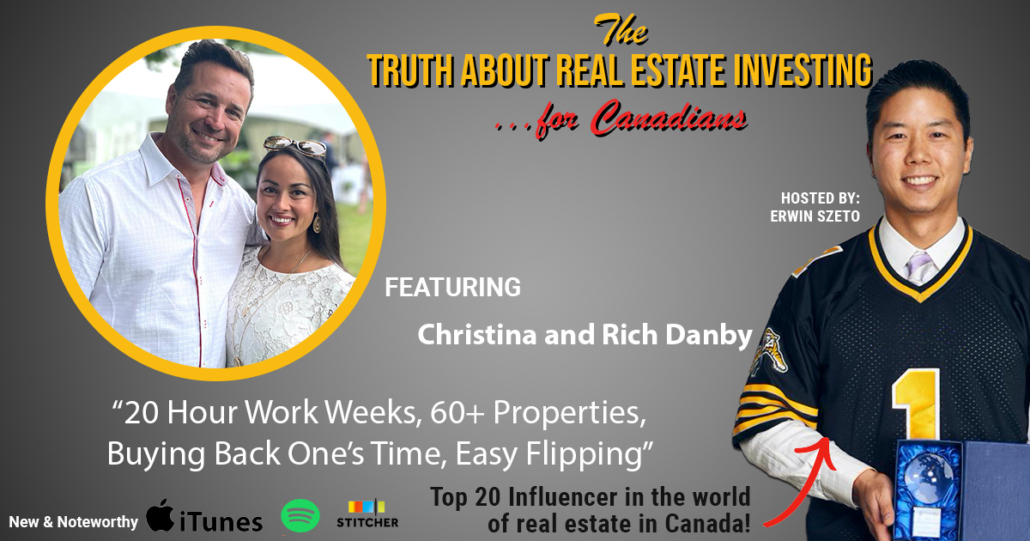 Weekends are for family!
Cherry and I try to do all our business and invest during work hours, so we don't take away from time with the kids.
We still work a couple of weeknights and Saturdays, but we try to limit our commitments. It's not easy, nor cheap if you saw the size of our payroll, but it is by design. We could make more money with less staff, but we'd have to sacrifice more of our time.
This is why investing is so great. 
Our real estate portfolio is doing its thing… We plan to close on our newly acquired office space at month-end. Then, the six-figure reno begins and hopefully wraps up two months after. Otherwise, our investments are just cruising!
I was chatting with one of my earliest clients this week, and I asked them, "what if your portfolio only went up 5% per year?"
Their portfolio is worth about $9 million, so 5% is a $450,000 increase in net worth every year! Not bad, eh? 
So how hard do you have to work if your net worth goes up to mid-six figures each year? Is there a savings plan or investment strategy, or pension that comes anywhere near that? 
The truth is, these investment portfolios don't happen overnight… Rather, it's a collection of making the right investments over ten years. We teach all these best practices and the #1 investment strategy in our FREE Real Estate training class.
How do I know what the #1 investment strategy is?
Well, I mastermind with some of the top real estate investors in Canada. I've had even more of them, including best-selling authors on this podcast. Plus, my wife is the Accountant to many of those same top investors, so we know exactly what works.
If you or anyone you care about wants financial security, simply go to www.investortraining.ca/podcast and register for our next free class. 
We will share details on how to execute on the best investment properties with the least headaches… So you, too, may get back to spending more time with your family and friends.
Speaking of more family time, my old friends Rich and Christina Danby are our guests on the show.
They built up their real estate business and portfolio, so they are working way less than before… Successfully reducing their working weeks to 20-30 hours per week!
Their priorities now include spending more time on their kids' interests… Like horseback riding, hockey, piano lessons and football.
20 Hour Work Weeks, 60+ Properties, Buying Back One's Time, Easy Flipping With Christina and Rich Danby
On today's show, they share how they did it: systemizing, hiring, outsourcing, and delegating to buy back their time... while still being active house flippers.
The Danby's share their unique flipping strategy where if the renovation exceeds a $30,000 budget, they won't do it. This is very opposite of the BRRR strategy everyone is talking about these days.
Why should you listen to them, though? 
Well, I and the Danby's go way back, and not much has changed. 
Rich has won many awards. He's a regular speaker at several real estate networks, and he coaches investors. He was also President of Ottawa Real Estate Investors Organization (OREIO) for a couple of years.
Together they've only bought 60+ properties and used every strategy under the sun! Other than real estate, they've also owned a Pizzeria and a staging/construction company. Christina is also a Realtor… and Rich started a painting company during the pandemic, which is in big demand these days.
Please enjoy the show.
We're hiring!
Just a friendly reminder that we are hiring more investment Realtors who want a full-time challenge to help our clients, regular everyday people, mostly from the GTA, invest in the top investment towns west of the GTA. 
This is for driven folks who want to multiply their current incomes.
APPLY HERE: https://www.infinitywealth.ca/hiring

To Follow Christina:
Website:  www.christinadanby.com
Facebook:  https://www.facebook.com/Christina-Danby-Realtor
Instagram: @christinadanbyrealtor 
YouTube Channel:  https://www.youtube.com/channel/UCF_7Fkv0VzCrHfz4sXjLo2A
To Follow Rich:
Website: www.richottawainvestments.com
Website for Ottawa House Painters:  www.ottawahousepainters.com
YouTube Channel:  https://www.youtube.com/channel/UCEBSxP7KlZfB10L7HfMII8g
HELP US OUT!
Please help us reach new listeners on iTunes by leaving us a rating and review!
UPCOMING EVENTS
You are the average of the five people you spend the most time with! Build connections with empire builders and trailblazers at our iWIN events.
BEFORE YOU GO…
If you're interested in being a successful real estate investor like those who have been featured on this podcast and our hundreds of successful clients please let us know.
It is our honour to give back and educate others on how we build cash flowing real estate portfolios using all the best practices shared on this podcast, from the lessons of our hundreds of clients and of course our own experience in owning investment real estate.
If you didn't know already, we pride ourselves on being the best of the best real estate coaches, having the best property managers, contractors, handy people, cleaners, lawyers, accountants, everyone you need on your power team and we're happy to share them with our clients to ensure your success. 
New investor or seasoned veteran investor, we can help anyone by providing our award winning coaching services and this isn't all talk.
We have been awarded Realtor of the Year to Investors in 2015 by the Real Estate Investment Network, 2016 by the Canadian Real Estate Wealth Magazine and again in 2017 because no one told the judges no one is supposed to win the award twice but on merit, our peers deemed us as the best.  In 2018, we again won the same award by the Real Estate Investment Network.
Hopefully being the most decorated team of Realtors in Ontario will make you consider us for your first or next real estate investment.  Even if you don't invest in our areas, there's a good chance I know who would be ideal for you. 
I've been around for a while, some Realtors are talented at servicing investors there are many with great ethics.  The intersection of the two, talent and ethics is limited to a handful in each city or town.
Only work with the best is what my father always taught me.  If you're interested, drop us an email at iwin@infinitywealth.ca.
I hope to meet you at one of our meetups soon.
Again that's iwin@infinitywealth.ca
Sponsored by:
Infinity Wealth Investment Network – would you like to know how our investors returned 341.8% on positive cash flowing real estate over the last five years? On average, that was 68.4% per year.
Just imagine what winning in real estate could do for you.
If you would like to know how we did it, ask us how by calling 289-288-5019 or email us at iwin@infinitywealth.ca.
Don't delay, the top markets we focus in are trending upward in price, so you can pay today's price or tomorrow's price.
Till next time, just do it because I believe in you.
Erwin
Hamilton, St. Catharines and Toronto Land Development, Real Estate Investor, and soon to be builder.
W: erwinszeto.com
FB: https://www.facebook.com/erwin.szeto
IG: https://www.instagram.com/erwinszeto/
https://www.truthaboutrealestateinvesting.ca/wp-content/uploads/2021/11/Christina-and-Rich-Danby.jpg
630
1200
Erwin Szeto
https://www.truthaboutrealestateinvesting.ca/wp-content/uploads/2017/06/TruthRectangleLogo.png
Erwin Szeto
2021-11-29 18:24:54
2021-11-29 20:40:37
20 Hour Work Weeks, 60+ Properties, Buying Back One's Time, Easy Flipping With Christina and Rich Danby