Quitting Teaching to Full Time Real Estate Agent (31 Doors) & Investor in Windsor With Matthew Biggley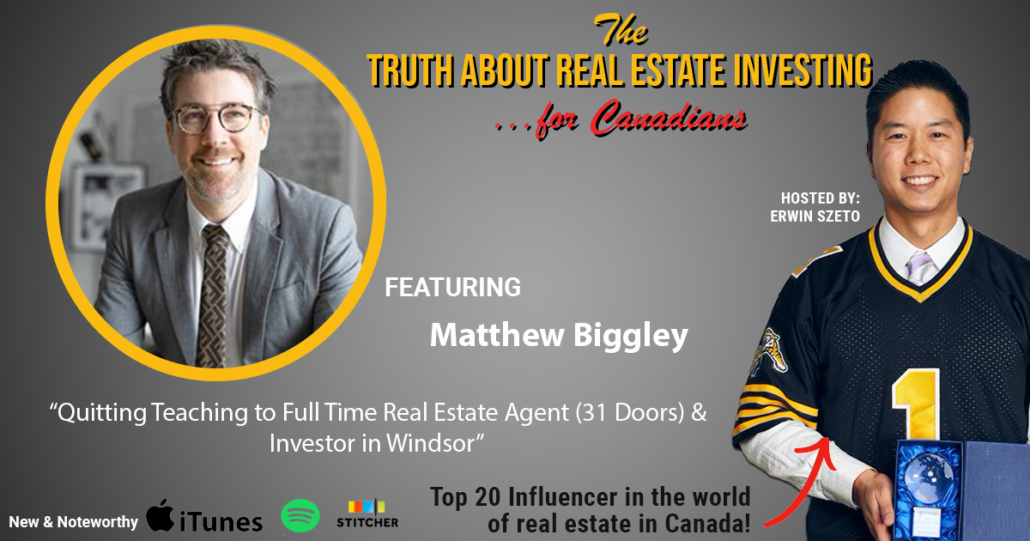 Greetings, Canadian Investors!
I trust you all had a great weekend! I know I did, as we here at iWIN Real Estate hosted a sold-out iWin Mastermind Tour in Hamilton this past weekend!
I met some really nice folks and several Truth About Real Estate Investing podcast listeners.
First, we met up for coffee and baked goods; then we toured a fourplex conversion which was special because it will likely be the first of its kind in Hamilton following the Bill 23, 'More Homes Built Faster' Act of last year.
We assembled in the living room while my associate Chris "the Captain" Hook walked through the story of the property, the numbers, reno plans, budget etc.
As a real estate geek myself, I found the tour highly educational as I hadn't been through the property yet, nor had I seen the designer drawings in the handout.
That wasn't all; next, we toured a house, our bread and butter bungalow, except this one had a two-car, detached garage already roughed in for electricity, water, sewer, and natural gas.
There was already a working furnace in the garage, and if you've been a client or attended our events, you know that's what money looks like to a real estate investor.
Next, we went for lunch. Many of you had questions for me about past episodes, especially the more controversial ones, including the commonalities and red flags to watch out for…
I've mentioned it before, and here it is again: multi vacancies means no rent is coming in. Add to that some aggressive investors are borrowing at 8-17% interest rates, delays in renovation and construction, bad general contractors disappear or worse, go bankrupt.
I've heard it all over my career of being full-time since 2010 and having family in the trades and renovation business and hundreds of clients executing six-figure renovations.
Another tip is I advised tour attendees to ask how one is getting paid.
I find we Canadians are often too shy to ask. For example, I occasionally am asked if I get paid referral fees from home inspectors, designers, contractors, property managers, etc.
The answer is no, and I've had offers, but instead of receiving compensation, I ask that my referrals receive special treatment or reduced pricing.
Pardon me if I've said it before, but I jokingly refer to what we do as "being in the business of manufacturing successful real estate investors."
A successful real estate investor executes as smoothly as possible, generates cash flow, and buys more property from me.
They also refer their friends and family knowing, and that is how we make money – Selling quality income properties where the Seller is paying us our Realtor commission and compensates us for our coaching.
No need to hire a $10,000 – $30,000 coach or coaching program; we have all the experience and power team connections needed to turn anyone into a millionaire real estate investor.
We have over 45 of them among our client roster, and we want to grow that number.
If you are interested in starting or improving upon your investor journey. In that case, I'm hosting and delivering a free training event to answer the #1 question I get, "Erwin, what's the best investment?"
I'll cover mostly active investing, which is the only way to become wealthy. Passive is more for the already wealthy and registered funds IMHO.
If you're on my email newsletter, you're looped in with the other 10,000+ hard-working Canadians on the latest news and events at iWIN Real Estate.
If you're not well, that's just silly. Go to https://www.truthaboutrealestateinvesting.ca/ and sign up today to receive timely updates on our new podcast episodes and be the first to know about upcoming events you won't want to miss.
Our newsletter is the perfect way to stay connected with us and stay informed about all the exciting things we have in store.
Don't miss out – sign up now and join our community of 17 engaged and informed listeners!
Quitting Teaching to Full Time Real Estate Agent (31 Doors) & Investor in Windsor With Matthew Biggley
On to this week's show!
Matt Biggley is doing some very profitable investing in the Windsor, Ontario area with a portfolio of 31 doors, some small waterfront developments, and short-term luxury rentals.
The keys to Matt's journey are successful partnerships, so we spend some time on how to identify strategic, long-term partners.
Matt Biggley describes himself as a lucky husband; a girl Dad from a family of all boys; a reluctant renovator who once had a chance at an HGTV show; a History teacher once named the Best Teacher in Ontario but who couldn't remember names and dates; a top Windsor-Essex based realtor who got his license as a side hustle but has quickly become a top earning agent; and an experienced investor with an Airbnb and 31 long term rental units, who hates flips but is still dumb enough to do them anyway occasionally.
Despite telling his wife before getting married that he didn't like renovating, he once lived in 6 "forever" homes (aka "fornever homes") in 8 years, taking on massive renovations, which his wife Leslie documented on her way to amassing almost 60,000 Instagram followers and appearing in Better Homes and Gardens magazine, the Toronto Star and on many top design sites.
Matt is a big believer in the power of partnerships, scaling to a 31-door portfolio with his brilliant partner Kyle Pearce and their company, North Shore Properties.
In 2021, he was invited by Doris Lapico, a renowned Windsor Realtor, to partner in the creation of The Real Group, a real estate team that has quickly become one of the top teams in the region.
Matt loves to learn – a little too much sometimes. His favourite book is "Getting Things Done." He prefers podcasts to the radio in the car, which his family finds incredibly boring.
In light of grieving his youngest brother Ben's suicide during the pandemic, Matt has awoken a renewed gratitude for life, a passion for self-improvement, and a determination to provide his family with the best life possible.
Please enjoy the show!
This episode is brought to you by me! We don't have sponsors for this show. I only share with you services owned by my wife Cherry and me. Real estate investing is a staple in my life and allowed me to build wealth and, more importantly, achieve financial peace about the future, knowing our retirement is taken care of and my kids will be able to afford a home when they grow up. If you, too, are interested in my systematic strategy to implement the #1 investment strategy, the same one pretty much all my guests are doing themselves, then go visit www.infinitywealth.ca/events and register for our next FREE Online Training Class. We will be back in person once legally allowed to do so, but for now, we are 100% virtual.
No need for you to reinvent the wheel; we have our system down pat. Again that's www.infinitywealth.ca/events and register for the FREE Online Training Class.
To Listen:
Audio Transcript
**Transcripts are auto-generated.

Erwin
Greetings from investors I trust you all had a great weekend. I know I did is we here at the iWIN real estate team hosted a sold out iWIN mastermind tour in Hilton this past weekend, I met some really nice people cuddling with several listeners of the show we met up for coffee and baked goods. And then we toured a four Plex conversion, which is special because it will likely be the very first of its kind in Hamilton following the built me three more homes built faster act that was came out last year. We congregate in the living room while my associate Chris the Captain Hook walked us through the story of the property, how it was acquired, the the numbers, the rental plans, budget, etc. As a real estate investor geek myself, I found the tour highly educational, as I hadn't been through this property before. Nor had I seen the designer drawings, which were nicely provided in the handout and printed in colour as well. That wasn't all. The next test we toured was our bread and butter strategy of bungalows, except this one was special as it had a two car garage, detached and that garage had a nice concrete pad floor. And it was already roughed in for electricity, water, sewer and natural gas. So not common at all. There's even already a working furnace in the garage. And what I found hilarious was that, you know, with a group of 30, standing in this two car garage, you know, it's roughly 600 square feet. And it's not the nicest thing. It's not the nicest place to hang out. But nonetheless, real estate investors they love to network and people were chatting it up as if we were at a some sort of high end events. But anyways, yeah, for those who've been following along for a while, or clients or attending our events, both in person or virtual, you know, that is what money looks like to a real estate investor the opportunity for a detached garage that we can potentially convert into a garage suite, and then rent that out for somewhere over $2,000 a month. Next, we went for lunch. Many of you had questions about past episodes and guests, especially the more controversial ones, including what are the commonalities red flags to watch out for? I've mentioned it before here. And I'll mention it again, investors with multiple vacancies, meaning no renters coming in add to that a dash of aggressive investors who borrow at eight to 12% interest rates. A lot of these folks are newer, the ones that do end up in ruin. So they don't understand that delays do happen and renovation and construction, especially major ones, there are contractors, there's history of contractors who do disappear, or even worse, go bankrupt. And then when you have a project where you're completely over leveraged, and you have multiple vacancies, you're destined for bankruptcy. I've heard it all over my career of being a full time since 2010. And also I have family in the trades. I had family in the renovation business, they're still alive. My ex family anyways, they were in the renovation, renovation and trades business. We've had hundreds of clients execute six figure renovations. I've seen a lot. I've seen a lot. I've done a lot as well. You know, my property has been over over my history over 40 properties. Several of those properties require six bigger renovations as well, including a top up IBEC basements, you know, I've used my own hands removed plumbing stacks. Anyways, another tip is that I advise tour attendees to ask if someone's trying to sell you something sometimes if you're not even sure they're selling something, I think it's reasonable Ask, ask them, how are they getting paid? I find me as Canadians, including people who interact with me, they're often just too shy to ask, for example, on occasion, and this is usually only about my clients, maybe one to 10 times. On occasion, they asked if I'm being paid referral fees from home inspectors, designers, contractors, property managers, famous people, plumbers, whatever whatever have you. The answer is no. And I've had offers many of them have offered me compensation as I'm basically doing their marketing for them. And so instead, I asked that my referrals, which are my clients, to these professionals that they receive special treatment or reduced pricing. Special trimming can be just priority, but please prioritise them over other people, right, pardon me if I've said it before. But I jokingly refer to what we do as that we are in the business of manufacturing successful real estate investors, a successful real estate investor execute as smoothly as possible at generating cash flow, and then they're buying more properties from you. They also refer their friends and family knowing that this is how this is the easiest way to build wealth. And then that's how we make money selling called income properties is where the seller so remember, in real estate in a traditional property has been listed. The seller is paying little commission to the buyer agent. And that's typically how we make the majority of our money that pays for our time and effort and our coaching so no need to hire a 10 to $30,000 coach out there or coaching programme. We have all the experience we need here. And I'm not saying we're perfect, but we're always getting better. And we have all the Power Team connections any of our clients need to turn anyone into a Millionaire Real Estate Investor. We currently have over 45 for them self made real estate millionaire investors and among our client roster and we're always looking to grow that number If you're interested in starting to improve, starting or improving on your investor journey, I'm hosting and delivering a free training event. To answer the number one question I get around what's the best investment. I'll cover most of the active investing as that is the only way to become wealthy. passive investing is more for the already wealthy and for registered funds in my opinion. So I'll share what Jerry and I do for passive investments as well with our registered money. If you're on my email newsletter, then you already looped in along with the other 10,000 Plus hardworking Canadians on latest news and the events around here at Island real estate. If you're not, well, that's honestly too silly. Sign up today to receive timely updates on our new podcast episodes, and be the first to know about our upcoming events. That's really important too, because our events have been selling out, especially our tours because the members have a hard cap at 30. So yeah, like I said, you don't want to miss this. Our newsletter is the perfect way to stay connected with us and stay informed about all the exciting things we have in store. Don't miss out, sign up now and join our community of 17 engaged and informed listeners. To this week's show, we have Matt Bigley with us who has done some very profitable investing in Windsor, Ontario, and he now has amassed a portfolio of 31 doors. Now just just to take a pause there. I know a lot of investors like to focus on doors, but I purposely mentioned that math is profitable. I think that being profitable or cash flowing or making money that is a much more important metric than how many doors one has the people who focus on doors. I don't know. It's just my opinion. Matt also owns some waterfront properties, and that he's doing some small development work on them, and including luxury short term rentals among within this portfolio. So KineMaster journey is our successful partnerships. So we do spend some time on how we identify those strategic long term partners. Matt describes himself as a lucky husband, a girl dad from a family of all boys, a reluctant investor, who once had a chance to be on an HDTV show. He's a history teacher, once named the best teacher in Ontario, but he couldn't remember the names and dates. He's a top bass Windsor Essex based realtor who got his licence as a side hustle. He quickly became a top earning agent and an experienced investor with Airbnb. And as I mentioned, 31 long term rental units. He hates flips. He actually goes we actually go through the episode why he hates flips, but he was still dumb enough to do them. Anyways, I've been there too, despite telling his wife prior to getting married that he didn't like renovating he wants lived in six, six forever homes and eight years taking on massive renovations, which his wife Leslie documented on her way to amassing over 60,000 Instagram followers and appearing on Better Homes and Gardens magazine, also the Toronto Star and other top design sites. Matt is a big believer in the power of partnerships. As I mentioned, he would not have been able to scale this portfolio without his partner Kyle Pierce and their company nostra properties. In 23, wham he was invited by Doris Pictou Windsor realtor to partner in the creation of the real group, and they are one of the top agents in the area. Matt loves to learn if he can't tell. He's a former teacher. They have a podcast as well. And we go through all that in the show. Please enjoy the show. Hi, Matt. What's keeping you busy these days?
Matthew
Hey Erwin, And I love that question. I actually just returned from my very first vacation and a number of years. It was a vacation for my family. But for me, I went with one of my best friend but and my real estate investing partner, Kyle. And so it was the perfect mix. We got to talk business and investing the whole time and the family got to have fun. First time on a cruise ship. And I can't help but wonder about the physics. It's so easy to tip a canoe. But how does the night team story cruise ship float? I just don't get it.
Erwin
Yeah, I have lots of questions about those things.
Matthew
It was mind blowing. I've never even been next one before it I just I couldn't the whole trip. I'm like, How are we floating right now? This is insane.
Erwin
And they have a crew of like almost 2000 people. That's right,
Matthew
like 6000 guests 2000 people and to be honest, you know after a while you're like I'm in a little bit of close quarters here, especially the day I got food poisoning, and I was just in the foetal position in our tiny little cabin. I felt bad for my family to say the least.
Erwin
airball or get a bigger unit it was our first
Matthew
time it was our first time the next time that at least a balcony we did not we did not so that was maybe one of the lessons I'm calling you frugal I actually think I maybe none of the none of the Lambo ahead of you know, but I like I like my nice stuff. I like my nice stuff.
Erwin
Not a balcony apparently.
Matthew
Kyle planned the trip Okay, I'll blame him Kyle planned a trip he's the frugal one for you on or should we not? We were it was it was called The Carnival celebration. I mean, this thing had a coaster basketball courts, like it was It was wild. And you know, these cruises I think are really about families and families having fun and feeling safe doing so. So that part was was amazing. My kids at the time of their life.
Erwin
Amazing. Amazing and I'll just I'll just make the point that I'm a very pragmatic person because we're talking before we were recording about being mean being frugal, like my you call it fake magic. I call it frugal. I think it's a little bit of both, like for example, cruise lines have very high food and safety standards compared to a resort and Say Mexico or even in the Caribbean, right. So the incidents is like you got unlucky. But generally, my experience has been extremely good versus I always got travel sickness whenever I was in a Caribbean resort, versus that promotion never happened to me. And I've been cruising about 13 times. Right? Wow.
Matthew
Well, my food poisoning came from some savich questionable savich out of Dominican Beach, not actually on the boat. That was the fatal error like
Erwin
this, both pragmatic and frugal. I don't eat off the ship. I returned to the ship to where
Matthew
I needed that advice. I needed that advice about a week and a half ago.
Erwin
For food safety, pragmatic and for fruitfulness. I don't want to pay for food I've already paid for. So I go back to the ship and eat.
Matthew
I love it. I love it. Good tip. I'm gonna read that for sure. Two big takeaways from today's podcast. Thanks for coming, everyone.
Erwin
So Matt, I know you're big time into investing in Windsor. Your journey, your career journey is actually fascinating as well. Can you share with the folks what you used to do for a living before he got full time into real estate?
Matthew
Yeah, yeah, absolutely. For for 17 years, I was a full time high school teacher. And don't get me wrong. I loved teaching. I still love teaching. I started off as a history teacher, and I was someone who was climbing that ladder was really on track to become a principal. In fact, I did all of my principal qualification courses and got to the very last one. And I just had this like moment of pause where I was like, Is this really and truly what I want to be doing? Or is this what I'm supposed to be doing? And I said to myself, there's so much more accountability and responsibility at that level, and I respected but I made actually a sharp left turn at that point and decided not to do that last course to become to get my principal qualifications. And instead, I ramped up my real estate investing. So that was one of those TSN turning points in life for sure I was, again, I was passionate about teaching and became a guidance counsellor. In fact, in my early days of teaching, I won this award for being the named the best teacher in Ontario, which, you know, maybe it was arguable. But I was, I was recognised that at that level, I wrote textbooks, I wrote a civics textbook and just had a real passion for helping kids, which has turned out to be neat crossover to real estate. I joke now with my clients that I used to help people with the most important thing, which was their kids as a guidance counsellor. And now I help them with the second most important thing, which is, you know, the real estate decisions.
Erwin
I won't get into that. I think it was like one one you can argue is both are valuable. Yes. Yeah. One is more rare than the other. This is true. This isn't the availability of getting.
Matthew
Yes, yes. Well, listen, I just certainly there's a there's maybe a big gap between those two. But I think the crossover just comes from the helping the guiding the teaching, the learning, like those are the parts that I've really, truly enjoyed. Like I've really, really enjoyed helping people. And that was the part of teaching that I think has crossed over into real estate. And some of my clients would probably call me still a teacher, because I enjoy helping funny where people are on that spectrum, whether it's investing or shopping for a home or selling a home and then helping them through to you know, successful successful end,
Erwin
primary. I'm like the flip side, I started as an investor, and I enjoy teaching, but I was never a teacher.
Matthew
I think you're a great teacher, and I don't think you need qualifications to become a teacher. And I think that's one of the challenges. The education system really confuses us. You know, we're supposed to do this, that this this, but I think, you know, we're moving into a world where, you know, university isn't a prerequisite for success by by any means whatsoever. But I think that myth continues, and I was a guidance counsellor. So I was helping students and families decide what they were doing after high school. And so you know, to me, it was less of a straight line from A to B and more of a zigzag. And but parents don't necessarily like to hear that, you know, I actually created a programme that was called entrepreneurship in science, technology, engineering, arts and math. And it was a programme designed for kids who wanted to be a doctor wanted to go into computer science or engineering, all those careers are the ones that every parent wants their their student to go into. We tried to marry it with entrepreneurship, because there's all these soft skills that kids aren't necessarily picking up through just their academic studies.
Erwin
Right. Wow, we could talk for a while.
Matthew
I love this stuff.
Erwin
I didn't know that you were a guidance counsellor. So I have lots of questions around that we have over here. I have a question just to show us culturally about real estate investing. Yeah, I think part of the investment decisions have to come from people's incomes, for example. So can you give some transparency? For example, what does a What does a 17 year teacher what did they make in salary and what's what's their pension? What does it pay? And what's the principal? What is the principal get paid? It's like to your point like principals are responsible for a lot.
Matthew
They really enjoy the manager. People have budgets of our local school board has a half billion dollar budget, like you imagine that we have educators controlling that kind of money, like it's pretty mind boggling, pretty mind boggling things. So we Really, it's almost like we need business people almost. I'm talking maybe at attorney here, but it's almost like we need people with a business background to be running, you know, budgets of that size, but their
Erwin
clientele is very passionate, both teachers and parents. Yeah. Easy audience.
Matthew
know for sure. There's lots of stakeholders. And so, again, I think the crossover from teaching to real estate is there's so much dialogue that goes on, there's so much problem solving and troubleshooting in schools. And it really comes down to relationships. I always had such good relationships with with families and parents and took the time to talk things through. Because yeah, there can be a lot of frustration when it comes time to your, to your kid. And so to your question, the golden handcuffs is the golden handcuffs for a reason. It's, you know, across policing, and firefighting and nursing and teaching as a tenured teacher, I'm not a tenure teacher. But at the top level of the pay scale, you're making over $100,000 A year 102 105, you know, sort of independent, of course, you've got your you've got your time off. So you've got a shorter work here than in maybe a typical employee, and then you've got that pension that's being accumulated for you over time as well. So all of those things are tremendous benefits, like what fortunate people are, go into that teaching profession, you get a rewarding career, and you get rewarded for it. Here's what's interesting. Now, I don't know too many teachers that live all that high on the hog. And a lot of that's probably a lifestyle choice. But similarly, in retirement, you have a defined benefit pension plan, which is amazing, because most people don't. But I have a lot of retired teachers who are incredibly frugal. And again, maybe it's a lifestyle decision. But that's part of what led me to investing my investment partner is also a full time teacher as well. And we wanted to enhance our retirement, we wanted to leave some generational wealth for our kids. And we just really wanted to learn about something that was fun, enjoyable, and for us kind of became a side hustle that started as a side hustle. And eventually just grew to a point where I couldn't ignore the economics of real estate, you know, as compared to that teaching job, which was terrific. But real estate has just blown up for me in such an amazing and incredible way that I'm so grateful for that it's just become so, so lucrative, and also so rewarding.
Erwin
Amazing. Well, thank you for sharing the reason I've Googled it, I've Googled what is the teacher's pensions worth? Because what I was trying to draw for, like my listeners, and my clients is trying to have like a kind of like a baseline, what kind of nest egg folks would have for retirement purposes. And the Google results a little bit fuzzy, but I think a teacher's pension will be worth somewhere between one and a half to $2 million. Sound fair?
Matthew
Yeah, it's annually, you're looking at, you know, low 60s to mid 60s. Of course, that's fully guaranteed. Here's what's interesting about, you know, the teachers pension plan, you could log on any teacher today, you can look at exactly what your pension will be. But more importantly, exactly when you're going to retire. So my retirement date was supposed to be November 1 2035. Now you think that'd be motivating for people. But in fact, it's a bit of a mind trap. Because the countdown to retirement begins almost as soon as you see that number. And I think psychologically, that messes with you a little bit like, I'm telling you, us any teacher experiment with this as any teacher what their retirement date is, they will be able to tell you precisely and I don't necessarily think that's a good thing. Like I'm someone who really enjoys my work. And I saw myself working well past retirement like that would have been I would have been 56 in November of 2035. I always found myself working well past retirement. And that's one of the attractions of real estate, you know, with real estate, like it's one of those professions you die at your desk type of thing, you know, you don't ever have to stop. And that was actually an appeal to me rather than having a set retirement date.
Erwin
So thank you for sharing. So my baseline my challenge to all investors with DB then to match something similar to like a teacher or firefighters pension to try to get to try to earn something around 60 $65,000 per year, then for husband, wife, whatever it is, I think that'd be a good place to start in terms of a target. Now, before we start recording, give me that it's a common goal but people approach me with a novice investors is they'll say to me, my objective is to they usually don't say the number they're usually saying their objective is to usually retire their spouse and then retire themselves. Sometimes the opposite but usually it's retired or spouse is almost the number one goal have any anyone I've spoken to both women and men.
Matthew
good people, good people share the same goal. Yeah, very kind. That's very cool. I love that quality of life conversation.
Erwin
Yeah, quality of life. But it's not just about their partner's quality life, it's about their thinking with their kids. They would like someone to be able to spend more time with the kids, something that's been lost with since since we've left the gold standard. But that's another that's another conversation. So very often, novices will ask me, like, tell me, my goal is to make 10,000 They don't usually say it but like I said, if they're looking to retire their spouse, and they're trying, for example, and they're trying to mimic a teacher's pension 60 65,000 Is their pay in retirement? Right. So basically, it's 5000 per person. Right? Hence, I think that's where they got to goal of 10,000 per month in cash flow. So,
Matthew
yeah, you know, I think it's such an interesting question, because I think one of the fascinating things to me about real estate investing is there's just so many different strategies. Like, for example, I hate flips, I hate flips. I just actually, I have a flip closing today that I didn't want to do, but I did anyways, that's maybe I just got too good of a deal with this property. And then he needed too much work, of course, three months turned into six months cost overruns, you know, you're chasing contractors. Now I've done a lot of flips. And I'll chat a little bit more about my wife and I's experience in flips of forever homes, maybe a little bit later in the conversation. But people like flips because they're big chunks of cash. So my point here is, I think it's a matter of deciding what your intentions are maybe what your y is, like, I love how Don Campbell calls it your personal beliefs. So what is your goal? What is your why, what is your long term why, and then maybe experimenting with some different investment strategies to figure out which one works for you. So for me, personally, I know I don't like flips, capital intensive, too many variables I can't control and I just, I don't like them. I don't think they're, they're what I want. So for us, we buy multifamily buy and hold long term, so that we can take advantage of those three silver bullets of investing, you know, you've got your cash flow, of course. But here in Windsor Essex, you've also got appreciation now in Windsor in the GTA, it's almost all appreciations and possible to cash flow. And then of course, you've got mortgage pay down as well. So I recognise those three things at work. And I remember going to my very first real estate investing workshop, and hearing those three things, and it was just like a light bulb that went off like you can make money three different ways in real estate. To me that was so fascinating and amazing. I also own an Airbnb, which was previously a personal home, but it's not even so much about the cash flow with the Airbnb ZZ allow you to buy nicer properties and keep them like my typical multifamily rentals, I would never live in one I'm actually living in my own Airbnb right now, while I await my next home that I've purchased. So I think for me, I would direct the question more to a, what is your purpose. And I think that a lot of novice investors get trapped in trying to come up with these huge numbers and huge dreams. And they actually then get stuck in that analysis paralysis, and they don't start. So I try to start my investors who are new to the game, you know, small with lots and lots of support, so that they can then scale that up. Any investor is going to diversify. Like we've learned a tonne from you through stock hacking, for example, you know, we took multiple courses from you, that was really interesting to me, it wasn't the stock market, it really intimidated me prior to that. And listen, it still does. Some of those advanced courses are just over my head, my my partner, Kyle, he loved that ate it up. But for me, I really had to stay at that, that novice level. So getting into those equities, like I sold some options on Carnival back in the pandemic. So it was fun to be on a boat saying and made some money off these guys. Now giving them some money. We can write this. Well, I did go with my investment partner like I did my best and partner note that
Erwin
note that we're working on location. Yep. Working on location, exactly.
Matthew
We did talk a lot of visits, and then a whole life insurance well, not an investment. Again, Kyle, and is well ahead of me in that regard. But you know, I'm working my way towards my first whole life policy. So I think it's about diversifying. And I think one of the again, crossovers from teaching to real estate investing is just that learning, like I stopped listening to the radio in the car, only listen to podcasts, my family hates it, it's so boring for them. But I only want to learn I love to listen to audiobooks, podcasts, because there's such an array of expertise out there. And it's literally at your fingertips if you're willing to access it. So for me, I don't think I've necessarily nailed exactly what it looks like. My active income has now become as a real estate agent, but that side hustle income, that extra income from real estate investing, that will of course, do those things that we wanted to do, it's going to make a really sweet retirement for us. It's going to create some generational wealth, we'll be able to share with our children similar to what you enjoy you're doing for yours. And in the meantime, we're having a whole lot of fun learning about it. And more recently doing some jayvees welcoming other people, you know, into these opportunities that are, let's be honest, pretty intimidating to get started with for a lot of people,
Erwin
but you did it.
Matthew
Yes. And that's that's the advice get started, get
Erwin
started. And to clarify, you do have another career as well. Oh, we really touched on that. So to go with the question, what keeps you busy? Because you're you became a realtor as well? Yeah,
Matthew
yeah, I did. I initially got it. It was my new year's goal, New Year's resolution of 2020. Of course pandemic hit. We've been buying investment properties. We've been doing this for about seven years now. So we actually bought our we just closed on a nine Plex. But prior to that our last purchase was March of 2020. Just before the pandemic get these numbers, we bought a 10 unit building six residential for commercial for $469,000. That's unheard of. Unheard of it so we've been investing in real estate and always, you know, we had bought and sold some of our own homes and my background with my wife is really interesting. My wife has I guess we would call her a social media influence. got almost 60,000 followers on Instagram. And her name is Leslie her handle is the Leslie style. So she started sharing our renovations we would take on these crazy like absurd just ridiculous renovations, where we transform these these houses into what became literally magazine worthy projects like she was she has been in house and her or Better Homes and Gardens in the Toronto Star like all over the place. And she really this originated from her just wanting to share the work that we were doing. And it blew up to the point where at one point, we had a TV production crew come in from New York and film this whole pilot on you know, trying to pitch us to networks and being a flippers but we weren't flippers we were both full time teachers at that time. But to make a long story longer. Real estate was just so ever present in our lives as an investor and in buying and selling on our own. Like we'd moved six times in eight years. At one point my wife and I that getting my licence became a no brainer. And then when I got my licence to success if out as a realtor, which certainly was due to the market, but I think just also due to this great, these great crossover skills I had as an educator, just made real estate, something that I couldn't not do full time I was invited by a very well known realtor locally named Dorsa Pico to become her partner, she she had sold one of her houses, she called me up said, Matt, I need a partner and it's going to be you. And I said, Oh, that's funny doors, you know, I'm just getting started. She said, you have all the qualities that I don't have, we're going to make a perfect match. And the rest is history. Last year, we were the top team in our brokerage eliminated 12 months, you know, we sold almost $60 million in real estate, we've now built out a small team. But we have continued to just grow and to grow our brand. And we're just having so much fun helping people and of course, selling buckets and buckets of real estate you're
Erwin
using. So you're doing really well.
Matthew
We've been incredibly blessed. And I think we work hard, but we have so much fun doing it that that's the neat thing about real estate maybe as compared to teaching, I don't have any bosses, I don't have anyone directing me what to do. Education is very top down, the ideas come from the top with real estate, it is all you it's make it or break it, you know, I've hired an amazing coach, we have the same coach Marian Gillespie, who's who's incredible, who's a great driver for me, but it's all self motivation. And with real estate, what fascinates me is you can literally work on self improvement, which I love. I'm a big self improvement junkie. So becoming the best version of yourself, and also creating a great business. And I think those two things are what really drive me that business end. And that self improvement.
Erwin
Something key that stands out about your story that's unique in terms of the show is that you joined the team, what I often find is a lot of folks getting into some sort of professional real estate, anything like say for example realtor or mortgage agent, they're usually trying to do it on their own, like from the ground up. Versus you joined a successful team already successful agent broker, what's the experience been like? This is something you do over again, I'm guessing you would
Matthew
say that the biggest mistake that new real estate agents make is that they see real estate as a lifestyle rather than as a business. Real estate is a business, you know, people want to focus on the pretty on the marketing end of things. Real Estate really comes down to a set of very repeatable behaviours that you need to learn and execute before you ever almost have to get into the marketing that and that sort of maybe lifestyle end of things. So I actually started with a team very briefly when I started real estate and I was blown away by their training by their processes by you know, just how well organised they were. And I actually left that team because they were they were actually located in Hamilton and expanding down here to Windsor. And it just didn't work as a new agent, I needed more support than that I then went as a solo agent, and was able to partner up with Doris to then create a team. So my advantage was in joining someone at her level, 25 years of experience, you know, top, top five, top three agents in the city great reputation, I was able to get that endorsement from her, which in the eyes of then, you know, the real estate public at large. I had legitimacy because I had that great endorsement. So from the team perspective, I think that's huge. And I think that teams can bring tremendous value in terms of training support, they can help really flatten that learning curve, that when you first get into real estate, I mean, you get your licence, and then you say like now what how do I sell houses? How do I find clients? How do I make money? Once I find clients? How do I convert those clients? It can be pretty intimidating, pretty intimidating. I think that's generally misunderstood probably from the propensity of, you know, real estate shows and that sort of stuff that really depict that lifestyle part, but almost really leave out the business part
Erwin
of it. And just the lifestyle part with the affordability of the way it is like for example when I started in real estate, it was operated mainly in Hamilton. So it was rare to see a Toronto agent showing property leaving business cards in a Hamilton listing to fast forward to today. So that was that was 2010 very fast forward to today, all the time. I see business cars from like Richmond Hill, so agents that drove over an hour to show a listing in Hamilton. Wow. So the lifestyle is very different. And even you know, early days when I started, divorce rate was very high among Realtors and the pressures are only getting worse.
Matthew
You were sitting in your car last night on your birthday, reading a counter offer in the front seat with your laptop, which I have done before. But there's a lot of there's a lot of creep of real estate into your life where it's absolutely, you know, on my kids birthdays, I've been trying to work on deals on the side, like real estate just seeps into all of your life. And you have to be very deliberate. And I'm not good at this. Like I often work seven days a week, I am trying to work six days a week, but as you know, it's it's just tough to do. And so you have to be very, very deliberate. And that's, that's where the coach comes in. You need that outside voice to like, give you a pole or a tug or a push. You know when you need it. And I see agents driving down to Windsor from Toronto sell it, I'm saying we do a tonne of referral work down here. Let us take care of your clients at a high level. Let us get you paid through that referral fee. Like what are you doing? This is a crazy waste of your time.
Erwin
Trust my real estate? Oh, I think we added over 12,000 realtors, just last year in 2022 alone. And even before that, you know just about real estate investing? Statistically 02. Okay, so over 50% of Toronto agents do zero to one deals per year. Right. So a lot of people do are not making enough to live make a living
Matthew
and I wonder But Windsor Essex Yeah, you're right. And I think there's been a lot of new realtors. And that's not a bad thing. I think that can make us more competitive. But let's be honest, most of those realtors are not going to be successful. You know, I had a veteran agent call me recently an assassin. He said, You're well trained, you know what you're doing, you're incredibly hungry. He's like, I worry about the agents on my team, you know, compared to you because you just have this drive. But you also are learning this skill set. And then so I said real estate assassin, I kind of like the sounds of that, you know,
Erwin
I was actually talking to another team leader who's feeling the pressure to grow his team. And I said to him, you know, it is really difficult to find someone with the drive, the IQ, the high IQ and EQ, and you EQ interpersonal skills are incredibly important. Yeah, be a successful realtor, and then know enough about home constructions. Your client, and we're not even talking about investor agent yet. Right? That investor agent needs to understand financial analysis, right? Yes. And the business, the business of operating real estate investment property, they don't tell you. But this is for listeners benefit, especially anyone who's new, an investment property is a business. Right? So to be an investor agent, you need to know a lot. And honestly, I've seen many people fail it.
Matthew
But how can you sell an investment? If you don't own any? How can you call yourself an investor agent? If you don't own any investment? Or never have like you understand investments? Yeah, exactly.
Erwin
That's the key for courses.
Matthew
So true. So true,
Erwin
is especially we're laughing, but it's true. People do it. Versus in my experience, like I've learned entrepreneurs organisation. When we speak to one another, we're not allowed to give you when we're speaking to other members. We're not allowed to give each other advice. Right? It's our training, instead of giving people advice we share with them our experience, it has to be our experience. Right? So for these novices, we took a $50,000 course $30,000 course whatever, speak, how do they speak to their experience of evicting a tenant, a screening attendant, showing properties to a tenant of you know, managing contractors, managing a renovation project of structuring a deal and presenting it to your bank. Right for both the getting the mortgage and also for the exit the refi whatever it is, right. These are, these are not skills that have to grow on treat us.
Matthew
Yeah. And you've spoken so much about these, I don't know what do we call them charlatans? You know, we've made real estate investing sounds so sexy, and I think a lot of speculators are probably feeling that the crunch right now. So it goes back to that education, you know, on the streets. In fact, listen to all of that I would call speculative money like we had, I would get dozens of calls a weekend from Toronto agents who were driving down totally unprepared. They didn't get themselves access to our local lockbox freaking out they couldn't get into properties. But with clients, it was caravans of people coming in. They have all but disappeared which makes Windsor Essex such an interesting investment landscape right now because we're seeing like last month there were more duplexes sold than any month dating back to last May so we're seeing some of the investment money come back in but let outside money which really was part of that push of average home prices up so so high in Windsor Essex, it's all gone in terms of my at least anecdotal experience recently.
Erwin
So what's duplex go for now and Windsor? sure what it was like at the peak and then what's the comparable we're going for today?
Matthew
Yeah, so I mean, listen, I just sold a beautiful duplex in up a plus neighbourhood for you know $611,000 Which which was the most expensive duplex sold this year in Windsor Essex $611,000. So you can get yourself a duplex for you know mid fours would be would be a solid duplex for sure. We just picked up a really nice Nine unit building for a shade under one five. So, you know, that was on the higher end of where we'd like to spend. But it was also a completely turnkey, you know, the nicest property we've yet purchased. And for Kyle and I, we really started to think about, you know, a price versus cost. So we would always get the cheapest, you know, just lowest price properties, and then have to, it would cost us a lot of money, we'd have to dump all this cash into improving them that that 10 unit $469,000 building, well, here we are three years later, still dumping money into it. So in terms of that quality of life, or that maturity as an investor, we're willing to pay a little bit more, you know, to get better properties. And in this case, seller held 70% of the mortgage at 3% interest only for five years, which made it a more attractive purchase as well. But a few years ago, Kyle and I wouldn't have been mature enough as investors to get why that was such a good buy.
Erwin
Right? All right. And then what versus like Grant Cardone buys really nice stuff.
Matthew
And Airbnb is can be like that, like people are buying really expensive houses that Airbnb is again, I own one. But I only own an Airbnb. Well, there's a couple of reasons. One, I could keep a house that I bought for $300,000 in 2017. And last year, the appraisal is gone down, I'm sure what was appraised for $950,000. So 2017 to 2022, five years, tripled in value. So it's allowed me to keep a nicer property than any of my rentals. But there's also a nice Joy factor in the Airbnb, like you're welcoming people to your town, I live in this amazing town called Kingsville bubble. It's like nothing ever goes wrong here in Kingsville. It's just a magical place on Lake Erie. And it's really fun to help welcome people. And so to to your point about buying really nice properties. I think we see a lot of that in the Airbnb realm. Although I'm not always sure that the promise of major returns on Airbnb isn't necessarily there just because you've got higher operating costs. And generally you're buying more expensive houses.
Erwin
Are you managing your own Airbnb, like who's dealing with the day to day on that.
Matthew
So the nice thing about Airbnb is it's all through an app predominantly. And of course, I've set up all these systems. So that works really well we've got an AI pricing tool we use so that the pricing is taken care of. And then we have cleaners and so the cleaners are terrific. And they would manage for us. But I've got to be honest, I love being that front facing customer service point of contact for the clients because I can ensure the highest level of service. I think a lot of Airbnb managers when they manage 1012 30 properties, you just can't expect them to deliver that level of service to your own guests. I call them clients but guests and so I've continued to do that. It doesn't make any economic sense for me to do it. In fact, that when we're really busy, which is summertime, there's moments we have a pool at the property which is a big draw, but also the bane of my existence in the summer because it requires a lot of maintenance. So I need to take what my advice would be to my own Airbnb client and say leverage some of this stuff out you know, your your time is too valuable to be like cleaning the pool or, you know responding to people in the Airbnb chat. But although it doesn't necessarily make logical sense. It's what I've decided to do for now anyways,
Erwin
is their insurance pretty steep, you have a pool, like for example.
Matthew
So a pool, it's a historically designated home as well. So the replacement value is like unbelievable, like through the roof. So yes, insurance is definitely high. Now I'm going to speaking of best uses of property, I'm actually going to fill the pool this year, I maybe shouldn't tell my future Airbnb guests because I'm severing 60 feet off the back of this property. In order to do something, there's some purpose built rentals build a semi my real estate partner, her family owns a custom construction companies were talking about that. So this same Airbnb property that's tripled in value, I'm now going to sever off 60 by 120 and do something with that it's still a little bit up in the air as to what that looks like. So the pool is gonna be filled in which will hurt our business, but will improve my own quality of life dramatically and become such a value add to this property for having been able to sever that off and do something with it.
Erwin
It's a big property. It's a big property and everyone back.
Matthew
So I've never been back although I am living here now. It's a corner lot. It's right in the heart of downtown I joke with guests that like kings was really renowned for its restaurants. So I say you can walk to dinner and stumble home you know, you never have to get in a car and that's part of the draw of our property. It's beautiful historical, we do a lot of weddings here. Brides take their pictures again. It's been all over magazines and my wife's Instagram feed gets tonnes and tonnes of traffic. So people you know, it's a draw for all those reasons, but it's such a deep lot. It's a 220 feet deep 120 feet wide in the middle of this downtown of this small town that that extra property that we really just I'd never even go back there except to cut the lawn although I don't even cut my own lawn anymore. I've also leveraged that out so it was sitting there. I said I've got to do this. I've got to separate I've got my real estate wheels turned and I said there's a big chunk of property waiting for something great to be done with it just a matter of figuring out exactly what that's going to look like.
Erwin
It's a big walkway 60 by 120 Then, yes exhibit 120.
Matthew
So the recent legislative changes will help I think in terms of what we end up putting there and debating like, do we build something to sell it? Or do we build some custom or not some customers and purpose built rentals? Got to explore that a little bit more before we make a decision.
Erwin
Now I want to roll into I should know, before we move on, actually on the subject, you mentioned speculators and we're the markets that I think most people who monitor like the preferred investment areas, like a well in like an Oshawa like a Hamilton like a Windsor. They rose like crazy. And, and peaked in February 20. It's only been wildly but it hasn't even been that long. Uh, Pete 2022. I know. It's funny, because I have I have interest rate conversations with people every day, like, when is going to cut coming? What's coming? Dude, it's been, it's been 13 months since we had our first raise. Yeah, yeah. It's been a month since we paused brainstem rate increases. hasn't been that long. Maybe we're like every day. But sorry, my point was that the markets gone up and down a lot. Like you mentioned, like your dad was do you see your typical duplex? It was in the four hundreds.
Matthew
Yeah. So we got you know, today, you could get it typical duplex in the foreign just like when we look at average, you know, price points from I look from sort of where we were pre pandemic. And of course, we had that big climb from March of 2020. Like we essentially doubled, almost doubled average home prices in Windsor Essex, you know, up to that peak, and we're down about 27%. If we look at March, I just took a quick peek at March numbers this morning. So we're you know, we're down about 27% from Peak but I think there's still such value here. Like I had clients in town the last two days who spent most of their professional life in Oakville, Burlington, and they just said Matt, this place is a secret like first of all, let's not tell anyone and everyone I helped move here session same thing. I believe you got you got a fort like this is the primary reason people move here is affordability like you're able to sell in areas like that move down here and put a tonne of dough in your pocket. So affordability number one, and I said them I toured them around the area. We went for a great lunch show them the wineries, the beaches, you know the lakefront the all the pretty little shops and microbreweries that we have here. And I said listen, we can make you fall in love with this place. But I recognise the number one reason you're moving here is because you want to be mortgage free debt free move here. But some of the side benefits are just quality of life. Anyone who comes from the GTA says the same thing. I get back so much of my day and my week because I'm not stuck in traffic to go from the south shore of Essex County to the North Shore is about 35 minutes. That's the longest drive you're gonna have in Windsor Essex really.
Erwin
Life is amazing. Small town.
Matthew
Yeah. And you've got an internet like we flew out of Detroit, which was an hour from my door to the Detroit International Airport. You've got all the major league sports teams, they're great concerts, amazing culture, food. And then they call this region the sun County. So it's called that because we are remarkably warmer than the rest of Ontario, even London a few hours down the road to get absolutely demolished in winter. And so there's a quality of life aspect to come here that people find but again, largely an affordability these these clients from a town were blown away by what they could get here. They were looking at the higher end they were they were looking over over a million and there's no we sell a lot of homes and a million we do a lot of that luxury real estate. million enough. But they said compared to what we would get back home, it's inconceivable that people would just be blown away. So let's try to keep that secret the best we can.
Erwin
Oh, how is the how is the over million dollar house like the million note and over market has a comeback. Just to give some context for the listener back in 2017. Anything that was high end was hit the most as it fell the most like it fell from the peak high end. Now high is different for every market, right? So for example, high in in Oakville in 2017 was around one point around 1.8 Right 1.8 inches that that probably dropped around 30% from the peak of 2017 but it's recovered probably by 2019 but two years to recover. So what high end isn't is different for every neighbourhood for example, I've shared before on the show my cousin lives Young Street South of 401 so that neighbourhood for example high end it starts at 3 million wow he's but he still tells me anything between two and 3 million flies gets listed imagine imagine like four or five offers sold and flown in 48 hours you know, usually in competition. So that's more like the that's like the active area and then anything under two will fly. That's that's all starter market for them. I'm talking about houses of course. So yes, a million is a million Exactly. It's probably quite high for Windsor, always.
Matthew
Yeah, average home prices. You know mid fives the busiest segment of the market for the last number of months for sure is kind of that low fours to mid fives and we certainly operate there but we really do a lot in the higher end. And I think there's an interesting crossover between luxury and investing because of course, lots of wealthy people have gotten wealthy because they've invested in real estate. So you know, we help them with the purchase and sale of their homes, and we also help them invest in real estate. So I walked off the plane from the cruise ship last Sunday night and into multiple offers on a million dollar listing I had, so we close that. And while I was away completed a deal for a $2 million property. So it's nice to see some of the higher end things moving even my own personal property, we sold it last July, listed at $2.1 million. At a beautiful lake house, one of our massive renovations sold it same day, under asking that sold it the same day we listed it. And for the region, that would have been a very expensive property, something listed over two and our team, I personally sold three of the four most expensive properties in in along the lake, where I live on the south shore of Essex County last year all let's see almost 181975, and then 2.1. So those would certainly be considered here, that kind of ultra luxury. And we've seen a lot more million dollar houses pop up. By large, I think those were out of town buyers coming here saying a million dollars is nothing, you know, I just sold for two and a half in Burlington. So we're seeing that average price point push up, like much to the notes, it's a challenge for locals who maybe haven't necessarily had a house to sell elsewhere and come here with all that equity for themselves.
Erwin
And that's the sad thing about this world is that everyone's pushing other people out. Yeah, yeah,
Matthew
I agree with you. And then I also think, like, do something about it, though, you know, in a sense that, you know, I'm not, I'm not one to, like, in my own mind, like, stay a victim for very long and not to say like not to call housing affordability, you know, say, you know, victims are victimless. But you know, what, what can we do? Is it a is it a side hustles. And another opportunity, not everyone has the ability to do that. But I just believe in being so resourceful and working so hard to do what you need to do. So, I mean, I think we all have origin stories of financial challenges as, as kids or from our parents, or whatever that might look like or even from ourselves. And I love stories of people overcoming that, no matter what their background to become something may be greater than they could have ever imagined. So not to be dismissive of that, but to, to just say, like, instead of, you know, focusing on the complaining part of it, and the lamenting of forces that we really can't control. These are global economic forces, you know, what can we do to improve our own personal situation, and that of our family and
Erwin
community? That's why I buy houses from my kids. The situation so bad. There you go.
Matthew
Yes. And you've spoken so eloquently, that's, that's been inspiring. Like, so much of what I learned in my early days of real estate investing was from listening to podcasts like yours, like, I think I've listened to every episode of your podcast, you know, some of the other great ones out there as well, like you can learn from someone like you who was doing it before we were doing it. And that was a big message that you shared often about having houses for your kids,
Erwin
Mr. ESP real estate savings plan.
Matthew
I think it's brilliant. And for our kids to be able to afford houses in the future, who knows what that's gonna look like, it's gonna be absolutely bonkers to think what a you know, what a single family home is, is going forward and, you know, 15 years when my kids are ready to maybe get into the housing market.
Erwin
And just point of clarification for the listener, I bought these houses. So a minimum as a hedge on the real estate market, should the market get away, because I thought that was mostly what was going to happen. So that way, you know, my, my kids have a foot in the market already. So that they can hopefully afford a home by the time they're old enough to own a home. Okay, so, Matt, you put on your guidance counsellor hat on. Sure, sure. Okay. Just a continuation of what we're just talking about people who, who haven't gotten into the market yet, either for their home or the first income property, but your guidance counsellor had on, what should they do?
Matthew
If they haven't got a home or hadn't gotten from an investing standpoint,
Erwin
almost all of it. So for example, if I'm talking to a high schooler who's lost, this is just me, I'm not a guidance counsellor. I'm not professionally trained at all. Right? If someone feels lost, I encourage a lot of people to learn how to use the tools. Alright, yeah. Because I've, I've met too many people who are good on the tools, who become successful, including a good friend of mine was a lawyer by trade, honestly made more money for him and his family, by working on developments, including being on the tools.
Matthew
I'm not surprised, I'm not surprised. We talked about the stigma around, you know, the trades and that everyone thinks they have to go to university in order to be successful. And I think one of the chronic misunderstanding societally this isn't just in school is just about like, kids want to focus on being rich, getting money. And so they think there's certain pathways to that. And I think, you know, as parents, we don't necessarily focus on the getting rich part, but we want our kids to be nurses and doctors and computer scientists and engineers, because in our mind, maybe there's some status associated with that, or that's what our definition of success looks like. And I think we almost need to change the way we define what Rich looks like. It's really about living your best, most authentic life, whatever that looks like, you know, whatever that looks like, it's all about choices if you want to buy the Lamborghini and that's your golden buy the Lamborghini, but if you're okay with, you know, the Honda Civic and that's your best life because you're using that money elsewhere then do that. So I think that's part of what we're not teaching kids about. I think that
Erwin
oh, that I think you should understand who the Millionaire Next Door is.
Matthew
Yeah, it's great book. It's a terrific book. Because really next door, I love that book.
Erwin
If to drive electric cars, it's likely used. They do. And it was a good chance story paid off. Millionaire Next Door does not own a Lamborghini. Right? And before on the show, like, among my clients, my clients are generally The Millionaire Next Door, they're very successful, they've earned over a million in real estate. And generally, they do not drive a luxury vehicle. And if they do, it's paid off and they bought secondhand.
Matthew
Yeah, this is not about I think, you know, becoming wealthy is not about the status whatsoever. In fact, like, to me the pursuit of wealth, it's almost like wanting to gamify it. So it's almost fun. Like, of course, Listen, everyone needs to have their basic needs met that that is, you know, that goes without saying, but I'll say it, you know, if you don't have food, shelter, those sorts of things like that economic basic economic security, I get it once you've achieved that. And that's what teaching allowed me to do like to feel safe to feel as though I was going to always have an income growing up. My dad was in retail really tough sector at points, made a lot of money and at points lost his job that was that was tough for our family. So teaching was that safety net, but above and beyond that, that's where the fun comes in. Like how can it make money we learned about options trading, we dove into that, that was really interesting. Now we're learning about whole life, different facets of real estate investing, we tried to flip some of them went terribly, you know, we learned from it we move forward. So I think it's like, there's been moments in life where I've reflected too much on failures or things didn't work well or, you know, falling outs with, you know, people in life and, but I think it's almost like we overthink it that's maybe like our ego. It's almost like, we delve too deep into that and trying to extrapolate meaning from it. And it should really just be like taking it as, as the learning it almost seeking curiosity and saying like, that didn't work out. I'm going to try this next. And that's where the fun of this comes. Because real estate investing is really quite boring. But I think having like a partner to do it with like, Kyle, my partner, we talk every single day. We talked all throughout the cruise, it's so much fun to do it together. But you have to find those those right, right people like minded people.
Erwin
So that actually brings up a really good lesson. Because in the background quietly, a lot of these companies, a lot of these gurus are coaching or weekend programme graduates or you know, they belong to the paid whatever an education, a lot of these folks are failing. And when I mean failing, they didn't just lose money. They lost their shirts, like some of these folks are going bankrupt. For example, one company that I studied, it was just a bad partnership. As in, and I mentioned it during like the Ben Bergen episode. For example, all businesses hard, all businesses hard, like Apple nearly failed many times, Tesla, SpaceX nearly failed many times. But one thing one lesson I refer back to often for Apple, for example, is you have Steve Jobs and Steve Wozniak, their skill sets couldn't have been more complementary, right? There was almost no overlap.
Matthew
Right? The integrator and the visionary though, concept,
Erwin
right? And Wozniak was just more more than the integrator, he could do everything. In terms of integration in terms of like he built their first computers. He had all the engineering, early engineering expertise that they needed to at least create the prototype jobs. I don't know how many years would take him to be able to do that himself. But jobs could sell, right jobs can market, he could sell a vision, he could recruit people, right? Like those skills are extremely complementary. In conversation with Kyle like, it seems like it's the same way as with yourself and your investment partner.
Matthew
Yeah, yeah, very much. So I think you need to have complementary skill sets. And I think those those two roles are integral. It's the same with you know, Doris, and I in real estate, we have really complementary skills. And we recognise that so the value proposition for Doris and I and in our real estate team and coloniser real estate investing, is, it's something that gives us just confidence, we understand it, there's never there's never a gripe, there's never a wonder if it's worth it or not. It's just such a beautiful marriage of differences. And, you know, to relate back to your question about kids and how to guide them, I think, you know, those are the types of things that we don't really recognise or realise and we talked about EQ before, like, how do you get along with others? You know, we were all selfish shad seed in my young young kids who are still learning this and learning how to get along with others in elementary school, it was young ages. And then the other thing is just like to be become mentally strong in our in our mindset, like It amazes me as an adult. I'm 44 years old, how much effort it takes to maintain our mental health, physical and mental health. And I think that's a message lost on or not taught explicitly when we're younger. I They're like, I just feel like I'm sort of surrounded kind of constantly by people who are in crisis, or having an having a challenge in life that's really taking a toll on them, or, you know, if succumb to some sort of an addiction, or, you know, my own brother took his life during the pandemic in 2021. And it was, I think, in part to do with his mindset, that eroded you know, pandemic related some other challenges with with addictions. And I think that ultimately, maybe some some mental illness, but you know, coming out of that my approach to grieving was to learn how to grieve. And I really, it's something that I worked through, but in reflecting on his passing, and he was a carpenter, incredibly talented carpenter. And reflecting on his passing, it's just that my takeaway was, we need to maintain our physical and mental health, above all things, we need to become mentally resilient, we need to have outlets for when we are feeling stressed, or under pressure, and it were all a work in progress I'm far from from being perfect. But through having that just like in real estate coaching, I got a grief coach or a grief counsellor, and she was just really able to help help with a perspective that allowed me to actually move through that grief and not cling to it, not hold on to it, you know, so that it actually curtails you know, your life. So kind of going off on a tangent here, but I just think so many real estate investors, successful real estate investors, and I think I see this new, we don't know each other well, but you seem to have amazing resilience, a great support network, and a lot of habits you put in place to keep you mentally and physically healthy. And I think that's, that's so integral to success in life, whatever your Pathways,
Erwin
thanks for the compliment. It's a good point to bring up. Resilience is incredibly important to be any successful investor. To get him to be successful in anything in life is how much shit and you deal with. Yeah, we deal with shit. Like we got tenants, we got renovation projects, we got points that are being broken and timelines that are being better going. But you mentioned years went double plan three months, they went to six months like these are difficult and stressful.
Matthew
And when we save our kids from from experiencing any stress, or having to navigate through challenges, when we save them from that when we come in and rescue them, I think is their natural instinct, as a parent, as I saw it at school a lot, you're actually hurting them. Because the time to save time to learn about all that is while you're in school, my advice for kids was like, take opportunities, try different things. It doesn't matter if you're the worst person on the team or that club, like just gather experiences. That's what my advice would be. But as kids like our confidence is so fragile. We all just want to cling to whatever niche we're a part of, or whatever one good thing we've been told we're good at. And I think we just need to have far more range. This whole culture, my kids are dancers are eight and 10. They danced six days a week. I'm like, we don't have time for Girl Guides. I'd love that. I'd love to do hockey or soccer. And so I think is as parents, helping our kids gather experiences is integral to making them have that resiliency talk about when we're when we're older.
Erwin
My kids are in competitive public speaking. I love that. I love that. And their classmates, when we see them in competition where they are so polished. versus my kids are like usually the bottom quartile. Because honestly, cheering are really busy. And we're not going to handhold them through this. So they get their butts kicked. But I think it also is that other parents are doing a lot of the work for the kids. coaching the crap out of them. Right like that is like their focus is they want a winner, competitive public speaker versus for our cheering. We just want our kids to be comfortable speaking in front of a publicly, right our goals are very different. And it's funny because cheering made an observation at a certain age. I forget what she said someone were like 1315 the quality of the talks just fell apart compared to the younger, because there seems to be an age where the parents stopped helping. I would see like a 12 year old would better be better, better than a 15 year old.
Matthew
I believe it like I taught at all three of my schools had specialised programmes. My first school was a specialised arts programme. My second school was an enriched math and science programme like kids would come from China specifically to come to the school in Windsor. It was crazy. And my last school I helped create this specialised programme for kids who wanted to go into medicine, computer science and engineering. What you would see though, is when kids got into those latter years of high school, the pressure just got to the point where they were just crumbling. Some of them I saw a lot of really high end kids get burnt out at 1617. And you're like, oh my god, your 20s is so much harder, like, like what happens next? And so to your point, I think that and listen, parenting is so hard. I am far from a great parent and really very much figuring it out. But I think we have to let her kids Doris my real estate partner says it all the time her kids are in their 20s You have to let them struggle. You have to let them experience struggle. And I really reflected on that because my A instinct as a parent is to swoop in and say, you know, and that's actually the maybe counter intuitive to what we are counter to what we should be doing, like, Let them struggle, let them learn support them. But but let them enough participation ribbons, right? I mean, they get lots of lots of encouragement. And I think feedback as a teacher feedback is really interesting. I don't think we do it really well. They talk about descriptive feedback. So instead of saying, like, Great job, like, it's more like, I really liked how you structured this paragraph, and that you made these three great points over here. It's about really giving people descriptive feedback that they can use, because great job doesn't really help me. But we feel good for getting that giving that, you know, Pat, on the back type of thing. So I think feedback is so so important in those points of maybe reflecting with your kids and having those conversations so that they're even learning from what they're what they're going through and recognising that that learning. That's where that EQ I think is, is part of that that growth is so integral.
Erwin
Matt, we're over time. Thank you for being so generous with your time. I'm sure. Josh, I'm pretty sure your hourly rate is very high.
Matthew
I'll be sending an invoice after this.
Erwin
I can't afford you.
Matthew
I just send you a referral. Send your referrals don't drive down here. But if you do, I'll give you a great tour of the
Erwin
region. Matt, where can people connect with you? Where can people follow along? Well,
Matthew
I, Kyle and I and another one of our partners, John have started a podcast called invested teacher. So our audience is really aimed at you know, those that are baby benefiting and doing well in life already. But when it go that that next level of exploring investing from that standpoint, so the investment teacher.com in the invested Teacher Podcast and grown Episode 15, or 16. And having a tonne of fun sharing that my real estate team is called the real group, you can find us at the Real group.ca. And my own personal Instagram is Matt loves real estate would love to connect love to talk about real estate, love to talk about learning, and always love to meet great people who are interested in the same things.
Erwin
Fabulous Matt, and then any final words you want to leave off with to the listener or 17 listeners.
Matthew
That number sounds like it hasn't really grown, you know,
Erwin
here actually, let me frame the question for you. If you could stand up stand on stage with your old school in high school. What would you tell them? Yeah, you
Matthew
know, that's that's such an interesting question. I think I would, I would tell them that, as the author Marie Forleo says, Everything is figured out double click, we can figure this out, always and forever. There's always a way forward. I think that I think that I would Gosh, that's that's a that's a really great. That's a really great question, Erwin, that's a really great question. I think, what would I say to those kids? I think that, I would think I would tell them that we spend far too much time thinking about the future and the past. And that in that very moment, we can be in the in the present. And I think that that's important for all of us, because we're full of hopes, ambitions, or maybe regrets. And I think that that's part of it. I think I would say that life is not a straight line. It's not a to be that it's a squiggly line with lots and lots of learning in between those squiggles. And I think that when we reflect at the end of our lives, that each one of us would hope to have made a difference, and to maybe have lived a path less travelled more, at least more exciting and more interesting. I'm really interested in retirement and even, you know, there's that great book, The Five Regrets of the Dying and just like thinking about your life, I was a history teacher. So for me, history wasn't about names and dates. It was about stories. And it was about understanding themes. And it was about reflecting on what the past look like and how that has, you know how that has changed or stayed the same. I think that's just so, so fascinating. So our life has been a blip, but a blip you know, in that in that vast timeline of history, and I think that we take it far too seriously. And I think that we could all live a little bit more creatively and adventurously. It's pretty awesome.
Erwin
Well, we've got that there. Matt, thanks so much for doing this. This was pretty awesome. Hopefully we'll start enjoyed,
Matthew
really appreciate it. Really appreciate it.
Erwin
Before you go if you're interested in learning more about an alternative means of cash flowing like hundreds of other real estate investors have already then sign up for my newsletter. Find out for yourself but so many real estate investors are doing to diversify and increase our cash flow. And if you can't tell I love teaching and sharing this stuff.

To Follow Matthew Biggley:
Instagram: mattlovesrealestate
Website: www.therealgroup.ca
Podcast: www.investedteacher.com
HELP US OUT!
Please help us reach new listeners on iTunes by leaving us a rating and review!
UPCOMING EVENTS
You are the average of the five people you spend the most time with! Build connections with empire builders and trailblazers at our iWIN events.
BEFORE YOU GO…
If you're interested in being a successful real estate investor like those who have been featured on this podcast and our hundreds of successful clients please let us know.
It is our honour to give back and educate others on how we build cash flowing real estate portfolios using all the best practices shared on this podcast, from the lessons of our hundreds of clients and of course our own experience in owning investment real estate.
If you didn't know already, we pride ourselves on being the best of the best real estate coaches, having the best property managers, contractors, handy people, cleaners, lawyers, accountants, everyone you need on your power team and we're happy to share them with our clients to ensure your success.
New investor or seasoned veteran investor, we can help anyone by providing our award winning coaching services and this isn't all talk.
We have been awarded Realtor of the Year to Investors in 2015 by the Real Estate Investment Network, 2016 by the Canadian Real Estate Wealth Magazine and again in 2017 because no one told the judges no one is supposed to win the award twice but on merit, our peers deemed us as the best. In 2018, we again won the same award by the Real Estate Investment Network.
Hopefully being the most decorated team of Realtors in Ontario will make you consider us for your first or next real estate investment. Even if you don't invest in our areas, there's a good chance I know who would be ideal for you.
I've been around for a while, some Realtors are talented at servicing investors there are many with great ethics. The intersection of the two, talent and ethics is limited to a handful in each city or town.
Only work with the best is what my father always taught me. If you're interested, drop us an email at iwin@infinitywealth.ca.
I hope to meet you at one of our meetups soon.
Again that's iwin@infinitywealth.ca
Sponsored by:
Infinity Wealth Investment Network – would you like to know how our investors returned 341.8% on positive cash flowing real estate over the last five years? On average, that was 68.4% per year.
Just imagine what winning in real estate could do for you.
If you would like to know how we did it, ask us how by calling 289-288-5019 or email us at iwin@infinitywealth.ca.
Don't delay, the top markets we focus in are trending upward in price, so you can pay today's price or tomorrow's price.
Till next time, just do it because I believe in you.
Erwin
Hamilton, St. Catharines and Toronto Land Development, Real Estate Investor, and soon to be builder.
W: erwinszeto.com
FB: https://www.facebook.com/erwin.szeto
IG: https://www.instagram.com/erwinszeto/
https://www.truthaboutrealestateinvesting.ca/wp-content/uploads/2023/04/Matthew-Biggley.jpg
630
1200
Erwin Szeto
https://www.truthaboutrealestateinvesting.ca/wp-content/uploads/2017/06/TruthRectangleLogo.png
Erwin Szeto
2023-04-25 20:20:51
2023-06-16 17:04:44
Quitting Teaching to Full Time Real Estate Agent (31 Doors) & Investor in Windsor With Matthew Biggley