Mini Retirements, Mini Hotels, Rental Hacking With Sve Pavic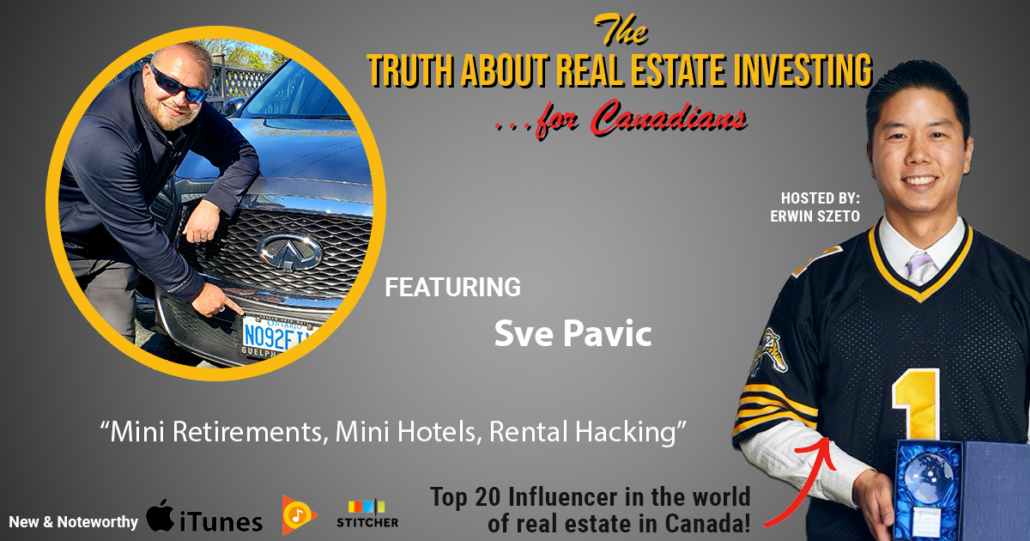 👨‍🏫👩‍🎓Yay!! It's back to school and back to work!! Cherry and I dropped off our kids this morning to no tears and no clinging. Maybe the kids already know everything and don't need us anymore 🤣🤣.  For my youngest, it's his first day of real school. No more pre-school at a public school. Yes, I said public school. For a lot of you wealth hackers out there, I know for you it's private school or bust. I know a lot of non wealth hackers who feel the same and pay for private school using their job income.
There's nothing wrong with that, it's a choice. I prefer to rely more on my wife and I to educate our kids in business and investing, you know, stuff not taught in public or private school, that could very well provide higher return. We are raising wealth hackers. Kids who are independent and have control of their destiny. Control also means financial security, so I'm going to make sure they can live free of student debt, rent free, and free of mortgage debt. They won't live lavishly, I'm talking about starter homes for them, whether it be in Toronto or Vancouver. Maybe a two bedroom. 🙂
Speaking of Toronto, here's the latest on rents in Toronto. Cherry was surfing Facebook marketplace last night and found a modern, downtown condo offering 1 bedroom and 1 bathroom for $1,600. Wow! Great deal, right? Then you read the description, the offering is actually a bedroom with ensuite bathroom in a 1 bedroom plus den and two full bathrooms. This landlord is going to gross around $3,000 per month!!
Creative business, yes. Much cheaper than a regular, one bedroom apartment but, damn, this is what the world is coming to and to me the choice is would I rather be the landlord or the tenant? The same applies for would I want my kid or my mom and dad to pay that sort of rent, or would I prefer to collect those rents wherever I choose to invest?
It really is a choice and a matter of courage that decides which side you're on. Even if you don't have the down payment today, I've been there, and made the decision to invest in myself to earn more job income to save more and  improve my credit.  Have the courage to push harder because no one is going to do it for you…. Unless you're my kid, then I'll help push a little. 🙂
Many of you have been asking about my AirBnb progress.  The Summer was amazing!! September, not so much, so we are already exploring options for a furnished rental.  After speaking to my friend, Roger, we believe a furnished rental to young professionals by the room would provide the optimal return while minimizing risks. This is not a condemnation of short-term rentals but rather my formula is not providing desired results.
I pay a property manager a well deserved 20%. We outsource cleaning and pretty much everything else, but the investment will go negative cash flow if September and other months continue like this.
Not to say all short term rentals are bad. iWIN members in same city are having success and together we'll be sharing at the September iWIN meeting, so iWIN members may learn the latest best practices on a newer strategy.
Speaking of newer test-strategies, we are dropping knowledge bombs at the November 9th Wealth Hacker Conference, all day at the Toronto Congress Centre. 
At the Wealth Hacker Conference on Nov 9th in Toronto, considering the line up of experts we have, I would expect all attendees to have more than one takeaway and one connection made.  If you're looking to start or build a business, you need to be there. We have expert speakers sharing how they started a business literally sitting on the floor of their garage and grew it to eight figures and Profit 500 THREE times in a row. 
If you want to level up your real estate investing or buy your first investment, you need to be here. The window of opportunity is shrinking and you want to know the best strategies to cash flow and capitalize before it's too late.  
If you want to learn how to hack stock investing by selling options to make six figures in 30 minutes per day, you need to be at the Wealth Hacker Conference.
If you want to bring it all together and hear it from one of the top coaches in all of North America. All successful people have coaches, if you want to 10X, you want to hear what MaryAnne Gillespie has to say.
Finally, if you want to preserve your money so you minimize your taxes, maximize incentives to keep as much money as possible for your retirement, family and favourite charities, you will want to be at the Wealth Hacker Conference.
No matter where you are in your career: job, self employed, entrepreneur, investor – you will walk away armed with more knowledge to 10X your results.
Mini Retirements, Mini Hotels, Rental Hacking With Sve Pavic
Speaking of short term rentals, Mr Sve Pavic uses AirBnb as part of his repertoire in his rental hacking.  He is the CEO of RentalHacker.com and LUX Rentals.
Sve's a young man who's already spent an extended period of time in Costa Rica with wife and young daughter while operating his rental portfolio from there.  What's interesting about Sve's story is how he's implemented several strategies: rooming house, AirBnb, legal suites, mini hotel… and he's getting great rent by pushing the envelope with just a small number of properties. I think Sve's story should give a lot of young people and those just starting out a lot of hope. Plus his use of automation in his management is impressive. Get those pens and notepads ready! Without further ado, I give you Sve Pavic
To Listen:

To connect with Sve:
Web: https://www.rentalhacking.com
Facebook page: https://www.facebook.com/RentalHacking/
Facebook group: https://www.facebook.com/groups/rentalhacking/
Do you have questions on wealth hacking? The shortest path to financial success or questions on investing in: houses, basement suites, coach houses, syndicated mortgages, private equities, public equities, sandwich leases, lease to own, student rentals, AirBnb, wholesaling, off market deals, house construction.  I'll admit when I don't know and will dial a friend for an answer.  
If you have a question, we don't have any fancy means to receive questions so if you enjoy the show and want to leave a five star review on iTunes, your question will definitely make its way to me and I'll answer your question on a future episode of this podcast.
I'm also grateful for all your positive comments and fans of this show. It is my view that life would be a bit better for everyone if we all could make and save a bit more money at the end of the month and if you make a lot more then your family and community would benefit even more and nothing would make me happier.  Till next time, my name is Erwin and I am a wealth hacker bringing you the truth about real estate investing for Canadians.
Sponsored by:

TitanInvestmentRealEstate.com – would you like to know how our investors returned 341.8% on positive cash flowing real estate over the last five years? On average, that was 68.4% per year, just imagine what winning in real estate could do for you. If you would like to know how we did it, ask us how by calling 289-288-5019 or email us at admin@mrhamilton.ca. Don't delay, the top markets we focus in are trending upward in price, so you can pay today's price or tomorrow's price.
Till next time, just do it because I believe in you.
Erwin
Hamilton, St. Catharines, Toronto, Land Development, soon to be builder and Real Estate Investor
W: erwinzeto.com
FB: https://www.facebook.com/erwin.szeto
IG: https://www.instagram.com/erwinszeto/

https://www.truthaboutrealestateinvesting.ca/wp-content/uploads/2019/09/Sve-Pavic.png
630
1200
Erwin Szeto
https://www.truthaboutrealestateinvesting.ca/wp-content/uploads/2017/06/TruthRectangleLogo.png
Erwin Szeto
2019-09-06 16:36:47
2019-09-06 22:41:40
Mini Retirements, Mini Hotels, Rental Hacking With Sve Pavic