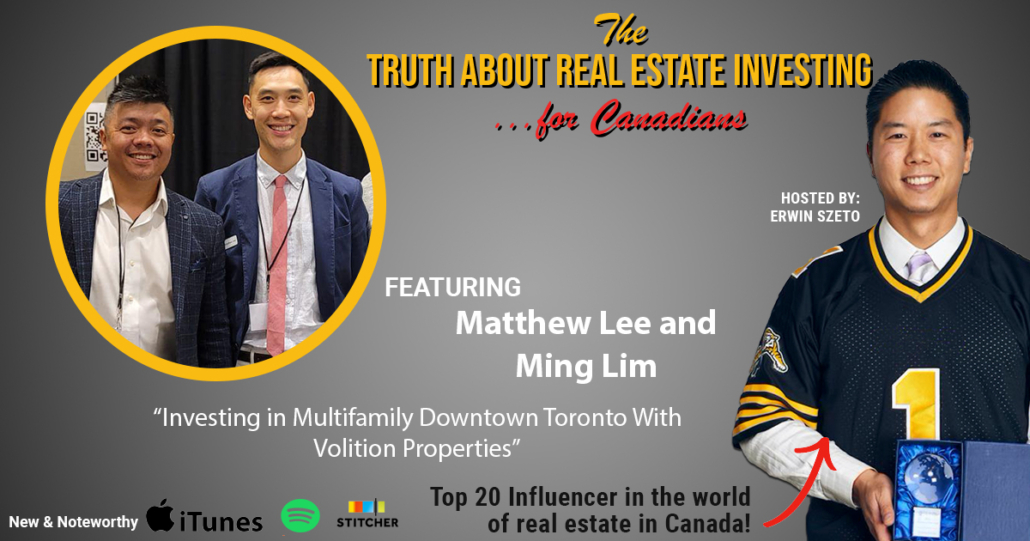 Real estate investing is booming! 
You can win big, but you could also lose. There is risk with real estate investing, and that's a reality no one is shouting about.
The market has taken very good care of us long-time real estate investors with over 10 years of actively BRRRR'ing, investing, and continuously improving. 
However, it's only recently with the high leverage, get-rich-quick strategies schemes that caused investors to go bankrupt in 2021 before the downturn ever occurred, but the organizations they belonged to swept them under the rug.
Fortunately, many good people and investors are willing to share what works and does not on this podcast. We have off-the-record conversations, which helps me filter out the noise as to which courses/coaches/strategies are good and which are not. 
The whole point of this show is to highlight how to achieve predictable, repeatable success in real estate investing vs. hype and shiny objects.
Also, to update you on current events relevant to Canadian real estate investors. 
For example, in the US, all eyes are on regional bank PacWest whose stock has collapsed 75% since March this year, as there is the fear they are the next bank to fail. 
What do banks in the US and internationally have to do with us? 
Traditionally, bank turmoil leads to bailout paid for using debt and cause falling interest rates. I've included a chart of how in 2020, US Federal debt payments increased by 50% from $600 billion to $900 billion.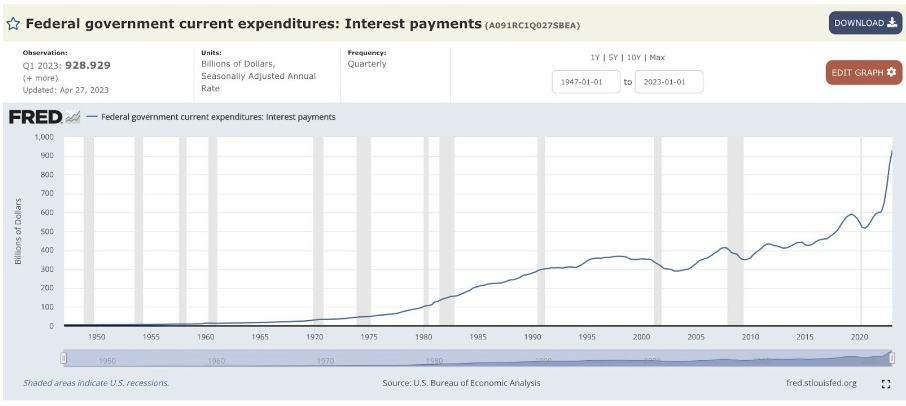 Keep in mind, when governments have excessive debt, an investor's best defence is hard assets and my clients and I choose real estate income properties and have made millions.
When interest rates decline, we'll see more fuel to the fire in the real estate markets and properties we target where everything is already selling quickly.
The bond traders also predict rate cuts by the US Federal Reserve starting this September of 0.25% and subsequent 0.25% cuts each meeting after that for a total of 2% in cuts by the end of 2024; I've included a chart in the show notes as well. 
For those on our email newsletter, the show notes and charts will appear in your email inbox if you're among the 10,000+ Canadians who already subscribe. 
Sign up today to receive timely updates on our new podcast episodes and be the first to know about upcoming events like iWIN free training and Mastermind Tours that you won't want to miss. 
Our newsletter is the perfect way to stay connected with us and stay informed about all the exciting things we have in store. 
Don't miss out – Go to https://www.truthaboutrealestateinvesting.ca/ to sign up now and join our community of engaged and informed 17 listeners!
As always, we'll tell you how it is to be an investor in real estate in Canada.
Investing in Multi-Family Downtown Toronto With Volition Properties
On to this week's show! 
We have Matthew Lee and Ming Lim, the owners of a full-service real estate business called Volition Properties, who happen to host the largest meetup in Toronto.
If you can believe it, they and their community successfully invest in Toronto. We're not talking about condos; we're mostly talking about small multi-family, including significant renovations to add apartments, including laneway suites since 2012. 
If you've been investing the right way in Toronto since 2012, you're likely rich like these guys and their clients, who've collectively added over $100 million to their net worth.  
Volition offers advisory, investment realty, design & renovation, AND property management services.  
They both also have good size portfolios, wives and young kids.  How do they do it? Let's find out!
If you enjoy the episode, Volition is hosting a meetup Wednesday, May 17th, doors at 6 PM on the Danforth. 
CLICK HERE to register as ​​the keynote speaker is one that's not to be missed! 
This episode is brought to you by me! We don't have sponsors for this show. I only share with you services owned by my wife Cherry and me.  Real estate investing is a staple in my life and allowed me to build wealth and, more importantly, achieve financial peace about the future, knowing our retirement is taken care of and my kids will be able to afford a home when they grow up.  If you, too, are interested in my systematic strategy to implement the #1 investment strategy, the same one pretty much all my guests are doing themselves, then go visit www.infinitywealth.ca/events and register for our next FREE Online Training Class.  We will be back in person once legally allowed to do so, but for now, we are 100% virtual.
No need for you to reinvent the wheel; we have our system down pat. Again that's  www.infinitywealth.ca/events and register for the FREE Online Training Class.
To Listen:
Audio Transcript
**Transcripts are auto-generated.

Erwin  
Real Estate is booming. You can win big, but you can also lose. There is risk with real estate investing. And that's the reality no one's showing about, learn about how everyday investors lose as well as win here on truth about real estate investing show since 2016, nearly 300 episodes all over an hour long. And before that I was blogging since 2010. Weekly, the market has done a very good job of taking care of us longtime real estate investors with over 10 years experience of actively burning, besting continuously improving, it's honestly the truth is it's only the recent high leverage get rich quick schemes that have caused investors to go bankrupt, including going bankrupt in 2021. Before the market even downturn, so their own investing Operations, Business Operations failed them, not the market, not interest rates, nothing like that. And the organisations that those coaches students belong to, they simply slap them under the rug. Fortunately, there are many good people out there and good investors out there who are willing to share what works and doesn't work on this podcast. And also understand that we do have off record conversations as well, which really helps me filter out the noise as to which courses coaches strategies are good and which are not. And the whole point of the show is to highlight how to achieve predictable repeatable success in real estate investing versus the hype in shiny objects. Also keep you updated on current events relevant to Canadian real estate investors. For example, in the US, all eyes are on regional bank PacWest, whose stock has collapsed 75% Since March 75%, they've lost three quarters of their value since March, as there's fear that this is the next bank that will fail. There's a couple of other banks that are in similar situations. What do banks in the US and internationally have to do with us? Traditionally, bank turmoil leads to bailouts paid for using debt, government debt and cause falling interest rates. I've included a chart in the show notes of the show. So to explain what I wanted to highlight in the chart, if you look at 2020, so only three years ago, before the pandemic, the US federal debt payments, so interest expense related to their debt has increased 50% In just over three years. 50% from 600 billion to 900 billion currently doesn't interest payments. Keep in mind, when governments have excessive debt, investors best defence is hard assets, my clients and I choose real estate income properties. And doing so we've made millions of real estate investing. When interest rates decline, we'll see more fuel to the fire, more fuel added to the fire and the real estate markets and properties we already target where everything is already selling quickly. We are in a pretty heavy seller's market already. The bond traders that predict so I use a tool called the CME group's FedWatch tool. It aggregates and analyses what the bond traders are doing. And bond traders in are predicting rate cuts by the US Federal Reserve starting in September of point two 5% and subsequent point two 5% cuts each meeting after that, for a total of 2% and cuts by the end of 2024. Identically included a chart in the show notes as well. Again, this is what the bond market's saying. These are my predictions. I use a piece of information like this to form my own opinions. For those on our email newsletter, the show notes and charts will appear in your email inbox. If you're among the already 10,000 Plus Canadians who already subscribe. Sign up today to receive timely updates on our new podcast episode, episodes and you'll be the first to know about upcoming events like Ireland free trainings and mastermind tours. But you do not want to miss the tours especially they sell out usually within just a few days. And those are really highly valuable. Our newsletter is the best way to stay connected with us to stay informed about all the exciting things we have in store. So don't miss out, sign up now. Join our community of engaged and informed 17 listeners. And if you're new to the show, or the show, we do have a few more than 17 listeners, we're actually closer to 20,000 downloads per month. So if you're interested in joining the community, www dot truth about real estate investing.ca And then you'll start receiving our newsletter to be informed about real estate investing in the events that we have going on. www dot truth about real estate investing. Enter your name and email address on the right side in your skin. You're good to go. As always, we will tell you how it is to be an investor of Canadian real estate. onto this week's show. We have Matthew Lee in England, the owners of a full service real estate business called coalition properties. They happen to also host the largest meetup in Toronto and if you can believe it, them in their community successfully invest in Toronto, mostly small multifamily again so we're not talking about condos we're talking about small multi families you know duplex triplex four Plex five Plex is about and do understand they do require significant renovations. Significant renovations required Have you no capital to invest? Preferably cash. And so Matthew and link detail how they add apartments to existing buildings, including laneway suites. And they've been doing all this since 2012. If you invest in the right way since 2012, in downtown Toronto, you know, if you've avoided all those shiny things about other countries and provinces, including ones that are oil rich, if you compare an orange province versus downtown Toronto investing, well, yeah, there's really no comparison. You'll likely be very rich like these guys are and their clients who've collectively added over 100 billion to their net worth. Position offers advisory services, investment Realty Services, designing renovation, and property management services. Yeah. On top of that, these guys both have good sides, portfolios, wives, young kids, how they do it. I don't know. Obviously, it'd be pretty boring. So let's find out together. If you enjoyed this episode, volition is hosting a meet up on Wednesday, May 17. Doors are at 6pm I don't think the meeting starts to like seven ish. It's on the Danforth. So if you're downtown, you know, you're on the dance floor. I think that's pretty easy. I'm not trying to lie, but I know enough. I know it's pretty should be pretty accessible by subway. Link is in the show notes to register. And the keynote speaker is someone you do not want to miss link, again is in the show notes later on in your email newsletter. Then you'll see it there. So please enjoy this. Oh, gentlemen, what's keeping you busy these days?
Ming  
Jeez. A lot. We're actively trying to run this. Toronto investment. Realty business. That's got me working 12 hour days, 14 hour days. 1414 hour days.
Erwin  
Has a half that time, so I'm only like, especially since he lives out in the boonies. Actually, yeah,
Ming  
I live out in Aurora. But he said I'm a country boondocking type person. So you drive into the city to work. Okay. I don't go into often maybe like two or three times a week. Yeah. It's a long time in the car.
Erwin  
So it's been a lot of times to see you guys in person. I think it was before the pandemic suicide last night in person. Yeah,
Ming  
I mean, all our hair colours have changed. Since we last saw each other. I'm heavier, you're used to look good, do
Erwin  
I eat less? That's all I can afford it. If he's interested, he can afford to eat
Matthew  
more bags under my eyes since we last saw each other too because of a couple of kids in tow now,
Erwin  
story assures that before kids, I always get carded. As soon as the kid like I was 33 when I had my first kid. I'm a kid getting carded. So yeah, my kids a little bit older than yours. But yeah, so
Matthew  
I'm still weapon bombs. Yeah. And that's my own actually.
Erwin  
Be glad you're still young enough to wipe your own. Safe. Are we?
Ming  
Two minutes into the podcast? Are we off the rails?
Erwin  
We lost like, at least half of our 17 lives. But they should listen to this because you guys have been actually making money in Toronto.
Ming  
Yeah, I mean, it is. And we're starting to see Toronto proper,
Erwin  
not GTA business. Nothing. No, we're talking about, actually, what are your boundaries?
Ming  
So streaming? Yeah, generally, we're staying in Toronto proper. So that is like the original Toronto borough, not North York. Not, you know, Scarborough. We dabble in East York, like we do. We're kind of in East York and the central of Toronto, but we won't go out to like a telco this for investment purposes, right. But we are very centrally located. And that's driven by the way that we approach things like we started, when we started the business. We were all investors and other places. We were doing like, admittance and SunBreeze. And, you know, you name it, whatever was flashing at the time, we were investing there.
Erwin  
And then lots of flashy things. So there was lots of shiny, shiny objects,
Ming  
and we were chasing all of them. Right. And, you know, we were looking at, like the returns, and also the tenant profiles. And I think it was through year, we started listening to a bit of Grant Cardone. And like, I remember thinking myself, how can I text this business? And then I'm like, do I want to Texas business. I was in Waterloo at the time and I was like, I had 20 Something doors and I was like, I don't want more of these tenants. I can't manage it, like it was already working so so much to try to manage that portfolio. So we started focusing more on Toronto, and that was more in our wheelhouse. 10 profiles, which is easier for us to manage. We started looking at what they wanted and developing a business model behind the tenant profiles that we wanted. And yeah, that's how we landed in the city.
Matthew  
So that's generally how we volition as a real estate investment. advisory in realty business. We looked at things a little bit differently. Most people are chasing ROI, the chasing cash flow, the chasing returns and and what have you. And of course, ROI is a really important component to consider, but not in isolation. So it's really funny in finance, there's this concept of risk adjusted return on capital Roc. That concept for whatever reason doesn't exist in real estate. So what volition aspires to do is actually bring a risk adjusted return on investment mindset to our investing as well as a headache, adjusted return or on investments.
Erwin  
I jokingly call it return on grief and either a high number of
Matthew 
headache, grief, it's all the same thing. If you're spending time energy headspace effort, dealing with tenants, LTV, whatever the lower might return, actually. And so what that's all culminated in is the volition investment business model, which is heavily predicated, as you guys were talking about in and around the downtown core. In a nutshell, essentially, we have a business model that actually works in Toronto. It is a multifamily small multifamily business model, acquiring freehold houses multifamily in the residential neighbourhoods adjacent to the downtown core. So it's yes, this is very much Toronto proper 416. And, you know, in these really, really cool funky neighbourhoods that are gentrifying, that are super hip and super attractive to this young tenant demographic, professional millennials, university educated two to five years of school making 60 80k Working at a big company in downtown Toronto. Yeah. So that business model does work. And we're one of the few investment Realty teams that doesn't make it work here in Toronto. Not here in Toronto, I guess here is Oakville now, but
Erwin  
we are we're in the CN tower right now, a nice view of the investment model has changed through time, right? Because when you guys started, I'm sure the property that you targeted in Toronto was different than what it is now. But can you start with what it was when you started? Yeah, it looks like what it costs.
Ming  
I'm sure very much parallels your own investment journey. When you were doing like a duplex and you're paying like, you know very little for it for us. I think it was probably starting at around like six 700,000 When we first started getting into these things, and a duplex with cash flow back that if you're in the right neighbourhood. Now we have I mean, now kind of the minimum is a triplex but we have a lot of clients doing more advanced things. So let's say buying it residential is for adding units exiting on commercial financing with CMHC CMHC. Yeah, CMHC financing, better rates, longer amortisation and
Erwin  
that programme that everybody's talking about the CMHC the MLS? Let's Yeah, everybody's talking about it. Yeah, we
Matthew 
have. Yeah, we have a client right now he's doing exactly exactly this taking small multi families or even single families to turn them into five plexes that can be four plus four Plex plus a laneway, for example, and then exiting on commercial CMHC financing memulai slots, and EMI select is getting 4.34 on the interest rate in a 50 year AM. Once you're into those types of numbers, your cash flow goes through the roof. So this is why like you have to be a little more sophisticated. Yes, we help people find turnkey, too, but turnkey has a lot of competition has certain limitations. If you're a little more sophisticated, and you know how to make Toronto work. Toronto can work for you.
Erwin  
What are the how many doors you need to have for, for CMHC. This like programme,
Matthew 
you need minimum five, five. And then part of it is you have to hit like 100 points, combination of energy efficiency improvements, as well as affordable
Erwin  
housing. So if I was a brand new investor, and I wanted to do one of these, see, I had the financial capacity for this. And that meant because
Ming  
that was my first question. You know,
Erwin  
I'm a millennial. Yeah. Instead of 100. Grand. rubbed all my pennies together? Yeah. 100 grand? No, I'm kidding. Actually, no, it's actually good question. What should to be successful ternal investor which they come to the table with in terms of resources?
Ming  
Yes, it's a good question. I mean, we get people coming from all sorts, everything from like, you know, C level executives down to you know, somebody fresh out of school. And, you know, one of the things I think we pride ourselves on is we're not a traditional brokerage that you know, you want to go buy a condo, here's a condo, we go through an advisory process, which Matt runs and sit down and kind of devise a plan, depending on where you're starting and where you want to get to and how to actually get there. Real Estate's involvement in that. So it's a bit of a wishy washy answer it depends. What we're trying to get people into is eventually Single Family Housing single family with multiplex right not to be investing in condos though that may, may be a step for them along the way. But I look back to like one of our staff she started off in a condo then went to live in a triplex refinance that triplex got into another triplex. So now she's got to refinance. One of those got into Another house for sale, which is now turning into a duplex, bought another condo along the way, and that was in about five years. So that's like, you know, we help people graduate through the properties that way, because otherwise there's no other way to do it. It's not like people are saving up hundreds and 1000s of dollars. It's all about the equity, right? So as accurately grows within the property, getting that back out, so you can go acquire something else.
Erwin  
Because we all come from the same, the same learning that it's all about cash flow.
Matthew 
Those days, rainy days, cash, remember, there's the 10% rule. There's
Ming  
I remember so one of the stories that really sticks in my head one of my like life lessons was I found a property in Waterloo. And the typical cashflow Ford is looking at the time was like two 300 bucks and I found this place was was cashflow like five or 600 bucks. It's like double the cash flow, right? And I was like, super proud of myself. I took it to my mentor. I was like, hey, like, look at this deal. I found I've beaten the market, I found more cash flow. And he turns me he's like, great, what you're gonna do with that you're gonna buy me dinner. And I was actually like, really taken aback because I'm, like, really proud of myself found out. And he's like, so what? You've got an extra 200 300 bucks. He's like, is it in the right locations? He started just drilling me like, What was your time profile? What's it going to look like in 10 years? What's the transit going to be in the area? And I was like, Whoa,
Erwin  
real estate spreadsheet? Yeah.
Matthew 
And that's, I think that is the good quote. You should trademark that. But as we've matured in our strategies in our thinking, it hasn't matured past just cash flow. It's funny. I'm looking at that book by Julie bribe. Cash Flow. Yeah. Is it is it really broad? You wrote that? Yeah. So like, I remember reading, reading that back in the day too. But really, it is more than just cash flow. It is really about equity. And it is really about understanding. So I get a lot of people come to me I run advisory so I got a lot of people to meet come to me and they asked, I asked him, What are your goals? And they come to me and they say, I want to 10 properties like you're no no, I didn't ask you how many properties you wanted. I see what your goals were. Here's what we do at volition what we do during advisory is we want to understand where people are at their starting point. We want to understand where people want to go and then help them build a plan to get there. Which is a lot different than excuse my vulgar anus throwing shit against the wall and seeing what sticks I think that's what how most cuz we've tried all that lots of shit and then we like play in our shit. You know, throw shit try to justify our shit. And by selling it
Erwin  
divesting
Matthew 
Yes, yeah, but we get we get a lot of people who who just say like I want 10 properties or I want maximum cash flow. I'm like no, no, no, no like it first of all,
Ming  
for them Derman.
First of all, if you're looking at Toronto, there are those concepts here. But, but generally speaking, it's really understanding where people want to go because there is no one size fits all investment. Even even in Toronto, as much as we have this multifamily business model triplex for plexes, maybe laneways, catering to a specific tenant profile, and all the rest, there still is no one size fits all type of investment. And so it's really about understanding what their goals are. And then once I understand what those goals are those life goals, I'm talking about what we used to call Belize back in the day, we can translate those into financial goals in support of those life goals. And once I translate those into financial goals, I can translate those financial goals into real estate goals, and I can help them build a real estate plan to get there. And so that's all part of our advisory process. But one of the concepts I want to narrow in on is what you were just talking about, that we were discussing, actually, in the preamble beforehand. It's around equity. And that's not a concept that was taught to us back in our education days, where we don't have the cash flow, we like all cash flow. And then it was it was okay 500 bucks per property. Okay, if I want $5,000 That means I need 10 of those properties. Like that literally was the formula back in the day, we teach something a little bit different now. And what we teach people is
Erwin  
just part of their, it's not like, it's not like $500 $5,000 cash flow is bad thing. This is not realistic. It is like basically, without a tonne of cash
Matthew 
in base in you know, which, you know, like you've done the concept of joint ventures because you're gonna get tapped out and all that other stuff. But yes, absolutely. Like, we think of things a little bit differently now. And the way that we think about it is in terms of equity, and it's really understanding the relationship between equity and cash flow. And that's not something that we understood back in the day. So what I like to ask some clients now you advise your clients is okay. What does Albert Einstein have to do with real estate investing?
Ming  
I have no idea. I don't I haven't gotten through one of his advisors session. For
Matthew 
a long time, what does Okay, so what does Neinstein theory relativity has to do with real estate investing equals MC squared? What is the stand for energy? What does M stand for? mass mass? What does that equation actually telling us?
Erwin  
To move mass to create energy,
Matthew 
it's saying that matter and energy are two forms of the same thing. And through this relationship equals MC squared, I can transform one into the other. Now, similarly, in real estate, if you understand the relationship between equity and cash flow, you can actually transform between the two. So if I built up a whole bunch of equity, that I can then translate that into cash flow. And so one of the ways that we do this is we have the volition multiplier effects for very sophisticated and seasoned investors do not give me anything new. But we show start off with media Toronto $1.5 million triplex making sudden $500 in rent, and basically cash flow neutral at 5% growth, which we think is fairly nominal for Toronto spend less interest for inflation the way it is, right. And you know, that's, that's actually less than the Canadian average over the past like 3040 years, right? 5%, we just model it 5% At 5% growth in four years, you built enough equity in that property to do a refinance equity takeout and go buy another like property. And both properties are worth about 1.8 at that point in time in four years. And then rinse, repeat, keep on doing that. Imagine you reach a certain point, you're 12 and you've got money at these places. Great, right? Then what do you do when we say okay, maybe we wait how long we wait maybe six years, why six years, in six years 5% growth reach a magical number 50% loan to value 50% loan to value means that I can solve for those properties and have the mortgage the other four, and now I'm left with massive and life changing cash flow, not the couple 100 bucks here and there to take your Metro for dinner. Yeah, this is massive life changing cash flow to the tune of in the volition model will kind of explain all this, but to the tune of $500,000 plus cash flow per year. And then we've started the levelling up, you can pass that now we're teaching clients. So I sold a few properties for the first time I've had now have, I had money for the first time in my life, every time I had money, I would always go into real estate. So I was always poor, all of us were
Erwin  
poor. So I'm not even gonna look skinny.
Matthew 
But what we do now is we actually take the net proceeds from our sales, instead of paying off the mortgages of the other half of the properties, we on boarded with private wealth the first time ever, and we discovered that, wow, private wealth has access to financial products that normal retail investors 20 have access to one of those things is structured notes. Structured notes offers a double digit return, fixed income return. And essentially we put we take those proceeds, putting them into notes that in this volition model, it would boost cash flow from about 500 grand to 900 grand a year. This is all a framework. This is not any one particular person's plan. But to illustrate the concept of why equity is so important and focusing on not instant gratification. Now a couple $100 cash flow now it's about the massive life changing cash flow later. And that's where Toronto comes in. So Toronto offers a vehicle to allow this to all happen. Because really, it's about just buying solid risk mitigated properties that are low headache, that allows time to do its thing. And then it's time to do its thing, it can be the vehicle to help you reach those life goals.
Erwin  
I actually know quite a few investors that bought in like small town Ontario that neither of us have, none of us could name. And then their regret greatest regret was I wish I bought near a bigger centre. Because even though they got cash flow, or 300 800 a month or whatever, they missed out on all the equity gains that we all got
Matthew 
at the equity gains. It's also the risk mitigation. When you're buying in a small town, one of the biggest challenges is what's going to happen to this town. So if you look at industry over time, and how our economy is changing, you trenching heavily into a lot of professional services, types of industries, and then it may not be the sawmills and auto manufacturing and stuff we used to do in the past, you know, moving toward the future. And this is why when we start looking at Toronto, there's you know, the the Microsoft's and the Amazon has wanted to come here and so on so forth, the Googles and what have you, and those knowledge workers, the professional, professional employee base, really, for us, it makes sense because they're all coming to Toronto where their headquarters are there and that risk mitigation is therefore in place for Toronto. And it's really funny because if you talk to a non sophisticated investor, they'll look at a price tag of one Point 5 million and go, Oh, that's too expensive. Therefore, it's too risky. Actually, sorry, dude, that's not how risk works. Actually, price is what you pay value is what you get. Yes, it's an expensive price. But it doesn't mean it's risky. That's not how risk works. So that's part of the risk mitigation strategies that we employ at volition when we're looking at these types of investments. I remember
Erwin  
talking to novices and like they want to buy and like the crappiest part of Hamilton. And ask them why? Because it was cheap. Yeah. 60 grand for a house. Like, yeah, but your risk, your risk is way higher. Yeah, absolutely. Property Managers won't go in that neighbourhood. The worst tenants because you're next to the next right next to the steel mill. Right. So your vacancies gonna be high.
Matthew 
A lot of our clients, so due to the fact that it's Toronto, and the price tag, the barrier to entry is obviously higher. Generally, our client bases a higher socio economic demographic. So, you know, senior directors and VPs, and CCS execs and partners or senior partners at consulting firms, accounting firms or small business owners. And so a lot of these people understand the relationship between risk and reward. So we don't have to explain it. I mean, probably less headaches, and they want less headache as well. And so you know, the the business model accounts for all of that, right?
Erwin  
Can you share with the audience like how are they financing properties? Are they still using HELOC? So these guys are these guys are that rich, cash rich.
Ming  
And it comes from a variety of sources. Usually, the majority of our investors are between kind of 35 to 45. So they're not early career and they're not early to investing in general. So they're sometimes playing them from stock portfolios, a bunch of our clients have stock portfolios, and they may be boring against that stock portfolio, for example, with the bank,
leveraging it against the portfolio, not having to divest the portfolio, if you're in
Ming  
private wealth, you can do stuff like that. They'll you know, some depending on what you're invested in, you can get like 80% loan to value and you start to
Erwin  
come up because it's all it's all real estate.
Ming  
Yeah, like, you know, that that's, some people are doing that some people have primary residences that they're pulling money out of, some people do have a lot of cash. But most people are leveraging something, either real estate some other way that made money. There's,
Matthew 
there's another one. So I work with a lot of clients who, again, are profiles, you know, 35 to 45, maybe 50. And they themselves are part of this kind of sandwich generation. We're all most of us are part of the sandwich generation young kids ageing, parents, let's focus on the parents for a little bit. So one of the questions I normally ask clients is who, like if you're, if you're not one of these people who have, you know, $350,000 you can't find it by reaching down into your couch cushions and finding that that type of money, then, you know, your stock portfolio or whatever is not the place where you can come up with the capital available to invest one of the solutions, and it's pretty funny to think about this, if you're in your 40s that mom and dad but not bank, a mom and dad in the same way that a young 20 Something millennial would would ask that woman died 20 Something millennial and let's go buy the first condo and yeah, but actually, one of the ways one of the things we've been thinking about is utilising a boomer parents primary residence, and the primary residence of that Boomer, call it in Toronto call it a $2 million house that's paid off, right, just for ease is not, I think average probably closer to 1.5. But let's just use 2 million for for shits and giggles. So imagine they bought this, you know, 4040 years ago for like 40 grand, right? That's it's funny.
Ming  
I mean, parents like this, by the way.
Matthew 
Anyone anyone willing to do. But boomer parents, there's a really interesting financial product out there that might be of interest and boomer parents, who have a property that's been paid off for a long, long time. Now it's worth 2 million, let's say there are there's a product called a reverse mortgage out there. And the reverse mortgage has a really, really, really bad rap in the States but operates a little bit differently here in Canada. I won't get into the differences, but I'm gonna talk about the merits of it and how this actually works. Are you familiar with it? Have you come across it just what
Erwin  
I've read, like generally people are a bit on the elderly side. And they're retired no other income?
Matthew 
Yeah, that's that's a pretty typical example. So using it to supplement income imagine you know, you had an old Italian grandma who had a house in the annex, and now it's worth like two and a half million dollars and she can't even afford to pay on property taxes, you know, that stuff like that. So it's it's use very typically in examples like that. Drawing equity over the home in order to subsidise a lifestyle, maybe subsidise the pension, maybe to allow people a more comfortable retirement and maybe pay for care as They continue to age and advance on inheritance. Yeah, yes, exactly. But the way that we're looking at it is through an investment ones. And so an opportunity like this could be very substantial. Actually, quite a few of our clients are employing opportunities like this. What it is, is a boomer parents home costs 14 million, say that their age is over 65. I forget all the exact LTVs. But if I recall correctly, I think 55 Age 55 and above, you qualify for like, I'm going to say like 30% LTV or something like that. And then 60 qualify for like 40%. And like 65 is like 50%. I might my LCDs are a little bit off. But the point being that's pretty conservative. It's very conservative. And when you the kicker is no mortgage qualification. If you're if if a boomer parent wants to qualify for a mortgage and do an equity, takeout or HELOC, generally it's very, very, very difficult for them because then they don't have an income. Right. And so that ends up being really difficult to access the equity in their own home. You know, people will say, Oh, can't eat equity, can eat equity can eat equity. But like that, yeah, exactly. My
Erwin  
heart I bought was No, I can't eat it, but equity paid for it.
Matthew 
So I thought you said that you were eating like Kraft dinners and stuff.
Erwin  
But it's been coming up very often on the show, like real investors, people we all know from the community, and it's coming up regularly, no one's eating cashflow, because no one's got it. Right, because like you're the proxies for talking about it to do like a like to renovate a four Plex and build a garden suite. There's money going out the door all the time, like who's eating on the exit
Matthew 
on the refi. Right, but the opportunity grandma's house,
Erwin  
the eating on the reef on the mortgage on the
Matthew 
its equity, it's still it's still the equity that they're drawing out. This is just a really well off of it. This is just a very sophisticated way to access that equity. So a few of the key points here you can get up to 60 50% loan to value with no mortgage qualification. So 50% loan to value no more qualification. Here's the kicker, no more monthly mortgage payments, no monthly mortgage payments, all the interest is capitalised until passing. So think about the opportunity here. If grandma or I guess it'd be not grandma just mom for our kind of like Gen Zed type, not Gen Z Gen X type client base, their boomer parents or our boomer parents would could access a million dollars of equity out of their property no mortgage qualification no monthly mortgage payments yes the interest rates a tiny bit higher it's like some some percents of like 6% or something like that but not all not overly not overly burdensome not too far off like the lender rates right? So can you imagine take a million dollar takeout if they were to hand that money? This is not bank a mom and dad in the traditional sense salute Hear me out. If they're gonna take that money hand it to their Gen X kids, those Gen X kids maybe if they're having problems problems come up with the down payment and or add or mortgage qualification for a $1.5 million triplex maybe they can still qualify for a $500,000 mortgage though not a not a $1.2 million mortgage. So that million dollar takeout becomes a massive downpayment towards that $1.5 million. triplex $500,000 mortgage, massive cash flow because the financing is so low. And if you work out the math, you know, call it $7,500 in rent and call it up maybe $1,000 of expenses. So you know, $6,500 left, call that mortgage payment, like I don't know, three grand, something like that, right? You still have like 30 504 $4,000 a positive cash flow, that positive cash flow can be kicked back to the boomer parents to subsidise subsidise their lifestyle and their retirement, right. And so it can be a win win. structuring it like a win win is the key. So it's not just the handout from bank bank of mom and dad to the Gen X, their adult children, structuring it like win win. And so the beauty of this is that, you know, all this is gonna go to the kids typically anyway, upon passing, the interest gets accrued, and then the reverse mortgage just has to be paid out upon passing. And really, it's just going to be an asset handed down to the kids anyway, normally, you have an appreciating asset, the family home is going to depreciate, yes, you're gonna have debt that's going to continue to accrue but more importantly, I was able to acquire another great asset and have really great cash flow and helped my parents at the same time right and potentially house hack. You can house hack it you can live in the truck triplex you can generate additional rent, you can subsidise during the live cost of living there's lots of great opportunity to hear the triplex
Erwin  
now you can Airbnb the other suites I don't even know I'm not a Toronto person.
Matthew 
There's some restrictions here. Airbnb but but generally, but generally speaking, house hacking is one of the ways that a lot of our clients are get onto the property ladder as an alternative to a condo. And we've we've shown that it is viable alternative to a condo, same down payments and closing, same carry costs. And then
Erwin  
the cost of the grandma, grandpa, everyone in the globe mail just few months ago, I'll find you that article as well. But it's the cost to them is the same if they give it to you today versus they give it to you after they pass
Matthew 
One of the things if you talk to wealth planners and private wealth managers and stuff like that now, one of the things that's starting to come up and I appreciate this too, because my wife works and she has a PhD in gerontology. And so she works in with ageing and care. And one of the things that's starting to come up for these ageing parents is a living inheritance. So you mentioned you refer to that earlier, rather than just upon passing. Give it to them now, so that they can see them enjoy it and appreciate it now rather than later. And then in the context of real estate, real estate is going to be more affordable now than later as well.
Erwin  
By sharing my story on the show, like my each of my kids have a house already about the metre how we train I bought the metre house before their turn one. But then like just don't know more recently, I thought about it, I'll probably get a pretty decent mortgage on it as well. So at least at the pay, like two grand a month or something instead of what it would be if they bought it would be like six 8000 Right. So they have some sort of pain, some some responsibility. Yeah, cuz like my mortgage is big in front of a friend of mine in Toronto has bought a house 2.8. So his mortgage is gonna be like, five digits. monthly payment. I mean, that's crazy. So, you know, my point is that when I wind that down to like two gradients, yeah, you know, something more digestible, like something that you know, that's always like a break them
Matthew 
with a Bill Gates say, I want to leave my kids enough that they enough that they feel that they can. So they feel like they can do anything, but not so much that they feel that they can do nothing. You know what the amount was? 10 million. For him, that's a drop in the bucket.
Erwin  
Can you walk me through like a recent Toronto deal?
Ming  
Sure. So right now, we did one just a couple of weeks ago, downtown near kind of DuPont and Dovercourt for those who are familiar with the city. Turnkey four Plex, very nicely renovated. We picked up for just under 2.5 million. That is and that was trading at a 5.2% cap.
Erwin  
As is or you did as do work to it, turnkey? Did they advertise it as 5.2?
Ming  
They did. And we did all our due diligence, and we took it at just under 5.2. When all sudden then.
Matthew 
Oh 5.2. Okay, I'm getting the digits mixed up. The purchase price was 5.5.
Erwin  
How often does that happen? Well, their account numbers accurate.
Ming  
It doesn't it's not super often because it is not because the cap numbers aren't accurate. It's because true turnkey is not really turnkey, right. Most of the properties that we look at which are turnkey, are really like 70 to 80% Ready, and you still have maybe 40 5070 grand to put in to really get it maximised. Not a bad thing. Because sometimes that means a better deal for you. But yeah, if they do occur, we did one the month before that, which was actually an even higher cap, that house had more problems, though, like, bathroom needs to be fixed stuff like that. But they exist, I think we've seen a rise in trading caps, because of interest rates, right? Like houses aren't going to trade if they're in the low fours right now. Nobody's gonna buy them, especially if your investment properties, right.
Matthew 
So investment. residential investment, real estate was in around the four and a quarter 4% You didn't like 3.7533 quarters. But then, you know, with with the change in the environment in the real estate market, we are seeing kind of high fours
Ming  
are trying to get, you know, trying to buy these directly from developers now because we have clients lined up. We're looking to buy if we can, if we can find something that's in a five cap there, they will happy to buy it. So there any developers on the show want to hit us up. We're always happy to talk.
Erwin  
So these are small, tiny developers. Yeah, we're
Ming  
not looking for big stuff. It's usually people looking like you know, four, four or five, six units Max.
Matthew 
Usually, hopefully still with residential financing. Because that's usually advantageous. But if you you know, we can make it work even on on commercial As we know how to get to, if it's not legal, we know how to get to legal so that we can get it to see much commercial financing CMHC and then CMHC insured without the MLA select programme is about four and a quarter on interest rate and 40 gramme not a 50 around. So it's, it's still pretty good. It's just not quite as good as the NY slap programme.
Erwin  
So how much for this? fourplex? That's right, you said two and a half? Yeah, just kind of down payment of some of the brain for that.
Ming  
He put 20% down.
Erwin  
That's it? Yeah, so
Ming  
maybe not a typical deal, then because you know, he's doing well. So he can qualify under regular residential financing.
Erwin  
Not like they're not trying to live off this cash flow. No,
Ming  
because even at even at that cap rate, cash flows, there's very little cash flow there, right? It is minimal. It really is about acquiring a turnkey property. He's a super busy guy. So he doesn't have time to manage it, he wants something that is gonna be trouble free for his property management company, therefore trouble free for him. And to let it build
Erwin  
equity over time, his property management service costs in Toronto,
Ming  
we have a really good deal that we have with one of our partners, we're paying 400, for
Matthew 
monuments, but it's actually flat rate. So typically, in smaller towns, eight to 10% of rents is pretty typical.
Erwin  
Or it's gone up a lot, though.
Matthew 
So we've negotiated, we have a flat rate, actually. So think it's like 325, for triplexes, and 395 390, and 40 bucks, for four classes, it ends up being like 5%, less than 5%, or less than 5%. In a lot of instances, wow.
Ming  
They don't take on any property though. That's because we're giving them volumes volume, we're also giving them a certain type of tenant profile, because everybody who's, you know, spending three grand on rent in the city is a certain type of professional and whatnot, they're not trying to scrape them,
Matthew 
but they so they, they follow the properties that they taught take on happened to be properties that we they follow. They're very similar ideology in investment business model. So they want headache free, as well as much as possible. And so all the properties that have to be located in a certain area catering of a certain quality catering to a certain tenant profile, very rare. And so that's why they're able to keep their rates and that lowers because of the headache factor.
Erwin  
Go back to this four Plex example. The inherited tenants, you kept them all?
Ming  
Yeah, yeah. In this case, we did. Usually we don't. Most the time you want to make it was because typically, it's under, you know, they're under market. But in this case, we did like we did some due diligence. And we decided to inherit all the tenants,
Erwin  
the due diligence, due diligence, we able to do that during a conditional period or anything like that. Yeah.
Ming  
So you know, this was about a month ago, before things started getting really crazy in Toronto. So we did have a conditioner period to do all these things. Yeah,
Erwin  
the nice days, they went away fast, very fast.
Matthew 
So a lot of a lot of clients now crying over spilt milk. We told them last year by you know who you are. We're like, you know, everyone's like, Oh, I don't want to catch a falling knife. And like, the thing is, like, you and us, we know we studied like economic fundamentals, we understand. We understand that interest rates are just a market influencer. They're not an economic fundamental. Most people don't understand that though.
Ming  
stocks.
Matthew 
And so like I spent a good part of last year talking people off the ledge. Basically, everyone's like freaking the hell out. They're like, Okay, we got into this business model for a very specific reason. And the economic fundamentals are there and the long term prospects haven't changed. So I forget to have it right. And so we talked we last year was a lot of talking people off the ledge, and then a lot of people were apprehensive even though the it was presenting a really incredible opportunity. We knew that this this was going to slam shut once there was stability back in the interest rate environment. And so not that we had a crystal ball but we said once once back Canada wants to back when, like, you know, which they say okay, things are gonna we're gonna stabilise interest rates. What's going to happen? This is where the most newspaper headlines got it wrong, not wrong, incomplete. They said, Oh, the higher payments are making people not want to buy. That's only partially true. The other part that they neglected to mention is that buyers did not want to buy in an environment of uncertainty. They didn't want to buy in an environment of uncertainty. So as soon as we got back to more stable environment from an industry perspective, that immediately got reflected in the real estate market. So the 40% less sales volumes and transactions last year, those buyers at the end of the day was still Toronto, those buyers didn't disappear. They just moved to the sidelines. And as soon as they saw stability back in the market, they all jumped back in, not, let's say all the 40%. But a crap tonne of those 40% of people are back in that market right now. Which is why we're back to point two offers. In the last six to eight weeks, it's been a hellish environment, operating
Erwin  
and listings are way down.
Ming  
This is one of the I guess, I don't really want to call it an advantage. But when you're dealing in, in properties that are kind of the two $3 million range. The majority of people are transacting on that stuff, right? Especially if it's an investment property. So we do have a little bit more time we do have a little bit more grace, than if we're fighting over like, I don't know, like a $1.1 million investment property. There's tonnes of people that are after those kinds of things. But when we're we're playing around the two and a half, three and a half. There's time for negotiations for that way.
Erwin  
That's nice. Well, I'm
Matthew 
well I mean, we have sometimes not all the time, but we have a $3.8 million I flex listing right now it's a pocket listing. And, you know, awesome runs like a two and a half $1,000 of rents cash flows as is. Yeah, so anyway, the point being is that there still is stuff that the competition isn't necessarily there for this type of product. So you can still find really good stuff
Erwin  
just to highlight you're allowed to solve real estate publicly because you're licenced Realtors as well.
Matthew 
Yes, we are licenced realtors.
Erwin  
Breaking the law like some other people do.
Matthew 
He's had a realty so you should talk to him. Don't talk to me. Yeah.
Erwin  
So. Oh, can you uh, what were the rents on this? Two and a half million dollar four Plex?
Ming  
I don't remember them off top my head 12 and a half 1000 Matt matzo was really good with numbers off the top of my head. I'm terrible
Matthew 
in names, and then he doesn't he barely remembered.
Ming  
Yeah, I'm glad it says your name everywhere in this room. Otherwise,
Matthew 
his name is Mr. Hamilton. According to that licence plate. Yes. Expect to see that on the car. I see. See that is dented. So who did I think
Erwin  
it's actually just kind of get it off? Because it's old. Yeah. Yeah, I don't know what else it was. It was just like stuck on.
Matthew 
He's bad with faces. Now. He's done with names and faces. So together we make a really bad one brain.
Erwin  
Also, we have a green plate on the car on the new car. So Oh, yeah. That green plate, you know for each morning driving HOV. So I can reuse this. Like doesn't that didn't give me a job.
Matthew 
People don't recognise that Tesla already means Green
Erwin  
Point. I don't know. Yeah. volts. Think about that. Like, no, no, it's not green licence plate, but
Ming  
it's a pretty recognisable electric car.
Erwin  
Yeah, good point. I'm gonna stick it back on them. But yeah, here's a little thing that they will play. So we don't want to throw shade at any other people's investments. But Matthew, before we were recording, we're talking about investing in Alberta because it's a hot topic, because I don't know you mentioned before we're recording you don't spend much time on social media. But there's a lot like this. It's been in the news by BC in Ontario. People are leaving to go Alberta makes sense. I think Calgary is beautiful. Little too cold for my liking. My family's all here too. So I won't go anywhere personally, there are people flying to invest in but the you have experience. And the reason why I also pick on you as well as because I think it's always wise to speak to someone who has nothing to sell you in Alberta. Right? Because literally I have Alberta bulls in the show. Right? And they're not hiding anything. They have whatever to sell. It's totally cool. Nothing wrong with selling stuff. We all sell real estate here. Yep. And we meet people a lot of money. Right. So it wasn't a terrible thing that we advise them to purchase real estate that we earn commission off of. So what was your experience? Like, you know, Berta
Matthew 
years ago, I think when I was younger and very enamoured by the shiny objects, you know, we all of us here and a lot of the people come on your show are going to be old part of the old rain guard. And so one thing that ranged the tote a lot of was cash flow, cash, cash flow. Back in my earlier days, I think Oh, Reagan used those put those Top 10 Top 10 towns right, and I haven't seen one of those in a long time. But Edmondson, topped the list. There was top 10 Alberta towns, Ontario towns, BC towns and Canada. And Edmonton was at the top of the Alberta one and the candidate when I was like, oh, there we go. Let's go target
Erwin  
was number one, number two on both as well. In Alberta and Canada. Yeah.
Matthew 
And, and so and, you know, a lot of rain top brass invested there. I'm like, Okay,
Erwin  
well, just to give context for the listener, like we're talking about, like 2008 doesn't last for many years. Yeah. Many years, so I don't think anyone needs to know the market that well to know like those markets were all decimated.
Matthew 
Yeah, this is this is years ago. So you know, chasing the shiny objects. I went to a lot of different places and to invest and Edmonton was one of them. And you know, like you said, I want to throw shade in anyone else's investments or anyone else's business models. I'll just speak from my own experience. I purchased it a block of four townhouses. So I basically went in and monopoly terms, I went straight for the, I guess, the red hotel. And so I bought for the block and for townhouses, a number of years later, I went to divest them, I do other personal considerations, and I wanted to bring back everything to Toronto and everything like that.
Erwin  
Coming to us to do holding them five,
Matthew 
five years, we were what year you
Erwin  
got in, because I'm going to ask you how that can work compared to a local piece of real estate. I know this, this is the truth about real estate investing. Right?
Matthew 
This is yeah, I'm trying to remember exactly when early 20 2010s like that back in those days,
Erwin  
held. So that's after the crash to as if I
was at it was actually after the real estate crash in 2008, when she wasn't nine. So you still turned it right. And it didn't work. You know, even from a timing standpoint, it was not that bad. Let me think that 2014 Way worse, if you if you've been way, way worse. I know a lot of other horror stories. I also know, the type of asset I was buying also gave me a little bit little more protection. I know a lot of people were buying really, really, really cheap condos for like 180 grand. And like, I know that people got decimated with not just the market, special assessments, and stuff like that. So anyway, let's refactor and talk about what happened. So I got these blocker for townhouses, five years later went to sell them, sold them for the exact same price, I bought it for five years earlier. And it took me over a year to sell it. Couldn't even find a frickin buyer.
Ming  
And I couldn't properly sell with an APS and
Matthew 
I couldn't even sell it. Normally, I had to offer an agreement for sale, I had to offer an agreement for sale as part of the as part of the offering in order to make it enticing enough for someone to come in and buy. So you know, if you're a little more sophisticated, you were you know, if you know anything but agreement for sale, if your sales still essentially means I'm in the deal. I'm down on title, I'm down on mortgage, you're still the official I'm still the official owner, the other person takes control of the property. And the person dictated to me the amount that they want to put down as a as a deposit. I couldn't even access all my own equity. Because I only got the little pittance they offered me
Erwin  
how much a couple grand
Matthew 
like for the you know, a 20% down payment or 20% equity ahead. I think they came in less than less than 10%. So like half my equity was still locked up in this property and I wanted to get out couldn't get out. But this is this is the realities of, you know, some markets that are very, very boom and bust. And so a
Erwin  
small market we're talking Calgary here, Edmonton, sorry, Edmonton. Yeah, a small market,
Matthew 
not a small market. And you know, it's just it wasn't the same experience as I'd had here when I was here in Toronto. Anyway, who made money on this on that deal? pesky real estate agents on acquisition on the disposition agreement for sale real estate lawyers on the acquisition on the AFS and on the closing
Erwin  
for legal fees to pay
an eye for legal fees yeah times this is all times for because I had four smaller properties
Erwin  
right so I started some by all four so we came in and bought
Matthew 
bought the block of four Wow Yeah, and then so yeah,
Erwin  
so the so the lost money after all, because all the fees you have to pay how this played
Matthew 
out was the logical conclusion actually was they couldn't get financing at the conclusion of the AFS. So I stayed on mortgage because all I had to do was call up my lender and say, hey, I want to renew this for a year and then I was able to get a an extension fee. So that's the only money I made in this whole deal because I actually only they only broke even after holding for five years, not through appreciation through mortgage pay down cashflow I managed to break even and then that small extension fee was the only thing I made an entire deal. But I ended up holding mortgages even longer and not accessing my equity for even longer right so
Erwin  
while inflation did oh yeah, I
Matthew 
lost money. If you if you look at on a real basis
Erwin  
for listeners both inflation was higher than the Matthews returns. Yes. So in real terms, you lost money.
Matthew 
I lost money. Yes. If I had just put it under my couch cushions alone. Yeah, I would have done better.
Erwin  
While I was headed to this probably advisory centre, how to hide money? Coach? Yeah, different yourself. You don't spend it. So I said I would ask, what would you bought instead in Toronto?
Matthew 
What would I have bought? Or Or should I have bought?
Erwin  
Did you have anything in Toronto for example? Yes, yeah,
actually, here's the here's the ironic thing. My very, very first investment property was in Toronto. And I didn't know anything at the time. I was working corporate I you know, I graduated from engineering at Waterloo. And then after that, it worked for a bunch of tech companies on the business side. So here, I was working in Toronto, and I thought I was gonna do what everyone else is gonna do, which was buy condo, let's move all my friends are doing so seemed logical. Okay, I guess I'm gonna buy a condo. And I was talking to a buddy of mine. He's like, why you can buy a condo? Why don't you do it? I'm doing like, what are you doing? Like, I bought a duplex. I'm like, What's a duplex? And then he's like, Oh, it's two units in a house. I'm like, why would why the hell would I want a house? I remember growing up mowing the lawn, and you know, all the crap that comes along with us, right? Somebody who show shovelling snow and everything, all the problems associated with it. Why would I want a house?
Erwin  
Because no one taught us hard assets in school? No.
Matthew 
Here's the other ironic thing. My parents actually invested in real estate when I was young. But I was born and raised in Belleville. And that's where they invested. And they had a hell of a time. I know you've we're widespread audience. So we'll make sure to change. Right. So yeah, coming back, was gonna
Erwin  
sort of actually help topic was belvo Back then, because I think it's 50,000 to
Matthew 
50,000. Now, it was, it was 37,000. Back then. If you kept the boundaries the same, it's still 37,000. The reason it's 50,000. Now is because they amalgamated with the surrounding communities is not a growing market, actually, from a population standpoint. But anyway, that aside, so when looking for a duplex, and because my friend told me it was good idea, and he's like, Hey, I live in one side in one unit, I rent out the other and helps me cover my costs. I was like, Oh, that's pretty interesting. All you do, all you did was allocate your capital in an intelligent way to bring down your living costs. I didn't do that. Cool. So I went, I went shopping for a duplex and then I and then I accidentally bought a four Plex. And that was my very first investment property. I still own it to this day. And that has been still my best performing property. It's a four Plex in the annex. And I lived there for many, many, many, many, many years. Gives me the need my girlfriend turned into a wife and then turned into one kid and turn to another kid living with two kids and 750 square feet is
Ming  
that was delayed moving into his giant custom mansion. That's why
Matthew 
it's not a custom mansion. It is a normal sized Toronto home.
Ming  
It's a nice place.
Matthew 
Why didn't you know, it was anyway, delayed gratification. I was part of it, too. But yeah, that was that was the first investment property that that I had bought. And so Toronto was the first market I actually I've ever entered.
Erwin  
So this fourplex in the annex, there was there was something you had to do a lot of uplift to, or the market is take care of you. The
Matthew 
so we purchased it. It was this was many years ago. So we purchased it for was listed 799 It was already renovated. Turned into Florida units. So I came in not knowing anything. There was an offer date, there was no offers. So I thought oh, let me you know, we'll get this for under market or under the list price. So when like 768 rejected or offer 788 rejected or offer 800 or 79 ad list rejected or offer. And they listen, you just said we want a 10 so, lo and behold, I gave me time. And meanwhile I was kicking myself. I was swearing at my real estate agent. I was like what the hell? How can we good going over ask on there's no other offers? Like what the heck, I'm overpaying for this thing, right? That $10,000 Now, as we all know, is a rounding error. Right? Like it's less than a rounding error or
Erwin  
someone would gladly pay you temperature $10,000 for this property, right.
Matthew 
Yeah, probably. They would probably give you
Erwin  
fair market value and 10 grand for your pain and suffering that property off your hands.
Matthew 
Yeah, I think 10 grand would probably get the closet me less than the closet. The so yeah. I mean, I've refinanced this multiple times over the years and you know, market that is always much higher than that. And it's requiring four flexes.
Erwin  
What do you think roughly? The market value is? No.
Matthew 
I'm not a real estate agent.
Ming  
You should be getting in if you renovate it. So it's it's nicer. No, as is Come on, as is. Low twos.
So that should be that should be I refinanced. I refinanced it. I think it appraised that 2 million, like four years ago. So it's worth more than that. And it needs a bit of work. Yeah, it's a little it's, it's a wonder for a few. Yeah, so more or less, no, but like, the, the thing is, is looking at this upside potential, I can build a garden suite on it, no one knew what I know. Now, I knew nothing back then all I knew was, you know, I knew how to work, I worked in business. So I knew how to run like a business case and business model on it. I know how to run financials on it, but didn't know anything else. Knowing what I know. Now, I can look at look at the zoning on it, for example, the density is 1.0, not 0.6 0.6. Typical in most residential areas, 1.0 gives me the ability to do a lot more with the property, I can add a lot more square footage as of right, I can I can go up, I can go back, I can build a laneway suite on this thing. So now with a more sophisticated lens, I can recognise all this upside potential. And this is the type of stuff that we try to do with our investors as well we look beyond just you know, there's so many people who call themselves employees, you know, you must see this all the time, too. You know, you see you have all these people who call themselves investor realtors. And really they're like, Okay, Mister client, here's the income, here's the expense, here's cash flow. Wow, I'm an investor realtor now, and the reality is much different. There's, you know, legal status and permitted use, there's zoning, there's, you know, building code. First. There's, there's 1001 things that go along with this. And so that's, you know, realising that kind of upside potential or being able to recognise it as part of
Erwin  
a part of our agenda fourplex, that the fires the fire safety standards is like, the most people have no idea. And then,
Matthew 
you know, part of part of what we do with clients too, is we we have advisory on the real estate side. But one thing that's unique is we offer also offer advisory on the construction side. So a lot of our clients who have the financial means and the wherewithal, let's say, to want to go through a single family to legal luxury triplex or legal lottery, four Plex conversion, it's not a trivial thing. Like it's not like you just, you know, get some plans and submit them to the city where you go, it's not that simple. And so, you know, a lot of it, you know, navigating CoA, getting the right architect to add engineers, surveyors and understand understanding things like side setbacks, and minimum basement ceiling heights, and two methods of egress and fire separation and, you know, the 1000 other things. So one of the things we do is we handhold clients through that process. So, for instance, the head of our construction department, and she offers a construction advisor to help people step them through that process.
Ming  
And even at acquisition, you get some of these things wrong. Like you get, I don't know you're looking to a fourplex version. You don't know that right now City's pushing for for an amp service on anything. If it's four units and up. You start to have to upgrade your gas, your electrical unit, your estimates can be off for like 5060 70,000
Matthew 
amps, you have to bury. You can't run that in the air like 200 amps
Erwin  
on a regular residential HMO know this. Yeah,
Ming  
you can't get that wrong. You get it wrong. It just kills your business case, right?
Erwin  
Well, no, the novice buys it and then they find out later. Don't be left on the bag. So Toronto is definitely possible. And then I jokingly asked at the beginning. So you guys have kids in Toronto.
Ming  
So we did so we have a house that's technically for our daughter did life plan was actually for us to move down into that area at some point in time. Because it's in a really good school district. The reality is I'm you know, antisocial country bumpkin. I like being far away. We didn't bring
Erwin  
the farm capital of Aurora. Yeah. Oh, dude.
Ming  
There was a point in time where we were living a place with well water and you know, septic systems. I love that. Like I love just sleeping with the windows open and hearing nothing. But I didn't want like me. Oh, yeah. Oh, man. I didn't want my daughter to grow up to be socially awkward. And have no friends like that, that like that. Like, oh, we better move into this city. So Aurora is are moving to the city. But yeah, we technically she has a place downtown.
Erwin  
Oh, man. We haven't covered it yet. She's running on time to. It still makes sense to buy in Toronto, because you know, you've seen the same headlines for the last. I don't know how many years Bubble bubble. Everything's a bubble.
Matthew 
Even a broken clock is right twice a day, right?
Erwin  
Which is funny because I feel like sometimes I've been right. Oh, I was right. Of course I was. It's been like once in 12 years. before?
Ming  
So, I mean, the short answer is yes, the long answer is, it depends on where you're investing, right? So if you are buying, you know, a heavily non cash flowing place in a part of Toronto that is not going through gentrification, we don't have the infrastructure programmes happening, then that's a bad investment, then you're just paying inflated values right now. So I think more than ever, like, it really is location, location, location. And, you know, I've always spent a premium to get the best locations because that's, that's how your real estate improves in value, right. So
Erwin  
well, here's a quick question. For example, like, how big is that four Plex? How many square feet? Roughly?
Ming  
Each unit is about 11, or 1200. It's pretty
Matthew 
big. That's unusual. Yeah.
Erwin  
We're 4000 square feet.
Ming  
It's big. It's a two and a half million. Yes,
Matthew 
my four Plex is not like that. They're like 800 square feet of
Ming  
floor shows three bedrooms plus a common area. So
Erwin  
I'm the Asian that field math. listener, I'm sitting across from two Asian engineers, so they're laughing at me that I have my calculator. The worst businessman
Matthew 
you can't do that that far.
Ming  
Gives me a hard time is I'm the one with a math degree and I can't do mental math, like 625 square foot.
Erwin  
That sounds about right. Yeah. Why would someone buy a new precondition condo for like, 1700 square feet or whatever?
Ming  
We don't advise people to do that.
Erwin  
Usually triple that, almost triple that and not that much more rent your first four foot.
Matthew 
Yeah, yeah, you're honing in on a very steep concept. And that concept is, Toronto is a very big place. Toronto is not You can't just say I invest in Toronto, because Toronto, there's literally we did. We looked this up. There's like 151 neighbourhoods, 156 neighbours or something like that. We, I think was like a year ago. So we run a monthly meetup group. It has now grown into the largest, the largest real estate Meetup group in Toronto. We have like over 4400 Members, I think it's the second largest in Canada now. The largest one is run by a buddy of mine out in Vancouver. He doesn't keep up with it. So which means that we might overtake him wonder. Your largest active, largest active one? Yeah, yeah. Let's start using that. Yeah, I just that. So but Toronto is a really big place. So I think about a year ago, we delivered a meet up called, I think was entitled, Toronto's next hottest neighbourhood. So we literally went through a bunch of different neighbourhoods looking for where the opportunity was. So we've analysed all these, so you don't have to, because Toronto is a really big place. So you know, oh, Lee sides a really nice neighbourhood. Does that mean I invest there? Mount Pleasant. Davisville is a really nice neighbourhood dominio investor Yonge and Eglinton insert nice neighbourhood here. Right? You know, we there's a lot of people or a bit another big one Willowdale Oh, I see a whole bunch of people not buying a 50 foot bungalow, and then knocking down and then building some is that that's a good investment. Right? Those are not investments. Those are speculative, at best, those are the same as the same as going to Vegas and putting it all in black. Right? Because you're you're basically banking on, you're just hoping for the best essentially. And so those are not investable business models. In our opinion, those are speculative bets. Good investment, good investments entail. You know this, at the end of the day, actually, investing is the wrong word. We are running real estate businesses, every single property we buy is another business. And so due to the fact that we're buying businesses and operating businesses, we need to know everything about that business, we need to know sales and marketing and advertising. We have to onboard staff and property managers, we need engineers, or we need real estate agents, we need mortgage brokers, we need real estate lawyers, like you're running a business. If I if this was, if this was purely just an investment, I'd be buying a share of Apple or Google and letting Tim Cook on the show. Right. But this is not just an this is not just an investment. So as a result, you really need to hone in on exactly where an investable business model actually works. So to cut through all the crap, the short answer is in the residential neighbourhoods surrounding the downtown core, so downtown core, all condos, so according to kind of the evolution mindset and where the opportunity is, it's not in condos, necessarily. It could be a stepping stone but you want to get to land why land is a valuable asset. There's a tonne of things that go along with this Bilanz that are not making any more of it or whatever whatever it is you want to insert here but land is valuable. And as the Manhattan association of Toronto continues to occur many More condos can go up. But if you own a good parcel of land in the in proximity to the downtown core, that is, that has a lot of upside potential over time. So what you want is a business model that allows you to own land. The problem with owning with real estate is that you also, the land itself is not an income generating asset. So you need a building on top of it, the building is actually a depreciating asset. I mean, you know this better than anywhere else due to the fact that your wife's an accountant, right. It's a depreciating asset, but it's a it's a necessary evil to make an income producing asset. So what do you want? What do you have to do is put a building on the land or buy a building that's on the land, and then getting into a rental business model. But the reason we have to get into we have to get several units under one roof is because of densification. The economies of skill allow us to get to cashflow neutral in Toronto, that's you asked this earlier and you're like, hey, you know, what is it that people used to buy back in the day, people could buy single families back in the day they could buy duplexes back in the day, those days are long gone, we have to get to triplex and not a lot of high flexes don't work either the right triplex triplexes fourplexes. The densification is the key to allowing us to generate the income we need to hold the asset over the long term to let time to do its thing. Great. Now, the question is who to read this out to we told you the professional millennials, two to five years at a school, university educated all the rest, right? You know, a good job working in that in Toronto. Why? Because those people pay their rent. It's highly unlikely that a consultant at Deloitte or an accountant at PwC doesn't pay their rent to the point where you are getting a court order to garnish their wages and you're calling up HR and asking them that generally never happens. They pay the rent. Number two, they tear up their credit. Sorry, they care about their credit. But their credit, the reality is these people have the money to pay. The reality is they're eventually probably going to be homeowners or condo owners themselves one day, right? So the second thing is they take care of their place. They take care of the place. Why this profile, they want nice things, they want it now and they're willing to pay for it. Do I think that they should pay $2,800 in rent, I don't think they should, but I'm not their financial advisor. The reality is they do they do, they will pay it. And they want a nice place. They want a nice place they want it now. Because they want to be able to have their friends over and entertain that host and, and they want to impress their girlfriend or boyfriend. So they want a nice place and they're gonna take care of their place, generally speaking. The third reason is because they're very transient and profile. They don't stick around 1218 Master 24 months, they're moving on life changes for them, right, they'll move for a job, they'll move because they're moving in with a boyfriend or girlfriend or whatever, right? They're moving on their lives versus lifers. People have a sort of, generally speaking very broad strokes, but people have a lower socioeconomic demographic tend to stay much longer. Why is this important? This is important because as street rents are going up, five, eight, 10%, whatever the number is, we model at 3%. But you know, we know generally it's a bit higher than that. As street rents are going up, we want to capitalise on those higher rents. Is it because I'm greedy and I just want higher rents? No, actually, if you look at the for example, avulsion business model, part of it is that in every sophisticated investor out there is gonna understand this, you're gonna want to refinance, do an equity ticket, when you have equity, take out your mortgages, higher mortgages, higher and mortgage payments are higher, you need the higher more you need to hire brands in order to capitalise on the refinance. Otherwise incremental cash flow negative territory, right? It's not available with a condo, none of this works in the wrong business model in the wrong areas catering to the wrong tenant profile, catering to people who don't move. Right, right. And so the who we focus on then are the 20 to 25% of those millennials and Gen Zed profile who don't want to live in the concrete jungle. So in the residential neighbourhoods surrounding the downtown core being being annex Little Italy, Trinity Bellwoods, little Portugal, Dover calls Emerson Dufferin, Grove, Lansdowne, Ron see some of those areas. On the east side, it's the East York, the river Dales, the Riverside Leslieville, later states, beaches, upper beaches, a bunch of those areas, these are the areas that tend to want to be in. And we know that we know everything about these tenants, essentially, every time a tenant applies for my units, I do the equivalent of a financial rectal exam on them. Right? I know more about the finances than they do, actually. And so I know, I know who these people are, I know what they want. And really, it's just a matter of understanding who your tenant profile is, what they want, and then giving it to them, and then wrapping that all in a business model that actually makes good financial sense. So that's essentially the abortion business model. In a nutshell, it is a little bit different than how most people invest where I would say, you know, they throw it up against the wall, see what sticks. This is really the same as in business. And when you're developing a new product or service, it's identifying your customer first and then building a business model or product or a service around them, as opposed to just buying hoping for the best It has been a very thought through approach and a very comprehensive business model that accounts for a lot of these different things.
Erwin  
In the business models change. We mentioned how single families used to rent out. Last time I had been on the show we talked a lot about triplex conversions. You buy like a two and a half storey semi, you dig out the basement, we're talking about four plexes today. What's next? Is there any opportunity for for example, to come to condominiums and these Maltese or or what is next six flexes? So seven blocks?
Ming  
The interesting didn't wasn't
Erwin  
just passed recently like five Plex spire five Plex, right right in Toronto.
Ming  
So fourplex by right okay, but one of the my drawers doing a lot right things to make the most progressive Ontario by far. Absolutely. Like it was just yesterday, and I haven't caught up to see what happened with the bill. But it takes a lot of red. Typically it takes away appeals, it takes away new development charges, all stuff within the city's control was excellent. Does not sidestep some of the building code stuff. I just want to emphasise that for people who are thinking about doing this, you still have to make a safe property. Oh, it still has to be. And it still has to be serviced as required. So to answer your original question, which is like, what's next? I think we'll we'll continue to see a trend to densification triplex is still make sense. So they're still within the realm of possibilities. But we are sliding, more more more density, I think maybe 10 years from now we're going to be into five, four or five, six, that's going to be the sweet spot. I'm not sure what's going to happen beyond that. Because I think if if there's not changes to allow a regular residential purchaser of higher unit properties, you won't have an individual who's buying homes anymore. Customization, I think we'll start to see more popularity of it. We already have clients who are asking us to walk through that process with them. We're not condemnation experts ourselves.
Erwin  
So people have people been doing it in Toronto. Yeah. Yeah. Yeah. So so for the listeners benefit. That means they're turning like I'm talking about specifically to small multi like a triplex for example, and then turning each unit into a separate land title in terms of making it a condo ownership for the building. Yeah. So
Ming  
we're working with one of our clients on just that right now.
Erwin  
Yeah, we're talking with way bleeding edge then. So you don't have constant
Ming  
weight waiting. There's a excellent way of putting it because, you know, some of the work we're working with our artists, right to try to figure out ARV sale prices, that kind of stuff. We tax evading
Erwin  
the idea with the property taxes. And it's very early days. She's working through it with architects, right. But this was benefit, one of the reasons one would want to call minimises generally reduces the property tax on the property.
Matthew 
Yeah. And allows you a way to its exit. Yeah, exactly. It's lift and exit, because you're essentially creating more affordable housing for owners, not just for as rentals. Yeah, see where
Erwin  
saints we're like, we're looking people we're solving we're solving.
Matthew 
We're doing God's work here. But actually just just add on to a couple of things I was saying. So, a little while ago, we were tapped by CMHC as kind of local boots on the ground experts to understand like, basically see me she's sitting in some ivory tower somewhere. And they're like, Hey, I
Erwin  
remember, the CEO CEO was saying before the current one. You guys know what I'm talking about. But yeah, continue.
Matthew 
So they came to us, and they're like, We have a mandate, I forget the exact number was a 500,000. Or turn it up anyway, they had this mandate, they're like, We have to create, we have this mandate to try to create, here's the like tuner 1000 500,000 more units, because of their housing crisis. So like, in from all they can do is financing. Right? So like, you know, that's their mandate. So like, our mandate is to get money into the P into the hands of the people to develop these things. So they're like, who's developing these things? Hundreds a cost, what are your problems? What are the opportunities, we went through this whole thing? And we're advising, like, it's basically we're providing some consultation advisor to CMHC. So, you know, hopefully, it makes it easier to get financing to try to create, you know, secondary suites and stuff like that, really, we're talking about this whole missing middle, right? The problem in Toronto is, as lots of people know, you basically have this yellow belt, which is a bunch of single family homes. And then you have a whole bunch of 7070 storey towers, there's nothing in between. And you know, we've been fortunate we've lived in my wife and I've lived in lots of different places around the world. And you know, you've lived in Europe, and we lived in Asia and in Australia, and all these other places all have four six storey walkups, maybe with an Audi or something like that. We don't have that here. No wonder we have a housing crisis, like and so the
Erwin  
densification it's just been setting in Singapore. They have 80% of their population lives in government housing, subsidised housing. Like what As our percentage is, like, single digit, I think
Matthew 
it's very low. And it's very, it's, it's because we push that problem down to the private sector, essentially. Right? And then they create a whole bunch of landlord tenant laws, which make it really unappetizing for, let's say, for big developers think developers
Erwin  
think HST
Matthew 
big institutional investors, like they don't want to dabble in this in this stuff a lot. And there's a reason that developers haven't they build condos instead of building. Right? Like, it's we all know this.
Erwin  
They're all investing the states. Yeah, like even government institutions who run pensions for like, Canadian employees. Yeah, they don't want invest here, they invest in the States, maybe we should stop as well. We're going to California. We're investing somewhere else.
Matthew 
But it's funny like this. So like, we see what's on the forefront, we see what's coming down the pipe, we see what even government institutions are trying to do to promote stuff in certain areas, you know, missing middle densification we see all this. So, you know, we saw this with CMHC, for example. And, you know, whether it actually leads to anything we don't know, but we're we gave him some insights. But to answer your question, you know, condeming realisation this is one country realisation of multi families. We know a whole bunch of people are doing it, a few of our clients are doing it. But here's the other one. We talked about this very quickly, we kind of glazed over it, but I want to I want to shed some light on it laneway suites and garden suites. That is a massive opportunity. So in Toronto, there are laws places in the burbs, you normally pull your car into the driveway, and you that's where you park your car. That doesn't happen downtown Toronto, in downtown Toronto more often than not, if there's parking is in a laneway. And so for those of you don't know what a laneways, it's basically a lane that goes down the back of the house, and you park just off of the laneway. And so that's where parking is usually you know, they can be just a parking pad, it can be a garage. But what we're what the city has allowed as of right, according to certain restrictions in the legislation is the building of a laneway suite. As of right, you don't have to go get variances you don't have to ask for crazy, whatever it's like a tiny house to the back of your property. It's a tiny house, but doesn't have to be a tiny house in the garage we we've seen but the suite on top, we've seen lots of variations, one of our clients, we help them build one with a with a garage with the length the suite on top. But generally speaking, from the economic standpoint, from the financials, it makes really, really, really good financial sense. Generally speaking, if you can build a 12 to 1400 square foot tall for a 1400 square foot laneway it would cost you between five and $600,000 to build and it would generate you between 4040 $500 in rent. So eight to 10% Rule back in the rainy days. Holy crap.
Ming  
This is actually field tested. We have clients who
Matthew 
actually so we know we know this is not theoretical.
Erwin  
So it doesn't appraise
Matthew 
this problem is gonna get it's just gonna get it's just gonna get
Erwin  
we're talking bleeding edge
Ming  
still. Yes. Sure, like a year ago, bleeding edge stuff.
Matthew 
We just talk to Tony or Craig
Erwin  
nice. But again, we're still talking bleeding edge. Yeah, it is very, very much cool. People aren't flipping these things, or they're doing this to their home. No,
Ming  
no, we have a list of properties that have sold Yeah, have laneway Suites have sold it's like this long that list. So
Erwin  
like to two inch lists, you Angeles, six data points.
Matthew 
The fun of finance stability standpoint. So we'll talk we'll switch gears and talk about that a little bit. So you know, we're even working with like Dahlia, right? So Dahlia has experience doing garden suites out and like Berry and stuff like that. So we're working on a pilot programme with Dahlia with one of our clients to try to actually get we're literally pioneers trying to get stuff refinanced, you can build it. So first of all, how do you build it 565 to $600,000. You know, if you can't reach into your couch cushions and find that kind of money, you have to pull it from a HELOC or get construction financing right. But even if you can't get construction financing, which is going to be challenging, but even if you can the problems is going to be on the refi your question was the suit was a senior appraiser what the problem was appraisers are enough data points there are enough comps, appraisers are being are conservative. lenders don't know how to finance these things quite yet. So literature can tell them what it's worth. And last, but generally speaking, like we can take we have a couple of data points where we can kind of back it out. So we for example, a home with a laneway suite gets sold. We know what the home's worth because we can do comps on the home and then we can then figure out what the laneway suite add on is I've worked with essentially, and so generally, you know, there is an increased value, it can increase the value, probably some 800,000 on a $500,000 bill. So good lift, generally good lift, but the even from just the economics, this thing is a massive cashflow booster massive. So if you pay a slight premium on the land, call it 10% for something that has landlords, we potential, right, we didn't really have that premium too much before. But now laneway suite potential means 10% increase value, or let's say premium that you up on acquisition. But you know, the land basis is very little generally speaking, but then the build, if you put it all together, this thing boosts cash flow through the roof. And once lenders and appraisers can figure out how to appraise and refinance these things, you'll get your money back out, and you'll still have massive cash flow.
Ming  
And that that's happening that we have two clients with laneway suites who have gone through appraisals, which got very favourable appraisals for their belts.
Erwin  
Right. So this is get better. We're still talking bleeding edge.
Matthew 
We're very much on the forefront here. So and then, you know,
Erwin  
we try to do on the show. We're truthful about it. We are leading edge. Yeah, that's a perfect,
Ming  
absolutely, yes, you could go through this process and not land with the right appraisals. And
Matthew 
generally speaking, this will just be a matter of time, though. You know, if you we don't know if that's going to be six months, 12 months or 18 months, how long it's going to take before we can start getting these refinances through and stuff like that, but there's no long period of time. It's not a long period of time especially it takes four months to build when
Erwin  
rates are high anyways, leave some cash on the property. It's okay.
Matthew 
Exactly. And so you know, and you were talking about multi conversions so yeah, we still a lot of our clients that have a whole bunch of clients are still doing you know, single family the legal literature triplex the Goolge, four Plex, we're getting now clients who want to get up into commercial at least five units in order so that they can refinance using CMHC on the commercial side, higher lower rates longer AMS in order to boost cash flow. Here's the other thing that are written for time over way over five minutes or 45 minutes isn't a short source be 45 minutes Yeah 40 minutes.
Erwin  
Okay, for me this far,
Matthew 
the last one that might be of interest to your listeners is going to be around mixed use residential commercial. So one of the things that one of the ways that we can start densifying is by buying in the right zones in the right zones especially if you're near major third ways. The way kind of zoning works is cities have particular they use zoning to influence the development in particular areas which is why residential you're gonna get residential zoning a whole bunch of residential houses, no brainer mixed use residential commercial along like bluer or big streets, you'll get densification usually retail storefronts, or offices on the main floor, and then upper you'll get residential, usually two story maybe three story but if you look at the right zones, and you look at the zoning for the area, there's a lot of places and this is this is like ninja level shit, right so if you pull up the Toronto zoning map and you start looking at it and you know if you can learn and decipher what it says there if it says like our zone are what typical typical would be like are and then in parentheses like D 0.6. That means residential zone and the density is 0.6. So a normal 20 by 100 lot in Toronto is 2000 square feet applied density factor point six to 1200 square feet, that's when you get to 12 1200 square foot home essentially 600 square feet or main floor 600 square feet is like a very typical home three bedroom, nice little home in Toronto, right in some of these mixed use residential commercial zones, you can get density 3.0 so CR zone 3.0 You can get three times law coverage on same size lot you can get 6000 square feet until sort of 1200 square feet and the ninja level shit on top of that is looking on the zoning map use the height overlay and then you can see the height restrictions as well. And so you can get height restrictions of like instead of like 10 metres and get 16 metres 16 metres means you can build up to five storeys instead of three storeys. So all of this means you can build this stuff as of right you don't have to ask for permission you'd have to go to COA you don't have to get these crazy ass exemptions and variances you can do this as of right right so it all makes the deal better It all makes the deal better you reduce risk because you don't want people objecting or appealing you at CoA and all that stuff. Although that seems to be going away now is a fairly recent phenomenon. But it cuts down on your development times too if you don't have to go to COA if you don't have to, you know you when not waiting six six months for for COA dates and stuff like that. So anyway, the point being, so we have a lot of clients now who are looking for We're stuff like this and land assembly of like, mixed use commercial residential, not just buying one of these things, you might be buying three or five or six of them, assembling them. Because even though if the height restriction on this is normally go up to five metres, if you could assemble six of them, we work with an architect who's one of the bests. And he has he's told us like, under the right circumstances in the right areas with this with in the right way areas with the right city councillor who supports development and densification. Not necessarily kind of minimization, but rental units, let's say, you know, they'll allow you to go from five storeys up to eight storeys and make the business model even even more attractive. So that is probably gone
Ming  
a long time.
But anyway, we're just gonna give you a sense of like some of the other avenues that are more sophisticated investors with deeper pockets and who have a little more expertise. They go into other stuff than just buying a condo standard by class.
Erwin  
But those things are only available in heavily urbanised areas.
Matthew 
My caveat is that this works in Toronto, I can't say it works anywhere else.
Erwin  
Just my experience, it has to be pretty as the high traffic area. Yeah, absolutely. So you mentioned you guys have a meetup, where can people learn more about it?
Ming  
Best place is to go to our website. That's www dot volition, V o l i t IO N, prop PR o p.com. And there's a giant blue button that says, join me join meetup.
Erwin  
Need a red button to go back to? Yeah, your parents afford it? You can afford a house too
Matthew 
many we don't hire you as our marketer, and then you can renew our website.
Erwin  
Just keep going and everything will be okay. For the blue button. And yeah, that's how people actually make money.
Matthew 
But yeah, depending on when this airs, we have absolutely no idea. Funny enough. We have a meet up tomorrow. And it's a street smart tour. This is probably not going to go out. But you know, we often have you know, guest speakers. I think you're coming out to one of ours and me Alexei.
Erwin  
Not me. Okay. Well make sure this gets up for that. But yeah, that may 17. May 17. So may 17. is huge for me then.
Matthew 
So if this goes up before then it probably won't. Right. Okay, so it goes up before then then, you know, you can come and see your beloved hosts here up on stage, right,
Erwin  
but only like five minutes. I'm sure if you want to learn more about Toronto, whatnot. And where else do you do much on social media?
Ming  
We have a semi active Instagram accounts semi active being non active. We're not we are that age where we're not very good with social media. But yeah, you follow us on volition prop on Instagram, that's probably our most active
Matthew 
evolution properties and properties.
Erwin  
I'll get it right for the listener. Thanks.
Matthew 
Yeah, no, no, we're not very active on on social, but we our meetup is very active. You know, it's a great place to come out and meet other Toronto, crazies. Yeah. And and a lot of our clients come out. So you know, if you need some social proof, or you want to talk to other people who are literally doing this stuff that we're talking about, our clients do come out to that end, you know, if you become a solution clients as well, we have an inner circle, where it's like, I know, but 100 or 100 of our investor clients, constantly talking about real estate to the point where like, I mute the chat, because I'm like, I need to get real work done.
Erwin  
Right. And then like the advisory services, for example, they can find that on the website. Yeah, yeah,
Ming  
like, I guess so. Information is there. And you know, if anybody wants to reach out to us by email, info at volition prop.com Happy to answer any questions.
Matthew 
Yep, advisory services. It is a an area of the company, I think that differentiates us from most, whereas I think, you know, most I feel, most investor realtors, or most realtors are like, Hey, let's go buy that condo, we want to help you actually make a good sound investment decision based upon your goals. And and you know, we go pretty deep in advisory, I'm not a financial planner. But we do do a very comprehensive financial overview to see where you're at, and then see, we want to go and help you build that plan to get there.
Erwin  
If our thoughts he hasn't been around a long time. Any final thoughts for being
Matthew 
around here a long time to 40 minutes?
Ming  
No, I mean, I'm sure you get
Erwin  
some common questions from novices. For example, what would you say to them?
Ming  
You know, I think that it goes without saying to take action and do hard work. But I would add on don't beat up yourself when you make mistakes, because, you know, we've all gone through there, there's an element of luck to right to any success. And I think that that's also to keep in mind right? Sometimes you can you can do the best due diligence and do the best underwriting right Search and still ended up sometimes in a place you don't want to be. So try to mitigate that as much as you can. But don't beat yourself up when it doesn't go. Well.
Matthew 
I'm gonna add on to the whole luck thing. So one of the things I think about when I, when I think about luck, is luck is really when opportunity meets preparedness. And I think that if you, you know, things can go awry. But I think that as long as it's a risk mitigated approach, I think that's the difference between a sophisticated and astute investor in one who just pushed against the wall, see what sticks are someone who chases maximum cash flow, maximum cash flow to the detriment of all else, because if you understand that it's not just about ROI, it's about risk adjusted ROI and headache slash grief adjusted ROI, if you will, if you understand those concepts, I think they'll help guide you towards the right investment decision. And, you know, it's part of the reason that when we talk about our business model, publishing business model, we liken it to blue chip, stock investing, if you will, right. You know, obviously, there's differences and people will go, Oh, my God, how could Toronto be risk mitigated? How could Toronto be equivalent to the blue chip investing, but that if you dig deep into economic fundamentals, and you understand the fundamentals that actually underpin Toronto's a market, I think we will come to a very similar conclusion that actually it is risk mitigated. So what I want to leave people with is this is a different concept. And what I want to leave people with is, it's not about buying cheap. It's about buying smart, buying cheap, cheapest, cheap for a reason. And I think that if you approach things in a more sophisticated manner, and a little more holistic of a manner, or well, a little more strategic, a little more sophisticated, a little more well thought through, I think it will lead to better investment decisions. Not to say that some of these other models don't make sense. If it is part of your aspiration for maximum cash flow, and it's part of your operational excellence, to be able to mitigate those risks and handle those headaches. Great, go do it. But if it's not, and you're just chasing maximum cash flow, because the guy over there did, I think that could lead you arrive. And this is unlike stocks, where it's in stocks, it's very easy to unwind a position. If you've made a you know, a bad call. In real estate is a lot more difficult. There's a lot more friction takes a lot more time, a lot more energy. And so start Do yourself a favour and start start off on the right
Erwin  
foot and run your own numbers. Don't believe anyone elses? Absolutely right? units don't matter. Someone tells you that 100 units doesn't mean they're making money because we both we all know people who've lost our shirts, owning 100 properties, you're better off Owning nothing.
Don't don't get enamoured by that don't get enamoured by, you know, people who have all these doors and stuff. Really, my metric is actually Oh, how it's not so much I have X number of properties or doors. It's how are you doing with regards to your own path of success? How far along are you on that journey? Because everyone's metrics are different. Like, you know, I know people who want just a couple of properties, a couple of really good properties, and those couple of really good properties by other metrics, it's not very sexy, but really, they did everything right. They built the equity, maybe they maybe they had downsized to those two properties after having a larger portfolio later or whatever. But to those two properties are really helping map to their success, right?
Erwin  
Rather than talking about someone who's like free and clear $4 million. That's a lot of money.
Matthew 
Exactly. Right. So it's it's a different it's much Yeah, exactly. And we all know now that through this conversation, it's really understanding the relationship between that equity and cash flow, you can turn equity into cash flow. And so understanding these kind of concepts and I think you're doing your your listenership a really awesome service in helping raise the bar and elevate everyone around you in terms of the financial education because you don't learn this stuff anywhere else. You don't learn it in a book.
Erwin  
You don't hear from some songs, something you don't
Matthew 
Yeah, I mean, you're not gonna learn for your financial advisor. Right, like there's everyone really has an agenda. And so I think something that, you know, what you're doing here having a wide breadth of different people come in, yes, you know, people obviously have certain things that they want to sell, but generally speaking, it's very unbiased. Generally speaking, it's very widespread with a lot of different perspectives. I think that that type of education I think, is what levels everyone up right so you know, I in transparency
Erwin  
When you show properties and you give them the numbers, and you expose people, you connect people with your own clients, that's very transparent. Absolutely. Right? Absolutely. Because not everybody does that. And I know lots of people who are very quiet about their losses.
Matthew 
It's not not the sexiest thing to talk about. No.
Erwin  
And then just just can use just want to be nice. They don't think it's their fault. Leave it at that. Thanks so much for coming in. 
Ming
Thanks for having me. 
Matthew 
Thank you. It's very nice to catch up with you after all these years, and you have way more dark hair than I do.
Erwin  
Before you go if you're interested in learning more about an alternative means of cash flowing like hundreds of other real estate investors have already then sign up for my newsletter. Find out for yourself what so many real estate investors are doing to diversify and increase our cash flow. And if you can't tell I love teaching and sharing this stuff.

To follow Volition Properties' Matthew and Ming:
Meetup.com: https://www.meetup.com/volition/
Website: https://www.volitionprop.com/
PHONE: 1-833-416-BRRR
EMAIL: info@volitionprop.com
HELP US OUT!
Please help us reach new listeners on iTunes by leaving us a rating and review!
UPCOMING EVENTS
You are the average of the five people you spend the most time with! Build connections with empire builders and trailblazers at our iWIN events.
BEFORE YOU GO…
If you're interested in being a successful real estate investor like those who have been featured on this podcast and our hundreds of successful clients please let us know.
It is our honour to give back and educate others on how we build cash flowing real estate portfolios using all the best practices shared on this podcast, from the lessons of our hundreds of clients and of course our own experience in owning investment real estate.
If you didn't know already, we pride ourselves on being the best of the best real estate coaches, having the best property managers, contractors, handy people, cleaners, lawyers, accountants, everyone you need on your power team and we're happy to share them with our clients to ensure your success. 
New investor or seasoned veteran investor, we can help anyone by providing our award winning coaching services and this isn't all talk.
We have been awarded Realtor of the Year to Investors in 2015 by the Real Estate Investment Network, 2016 by the Canadian Real Estate Wealth Magazine and again in 2017 because no one told the judges no one is supposed to win the award twice but on merit, our peers deemed us as the best.  In 2018, we again won the same award by the Real Estate Investment Network.
Hopefully being the most decorated team of Realtors in Ontario will make you consider us for your first or next real estate investment.  Even if you don't invest in our areas, there's a good chance I know who would be ideal for you. 
I've been around for a while, some Realtors are talented at servicing investors there are many with great ethics.  The intersection of the two, talent and ethics is limited to a handful in each city or town.
Only work with the best is what my father always taught me.  If you're interested, drop us an email at iwin@infinitywealth.ca.
I hope to meet you at one of our meetups soon.
Again that's iwin@infinitywealth.ca
Sponsored by:
Infinity Wealth Investment Network – would you like to know how our investors returned 341.8% on positive cash flowing real estate over the last five years? On average, that was 68.4% per year.
Just imagine what winning in real estate could do for you.
If you would like to know how we did it, ask us how by calling 289-288-5019 or email us at iwin@infinitywealth.ca.
Don't delay, the top markets we focus in are trending upward in price, so you can pay today's price or tomorrow's price.
Till next time, just do it because I believe in you.
Erwin
Hamilton, St. Catharines and Toronto Land Development, Real Estate Investor, and soon to be builder.
W: erwinszeto.com
FB: https://www.facebook.com/erwin.szeto
IG: https://www.instagram.com/erwinszeto/
https://www.truthaboutrealestateinvesting.ca/wp-content/uploads/2023/05/Matthew-Lee-and-Ming-Lim_updated.jpg
630
1200
Erwin Szeto
https://www.truthaboutrealestateinvesting.ca/wp-content/uploads/2017/06/TruthRectangleLogo.png
Erwin Szeto
2023-05-10 20:40:09
2023-05-11 17:07:57
Investing in Multi-Family Downtown Toronto With Volition Properties