How To Borrow Via Private Mortgages With Jesse of Calvert Mortgages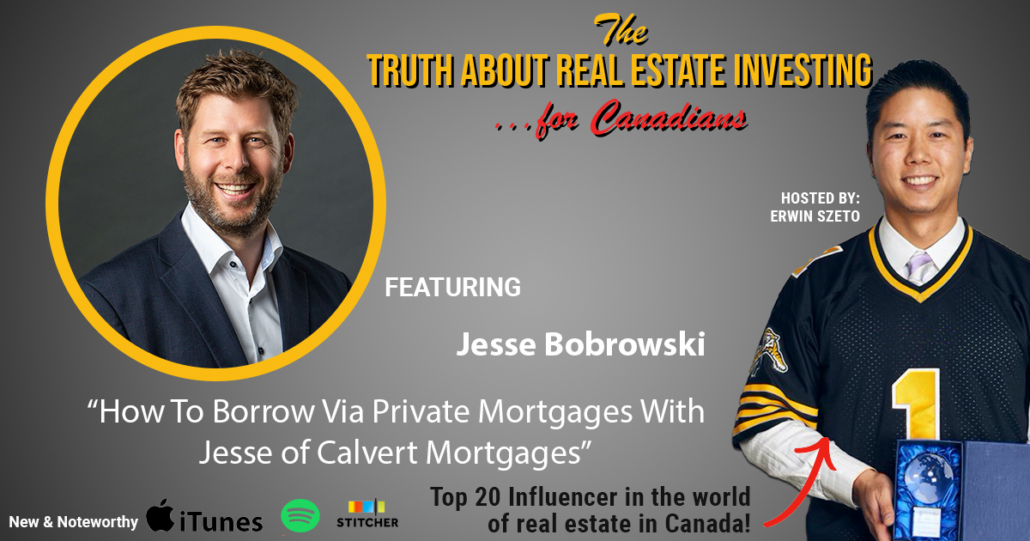 Welcome to the Truth About Real Estate Investing Show For Canadians!
As the #81 Show on all of iTunes in the business category, our goal is to educate and maybe entertain a little as we bring you stories of regular, everyday Canadian investors who have repeatable results… So that you and I may learn best practices and what works and what doesn't.
No get-rich-quick schemes… I can't stand gambling.
Investing is a marathon; the odds of success improve over time based on economic fundamentals and continuous improvement, resulting in long-term wealth creation.
View this post on Instagram
The show is hosted and produced by me, a full-time real estate professional and OG investor specialist Realtor since 2010.
My team and I have helped close to 500 clients invest in over $400,000,000 worth of cash-flowing real estate, helping clients achieve financial peace.
For example, we have over 45 self-made millionaire clients (excluding their principal residence).
This past week has been a busy one… my brother got married, we hosted a conference for 800 investors, and, most importantly, report cards.
That's right, let's see what education professionals have to say about my kids this time.
I'm obviously biased and have invested heavily in my kids…
With the most recent strike in the school system, like all parents, we scrambled to keep our kids learning going by buying Math workbooks from Amazon.
We soon realized my son is two years ahead based on his knowledge, and both kids love to read. We don't allow much screen time, so when the kids aren't at extracurriculars, they're reading books.
BTW, my eldest, Robin, gave a one-minute presentation at the conference in front of 800 adults on money, saving and investing.
I would have rather gone for a polar bear dip in freezing lake waters than speak in front of adults at age 8.
Anyways, the education professionals said my kids had a "great start" and "excellent start" and then ticked "good" in every category. Not one excellent, not one satisfactory. Straight Bs for both kids.
Either the teachers have no idea who my kids are, or it's me, or this is some sort of protest. I have no idea. Maybe we should sell a house to afford private school. Rant over LOL
I'd like to take a moment to thank everyone who played a part in our conference:
Sponsors

My team at iWIN Real Estate

Cherry's Real Estate Tax Tips

Andy and the AV team

Our speakers: Jayson Lowe, Dalia, Jordan Anderson, MC Joe, and Derek Foster
Is putting on a conference hard? Hell, yes, and the results were pretty amazing.
It was so great to see so many from the community I hadn't seen in three years, thanks to the pandemic.
My talks gave me an outlet to share my research and how I'll invest going forward.
Cherry's talk, I loved it!
The last few years, many got very rich, and many lost sight of cash flow – House rich, cash poor.
I personally can't wait to get our financial roadmaps planned out to know when we can stop working if we wanted to.
Thankfully it's not so far off, thanks to our boring but profitable real estate portfolio I've been working on since 2005.
Thank you to Jesse Itzler, our keynote speaker, who brought a DJ with him from Atlanta and didn't charge us any extra lol.
Jesse's talk killed it. I know many had tears in their eyes. One friend of mine had to leave the room.
Jesse's story of hiring an ex-Navy SEAL to coach him through the Last Man Standing race was just insane. Inhuman.
The words "I feel outstanding" and "we don't get tired" from now on mean something entirely different to me.
Even tough guys like Neil Oliver told me Jesse killed it. I know I'll take his lesson of pouring one's soul into their work to heart.
You, my 17 listeners, will see what we have in store for 2023.
We're doubling up the amount of educational content next year.
The podcast will expand to include a few more solo podcasts, with just myself sharing my research and a few shorter episodes with the coaches on my team to share what they see on the streets.
Recessions are the best for getting rich, and we're in one.
I predict the average market will have bottomed by Spring; however, the best deals will be gone before then, so stay tuned if you're interested in the deals our clients are snapping up and want one too.
If you're new to real estate investing and want to learn more, I have a FREE BOOK for you called "The Canadian Real Estate Investing Playbook."
This book contains stories and strategies of how my team and I have helped close to 500 hard-working Canadians build cash-flowing real estate portfolios as side hustles.
Simply go to our website: https://www.truthaboutrealestateinvesting.ca/, click on the link on the right and download your free copy. If you're near my office, feel free to come by to grab a free physical copy.
How To Borrow Via Private Mortgages With Jesse of Calvert Mortgages
On to this week's show!
We have Jesse from possibly the most popular private mortgage provider, Calvert Mortgages.
Unlike the banks, Calvert loves rough and ugly properties; that's actually their niche. Investors love Calvert Mortgages because their turnaround is fast, the fastest I've seen for short-term money and private, fast money comes with a price.
Today we have Jesse Bobrowski, Vice President of Business Development, on to share how Calvert helps flippers and BRRRR investors, how much money down, rates, lender fees, and terms on how they lend.
No, their focus is not to raise capital to lend out, which is risky in this market, but we talk about how Alberta stacks up against Ontario!!
Calvert Mortgages is the biggest private lender I know, with $330 million out there in loans.
For more information, check them out at www.chmic.ca.
I know several Mortgage Brokers who refer them business and past guests of this show who swear by Calvert as well.
Please enjoy the show!
This episode is brought to you by me! We don't have sponsors for this show. I only share with you services owned by my wife Cherry and me. Real estate investing is a staple in my life and allowed me to build wealth and, more importantly, achieve financial peace about the future, knowing our retirement is taken care of and my kids will be able to afford a home when they grow up. If you, too, are interested in my systematic strategy to implement the #1 investment strategy, the same one pretty much all my guests are doing themselves, then go visit www.infinitywealth.ca/events and register for our next FREE Online Training Class. We will be back in person once legally allowed to do so, but for now, we are 100% virtual.
No need for you to reinvent the wheel; we have our system down pat. Again that's www.infinitywealth.ca/events and register for the FREE Online Training Class.
This episode is also brought to you by www.stockhackeracademy.ca, where everyday real estate investors learn the best practices in stock investing to earn cash flow in about 15-30 mins per day from their mobile phones. After real estate, Stock Hacking is the next best hustle, as you've heard from many past guests on this show. Among our students last year, 31 trades were shared with them. 30 were profitable for an over 96% success rate and 12% return on capital. I will be giving free demonstrations online, very similar to the one I gave my kid cousin, a full-time musician who just made a 50% return in 2021. Past, of course, does not predict the future, but if you'd like a free demonstration, go to www.stockhackeracademy.ca in the top right and click FREE Demo. At the demonstration, I'll have special bonuses. We do not advertise publicly for all my favourite listeners, and I only have two more demos to give in the next few weeks.
Don't delay www.stockhackeracademy.ca, what I consider the future of side hustles with real estate so unaffordable for many.
To Listen:
Audio Transcript
**Transcripts are auto-generated.
Erwin
Hello and welcome to the truth about real estate investing show for Canadians the number 81 show on all of iTunes in the business category. It's meant to educate and maybe entertain a little bit, bring you stories of regular everyday Canadian investors who have repeatable results. So you and I may learn their best practices, what works and what doesn't. No get rich quick schemes. We're actually gonna have some guests on who has some failed get rich quick schemes. Specifically Clydesdale capital. I can't buy personally can't stand gambling. I do not like anything that loses me money. But you can talk to my stock in crypto accounts. Investing is a marathon. The odds of success improve over time, in my experience, especially when you base it in economic fundamentals and continuous improvement, resulting in the creation of long term wealth. This show is hosted and produced by me full time real estate professional OG, investor specialist realtor, the realtor since 2010. My team and I have helped close to 500 clients invest in over $400 million with a cash flowing real estate, helping clients achieve financial peace. For example, we have at least 45 self made millionaire clients, excluding that excludes their principal residence. I believe investing should be intentional. If you just bought a home and it went up, but it wasn't intentional. Partly intentional, but we excluded for our stats just to be conservative, because I like being conservative. This past week has been a busy one. My brother got married, we hosted a conference for about 100 investors, and most importantly, report cards, the school report cards. That's right. Let's see what the educational professionals have to say about my kids. Oh, boy, hang on. All right. If you want to skip this rant, just keep skipping forward, have a great episode. But until then, I'm obviously biassed, I've invested heavily into my kids, myself, and especially cherry has invested heavily into our kids with the most recent strike in the school system. Like all parents, we scrambled to keep our kids learning ongoing because our kids education is important to us. And it's not important. Everybody else cherry actually ordered some math workbooks from Amazon. And we soon realised my son is two years ahead, based on his knowledge of multiplication. And both my kids love to read. We don't allow much screentime in the house maybe once a week. So when the kids aren't at their extracurriculars, or doing any homework, they're reading books, or they're working in the family business. So what do the educational fresh professionals have to say about my kids? By the way, my eldest, my kids do do public speaking as well. So as a test, my daughter volunteered. My My eldest, Robin, she's eight years old, she gave a one minute presentation at the conference in front of those 800 people on the subject of money saving and investing. I personally had her age, I would have rather gone for a polar bear dip in the freezing lake waters than public speaking in front of adults at the age of eight nonetheless. Anyways, these educational professionals said my kids had a great start, quote, unquote, great start and an excellent start. Then ticked good in every category, not one excellent, not one satisfactory, straight BS for both kids. Either the teachers have no idea who my kids are, or I don't have any idea who my kids are. Or this is some sort of protest. I have no idea. I am honestly thinking about selling one of my houses in order to afford private school. This like it's in public school. It's a four minute walk. It's so close. It's so much less money than private school, rant over. I like to take a moment to thank everyone who played a partner wealth hacker conference, or sponsors. Thank you so much. Appreciate all the feedback. I'm glad you're also happy with the with the results. And my team here at IW. In real estate, did a bang up job meeting our booth, talking to people about real estate investing, specifically strategies that work unlike all those poor folks who are out there, who paid for expensive coaching and are losing money and are approaching bankruptcy. I feel really bad for you guys. Thank you to cherries Real Estate Tax Tips team that drew my wife of course, she busted her butt to make this this event happen to me and the V team. Our speakers just mo Dahlia through wires mortgages, Jordan Anderson, our emcee Joe, and of course Derek Foster. He absolutely killed I can't believe how many books he sold at the event. He was only accepting cash. I like I was thinking, wow, while people don't carry cash these days, I just love people to carry cash to our event because Derrick sold out of books and he had a lot of books is putting on a conference hard hell yes. And the results were pretty amazing. It was so great to see so many from our community, who I hadn't seen in three years. Thanks to that pandemic. My talks provided me that lead to share my research and hobby investing going forward. That was great to get that off my chest. Cherry sock. I personally loved it. The last few years many got rich and many last set of cash flow. Maybe I'm just projecting The portfolio has done quite well. And yes, we kind of lost sight of cashflow at least I did. With all the equity gains house rich cash poor. That explained to me pretty well. We're gonna back that off and just over exaggerating over cash poor. I personally can't wait to get our financial roadmaps planned out to know when we can start working if we've ever wanted to. Thankfully, it's not far away, thanks to our boring but profitable real estate portfolio I've been working on since 2005. Thank you, Jessie. It's our keynote speaker who brought a DJ with him all the way from Atlanta, Georgia, and didn't charge us any extra. Thank you, Jesse. I found out that we go JC was bringing a DJ. I had no idea he was gonna bring a DJ I heard his talk included a DJ, I thought that we'd have to provide the DJ. Anyways. Jessie's talk killed it. I know many had tears in their eyes. One friend of mine, I had to leave the room actually, Jesse's story, hiring an ex navy seal to coach him through the last man standing race was absolutely insane. inhuman. The words I feel it standing and we don't get tired for now means something to me and something else entirely. Even tough guys like Neil Oliver, Rachel Oliver's husband told me that Jesse killed it. So again, I know for me, I'll take that Jesse's lessons away of pouring one soul into the work to heart, you might 17 listeners, you will see what we have in store for 2023. We're doubling up on the amount of educational content that we put out there. The podcast will largely be unchanged. We will have a few more solo podcast episodes with just myself sharing my research and a few shorter episodes with like coaches on my coaches on my team to share what we're seeing on the streets as because the recessions here, in recessions are best for getting rich, and we're in one record average market will have bottomed by spring, maybe summer. However, the best deals will be gone by then. So stay tuned. If you're interested in the deals our clients are snapping up. And if you want to know what a deal looks like, if you're new to the subject of real estate investing, you want to learn more, I have a free book for you called The Canadian Real Estate Investing playbook, which contains stories and strategies of how my team and I have helped close to 500 Hardworking Canadians build a cash flowing portfolio of real estate as a side hustle. It's my opinion that real estate is best as a side hustle. We have a good number of clients and track record to back that up. If you're interested in the book, simply go to our website, www dot truth about real estate investing.ca. Again, that's www dot truth about real estate investing.ca. There's a link on the right side. It's a big picture of a book, click on it, go download a copy for free. If you're near my office, feel free to come by grab a physical copy. We're here typically during business hours. onto this week's show. We have Jesse from possibly the most popular private mortgage provider in Calvert mortgages. Unlike the banks, Calvert loves rough and ugly properties, that's actually their niche. Investors love California mortgages because their turnaround is fast, in my opinion is the fastest I've seen for short term money. That's private, but Fast Money does come with a price. Today we have Jesse dobrowski ProProfs D sorry, have watched too many Simpsons episode. We have Jesse vice president of business development, and he's here to share how COVID helps flippers and burn investors, how much money down you need rates, lender fees, terms, how they land all sorts of detail, he can explain much better than I do since it's his business. No, their focus is not here to raise capital to lend out, which is extremely risky in this market. As I mentioned, there's lots of investors who are near bankruptcy looking to raise private funds. Do be careful out there. I have a couple of clients who have shared that people who borrow private money from them are not returning their calls. We had nothing to do with that. I've been pretty it's my bias that I personally no private lenders so don't ask me how to private land. I personally don't it doesn't fit my my risk reward criteria. But you know, that's what the calibre is not here to raise funds for lending out. They're here to let folks know how to borrow from them. But and also Calvert as Joseph Sibley is is actually based in Calgary, so they know Alberta well. They only operate in Alberta and Ontario, sorry, BC, maybe I should hit them up so you guys can get served as well. Anyway, Calvert is the largest private lender that I know of personally, with 330 million out there and loans. That's a lot of money. That's the gap that's bigger than any private lender I know. And also I'm hearing some private lenders are no longer lending. So for more information, check them out. www.ch m ic.ca. Again, that's www.ch m i c.ca. of links in the show notes. I know several mortgage brokers who refer business to Calvert and passed the show who swear by California as well. Please enjoy the show. Hi, Jesse. What's keeping you busy these days?
Jesse
A or when? Thanks for having me. A lot is keeping me busy. I have a young family. I have a busy and growing business that I'm a partner in And we have some exciting markets that we're lending into. So a lot is keeping me busy. Thanks for asking. Oh, yes, the family. My son is six years old. Grade One daughter is four years old. Oh, young. Yeah, my wife and I both work. So that's exciting. We both have relatively demanding jobs.
Erwin
Yeah, I can imagine you're pretty busy. We keep busy man. How's it compared to now? How's like now busy, like so we're, this is October 20. We're recording how busy are you now compared to like, at the peak of the market. So,
Jesse
I guess busiest subjective, we always are trying to in terms of professionally work on the business, set foundations and grow it so you know, February, January of this year, particularly with what was happening in the Ontario market, we were extremely busy, with loan requests supporting our borrowers who buy renovate and sell flippers or birth, buy renovate rent, and refinance properties. So a tonne of deal flow was happening in Ontario. Then, since then, deal flow is slow down in Ontario, you'll flow has remained very consistent. It's actually growing in in Alberta, where we predominantly lend into the Calgary and Edmonton markets. But today, what we have seen over the last two years is significant growth in the business. We've seen a real ability to help support Canadians who are buying and renovating single family houses. We don't see that overarching trend. Slow, long term. You know, in Canada, there's a huge demand for single family houses in major urban centres, there is a significant lack of supply. And as we welcome new Canadians who predominantly we welcome new Canadians who are ready to work and who have capital and who demand single family houses. We look forward to continuing to help our clients rejuvenate that stock and get it so it's marketable to your average homebuyer.
Erwin
Yeah, I've actually been trying to dig up how many visas we all know the immigration number or like permanent retinue permanent residence we're getting, yes, you're trying to find how many visas can I gives out? So work visa student visas, because the thing is, they all need to live here, too. If you're here, you need a place to live.
Jesse
I think that is a really good. That's a really interesting question and something that we should be digging up because we're just, you know, the number of new immigrants that that number is there. For us. We know On average, 58% of them are economic immigrants. So bringing in skills and capital. Sorry, that's 58%. On average, yeah, yeah. On average over the last, I'm using 10 year Stats Can data is 58%.
Erwin
Right. And then the rest are our cases.
Jesse
Yeah, the rest are more humanitarian. Humanitarian cases where, yeah, they're fleeing countries that are you don't want to live in. Right.
Erwin
And then the reality of that is is kind of diseases that's inflationary. Totally. Right. So it'll require the old car support the retired government support, the require free health care. So yeah, so that's another more inflation plus the number I saw this morning. Don't call me folks. Like I think it was over 500,000 visas that Canada gives out on top of the immigrant, permanent new permanent residents. Oh, wow. Right. Well, you know, like student visas, for example, there's literally all the international students have to have a student visa. And economically, they're generally pretty well off.
Jesse
Yeah, yeah, they're well off. They definitely are contributors to the economy. So welcome a man with open arms.
Erwin
You know, you're mentioning that, like, you guys are part of the housing market, and you're betting pretty much the farm. Real Estate continues to do well, in Canada, am I wrong? Well at least be treated in Alberta and Ontario.
Jesse
Well, is again, subjective. Our thesis is that again, Canadians need somewhere to live. And regardless of if the markets appreciating or depreciating, what we've seen from from 30 plus years of supporting real estate investors on short term mortgages, is that there is an opportunity to buy housing stock that the general market doesn't want. So stuff that's been dilapidated, lots of deferred maintenance, renovate it and sell it for profit. So in Alberta, where where essentially we go through five to eight year cycles of peak and trough, we've seen flippers be successful in any market, what happens is the sharper flippers during downtimes by better get to market quick and still sell where we focus or when is the mid to lower half of the market, where typically there is a floor because again, People need housing. And at a certain price point, it becomes affordable to a lot of the population. So that's our thesis is just supporting the Canadian housing stock on the mid to lower half, where we're redeveloping existing stock in major urban centres, which is where the economy is, and will likely continue to be
Erwin
that Jesse, you and I got introduced, because I had several friends of mine who were very serious, very professional real estate investors, and they're still successful in this market. They're that good. I know you guys have so many fans?
Jesse
Well, what we try to do is understand what their pain points are like, what do you need as a as an investor as a business person, and what's not being offered. We also do a lot to educate and make the process as effortless as possible. So the effortless process we have, we have tools like like our flip analyzer, we have a lot of case studies, we do a lot of, of education as it relates to tips for flips, economic updates, that kind of stuff. But going back to serving that pain point for our clients, the banks, so the financial institutions who lend out 90 some odd percent of mortgage capital are not interested in helping people for short term. They're also not interested in lending on housing stock that is outside of their parameters. So if it's not inhabitable, usually, when a banker looks at the appraisal, it's just a no go. So we're filling a void in the market a gap in the market where we're an intermediary in term lender supporting them. There are a lot of other I call them we refer to them more as private lenders out there who are doing this type of lending, but they lack in most instances, our clients love us for the consistency and the speed of our decision making like literally are when our underwriters can turn a file around same day, we have a really unique value add to our clients where we employ appraisers. So we do our own valuations in house. And we can analyse the property, analyse the budget, and through that, and through a lot of data and history, determine what the after repaired value is, same day, and give the commitment that quickly and in turn, enable the investor some leverage in the negotiation, they can go into a negotiation, knowing that they have our financing, knowing that we can lend it out tomorrow and solve the sellers needs. And usually the sellers needs is Mrs. Allen to sell quick so they can get a better deal through our service. So it's really what we've done is we've evolved the business to solve as many pain points as possible. And our goal is to continue to increase that effortless experience to the leverage data to leverage our people in order to provide better service more timely at a better cost to them. For the
Erwin
listeners benefit to give an example how much scale you guys have, can you say how much you've deployed in Canada in terms of funds? Or how do you measure this?
Jesse
So this year, our financial year begins March 1 and ends February 28, we will lend out around $450 million. That's a lot of money. Yeah, yeah. And 75% of that will be to real estate investors. And we think that we are just cracking the surface on what we can serve Ontario. So for instance, let's call it let's call it 350 mil that we're lending out, actually, I'll do some quick math. So we'll end out about 340 million to flippers, by the way on average, our flip loans are 400 grand. So 335 mil by the by the 400. So we'll serve over 800 real estate investor 800 Real Estate Investor transactions this year. Right now, we're lending out around just as much money in Alberta than we are in Ontario going away. Okay, yeah, but through and that's because the business is founded, we're based out of Alberta, we only started serving Ontarians, two and a half years ago. So when you look at the total available market, we should be serving four times as many Ontarians than Albertans. So we know that there's a lot more people that we can help a lot more real estate investors that that need to hear about us and hopefully that we can, that we can serve. So there's a lot more scale of the business in Ontario. And then we know that there's some really solid real estate investors in other provinces. Particularly we're interested in serving British Columbia, just because it's next door it is a relatively large market. And the rules and regulations to participate there are similar to Alberta. So whereas in Quebec for example, the barriers to entry as it relates to regulation and even how they do business there doesn't make it as exciting opportunity than the prospect of going to BC and and deploying our capital there,
Erwin
where we have to have this whole conversation in French This was exactly
Jesse
exactly I don't know what I'd have to have to review the regulations, but I'm
Erwin
French just the selfish to actually just bury this episode. So there's less competition for me when I'm out there buying.
Jesse
Yeah, yeah. Well, you know, we know that you buy well, you're sophisticated. And I think, you know, if you're out there searching the market, there's more than enough opportunities.
Erwin
I don't know, man. So I'll give an example. So you tell me because I think this is a prototypical deal someone would bring to you, for example, I saw I saw, I've seen more listings now, that are renovation projects. The seller has started renovating, so they've they've got a house, the house, not necessarily the stud, but they've taken out the kitchen that he can put the bathroom between about the flooring, right? And these are the pictures on realtor.ca. Right, right. And I'm like, to me automatically, no bank is touching that. Right? I needed to come cash. Or I go private. Yep. Why go to someone like yourself? Right. I go to Calvert. And then I couldn't believe it. So we knew that they paid like 300 for the house to ask him is 499 There's one action, right. And I think it's something like what Canada is having like seven offers selling for 750. Like, like holy cow, that many people can get that deal done. And that's makes me think that too many people know like calibre, which is why we need to bury this episode.
Jesse
Yeah, you know, definitely, I think the big thing there is on the open market, it is more difficult to buy right? Then on the private market.
Erwin
Oh, just give us some time, there's more and more of these are coming.
Jesse
Yeah, so a lot of you know, going back to a lot of these flippers and Burr clients, they're out there, they're scouring the private market, and they're solving this problem of a lot of people that don't want to list on the market, because they've had mental health issues with with hoarding with, they don't want people in their house. And even if that's point 5% of available properties to sell, that's still a huge number. So that's kind of where where we see our clients, mostly working is in the private sales with with wholesalers, you know, buy your house for cash. optimising Google searches for when people are googling how to sell your house off market. They're the first that come up. So those are, those are the tricks that we see a lot of our flippers deploying
Erwin
for, for this market, that we're actually starting to see some power sales by the banks. Yeah. So I think there's lots of opportunity for anyone who's looking these days, anyone who's either cash rich, or has financing available to them, especially for these projects that the bank won't touch. So actually leads us to a good question. For listeners benefit. One is like the range of properties you typically service. So you mentioned hoarder house. Yeah, we just not for everybody.
Jesse
So the range of properties, we love single family, we love or units and last residential, a homogeneous property is what we'd like the most. Right? Like, I mean, don't go buying something really unique. And trying to market Yeah, because you're gonna lack data, like, a lot of times, especially the newer flippers, they come to us with, with like, you know, you gotta you gotta, or everything is or, or even like a neighbourhood where everything is 2200 square foot two stories. And they fought somehow there's a 900 square foot bungalow, and they, and they and they try to analyse it and adjust for it and, and justify why it's a good deal, but there's no data to support. And when they're doing that they're putting themselves at risk, because there's just a lack of sales information. And in turn, you've really shrunk your buying market or horse farms or rural. There's a reason we, there's a reason why I say urban, single family, because there is a big market, there is really good data and good data is is timely and abundant. And in urban centres, you have timely and abundant data, whereas the further out of an urban centre you go, the harder it is going to be to pin down value. So yeah, that's the spectrum. And now, another thing that that we've we're really paying attention to is, again, the lack of housing, and CMHC has identified that and they've created a programme for for multifamily investors, and we see opportunity for that. So we're starting to look into okay, how do we help these investors early stages, how do we help them come in renovate, increase rents, and then we've seen instances where we're serving clients and they've increased rents, they've stabilised the cash flow, and now they go to the CMHC insured product, and they're exiting with cash in their jeans from us with a really great cash flowing property. So we're paying a lot of attention to that we've seen ourselves, do a few million dollars of deals of that in Edmonton to one one borrower. So we figure if that's happening to one board Edmonton, what else is happening in Edmonton? What's happening in Calgary? What's happening in southern Ontario? You know? So we want to get ahead of that trend and figure out how we can best support real estate investors on rehabilitating those multifamily properties.
Erwin
Amazing. Yeah. And then more of a housing stock is available, which is the best thing we can anyone can do for this housing crisis. We're in the middle of exactly. So just want to go back to your previous point about major centres Can you can you name off some, like the smaller towns that you that you guys will lend to? Like, for example, like what the pandemic people really spread out? People left urban centres, you know, tonnes of people moved to like London to Belleville, to, you know, the suburbs and even smaller centres of like 50,000 centre or 50,000 too small for you, for example?
Jesse
No, it's not as long as when we analyse the economic fundamentals, so employment migration, we look at stuff like what is what is the current housing inventory, we look at it on kind of how many months of housing inventory there is looking at a lot of trends. And if we determine that the economy and the housing market is stable enough, will land there. So rule of thumb, we want to land in urban centres with 50,000 people or more. We call 50,000
Erwin
Urban's Yeah, we
Jesse
do we do? Again, are we going back to going back to does it have the economic and housing fundamentals, that gives us the confidence that we're not going to deal with with big problems down the road? So 50,000 people or more, or within a 10 kilometre radius of that, if it's 100,000 people or more will go within a 25 kilometre radius?
Erwin
Got it? Because my university I went to it's 20,000 people, so we almost qualified.
Jesse
No, you as long as it's in the city will go 10,000 to 49,000, as long as it's in the city. And again, going back to our analysis and giving us confidence that the economy and housing market is stable enough where we want to be deploying capital long term,
Erwin
just it fair to ask like probably what the burning question that everyone's has, in their minds, how much does it cost them? And how long do they have to repay? And how much they have to put down? The first three questions you get from every investor?
Jesse
Yeah, we, you know, yeah, we're just working with kind of our marketing and communications firm and figuring out exactly what is the messaging. So another, we talked about the pain points. Another really unique offering that we have is low money down. So our buyers, our borrowers can go from us with as little as in Ontario $20,000 down, that is provided that they have the capital to execute the plan. So the capital to renovate, and to carry our debt for the planned period of time. But most importantly, provided that when we do our analysis that we see they're going to make real money. So we'll end with as little as $20,000 down, which is something that really appeals, especially to the pros, because they're interested in doing volume. And one of their biggest, one of the biggest things that they lack is, in order to do volume, you usually need a big pile of capital, where we'll allow them to deal with as little as $20,000 down. So our practice is for professionals.
Erwin
Yeah, like the best of the best, the best of the best. That's someone with like, a year experience. No,
Jesse
no, we're dealing with people that and now we will deal with people with a year or even getting new into it and guide them through the process. But we're going to need more security, we're going to work with them a lot differently than the best of the best.
Erwin
So you're probably not gonna lend to them on five properties off the off the hop. No, no,
Jesse
no, in order to get to volume, you have to prove yourself last and you do that through working with us directly showing us the portfolio looking at your financials, like there's a lot of work that goes into building trust with each other. So $20,000 down now, before when money was really inexpensive, we would lend to as low as 7.99%. That would be our terms for our borrowers are flipped borrowers are always six months fully open interest only payments. Typically, our borrowers are exiting from us before that six months. Of course, sometimes the projects are larger scale, sometimes the market slows down and we need to renew we renew at no cost. But we do pay attention to Hey, why are you renewing what happened? What, what what deviated in the plan where you're now going longer than six months or sometimes we just, you know, a longer project, they anticipate nine months and we just follow the progress. So 7.99 and our rate is dependent on downpayment. So we view it the more you put down the lower our risk. So you were able to access that rate with 25 percent or more down, and then it's a sliding scale. As you put less down, the pricing becomes more. The pricing for today, the pricing for the 20 20k down product is 15.99. So 16% annualised interest only payments, on average, our borrowers are with us for five months. So really effectively, they're paying us seven and a half percent interest. And we always charge a fee. In Ontario, the fee is 2%. That fee doesn't get paid until they exit. So let's say, let's say in the instance, where they're only putting 20 grand down, they buy a house for, for 520, we lend them 500, the 2% fee, which is 10, grand, just gets added to the mortgage. So our mortgage is actually 510 grand, they do what they need to do get on market sell it, we get paid back to 510. That 2% is whether you come to us to a broker, a mortgage broker or not, we love working with mortgage brokers, they like our product. So we don't penalise our borrowers by coming through us through a broker, if they come to us direct, it's 2%. And if they come through a broker, it's 2%. Right? So basically, today, we've had to increase our rates with what's you know, the Bank of Canada has increased rates. So far 3% is looking like next week, we'll see another point seven, five, maybe point five. So that'll be 3.75 will increase our prices by half of what the Bank of Canada has done. So we will increase by depending on what they do next week will increase by another 50 basis points or point
Erwin
seven, five, it's kind of you.
Jesse
Yeah, so right now, we've only increased on our whole book 1% versus the three that the Bank of Canada has done seriously. Next increase, we'll catch up with that a bit like we're, we're running our modelling and looking over the next few years. And we need to increase our cost of capital a bit because of the inflationary period. And also, we borrow a decent percent of our money from the bank. So that cost of capital for us is tied to the bank rate.
Erwin
So your spread is actually getting squeezed by not raising your rate
Jesse
spread is getting squeezed. Luckily, we've built a really strong business where the margins are okay. So we don't have to, we always ask ourselves, How much money do we need to make to our shareholders need to make versus risk? We want to make a really good risk adjusted return and for ourselves and our shareholders. But the more we, the more we increase pricing to our boilers, that also has a risk component, right? It's, it's easy to say, Yeah, let's just raise it 3%. Well, now we've squeezed their margins. So it's a balancing act. And we didn't need to increase it lockstep. So we're trying to do our best with balancing with providing the best possible pricing to our borrowers. It's still serving the business and our shareholders with the with the best possible risk adjusted return that we can provide.
Erwin
And then do you help folks with their exit, like, for example, people who are going to reef whose plan is to refinance?
Jesse
We do we help them by firstly, walk day one, we walk, we have them walk us through their exit. And, and our underwriters are very skilled at that and poking holes, like when they see Whoa, you're not going to exit, then we won't do the deal. Or if they see, okay, you're going to exit you've been using, let's say, for instance, a big financial institution, you have four properties, your boat to go for your fifth, or you might see problems there, you might want to go talk to a professional, like, go talk to a mortgage broker who deals with real estate investors. And then we'll use them as the expert opinion to say, Yeah, I got Joe approved, don't worry about it, here's how we're going to do it. So we help them by by having them walk us through poking holes, and ensuring that there's a high likelihood of exit. And that's especially important for our clients, for our flip clients. You know, it's just going to market but it's also going to market at the right price, like you know, seven months ago, go to market at whatever price it'll sell whatever you want. Today, and it's in surprising or when like your market in Ontario has been crazy for so long, that the professionals don't have the tools they need in this market like getting sharp on listing and really looking at comparables and coming in a little bit lower than the best comparables to get a good offer and a fast sale. We've seen that in dealing with down markets for ever. So we can give them that education we can make sure that their expectation because the worst thing that can happen in this market is they expect to sell for 10% more than what we think reality is and they chase the market down and continue to chase it down and fight it the whole way. That's position. You've got to get ahead of the path
Erwin
you had to be the best deal or else no one's gonna take you.
Jesse
Oh, this is still selling, but you have to be the best deal.
Erwin
Yeah, the worst. Yeah. And then it's actually I know from from speaking to you offline that you guys want to land on a certain what's actually what's the what's the most expensive property that you lend on? For example,
Jesse
we try to stay away from lending over $2 million on one property.
Erwin
That's a pretty big guy. Maybe watermark?
Jesse
Yeah, yeah. Although, although that includes the multifamily, right, like, Okay, going back to, we try to stay to the mid to lower half of any market. Right. So, in Toronto single family house, we're gonna see million plus dollar properties. Although, at the moment on our whole book, or we have, we have $330 million out in mortgages. Today, we have five loans over a mil, and the highest being 1.7. So we really stick to lending to the mid to lower half. Although, you know, if we have a really strong grower who has an expertise in slipping higher end stuff, we're going to want to look to support that. We're going to want to look to know their business and understand it. So we never want to set our parameters so rigid, that we're not supporting the good practitioners to good operators, to good projects.
Erwin
And then so for example, you're talking about Hi, and I don't wanna spend too much time on this, because bit more seems to be not a big part of your book. But say it is a high end flip. How do you gauge risk on like, their exit price? For example?
Jesse
Well, we're always doing our after repair value, right? We're always analysing what the comparables are, we're looking at what is sold recently, the fewer comparables, the more hesitant we get. So on the high end property, they're coming in and saying, Yeah, this is going to be worth three mil when it's complete, we say great, we'll gather the data and we say, yeah, it's there. Or we say, we're not seeing it, nothing sold in that neighbourhood, days on market are huge. There's not good data to support what you're talking about. And we'll, we'll say no, if that's the case, but for everybody, if it's like, for instance, you know, I'm a lot more versed in Calgary if you're in a really good neighbourhood in Calgary. And, you know, right now, houses are starting are selling for that we have some really good income earners. And that trajectory, as our economy grows, should continue for some time. So a $2 million property doesn't scare us as much as it did. Six years ago, during the energy downturn. When we had massive vacancies downtown, when we had head offices leaving, we had, you know, a brain and money drain, we're not seeing that today we're seeing, we're seeing really good indicators that says that the energy sector in Canada is needed to supply the world with energy. We're seeing a lot of good activity as a relates to tech work. And we're seeing other industries move in. So we have a better feel long term for where Calgary will be. So on a $2 million house today, we have an appetite for it. And there's comparables, there's houses selling there's there's data to say, yeah, there's a market for these houses.
Erwin
All right, well, we're gonna get to Alberta. So I finished the wrap up the Ontario story. So what are you seeing now for people who have already borrowed for example? Like are they are people doing all right, they're managing
Jesse
for the mortgage, their dues. If you would have told me in February, the market is going to drop, in most instances 20% In six months, we would have stopped lending. And we would have prepared for some big delinquencies and big losses. We are eight months into this. We're seeing our borrowers be remarkably resilient. Yes, there's more tough calls, where they're saying Calvert, you know, we're stuck, we can't sell, they need advice they need talking talking to, and in most instances, it is to sell to rip the band aid off to get in at a price where the market wants it and move on to the next project. So in Ontario, you are bores, like, typically, flippers should be hitting singles, maybe the odd double, right? So when I'm taught when when we're talking average price point, let's say 500 grand, putting in 50, a single to us is net net 35 to 50. Grand, double would be 50 to 75. We've seen these real estate investors making at 100 150. So for a long time, they made really good money and now they're not hitting singles. They're striking out they're losing 1020 30 grand. I think a big thing is because we're dealing with so many professionals and they have that dry powder, they take the loss and they live to fight another day. Now, we're gonna see losses, we're not naive to that. We have not yet in Ontario, but we're prepared for it. We've underwritten it, we've forecasted it in our model. We've given that disclosure to our auditors, to our shareholders, we we reserve for that we're in the business of risk, and if we don't have the odd issue, then we're probably not analysing risk properly. So, in general, what we're seeing is there's definitely Borel worried that are not going to be as successful as they hoped, they're going to lose money. But in most instances, we're seeing them be ready to participate in the next deal. Some of our more sophisticated boards are already actively getting into the next deal, they're buying really well. At some point, the market will clearly have bottomed in Ontario. And there's still a lot of demand, like a really remarkable thing. For us, being from Alberta. And looking at what's happening in Ontario is typically you see massive swings in inventory, right? Like, right now, there's not many markets where inventory is above 3.5 months. And in Alberta, like like, during the downturns, you see inventory creep up, like markets in general, like Calgary's market was seven months of inventory. That's crazy. Yeah. And this was for years, during like 2015 1617, you had neighbourhoods that had nine months of inventory, you had also I didn't realise was three months. So what that tells us and what we believe is that, at some point, it's going to bottom and start to move up. And that's going to be a really great opportunity for for our flippers to get back in. But even now we're seeing people buy really sharp execute quick get to the market. So even if it drops, like let's say it is another 15%. And hopefully that takes over a period of time, let's say it takes seven months, drop that extra 15. So on average 2% a month. If you're getting back to market quickly, you're minimising the risk of that market continuing to go down and our best flippers are getting back to market really quick.
Erwin
So your flippers, they're staying in the game. No one's been like crippled,
Jesse
their state, they're staying in the game transactions have have essentially halved for us in Ontario, from where they were in, let's call it December, January, February, and we are getting new. What's great is during this time, we're focusing on educating, focusing on systems focusing on finding the next group of professionals that we can support. So we have even our volume flippers are doing a lot less volume, but that's okay, because we're bringing in new investors. New flippers.
Erwin
Fabulous. Yeah, that tells you the Alberta story. Alberta has been has gotten the short end of the stick forever.
Jesse
Oh, Bert. Yeah, we've had the short end. Yeah, since before it like, you know, we had essentially what happened was, we had a big run up financial crisis happened, we had a big run down through college 2010, we had a nice run up through 2014. Energy prices tanked in 14, we had a really crappy market from 14 to half of 20. And then we had a piece of the COVID Boom. But if you look at prices from 2007, to today, in most instances, it's like a lot has happened in between seven and today. But we're like 234 percent ahead. So like or, like there hasn't been appreciation. And in turn, there's really great affordability, you can move to Calgary, Alberta. And you can buy a single family house, a really nice single family house. Let's call it a three bedroom 1200 square foot bungalow for under 600k. You can drive to your downtown office in less than 25 minutes, you can drive to Canmore, Alberta, the mountains in an hour, the airport in half an hour. And there is a lot of opportunity. Our employers are hiring, we need people, we need young educated people. So even as an employer operating bing, bing Calvert, as an employer, when we go out to the market to find to find our people, we're hearing more and more from people in, in Vancouver, people in southern Ontario, where they're saying, you know, one of our dreams is to own real estate. And we don't see us to own our own real estate to own our own home. And we don't see that happening for a long time and where we're living. So it's making sense for them to come in and realise that dream in this market. So we're Yeah, we're seeing we're seeing really, really good economic activity. We're seeing low unemployment, we're seeing very affordable housing and cost of living. And in turn, we're seeing floods of migration that we've never seen. Both interprovincial. So people moving in from other provinces and international. And in all likelihood, that's not going to slow down for the foreseeable future.
Erwin
I think I read an article I think q2 This year, Ontario lost about 2020, Ontario alone lost 20,000 people to Alberta. Yeah, it's probably your biggest cohort for interprovincial migrants. Totally. Yeah, that's a lot of people.
Jesse
It's a lot of people especially for you know, in Alberta we're, I think still under 5 million in total total population. Like we're not even GTA
Erwin
GTA for the whole problem.
Jesse
20,000 Ontarians move is a big mover of the dial and a lot of them are are moving here to start their lives or to better their lives which or I buy by the way I'm from Ontario originally I grew up in Thunder Bay, Ontario and moved here after university and I now consider myself a Calgary and I've been here since 2007. And it's a real point of pride that we're that we're having people move here and that we have an exciting economy and an exciting place to live.
Erwin
Where are people moving to which centres are gaining the most?
Jesse
Calgary and Edmonton, Calgary and Edmonton. And you know what? It's interesting. For a long time. You didn't you had a real problem with downtown condo supply. And both of those markets, they just over built. And because of that condos are extremely affordable. So we're having that the these young people come in, they want to be downtown, they want to be in the scene and they can buy a really nice like 1000 square foot condo, right by the Saddledome right by downtown. Three 350 under 400. Yeah, yeah.
Erwin
Can you build it at that price? Ah,
Jesse
good question. I don't know if you can now. Like a lot of these were built during the last boom. So they were they started their groundwork, and let's call it 2010 1112. And then a lot of them had to convert to rentals. A lot of them, they just shelled them like there was a big supply issue for a long time and just drove those prices down. So they don't know what the cost per square foot is these day on days on them. But finally we're eating through the inventory. And we're starting to see the potential for some new residential developments downtown.
Erwin
Fantastic. Oh, yeah. Cuz my social media is flooded with Toronto brokers promoting Calgary condos.
Jesse
Yeah, yeah. Which, you know, is it's always like, as you as we all know, real estate is so localised. And it's always worrisome when you have odd talent expert promoting something that is so Oh, you're gonna anchor somebody to be there, you need to feel it and see it and know your neighbourhoods. And we haven't had speculation in Alberta. And that's another reason why prices are so affordable. So it's a bit scary to hear that story
Erwin
of Oh, you don't see it? Oh, yeah. They don't target you. Right. So they target me?
Jesse
Yeah, although I'm sure I'm sure their borrowers, their clients will will start calling us right and say, Hey, I'm gonna buy this on spec. And we don't work with speculators. So
Erwin
yeah, we just see, you know, work with new pre construction buyers. No, although, although I
Jesse
shouldn't say that, because what we what we will do is the day, they're like, when you're ready to buy, right, like, so we land on market value. So a lot of what we did in in Ontario is, hey, I'm gonna, I'm going to buy this, and I'm going to immediately sell it, and the bank doesn't want that business from me, yet I bought it at, I'm going to use easy numbers, I bought it at 500. Today, it's worth 650, we're going to lend them the purchase price, like we'll lend them with literally nothing down, and then they just sell it make their money. So that we will do when the value has to be fully realised we won't give them a commitment today or so if they do get lucky enough, or even a lot of people like if I were just putting myself in their shoes, my wife and I were buying a house that we anticipated to live in, and it went up a quarter of a million bucks in a year, we probably wouldn't end up living in it, we'd probably take the money and and deploy it through investment. So we get we get why people do it. And we'll support that when the real value is there and, and our risk is protected.
Erwin
Alright, so you're also bridge, you want to provide bridge financing as well here.
Jesse
In Iran, we our goal is to provide short term Mortgage Solutions. So it just so happens that the bulk of those short term Mortgage Solutions are to real estate investors. But when when we can bridge deals like literally, we've lent our money out for two days, we've left it over two weeks, and we just price it so that we make sure it's profitable for us and, and price good enough where it makes sense for the borrower to use our money. But if we can bridge deals, we're all over it. And again, because we move so quick, a lot of times what happens is they think the bank is going to participate in the bridge 11th hour the bank says no broker, a borrower can come to us and get a commitment same day, and we can lend it out tomorrow. So we built a business to support those opportunities.
Erwin
All right, let me just interrupt you. Where can people get more information on Calvert? Because that's actually I've, for the first time actually started hearing that where people who couldn't get their bridge loans. So So where can people find out more about Calvert?
Jesse
So Google is always easy, just Google Calvert home mortgage, and then we have a really great website, so you can visit our website chmic.ca Calvert home mortgage investment corporation is that's the abbreviation for.ca. The majority all the information you'll find on there is directed to our borrowers. We don't do any mass advertising. We've nothing on our website for shareholders. It's pretty exclusive. Exclusive less than invite for that. But yeah, Google calibre home mortgage, or ch nyc.ca. Everything on there is geared towards educating borrowers and brokers on what type of lending we do and how we can support them. We have a really great Instagram, Calvert home mortgage. Again, it's all about education, we got three case studies will do, will roll out the clips that you and I worked on. So we make sure our audience is, is getting some benefit from from the work we've done here today. All of my underwriters and myself are available by email. It's just, it's Jesse at ch fmic.ca. So yeah, instead, we have a YouTube channel, we haven't built it out as much as we should, we do have Facebook as well. So you'll be able to get a hold of us by by any of those means, right?
Erwin
I'm just saying email is better than a Facebook message.
Jesse
Emails, great, phone is great to phone is great we pride ourselves on you will never not get a human during work hours. So we have great receptionists who will always answer the phone and know where to direct your call. I then we have a team if you're looking to borrow money from us, a team of underwriters led by Sherwin, Garrett and Rob, who have a lot of support. And somebody's always there to take your call to work through the details to work through the opportunity and and get and move the ball forward in real time. So voting is is great to
Erwin
just see you guys fill that gap. So for anyone who's new, no one fills this gap. As far as I know. There's lots of like the private market, private lending market is generally very, extremely fragmented. Right? It's very, it's all small operators, like this is you guys are way bigger than almost everybody in this space. You're not bigger than like a Bay Street bank, obviously.
Jesse
No, but but for the short term, residential were the biggest for sure. There are competitors to us that focus on more the longer term stuff like basically, they're all to be lender. And there's a lot of good borrower, a lot of good alternative lenders and mix for that type of product. But but for the short term, we want to be the best in class and for really supporting real estate investors, we want to be the gold standard, we want to continue to build resources, tools, platforms, for them for their success. And what what we talked about earlier, as we know that the market for that is huge. The need for this type of investing activity is huge. They're benefiting themselves financially, they're benefiting the Canadian housing market and, and we just want to continue to grow and scale this thing in support of others.
Erwin
So Jesse said you're here to solve problems. Thankfully, I haven't experienced it myself. I've had some challenges with with B lenders, just all these last minute requests, like literally one B lender called me the day of closing and said, you know, you've now been wire novom wire knob and tube wiring in your house like yes, that's probably provide you the contractor quote to remediate it within the next 30 days. Okay, just wanted to make sure you knew like, but like before that Neff, no one ever followed these things up, right? Like lenders were easy. But now I'm even hearing that certain lenders aren't even closing on time. Or not just pulling this pulling on, like appeal of love and power, right? Is Calverton, like a Plan B, then in this case, because typical B lens I see are usually one year, that's not something I was playing, or
Jesse
we should be the if you're flipping a house or when you should be the plan A, and we want to we want to make ourselves the plan A, in some instances, yes. You know, be lender, you may be able to save some money on the financing. But in terms of that effortless experience, they don't know your business, right. And in most instances when you're really fully transparent with them, they don't want your business. So with us is, is we want it we crave it, we understand it. We're never going to be the pricing that a be lender that a home trust that an echo that an equitable bank offer.
Erwin
Oh, but you might not get it.
Jesse
How much stress is if a deal falls through because of your financing on the 11th? hour? So yes, will we be your plan B for sure. But our goal is when we get to deal with you and the plan B that will become your plan a
Erwin
really good point. Yes, it's good to know I call her back then because the property I was talking about I bought in like 2019. Right. And my intention was to renovate it and then get a new mortgage. So the reason really, I didn't need to study the 12 months, I needed maximum six months.
Jesse
And even if you need 12 months or when we extend our six month term at no cost to you, like as long as you're as long as you're paying your bills and making progress on the project. Yeah, we'll extend that as long as you need are going to put you in in a position where where we're jeopardising you or the project as long as you're performing so, so yeah, for certain like a lot of our Our best clients, we've been that plan B, but we show them how much we understand their business, how effortless when we say it's a commitment, it's a commitment. More instructions are with the lawyer we have best in class lawyers who understand your needs, we reduce costs through that we don't need appraisals. So have you ever gotten an after repaired value from an appraiser? How hard was that process? They're not, they're not educated on giving after repaired values, where we're literally Our appraisers, our in house valuators are doing 40 to 60 after repaired value appraisals a week. That's a lot like we know the market, we know what what the value add looks like. And, and a lot of times, we're going to act as partners with you, in a sense that will challenge you on your assumptions and hopefully make each other better, and ask you if you're missing something and kind of be that second or third set of eyes for you.
Erwin
Right, like telling me why don't even told me 12 month finance on I don't need it. I think I'd put up 35% to
Jesse
35% if you need to exit early, like when you improve that if you're burning it, and you want to exit early, there's a prepayment penalty, why not just like will literally make it an apples to apples approach and say, here's why we think you should deal with us. So
Erwin
we there's actually a rental I needed an earlier exit. Anyone who does do rentals knows exactly what I'm talking about. So I'm not gonna explain it. If you don't like incriminating myself, now I'm caring. So what's your crystal ball telling you? Is the real estate market falling apart? Are you guys gonna lose all your money, you have to tell your investors that it's all gone?
Jesse
Well, it's telling us that that's definitely not the case. It's telling us that we need to remain, we need to continue to stick to our business practices, which is lending to the best borrowers on the best properties in quality markets, in terms of the real estate market as a whole. You know, Ontario is very different than Alberta, we feel much more strongly that Alberta will will hold value through this inflationary period, values are likely to continue to drop in southern Ontario throughout Ontario, just because, you know, the easiest way to look at it or when is look at the markets that went like that had massive increases during COVID. A lot of those increases are going to come off because that was purely are a lot of it was really inexpensive money. So yes, there should be some appreciation because we've we've had economic growth we've had we've had population growth, but what we're doing is looking at the markets where we've seen the biggest increases. And we're saying let us estimate what should have been a 5% increase compounded, right. And the rest of it is kind of potentially at risk during that during that two year COVID period. So we just continue to remain diligent on our underwriting continue to serve the right clients were steadfast on lending into Ontario, on the right projects in the right market. So that's what our crystal ball tells us, there's still money to be made. And when others are greedy, be fearful. when others are fearful, be greedy is where we see the best money is how we see the best money operating. And during this time of fear, there's going to be opportunities.
Erwin
Yeah, and then offset to that the gentleman who's responsible for that, quote, he has 25 billion in cash and 75 billion in treasuries. So that's 100 million billion of cash and cash equivalents. What I find that that's get lost, often gets lost by like internet and social media and Warren Buffett, they always focus on what he's holding, and how much of it without including cash, right? So 100 billion in cash would be his second largest position after Apple stock. Right? So that's what the smart money's doing,
Jesse
ready to deploy, ready to deploy, ready for fear.
Erwin
Right? Versus a mistake I think a lot of people made is they agree they're buying when, when everyone else has been greedy?
Jesse
Yeah. And we're, you know, we're early days into this. Right. Like, it'll be really interesting how the developments that will occur in Ontario because of the fact that essentially, you haven't seen it in 20 years. And and people are saying was a blip? Yeah, people aren't conditioned and it wasn't it was a blip like
Erwin
it was a blip because we know supply.
Jesse
Yeah. So so there's going to be opportunities and it's it's early days, like you mentioned about you you're we're starting to see some judicial listings, we call them so some Foreclosure Listings. That's what we call them in Alberta. Our sale and yeah, there's gonna be opportunities for the people who have the dry powder who have been who have been diligent, who haven't been speculating who haven't, you know, laid it all on the line. Always make sure you have capital and resources for the next good deal. And so crystal ball is continue to do your homework, continue to understand what what opportunities are, and look to take advantage of them as they come up.
Erwin
And then what do you think about interest rates? When do you think what do you think we talked about? We follow it fairly closely. So I'd imagine so more than the average Canadian,
Jesse
it sounds like through the next year, we're gonna see around another 125 basis point increase. So we'll likely see half of that next week on the 2675 dips, and then maybe 25 in December, and then another 50 through next year, at some point, the way we get out of inflation is by causing a recession. Although our central bankers seem to think that they can wave a wand and get a get a soft landing, although if they could do that they should wave the wand two years ago, when when inflation started to rear its head. So we're seeing quantitative tightening, eventually, interest rates topped out because we have economic issues, and we'll see some quantitative easing. But you know, if you look back historically, rates we're at right now are nothing new rates right now are still not are still neutral. Technically, they're not even to the point where they are so restrictive, that they should be pulling back the economy. We've just had a generation, myself included that is just really used to relatively inexpensive that and inexpensive mortgages yet. That's not the way the economy typically runs in terms of historical.
Erwin
It's definitely fascinating times you see a couple governments have already gone back to quantitative easing. Like England. Yeah, like Turkey, like turkey. So I had like today, they're starting to print more money now, too. They capitulated pretty quick.
Jesse
Yeah. So a bit, but it does sound like our central bank is really serious about inflation like it does. It absolutely harms a lot of people. And unfortunately, it harms the most vulnerable most. So it's something that is ugly, but needs to get done. Oh, absolutely.
Erwin
Otherwise, just think what our government salaries will be.
Jesse
Alright, salaries or house or food, you know? Yeah,
Erwin
yeah, they'll all ask for bigger raises, and then we'll all have to foot that bigger tax bill, they'll be bigger than inflation.
Jesse
Yeah, it's scary to think of what long term inflation and how things compound themselves could look like. So it's good to hear our central bankers are serious about it. Although it would have been nice again, if they had a crystal ball. But it's remarkable how many people were worried about it two years ago. They said it's transitory like, you hope that we have the smartest people in the right positions, and they weren't willing to take action when they should have.
Erwin
Yeah, for anyone who doesn't. Like just 12 months ago, inflation was like 4.4%. So what happened to our 2%? Target? Yeah, double what it should have been. Exactly. It was double what it should have been. Nothing was done.
Jesse
Whatever, when it was transitory. Don't worry, but here we are.
Erwin
So yeah, so Jesse, I'm really disappointed. We just we agree on way too much. More discourse. But yeah, I'm not surprised Alberta would outperform, at least in the short term, it's been depressed so long. You know, I don't like saying it is because the only implication that that goes with it. The analogy I use for Alberta, for example, is in the US. For example, we've seen the mass exodus from like California, New York to like Texas and Florida. I don't want to call Alberta, the Texas and Florida, Canada. But in terms of affordability and tax, less taxes, like it makes so much sense. So we'll see. Well, I can't see why we wouldn't see more immigration and interprovincial migration to Alberta. You know, people naturally go to where it makes sense. But yeah, actually, is Edmonton and Calgary pretty interchangeable for investment. Like say your say your you know, ignorant me non Oakville, I won't invest in Alberta. Where do I start?
Jesse
You start with so so you start I think you start with the two biggest populations which are which are Edmonton and Calgary. In terms of a population based in the greater area. They're very similar, although they're different markets. Calgary is the second largest corporate headquarters to Toronto in Canada. So we have a lot of white collar work, a lot of highly educated professionals in finance, engineering, accounting, and the such technologies. Well, Edmonton you have so the average earnings in Calgary are higher, and it's a lot more private businesses. Whereas in in Edmonton, you have a lot of government jobs in Edmonton is the capital of our province. So a lot more public work is done there. It's also a lot more of the oil and gas service companies are based out of there. So blue collar where They're doing technical machine work, building, fabrication, those type of opportunities. So it is quite different in internet and then so you have a lot higher amount of higher end houses in and around Calgary and Edmonton, although although Edmonton has a lot of a lot of wealth, but it's it's not as white colour, as you would see in Calgary. So prices typically are less Oh 5% less than in in Calgary and Edmonton. You have much more stability in Edmonton because of that public sector, where, when there's big downturns in the economy, Calgary is affected a lot more than Edmonton is. So you see a lot more stability in Edmonton. So, it depends on what you like, and and you could you know, if you like stability, Edmonton is definitely the market for you. If you like more mid to lower end pricing, Edmonton is the market for you. Whereas Calgary, you'll see some higher end stuff and you'll see more fluctuation. So you have to be a lot more on the trends in order to make money and protect yourself in Edmonton area in Calgary than you do in Edmonton
Erwin
as a danger and Ontarian I think I'd rather live in Calgary I'd rather invest in Edmonton.
Jesse
Yeah, that's a good point. We have definitely Edmonton the climate is, it's three hours north, you don't have we have these in Calgary, these mountain effect weather patterns. So they're called Chinook. So you'll see a day in January where it's minus 25. The next day can literally literally be plus five and sunny. Edmonton doesn't get that to the extent that we do. So the weather here is better, we're closer to the mountains, Edmonton, you're kind of up in the in high prairies and you have a beautiful river valley. It is a beautiful city. I don't want to disparage it by any means. But the weather doesn't compare to copy, that's for sure.
Erwin
Just the apologies for jumping all over the place. Since I don't come prepared with questions.
Jesse
That's alright, that's alright. I'm enjoying this a lot.
Erwin
Since investors listen to this show. Many are always interested in lending. Are you accepting funds to lend out?
Jesse
Yeah, we do accept funds to lend out. So I'll kind of start from the configuration of our fund.
Erwin
We, I'm sure people have questions like, you know, Where does money come from,
Jesse
which I'm happy to answer and happy to explore. So our money is so I mentioned or the book size right now is 330 million of it, we have $130 million from a syndication of major banks in Canada. So they've given us a line of credit in which we borrow from them at an average of let's call it prime plus point 5%. And we love that partnership, because it gives us a really long term secure source of capital at a very inexpensive, relatively inexpensive rate. But our we're a fund, we're a mortgage investment corporation. So we have shareholders and our shareholders are high net worth individuals, family offices, and investment fund managers who give us the other $200 million. Our goal is to provide the best possible risk adjusted return to them over our history of 40 years average return has been 13%. last 10 years is how I like to look. Or better yet, last 13 Because then that includes the financial crisis. Well, one of our main, one of our main tenants is to protect capital first. So if experienced, we can make more money,
Erwin
because of experience going through like Dogbert has downturns because of the oil markets.
Jesse
Yeah, we went through multiple big downturns. Right? So if you look at the last 13 years, which includes the financial crisis, where our returns were, were brought down, but we did protect our capital, we're at right around 10%. Last year, we returned to our shareholders 12. And anyhow, that money comes from high net worth individuals, the the minimum standard to accept capital for us because of how we're regulated. We're regulated.
Erwin
Right? Yeah, yeah. So Fly By Night business?
Jesse
No, no. And because of again, like the banks, there's a lot of rigour around that there's a lot of reporting, in order for us to secure that line of credit, took us a lot of work a lot of time building relationships, and we report to them basically, our whole portfolio, they look at our underwriting and our risk. So as a shareholder, I'm a me and my wife put the bulk of our, we put all of our RSPs and TFSA and let that compound into the fund. I love the fact that the banks are putting us through that rigour. Not only for the fact that we can leverage it and provide it a really good return to us, but it's a lot of rigour. We also have an independent board of directors, the only non independent is our founder, Everett Keller. He's our chairman. So I'm all over the place now because going back to your first question is do we accept capital? Yes, we accept it from higher net worth individuals because of how again because of how we're regulated, so
Erwin
it's accredited enough or
Jesse
Yeah, yeah, accredited. So you have to you have to Have a minimum net worth of a million dollars net financial or earn $200,000. Ideally, we want to grow our investing base with investors who are sophisticated, and who see the value in what we're doing, and want to participate long term. So we want to continue to work with individuals and families that that want to deploy larger sums of capital with us for we plan, by the way, to grow our fund from 330 to a billion dollars in the next five years. And to do that, we're going to need about $300 million of new money. So we're always out there introducing and socialising our investment with the more sophisticated the better. So the more we're dealing with investment fund managers and the big family offices that have good counsel, that's who we want. Now, that doesn't, I don't want to have your listeners think that, you know, being a millionaire isn't enough to invest with us, because we will entertain that. But but we're looking for strategic shareholders that that that we can we can grow this with?
Erwin
Is there a minimum that someone has to be able to invest?
Jesse
No, no, no minimum, you know, we might say no, to some people, based off of again, just philosophical differences or long term, but for instance, we work with some of the some of our smaller investors, we work with a lot of great lawyers, right, and they get to see kind of under the hood on on who we are, how we operate, what our processes are. And they'll ask us, hey, Albert, tell me about you as an investment product, and we'll let them know. And they'll say, Yeah, I'd love to put in $80,000 of TFSA, we'll gladly accept that, we treat that as a compliment. Same as realtors, same as mortgage brokers like those would be our smaller investors. But when our industry partners are coming to us, too, we treat that as a huge compliment. And we will go the extra step to accommodate them providing their credit. But we're definitely not a general public type investment product. And nor should we be, you know, we're we some of the risks in investing with us are definitely the lack of liquidity, we only provide redemptions once a year, we are a private placement. So you know, we're not publicly traded, we don't have that we don't go through that. That rigour. We do have audited financial statements, but so the general public shouldn't be investing in us and and, but for those who are accredited and and see value in us, we we want those phone calls, we invite those phone calls.
Erwin
I think, from my experience, I've seen so many investments go sideways. So I'm like scared of anything that's not regulated, or Yes, regulated under OSC or Canada or
Jesse
So the Canadian Securities Administrators are, are the ones who provide the broad umbrella of regulation. And we're considered an exempt market product. We're also an investment fund manager. We're licenced as an investment fund manager and a portfolio manager. So we have various regulations under that. And then for every province in which we, in which we invite capital from. And right now those provinces are British Columbia, Alberta, Saskatchewan, and Ontario, we have to report to those provincial regulators. So if I were to accept or wins RSP money, we'd have to file a report, we'd have to make sure that that we are we'd have to file a report saying, here's the trade OSC here's your win, we'd have all your documentation, your, you know, your client, all that and be responsible for ensuring that we're, we're meeting their guidelines. And we take, we take all regulation, very serious, we see. We see a real horse, but this is not true. Like you the ones that blow up. Usually they're not taking it serious. Usually they're there. They don't understand why it's important to raise money from people who, who shouldn't be participating in investments like this not Not, not mine pie.
Erwin
Taping, offering random random is transparency, just proper disclosures. Those are important things. Those are critical things. Yes. So yes, we're saying that no, but man, there's so many large funds syndicated mortgages on developments that were not right. They tried to regulate, they thought they could be regulated as mortgages. That that was the
Jesse
areas that still exist in a sense in Ontario. Like in Alberta, the Alberta Securities Commission came in in 2010. And said, any trading and mortgages outside of Erwin lending his own money is regulated. So a syndicated mortgage has been a regulated activity since 2010. Whereas in Ontario, it's not yet and you still see mortgage brokers putting together essentially fairly complex financial instruments that carry a lot of risk. And you have Mamaw putting $25,000 into a second mortgage at 80 plus percent. That's something that I worry about as the market turns. And I think we're gonna hear some horror stories and hopefully, it catches the eyes of the regulator and we put some more robust regulation around that activity.
Erwin
Deb, I posted something about that just this week about those syndicated mortgages, a large development funds sure look a lot like investments that don't look like mortgages to me.
Jesse
They are absolutely investments and need to be treated as such,
Erwin
and then have hence regulated under a Securities Commission. Yeah, yeah. What you are, yeah, so many people took on too much risk. Again, my criteria now is has to be regulated.
Jesse
Yeah, that's a good start. That's a good start.
Erwin
Which is funny, because like, we're no, we're friends with lots of entrepreneurs. And we do not like regulation. But I've seen way too many people lose their shirts in non regulated investments.
Jesse
Yeah, like regulation to a certain component, right? Or investments, there needs to be some guidelines and rigour around that, you know, so regulation is important to an extent, too much is going to thwart economic activity, too little is going to create risk.
Erwin
And it's reasonable for you, in your experience, because you have to report to a national body and each provincial body.
Jesse
Yeah, it's, it is very reasonable. One thing that, you know, one thing that gets me a bit is we look at concentration risk. So we don't want to see any of our shareholders having more than 10% of their financial assets with us. And it's tough telling, telling an individual who has $4 million net financial assets, that, hey, you know, going to 500,000 with us is not wise, and here's why. So, so So that's kind of the, the biggest pushback I get is that, or even, you know, let's say you have a young, super smart budding lawyer who's making 250 grand, but only has maybe 250. Today, I'm likely is going to borrow strip that in the future, only as 100 to say that, that he shouldn't be able to invest 10 grand, what he what he or she sees, is, so yes, there's always going to be areas where we're like, ah, is this this is prohibiting economic activity, but for the whole, we don't see much issue, it's not a huge burden, it is somewhat costly. Like, it creates a barrier to entry for new market participants. So because of, in order to be properly regulated, from the real estate board side of things, from the security side of things, from audit side of things, it's tough to operate a mortgage investment corporation that doesn't have more than $20 million of assets under management. So, you know, I don't like that because it's, it's impacting new talent and new strategies to our market. It's kind of favouring the incumbents, and, and favouring more and more amalgamation. But the smart people know how to get into the market. So they'll figure it out,
Erwin
hopefully, because the world needs more smart people.
Jesse
Exactly.
Erwin
Amazing. Jesse, anything I haven't asked, I've asked a lot.
Jesse
You have asked a lot. And I've really enjoyed our conversation. No, it's been it's been great. We talked about how we land, we talked about who we lend to we talked about how we operate, we I really enjoyed our discussion on the market. And I
Erwin
appreciate how you shared that you. You do your diligence on the on the on the borrower, because I think there's a lot of borrowers out there that wish they had gone through to have to jump through more hoops before they got their money. Yeah, that's
Jesse
one of the biggest things is is that LeBor interview and really, if we don't see them being successful, we're out. But we know for a fact that when we were doing that, even now, like you see somebody that watches too much HGTV, they have capital, they have a loose plan that the plan is not paid. Property is not paid, we're gonna lose money. We say no, they find the lowest common denominator and they lose each other's money. Which sucks. Which sucks. But the the invisible hand of the market will deal with that, like we talked about what's happening in Ontario right now hasn't happened in 20 years. And some people will learn some lessons. Unfortunately, some of them will be expensive.
Erwin
It's really sad, but it's the market that's going to shake out the weaker hands. It's just you know, yeah. All right, Jesse, thanks so much for this. And then one last time, I'll have everything in the show notes in terms of contact information, your email, your cell phone number, your cin number, your home address, website, one last time the website
Jesse
see hmic.ca
Erwin
Fantastic. And you guys are Canadian. We are Canadian. About like Saudi money or something.
Jesse
That's a good point. How we raise money. It's all Canadian. We have some Canadians who are now Bahamians, that invest. We have some Canadians that are now Costa Ricans that invest but it's Canadian capital.
Erwin
I want to I want to meet these people. I want to be their friends.
Jesse
They're really cool people. That's something I love about my job is that I get to meet so many cool people I get to hang out with guys like yourself. I get to meet entrepreneurs who have built some really spectacular companies and in turn wealth and get to bounce ideas and hear from them. I get to work with entrepreneurs who are just Warren could build their wealth in, in the form of flippers. So it's a fun business that I really enjoyed participating in
Erwin
and hear me a lot more of them November 12, at the wealth hacker conference in Toronto, which you'll be at,
Jesse
yeah, can't wait, can't wait. We're really excited. We haven't, you know, because of we kind of we entered Ontario during COVID, basically, and we haven't been there as much as we should. And we have a lot of great, great fans and great partners. So we really look forward to the meeting everybody shaking hands and getting to learn more about each other and, and how we can work together.
Erwin
Because Because it sounds like like my think the best like these next 18 months, two years will probably be the best opportunity for our generation. Yep. So folks need to be educated on best practices and, you know, be ready for this.
Jesse
Absolutely.
Erwin
Awesome. All right. Thanks again, Jesse. Thank you.
Erwin
Before you go, if you're interested in learning more about an alternative means of cash flowing like hundreds of other real estate investors have already, then sign up for my newsletter and you'll learn of the next free demonstration webinar I'll be delivering on the subject of stock hacking. It's much improved demonstration over the one that I gave to my cousin chubby at Thanksgiving dinner in 2019. He now averages 1% cash flow per week, and he's a musician by trade. As a real estate investor myself, I got into real estate for the cash flow. But with the rising costs to operate a rental business, it's just not the same as it was five to 10 years ago when I started there. Forgive the cash flow reduces your risk. The more you have, the more lumps you can absorb. And if you have none, or limited cash flow, you're going to be paying out of your pocket like I did on a recent basement flood at my student rental in St. Catharines. Ontario. If you're interested in learning more, but it's true for free for my newsletter at www dot truth about real estate investing.ca. Enter your name and email address on the right side. We'll include in the newsletter when we announce our next free stock hacker demonstration. Find out for yourself what so many real estate investors are doing to diversify and increase our cash flow. And if you can't tell I love teaching and sharing this stuff.

To Follow Calvert:
Instagram: https://www.instagram.com/calverthomemortgage_/
Web: www.chmic.ca
HELP US OUT!
Please help us reach new listeners on iTunes by leaving us a rating and review!
UPCOMING EVENTS
You are the average of the five people you spend the most time with! Build connections with empire builders and trailblazers at our iWIN events.
BEFORE YOU GO…
If you're interested in being a successful real estate investor like those who have been featured on this podcast and our hundreds of successful clients please let us know.
It is our honour to give back and educate others on how we build cash flowing real estate portfolios using all the best practices shared on this podcast, from the lessons of our hundreds of clients and of course our own experience in owning investment real estate.
If you didn't know already, we pride ourselves on being the best of the best real estate coaches, having the best property managers, contractors, handy people, cleaners, lawyers, accountants, everyone you need on your power team and we're happy to share them with our clients to ensure your success.
New investor or seasoned veteran investor, we can help anyone by providing our award winning coaching services and this isn't all talk.
We have been awarded Realtor of the Year to Investors in 2015 by the Real Estate Investment Network, 2016 by the Canadian Real Estate Wealth Magazine and again in 2017 because no one told the judges no one is supposed to win the award twice but on merit, our peers deemed us as the best. In 2018, we again won the same award by the Real Estate Investment Network.
Hopefully being the most decorated team of Realtors in Ontario will make you consider us for your first or next real estate investment. Even if you don't invest in our areas, there's a good chance I know who would be ideal for you.
I've been around for a while, some Realtors are talented at servicing investors there are many with great ethics. The intersection of the two, talent and ethics is limited to a handful in each city or town.
Only work with the best is what my father always taught me. If you're interested, drop us an email at iwin@infinitywealth.ca.
I hope to meet you at one of our meetups soon.
Again that's iwin@infinitywealth.ca
Sponsored by:
Infinity Wealth Investment Network – would you like to know how our investors returned 341.8% on positive cash flowing real estate over the last five years? On average, that was 68.4% per year.
Just imagine what winning in real estate could do for you.
If you would like to know how we did it, ask us how by calling 289-288-5019 or email us at iwin@infinitywealth.ca.
Don't delay, the top markets we focus in are trending upward in price, so you can pay today's price or tomorrow's price.
Till next time, just do it because I believe in you.
Erwin
Hamilton, St. Catharines and Toronto Land Development, Real Estate Investor, and soon to be builder.
W: erwinszeto.com
FB: https://www.facebook.com/erwin.szeto
IG: https://www.instagram.com/erwinszeto/
https://www.truthaboutrealestateinvesting.ca/wp-content/uploads/2022/11/Jesse-Bobrowski.jpg
630
1200
Erwin Szeto
https://www.truthaboutrealestateinvesting.ca/wp-content/uploads/2017/06/TruthRectangleLogo.png
Erwin Szeto
2022-11-21 19:13:41
2023-06-16 17:10:49
How To Borrow Via Private Mortgages With Jesse of Calvert Mortgages