Halloween Special – Scary Investor Stories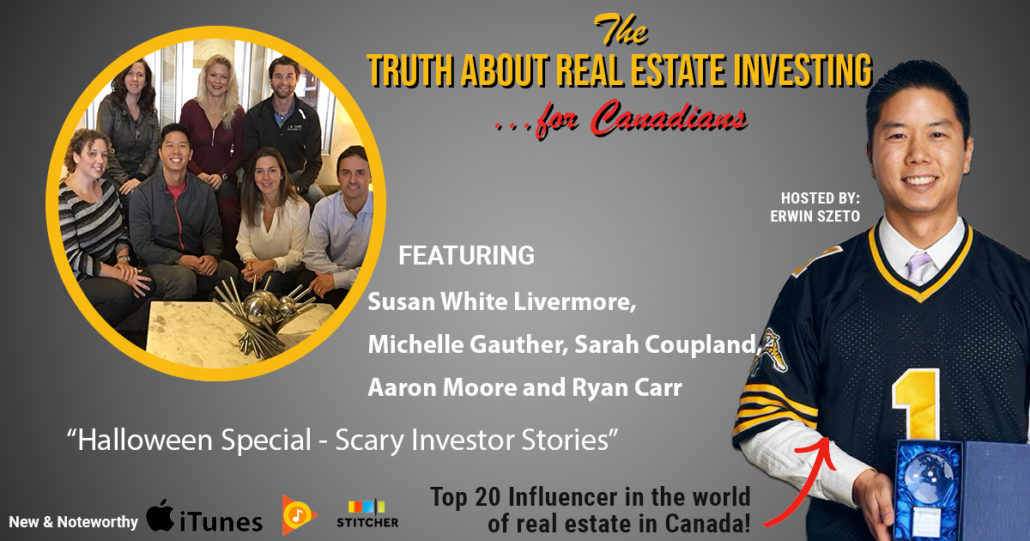 Monthly Mastermind with these beauties!!
View this post on Instagram
Never stop learning. You are the average of the five people you spend the most time with, so I choose to be with these top real estate entrepreneurs who are all on track to do big things. #mastermind
I shared with them my big ideas and they encouraged me to keep going. I'll of course need their help, and I'll be there for them when they need mine.
So many big things coming in 2019 and I can't wait to share them all with you in due time!!!!
Halloween Special – Scary Investor Stories
After lunch at my mastermind meeting, I passed my phone around for a casual conversation about everyone's nightmare investor story.  I know some of the stories are really scary but we all survived and the returns were more than enough to compensate us for our efforts.
Just this week I was speaking to a client looking to exit their investment where their capital return is around $200,000 for one property.  Just think how many hours per day, per week, per year it takes for you to earn that kind of money, then decide if investing is worth it for you.
My first job out of university, right after September 11th, 2001, paid me a whopping $35,000 per year.  You don't need a calculator to figure whose hourly rate was better.
Happy Hallowe'en!!
Show notes and Thank you to:
Sponsored by:

TitanInvestmentRealEstate.com – would you like to know how our investors returned 341.8% on positive cash flowing real estate over the last five years? On average, that was 68.4% per year, just imagine what winning in real estate could do for you. If you would like to know how we did it, ask us how by calling 289-288-5019 or email us at admin@mrhamilton.ca. Don't delay, the top markets we focus in are trending upward in price, so you can pay today's price or tomorrow's price.

HaltonREI.ca – This episode is brought to you by my networking group, the Halton REI. We meet in Oakville (part of the Halton Region), but mainly invest in the top investment towns west of Halton: Brantford, Hamilton, Niagara Region, Kitchener-Waterloo-Cambridge.

We regularly feature the top speakers from our industry. The vast majority of our attendees are seasoned investors, so you will want to spend more time around these folks, as you are the average of the five people you spend the most time with. Your net worth is your network, so choose how you spend your time wisely.

Knowledge is power. Every meeting we share the latest in market rents, prices in the top neighbourhoods, and strategies for investment. We share the best property available as our Best Buy Property of the Month. We share the best tips and tricks for you to implement immediately to your investment businesses to fast track YOU on your journey to financial freedom. It's up to you if you'd like to be on said journey.

To get on the invite list please register at https://www.truthaboutrealestateinvesting.ca/meeting/ and you will receive an invite to the next Halton REI meeting once announced.

But don't listen to me, here's what members of our community are saying about the Halton REI!!

Till next time, Just do it because I believe in you.
Erwin
Hamilton, St. Catharines, Toronto, Land Development, soon to be builder and Real Estate Investor
FB: https://www.facebook.com/erwin.szeto
IG: https://www.instagram.com/erwinszeto/
https://www.truthaboutrealestateinvesting.ca/wp-content/uploads/2018/10/Halloween-Special-2.jpg
630
1200
Erwin Szeto
https://www.truthaboutrealestateinvesting.ca/wp-content/uploads/2017/06/TruthRectangleLogo.png
Erwin Szeto
2018-11-01 18:39:45
2018-12-06 07:18:35
Halloween Special – Scary Investor Stories