Finding Multifamily Development Deals In Ottawa With Christian Szpilfogel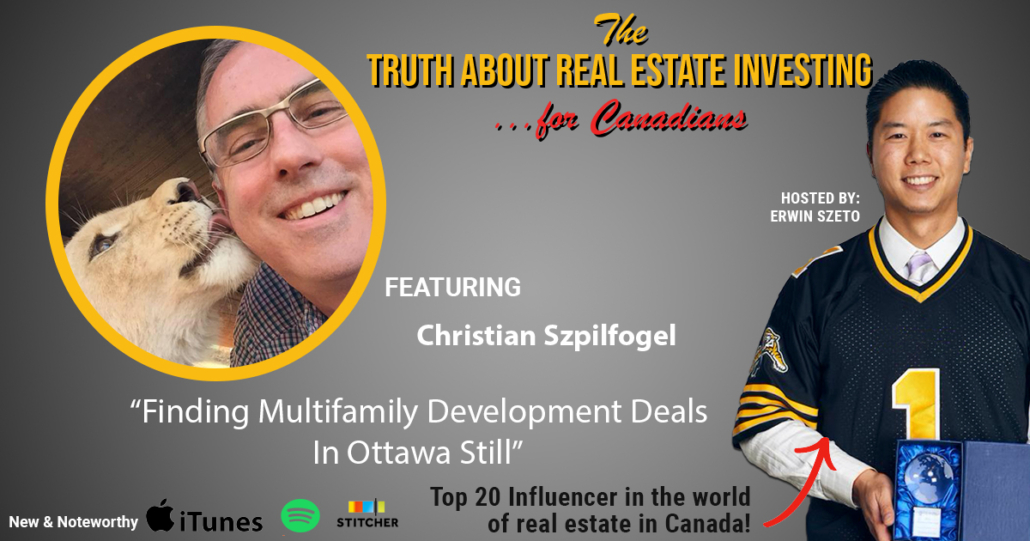 Greetings, Wealth Hackers!
I hope you all had a great weekend! I know I did at Seth Ferguson's multifamily conference, the first big real estate investment conference post-pandemic.  The speakers were great, I took notes from all of them and Kevin O'Leary was quite excellent.
I know he rubs some people the wrong way, he explains it as something his mother taught him, to never tell lies so you don't have to track what lie you told who.  Hence Kevin tells folks how it is including if he thinks your business is going to fail or investment is bad, he will let you know.
 

 

View this post on Instagram

 
I totally share some of that with Kevin, my journey and this show have entirely been about truth-seeking in the investment real estate space.  As one would expect with capitalism, there will be many bad, bad investments.
Just this last week, in chatting with investors one had lost money on growth tech stocks with AI, another investor with three private mortgages from a couple of years back, only one has the capital been returned, getting the rest back is unlikely.
I'm hearing from sources that some REITs are in trouble, none that I've invested in and no one I've had on this show.  Thankfully my due diligence has kept me out of trouble and I've developed my screening process by reviewing how other developments have failed. 
Coles notes, I noticed commonalities among failed developers: expensive interest rates on being heavily debt-financed, in combination with a less experienced developer.  Throw in a pandemic and historical inflation on labour and materials and you have a formula for disaster!
Crypto investors like myself (and I only have a small amount of bitcoin and Ethe) are way down.
I spoke to a successful apartment building investor who made a killing on Boeing shares following the pandemic crash in the stock market only to give it all back on cryptocurrency.  I do believe his cryptos based mostly in Bitcoin will likely come back but that's hardly a guarantee.
Year to date, in 2022, almost everything is down including real estate.  The only things that are up are oil and the US dollar.  Even gold is down even in this inflationary environment, who'd have imagined that!?
What's been working though, is boring investing, investment properties with positive cash flow have not gone down like single-family, detached houses or pre-construction condos.  On the pre-construction side, I'm hearing some are having trouble qualifying for financing as I'm sure some planned on assigning their contracts without planning to close, hold, become a landlord and rent out the apartment. 
On the stock side, generally, stocks that pay dividends have fared much better than speculative companies.  For those who understand stock options, a disciplined approach to selling far from the money and using insurance has performed better than those who were less conservative.
Slow and steady wins the race like Warren Buffet has, so we'll continue to teach defensive investing at both iWIN Real Estate and Stock Hacker Academy. 
Anyways, what I think I'm trying to say is gains are easy to make, keeping it is another matter.  Slow and steady like buying economically fundamental assets that cash flow has time and time again proven to be a winning strategy.  Hence, I'm looking forward to buying this dip with a focus on quality.
Speaking of quality, Kevin O'Leary's presentation and Q&A revealed a ton of great information and I'll share my takeaways at Cherry and I's Real Estate Meetup as Kevin's input provides me with great content to share in my Investing Through A Recession presentation.  Also, my team of award-winning coaches will be sharing the latest we're seeing on the streets in the real estate rental and resale markets and the keynote will be around garden suites, what I consider the final major value add strategy for the vast majority of real estate investors.
We'll talk about renovation strategies to maximize return on investment, financing, building code and zoning, etc…
You don't want to miss it. Saturday, May 28th, same time and place, 8:30 am in our offices at iWIN real estate. In-person only and there's tons of great networking to be done as many from my network including mega-successful clients attend for the education and to get the latest on the market.
Finding Multifamily Development Deals In Ottawa With Christian Szpilfogel
On to this week's guest!
Christian Szpilfogel is one smart guy. He's a former tech executive who worked with Canadian tech billionaire Sir Terry Matthews and he's implemented a highly analytical and technology-based strategy to maximize the returns on his multi-family investment.  Christian detailed the top tech apps and devices for ROI in a past podcast so check it out if you haven't already, the water metre monitor could save you thousands of dollars via early detection of a water leak. 
Christian's smart on the EQ side as well in his ability to communicate his renovation and development plans with the neighbours to obtain their signed support to get his variances and permits approved. He shares how he's finding deals, getting offers accepted in multiple offer situations, and even having sellers call him directly.
Cherry and I will be videoing and touring Christian's properties in early June as part of our Ottawa tour, we're in town hosting a casual meetup in Centretown at 6 pm on June 7th and on June 8th, Cherry will be a guest speaker at OREIO, the big Ottawa networking group at the Infinity Convention Centre. 
OREIO's Link to register: https://www.oreio.org/event-4738820/Registration
Christian is a good guy, he's not here to sell anything, his projects are self-funded, and please enjoy the show!
This episode is brought to you by me! We don't have sponsors for this show, I only share with you services owned by my wife Cherry and I.  Real estate investing is a staple in my life and allowed me to build wealth and more importantly, achieve financial peace about the future knowing our retirement is taken care of and my kids will be able to afford a home when they grow up.  If you too are interested in my systematic strategy to implement the #1 investment strategy, the same one pretty much all my guests are doing themselves, then go visit www.infinitywealth.ca/events and register for our next FREE Online Training Class.  We will be back in person once legally allowed to do so but for now we are 100% virtual.
No need for you to reinvent the wheel, we have our system down pat. Again that's  www.infinitywealth.ca/events and register for the FREE Online Training Class.
This episode is also brought to you www.stockhackeracademy.ca where everyday real estate investors learn the best practices in stock investing to earn cash flow in about 15-30 mins per day from their mobile phones. After real estate, Stock Hacking is the next best hustle as you've heard from many past guests on this show. Among our students last year, 31 trades were shared with them. 30 were profitable for an over 96% success rate and 12% return on capital. I will be giving free demonstrations online, very similar to the one I gave my kid cousin, a full time musician and he just made 50% return in 2021.  Past of course does not predict the future but if you'd like a free demonstration go to www.stockhackeracademy.ca in the top right, click FREE Demo.  At the demonstration I'll have special bonuses. We do not advertise publicly for all my favourite listeners and I only have two more demos to give in the next few weeks.
Don't delay www.stockhackeracademy.ca, what I consider the future of side hustles with real estate so unaffordable for many.
We're hiring!
Just a friendly reminder that we are hiring more investment Realtors who want a full-time challenge to help our clients, regular everyday people, mostly from the GTA, invest in the top investment towns west of the GTA. 
This is for driven folks who want to multiply their current incomes.
APPLY HERE: https://www.infinitywealth.ca/hiring
To Listen:
Audio Transcript
Erwin  
Hello, everyone. Welcome to the truth about real estate investing show. I hope you all had a great weekend. My name is Erwin Szeto for those who don't know, I guess some people didn't know. I hope you all had a great weekend. I know I did assess Seth Ferguson's multifamily conference. And it was a huge ordeal for him being the first big real estate Conference coming out of the pandemic, that was live and in person only get nothing out of this. But I'd recommend you buy the recordings. If you missed it. The speakers are great, every one of them. I took notes from pretty much all of them. I did miss some speakers because I was just enjoying myself so much in the hallway. A lot of people I haven't seen this since 2019. So literally some people I haven't seen since my own conference in 2019 at the wealth hacker conference, so it was great to just see people and teenagers hugs and smiles and no mas. Kevin O'Leary was was especially excellent. I thought, I know he rubs some people the wrong way, he actually led off and explained it, that something his mother taught him to never tell lies. So you don't have to track what lie you told who then Kevin takes a step further, he actually tells people what he thinks, even if they don't want to hear it. And see gives people his opinion on their business or investment, whether they're good or bad, right versus other sharks or dragons will only just say they're not interested in investing. And let's leave it at that. Versus Kevin will tell you if he thinks you have a bad business and you should stop, stop investing in it. So a share some Kevin's values. My journey is a little bit different. The show's entirely been about true seeking. In the real estate investment space, we do make mistakes. And we course correct when we do have taken down at least two episodes maybe more when we had a bad sponsor, or we mentioned a company that didn't do good things. A Paramount's the name of that company, but I was years ago. That's quite a while ago now. Yeah, the founders can't be found and the cops can't find them. And so terrible, terrible things. Anyways. So along that line, as you'd expect with capitalism, there are many bad investments or many bad people out there. Just this week, just as last week, I've been chatting with investors, I chat with investors all the time, that's chatting with one who had invested quite a bit of money into a growth tech stock that uses artificial intelligence, you've asked a bit of money on that another investor with three private mortgages, from just a couple of years back from a company that most of us know the name of only one only on one of those private mortgages, has the capital been returned, getting the rest back is unlikely. I'm hearing from sources that some REITs out there are in trouble, newer, REITs, newer REITs None that I've invested in and no one I've had on this show. Thankfully, my due diligence has kept me out of trouble. And I've developed my screening process from just simply reviewing what makes deals go bad, even pre pandemic. You know, anytime a condo, a big condo development goes bad. I read into it, I want to understand what went wrong so that I can avoid problems like this going forward. So quick, Coles notes, I've noticed some commonalities among field developers, and some of them are, they're paying interest to practice or debt financed, as in the acquisition of the land is that financed. So just imagine if you're like a condo developer, for example, it's yours, it's gonna be years before you actually have any money coming in. So if you're paying interest on that piece of property that doesn't have money coming in, that's a risk. And another big risk is if it's a less experienced developer, again, a commonality was, often it was the developers first big project that then you throw in a pandemic historical inflation on labour materials, and you just have a formula for failure. And I don't fault people for deals going bad, but it's not something I'm gonna put my money into. Dielectric, let's start with crypto crypto investors like myself, I only have a small amount. When I learned about one. I like to call myself educated. When I started reading more about it and talking to more people about Bitcoin and ethereum. For example, they're both way down. But when I started looking into it and putting some money in, I knew the prices were high. So I was looking for a dip to get in. So yeah, we're dipping now. I spoke to a successful apartment building investor just on the weekend. We've known each other for quite a while. I know he made a killing on Boeing shares Boeing, you know, they make planes jets, and they have lots of government defence contracts. He made a killing after the pandemic crash, just owning that stock. And he managed to give it all back on cryptocurrency I do believe in Kryptos I don't know that much. Hence, I'm focused mainly on just on Bitcoin and Ethereum mining even a large amount. My theory is that Bitcoin will likely to come back. But that's hardly a guarantee year to date. as I record this, we're about mid May, mid late May, year to date 2022. As I speak, almost everything is down including real estate, from what I'm seeing in real estate that I follow, like I personally invest in, we're back to the summer prices at least maybe even November from last year. So therefore we are down on the year, even though February in January, just tremendous months, again, grateful for my clients who took action on that information and sold at the peak. The only things that are up this year in 2022 so far is oil and the US dollar. Even gold is down on the year, gold down or even last I checked it was down just barely, just barely down. So basically it's even in this inflationary environment. Who would have imagined that what's working though is boring investing investment properties with positive cash flow, as in like, you know, tenants are paying your rent. That's performed extremely well. And they've not gone down unlike Well, the investors can hang on to them. Unlike people who speculatively bought single family detached homes in the GTA, for example, that will never cash flow, or like a pre construction condo. On the bridge construction condo side I'm hearing some are having trouble qualifying for financing. I'm hearing this from mortgage people and from lawyer friends of mine. So yeah, some people are out there are having trouble qualifying for financing. I'm not even sure if they ever planned on closing, there's got to be some people whose exit plan was to assign it had no intention of ever closing, which would include getting financing, let alone becoming a landlord and rent up the apartment. So I'm sure we'll see some softness in the areas that have the greatest speculation without cash flow, kinda like we saw in the stock market. On the stock side, generally, stocks that pay dividends have fared significantly better than their speculative counterparts, like high flying tech companies that don't actually make any money. For those who understand stock options. A disciplined approach to selling far from the money in using insurance has performed better than those who were who are less conservative, slow and steady wins the race, like Warren Buffett has, hence will continue to teach defensive investing both in my real estate business and our stock hacker Academy. Anyways, that's what I'm trying to say. What I'm trying to say is that gains are easy to make, keeping it as another matter slow and steady like economically, fundamentally sound assets like that cashflow has time and time again, are proven to be a winning strategy. Add to that time in the market. That's why Warren Buffett is the most successful investor out there. Yeah, I'm a value investor myself, I'll be looking to buy this dip. But to focus on quality, speaking quality. I mentioned earlier Kevin O'Leary's presentation, and especially his q&a revealed a tonne of great information. Unfortunately, Kevin wasn't allowed to do any sort of fan interaction, I was supposed to have my picture taken with him as part of as part of being a VIP for the event, as disappointed. But then after seeing the q&a, I was like, that's awesome.
Erwin  
I got way more value from Kevin's thoughts during the q&a than I would from getting a picture with him. And I'll share my takeaways at Cherry and I's real estate meetup, as Kevin shared his thoughts on the crypto market, on the economy, if there's gonna be a recession, all those sorts of things I took notes, took lots of notes, I'd record a part of it. And I need all this sort of information form part of my presentation on investing through a recession. And also at that meeting, my team will award winning coaches will be sharing on the latest they're seeing on the streets in terms of real estate rental prices and resale prices. And our keynote, our long presentation will be around garden suites garden Suites is for most folks returning what was a single family home now into a triplex. And it's what I consider the final major value add strategy for the vast majority of real estate investors. So it's something you don't want to miss. If you're in it for the long term. We'll talk about renovation strategies to maximise rent return on investment, of course, financing and building codes zoning, this is a very new strategy. So we're going to give you an update on where we are in each of those areas. Because you need to know if you want to get on on this on the ground floor. So you don't want to miss it. Saturday, May 28, same time place 8:30am offices that I have in real estate, if you're on my email list, you get all the information to register already, we're doing in person only that way there's tonnes of great networking to be done. I don't know how folks network over zoom, you know, when only one person can talk at a time, this is much better. And yeah, I'm really enjoying the in person events again. And again, only for those who feel safe to do so. You're more than welcome to attend. Oh, yeah. And then of course, the networking has been fantastic in my events. We're not like we're not like other events out there. Because naturally, many of my clients attend and they've done really well. They're really nice people. We're having more than more, more and more folks retire. And my policy has always to be to learn from people who have what I want. So we'll have some for recent retirees from real estate investing in the room, so you don't want to miss it. 
Erwin  
So onto this week's show, Yes, Christian, give me a second Szpilfogel. He's one smart guy with a difficult to say last name. He's a former tech executive who worked closely with Canadian tech billionaire Sir Terry Matthews. For those who don't know, Sir Terry, I believe he's still a top 10 richest Canadian. Anyways, Christian has implemented several uses a highly analytical approach it technology based strategies to maximise returns on his multifamily investments. Christian detailed the top 10 like apps and devices for ROI on a past podcast, so check that out if you haven't already, the water metre monitor cuts alone can save you 1000s of dollars via early detection of water leak. Christians smart on the EQ side as well as his ability to communicate his renovation and develop plans with the neighbours has enabled him to obtain their assigned to support that he can go to the city and get his variances and permits approved. He shares how he's finding deals getting offers accepted and multiple offer situations and even having sellers call him directly. Terry and I will be videoing in Turin will be touring and videoing some Christians properties in early June as part of our audible tour. We're in town just for tonight's we're even hosting a casual meetup in centre town on June 7 at 6pm. And on June 8 is the day after Sherry will be the guest speaker at Oreo. The big Ottawa networking group at the Infinity convention centre, there's a link to register in the show notes on our website at truth about real estate investing.ca. If you're on the email, you get the show notes, it's wise to be on our email list, you get some quality information in a timely manner. And it's all free goes right to your inbox. Just go to my website, www dot truth about real estate investing.ca. Put in your name and email on the right side. And you'll start getting notifications on when we're hosting events when we have new podcast episodes. And of course, the show notes. So you can register for great events like Oreo on June 8, because charity will be there speaking. Christian is a good guy. And he's not here to sell anything this projects or he sell funds his own projects with his own capital. And please enjoy the show. 
Erwin  
Hello, Christian. 
Christian  
Hey, Erwin. Good to see again.
Erwin  
What's keeping you busy these days? 
Christian  
You always love that question. So and you know me, I'm always really busy. 
Erwin  
So it's we've had a busier from what we discussed before we start recording, but go ahead.
Christian  
It has been busy in our portfolio continues to grow. We're still doing acquisitions. You know, it's interesting, I was having a discussion with a local realtor yesterday over lunch. And he was saying, you know that the housing market, there's a lot of people starting to put listings on I think they're they're kind of worried that they're going to miss the cycle, the boom cycle for sellers. And so he's seeing a lot of people putting listings on getting off the fence about it. So I thought that was interesting. But the other thing we talked about was that, you know, I've always said that just because the markets hot doesn't mean you don't buy right you stick to your principles, and your decision criteria for purchase. And then figure out well, you want to have certain certain criteria, but you can find what you need to find even in a hot market. It's just that when the markets hot, they're just harder to find when the market is soft. They're just a lot easier to find and meet your criteria. And so we have done acquisitions, even over the past year since we last talked, we bought another building that's going to be a repositioning project in downtown Ottawa in the centre of town area. We bought a portfolio in a town called Elmont, right, which is literally just outside the Ottawa border, the City of Ottawa border, very near Carleton Place, which everybody bought in there about five years ago. And now everybody recognises that it's really doing very well. It's a very interesting town that's really growing Elmont, I think is going to be probably the next one. It's just five minutes away from Carleton Place. So we bought a portfolio there. I was talking to just before we went on air that one, you know, people say you can't find cash flow properties in a market like this. Well, this was a portfolio of mixed use buildings that I ended up buying at six cap. That's what it worked out to. And that's with full conservative underwriting so that as soon as for example 5% 5% 5%. So property management, maintenance, as well as capital reserves are built into that underwriting. And then the the other key piece in there is the rents are about 35% under market. So it's there's lots of upside in this property as well. So yeah, it's still possible to turn over the right stones. So were the stones on ice axe, or were they were these stones that you're turning over? How do you find the deal? So that's a really good one. So so this one we found, let's say the deal found us? No, so I didn't go looking for this deal. The deal came to us mainly because we're really very active in certain markets. And so we were known and a realtor actually had this under contract for himself. He had done a decent job of underwriting not perfect, so we cleaned it up and adjusted the price accordingly. But he had it for himself but he wasn't confident in being able to execute on the long term project. So he called us up and said, Would you be interested in this? And we were literally his first call. And I did. So sure. Send me the numbers, I'll take a look at what you've got. I did a quick Proform on it. I was like, Yeah, we need to take a look at this, right? Because if the numbers are right, this is either an amazing deal, or this is a disaster of, you know, of a portfolio. So we arranged to see it, the next day went out met, the seller met the realtor. And the buildings were in great shape, I say, but half the units were already bought, actually three quarters of the units were reasonably recently renovated. And then a quarter were in really rough shape, like they're going to be total renovations break back to the studs, renovations for those units. And then they had good quality commercial tenants on the in the commercial units, with decent, triple net leases, properly structured, the leases was weird, but you know, because the seller was a bit naive and kind of new to this stuff. But he hadn't done a bad job of structuring the financials with it. And then a number of those commercial leases are coming up shortly as well. So there's chance to reset those prices have already done one actually. So that's kind of how the deal came to us. And then the whole process of the acquisition was interesting, there was a bit challenging because the seller, this is the only portfolio he's ever owned, and he's only owned it for five years. He, I think, in hindsight, he got in over his head. And I think he just needed stress relief, which was the reason he was fundamentally selling it. And so because he was naive, of course, a lot of the normal due diligence process was was difficult, you know, simple things. Like, I need to instal balls for the commercial tenants, I need acknowledgement, the tenant from the residential tenant that he said, you know, and I was just getting tonnes and tonnes of pushback on this stuff. And I had to keep explaining to him why we were doing the things that we were doing through the due diligence process. So that was a bit painful.
Erwin  
However, the seller on this building, they inherited, like
Christian  
he was an engineer who had some money and thought real estate would be a good thing to own. And he picked up three of these buildings, you know, on his own. He's a clever guy, in reality, but I think the stress of managing tenants was too much for him the human aspect or what, because they there was like tenant issues, like, can pay rent or something like that, or there's always tenant issues, right? You know, in a portfolio that says there's going to be dealing with tenant issues.
Erwin  
Let's back that up. How many tenants are there? 
Christian  
Oh, there's total of 27 units in the portfolio. And it's about there six commercial, and then the rest are sort of 21 residentials.
Erwin  
That's a lot of relationships. It is just trying to remember that many names.
Christian  
Well, for a new person, that it's a bit overwhelming, right. So fortunately, we've got processes to handle this. He also had some challenging tenants that he's worked through. There's still a couple of challenging tenants in the building. But he did a lot of the cleanup to be fair, but I think it really picked the stuffing out of them.
Erwin  
Right. Gentleman, the three quarter of the units that were renovated that was this gentleman?
Christian  
No, he did a little bit, but most of it was done just prior to his acquisition of the buildings.
Erwin  
And how long ago was that was the sellers acquisition.
Christian  
We bought it about five years ago. So no doubt he was selling it as soon as his fixed rate mortgages were coming up.
Erwin  
That's tough, too. Because do you know what what their financing was? Like? Because this is mix? This is mixed use?
Christian  
Yeah, no, it is mixed use. But the commercial space is literally just under the 30%. Mark, I think it works out to about 27% On average of the gross leasable area, which gives you a lot of flexibility. So I was able to finance this with CMHC backing it. And that's a whole other thing to CMHC it seems to have turned a corner. So let me put it to you this way. Or when I'm going to ask it. If you're doing CMHC on a commercial building, how long does it normally take for them to get back to you on that underwriting? How much do you have to provision for in your agreement of purchase and sale?
Erwin  
I haven't personally done commercial with CMHC. We've been doing our deals with BDC. And at least two months.
Christian  
Yeah, that's right. So most people if you're doing CMHC on a commercial, multifamily.
Erwin  
This is back there for the listener. You don't know if you have financing until that time has passed. You're in limbo for that long for financing. Alright, sorry, Krishna continue. 
Christian  
Well, so with commercial residential buildings, so that's anything five units or more for residential, and you can include mixed use as long as the commercial space is less than 30% of the The total gross leasable area, so CMHC. So just for our newbie friends listening, and when you have CMHC financing, it does a few things. One, it technically allows you to buy it at a higher loan to value then you could get up to 85% loan to value if CMHC is insuring your mortgage, it almost always results in at least a full point discount on the interest rate versus not having an insured and you can get longer amortisations. I've had one building, for example, where it's a 40 year amortisation insured by CMHC. But the downside with CMHC, historically has been the very long lead time, typically 10 weeks is what we would budget for in our purchase and sale right to put in place. I heard somebody had CMHC funding or not funding the CMHC approval in about a week. Somebody mentioned that. Yeah, somebody that Kingston mentioned that to me in December, I was like, Okay, I went back to the lender, I challenged them, right. So hey, let's see if we can do this in a week. Let's get all the paperwork lined up everything done. So that we put it in in the way that we expected CMHC wanted to see it, you know how fast the approval was? four business days?
Erwin  
No way.
Christian  
I have never never seen this in my life.
Erwin  
Consumers See, allocate some resources to the LTB.
Christian  
There's hope maybe on that side, but I do believe CMHC increased the size of their underwriting team, which I think is part of it. Or are we just lucky? 
Erwin  
Can we have some of them for like adjudicators to cross train these people? Sorry, Krishna, just a backup for folks not familiar with commercial financing. So you mentioned that you had 10 weeks that you allocate 10 weeks for financing approval? Is that in your offer, as in like your conditional period? Yes.
Christian  
Yeah. So that's actually quite normal for commercial processes, if especially doing CMHC even. So we did a building a year ago, and I had a short conditional period, even though there was 15 offers on the building that I ultimately bought. Yeah, multifamily is are in rare supply. And that's a whole other discussion outside but in that when I still put a conditional period, but I had the advantage of being a highly credible investor, right, so I had enough of a reputation with the real estate agents that they knew that I was going to be able to execute on this deal. And my conditions were really very simple for that one, it wasn't inspection and insurance. So and really, that was just a buy a couple of weeks to make sure we had some time from a due diligence period. And on that one, I knew I didn't need CMHC underwriting. But even if I did, all it happens in the deal is if you underwrite it with the assumption, you don't need CMHC. So you're going to just do conventional financing 75% loan to value with prevailing bond rates, which is how the the interest rates are set in a standard amortisation, then the CMHC is simply upside. Right. So in a competitive situation, I'll put it in with a lender, right on the assumption that I'm not going to get CMHC. And I could make assumptions about that, right. But I don't want to I don't want my business case to rely on it. So then you'll still go ahead with the CMHC application and everything your business case just gets better if you have it. So it was four days to on that. So we advanced our clothes on that purchase by about two months. And I wanted it because it was a creative, as I said it was it was effectively a six cap based on rents that were 35% below market. So it was a creative to the portfolio and I didn't want to wait. So we moved up the close by about two months. And then the big issue we had prior to close was was insurance. So the age of the buildings. This again, this is on the main street of Alma. And for people who don't know, Elmont, you'll know it for one of two reasons. The founder of basketball James Naismith, right, that's his hometown, and actually his statues right in front of one of these buildings, which is kind of cool. And then the other reason people might know it is anybody who's a Hallmark movie fan. A lot of Hallmark movies, especially Christmas movies are shot in Elmont on Mill Street because it's very picturesque. And these buildings are featured prominently in the backdrop.
Erwin  
How far is is Alma sort of like a suburb for Ottawa? Is that how it works economically, fundamentally, as an investment town,
Christian  
It pretty pretty much I mean, Ahmad is a power generating town. There's a power station there right on the Mississippi River. And it's beautiful, very picturesque in that area with the waterfalls and so on. But it is fundamentally a suburb of Ottawa at this stage just like Carleton places. So as you know, I live in downtown Ottawa. The Glebe To be precise, which is inside the canal limits, and I can get from my house to these properties in downtown Elmont in about 35 minutes. Is there a close?
Erwin  
Or what doesn't seem like everything seems pretty close. Like what's downtown to the airport drive? So I am jealous.
Christian  
Yeah, it will. You'll be jealous because you live in Toronto, right? Yeah, ridiculousness. So, so Metro Ottawa, if you will. So I'm going to include Gatineau. That's about one and a half million people. The Ottawa side is just over a million people. But the way the city is structured is it's structured along the river, that's the primary growth area east and west. So you can go you know, edge to edge in Ottawa, we take you just over an hour of driving with no traffic. North South is a lot faster. So the city is kind of long and skinny. So if you're downtown Ottawa out to the Ottawa airport, it's about 20 minutes, 20 minute drive, and it's a very scenic drive to you'll just go up if you're in downtown Ottawa, you'll just follow the the Rideau Canal all the way up till you get to the airport Parkway.
Erwin  
So we just stay in the Glebe when we come visit,
Christian  
There's no hotels in the Glebe. You have to stay in Senator town. Closest and still be nice.
Erwin  
So you live somewhat close to where the protests were somewhat close. Oh, we could hear them. Yeah. Oh, well, you hear what I heard was peaceful. Yeah, sure. Did you hear I have a bail said it was peaceful.
Christian  
Yeah. Bunch of buildings in centre town. Right. So I had to go and check my tenants down there. Were a bit concerned. I'd say they were very close to it. Okay. Oh, yeah. Yeah, my mill is so the, you've got the parliament district, right with the Parlin precinct which is very narrow set of streets, and then you have centre town. And then you have the Glebe. So that's the communities between Parliament and the canal. And these protests were primarily on Wellington Street. And to be fair, it was reasonably peaceful on Wellington Street. I think everybody, it was just a big party that was going on. And that's like, the issues that we're seeing, we're mostly off of Wellington Street. The and the biggest issue? Well, there's two issues, I say, one was, there are people that had air horns on their truck, and some of them were like, effectively, like a Via Rail train, you know, horn going off. And that was really disruptive, you could hear that for many, many kilometres. But for the people that were literally living, you know, within a block or two of that, those horns were going off regularly, like for about 20 minutes of every hour at all times of the day, in the night. So that was, you know, really problematic. And I think that was one of the key things that really upset people downtown. And then you get sort of secondary people, people who use any protest as cover and it doesn't matter whether it's a, you know, the trucker protest, or any other type of protest
Erwin  
G seven D 20. They're, they're just BLM, they're there to hide in the crowd and cause damage.
Christian  
Yep, that's exactly right. So you had people who were certainly doing that, right, people were trying to set fire to buildings and stuff like that. But you know, and then there was a little bit of harassment as well, which really didn't, didn't help. So for example, there were people that be walking with masks on so waiters, for example, going to do their shift might have their masks on as they're walking to work right and be harassed about wearing their masks. And I think they were just intimidated more than anything. I'm not sure that there were many there were some assaults that certainly made the news, but I don't think there was a tonne of it going on. But it was just the whole environment just wasn't felt very peaceful. And I think a lot of people just didn't feel safe. But the air horns were the worst, honestly.
Erwin  
But they're peaceful. I'm sure you know, it's funny because I associate indentify for attendant and there's no quiet enjoyment of property. So I know what my tenants opinion is of quiet enjoyment is, it seems all these people don't they believe that air horns are still considered peaceful?
Christian  
Well, you know, I was fantasising about maybe taking an air horn on a vehicle parked outside of one of their houses and just blasting the air horn 1am 2am 3am et cetera. We'll see how peaceful they think I am at that point.
Erwin  
And get it I don't get it the whole peaceful thing I just I'll drop it after this point. But if that was my tenant was hearing that they'd call me and say this is not peaceful. Alright, so it's not just me.
Christian  
We were dealing with that. I mean, we were getting calls most most of it though, is they recognise there's nothing we could do about it per se. Totally but the we had tenants just making sure that security in our buildings was good, right and making sure doors properly latched that our intercom systems were working properly. And we have cameras on a lot of our buildings, right? So the tenants were thankful about that, as well. I had so many queries of saying these cameras work, right.
Erwin  
That's funny, they waited for this moment to actually ask and think work. We were talking about this before, before we started recording, how to prepare for inflation.
Christian  
No boy.
Erwin  
And you're smart. So like, like, I like asking you because I'm crazy. I have all these crazy ideas. You know, I dabble in some bitcoin.
Christian  
You know, it's funny, because, you know, as I was saying to some people, when it comes to predictions around anything in the economy, you know, even the best of us, I think, are only a little more accurate than random chance. The economy is just so complicated. There's so many moving parts. And for us to oversimplify it, I think it's just a mistake. You know, we can see the effects of supply chain, we know what that's doing in terms of driving inflation right now, which, which is interesting. You know, because I think most economists will tell you that in a real GDP sense, the economy is probably going to grow by about 2% this year, and we're running at about 2%. But I don't think they've taken into account all the inflation that we're actually seeing, because you can see, we're completely blowing the doors off of the actual inflation rate versus what the predictions were, which leads you to believe that the real GDP may actually be in a contraction period, we may not actually see 2% growth this year, we might actually see a contraction.
Erwin  
It's so weird, though. Anyone who wants a job has a job, it seems, or anyone who wants
Christian  
but on the demand side of it, you know, and that's always the thing, right? When we're talking about inflation, it's what's driving it. Classically, in the past, it was demand side, inflation. And that results, certainly in wage increases, etc. Back in the 70s. It was it was averaging, what about 5% inflation over that, that period of time? Now we're seeing it's more like about in terms of GDP growth. Sorry, that wasn't inflation to 5%. That was GDP growth. So now our GDP growth is nominally 2%. But our inflation rate is really very high.
Erwin  
I think March was 6.7%. And that was the biggest factor was gas prices.
Christian  
Yeah, absolutely. But it points to the fact that inflation is supply chain driven, right. And it's supply side as opposed to demand side. This is why a lot of people and a lot of economists think it's going to be transient in nature. And I really hope it will. And my suspicion is it probably will. And then I think we're going to get a very confused state with the Bank of Canada. And, you know, in the US central bank, as well, Bank of England, because they're going to have this quandary, you've got inflation going in one direction, which they feel they have to address. And they've already announced, you know, lots of rate increases. And we've seen the bond market respond over the last month and a half as well, where you see rates anywheres, up to five years went up very quickly. So you've got that on that side. But if the real GDP is actually contracting, then the government is going to start to think carefully about, Well, are we moving into a recession? Right, and this is sort of a classic stagflation, stagflation type situation. So now, you've got to think, Okay, what's the central bank going to be doing in this type of environment? Are they going to prioritise inflation? Or are they gonna prioritise economic growth? Right, and I think in the end, they're going to cave and they're going to support economic growth, which means then that interest rates would be probably coming back down towards the end of the year. And we were talking about the supply chain issues earlier, you've pinned one, which is oil, right? That everything is driven by energy. Energy is an input to just about everything that we do. So if energy costs go up, it doesn't matter. What part of the economy you're looking at, it's dependent on energy, right? Even food is a big issue, right? Because energy goes into the production of food, everything from fertiliser to harvesting, and we've seen lots of increases on that side of it. You and I were talking a little bit before before our session here and one thing that I just came to realise more recently was the dominance that Canada has in potash we have probably about 40% of the world's supply of gas. It's about 15 million metric tonnes, but the second biggest producer of potash in the world Is Russia with Bella routes. And that's about sorry. So Canada is about 14 million metric tonnes, Russia is about 15 million metric tonnes, right, Russia and Belarus. And of course with the sanctions that supplies kind of held off and put it into context, the third largest producer of potash is China with about 5 million metric tonnes. So we're effectively cutting off about 40% of the potash supply. And that is going to have secondary effects, I think towards the back end of this year. So you've got energy on one side, right, and then we get the sanctions that are happening in Russia in the Ukraine. And if those don't lift in a reasonable amount of time, then we're going to start to see impacts on on food supply as well. So all this stuff is just going to make for some really turbulent times coming up over the next couple of years, at least, you know, where the bank is going to be a bit confused about which way to do things. But I think at the end of the day, they're going to double down on getting the economy, you know, right and stable, even at the risk that inflation
Erwin  
And with all this new spending that's in the federal budget in our provincial budget, I need cheap interest rates.
Christian  
Well, yeah, but you know, some would argue that the federal government should have backed off and a lot of that stimulus, you know, as early as the middle of 2021. And I would tend to agree with that. And it's kind of weird, because you've got the Bank of Canada, of course, increasing inflation, right. But then at the same time, you've got the federal government in particular, putting more money into the economy, which of course, helps to fuel inflation. So they're kind of fighting a little bit against each other. And then you saw to, right, everybody thinks about the Bank of Canada and the overnight rate, and how that's gonna affect the variable rate. But the other thing that the Bank of Canada did, at the same time at that announcement, is they shifted from quantitative easing to quantitative tightening. And that basically means, you know, where the quantitative easing, you know, some people would just think of it as printing money, right, which it sorta is, but really isn't. Quantitative tightening is effectively not renewing the bonds that they did buy at that period of time, which means that there's going to be some upward pressure on the bond market, it is an indirect effect of, you know, affecting the fixed rates, if you will, because it affects the bond markets, the yields go up. And that's one of the reasons that I think we saw the short term yields go up and why fixed rates went up recently.
Erwin  
Probably seeing I see it on Twitter, I think we're probably going to see like 4.5, soon on five year fixed,
Christian  
it wouldn't surprise me. So I locked in that portfolio that I bought in Elmont, I was actually getting a bit nervous about it, because my underwriting at the time with CMHC required me to have a total interest rate of no higher than 3.45. And when I first started this, I, it wasn't really much of a risk, I think my interest was gonna end up being around two and a half percent. And then when Russia invaded the Ukraine, there was actually a demand in the bond market, which resulted in a drop in the yield. So my interest rates actually drop by a quarter point. And I thought, Okay, well, at least I might be able to get, you know, some advantage out of this situation, but then within about a week or two, it went the other way, right. And then people got nervous and the, you know, in terms of what it was going to do in terms of inflation in the economy, and then the yields started going up. And then when the Bank of Canada added fuel to the fire, it didn't help. So ended up having to do a buy down on the interest rate, in order to guarantee the interest rate of 3.45. But I had to put money into it at the close. 
Erwin  
In order toget that done. As a percentage, how much mortgage have to put in?
Christian  
It wasn't much, it was about 1%, right, of the total loan value. You know, that was where the spread difference was about point one, two, right between what I was contracted with with CMHC versus what the bond yields actually were. So for people who aren't familiar with this, when you get an underwriting with, say, CMHC, and they say that they're going to guarantee the underwriting or the insurance for your loan up until you get to a certain interest rates. But when you're doing a commercial fixed rate, it's not something you can pre negotiate, you can negotiate the spread, but it is completely dependent on when you buy the bond in the bond market. And so if the bond yields are going up, then that affects what your interest rates are going to be. So usually about a week ahead, or even sometimes a day or two ahead of the actual close on the purchase. You have to do what's called a rate lock. And the rate lock is basically where the lender goes to the bond market buys the underlying bond. And then you've got that particular yield. And if anybody's ever been through this, it's about The seven to 10 minute window. So they literally say you have to be on standby. So what they're going to do is go to the bond market, they get a quote that's live for 10 minutes. So you have to confirm whether you're going to accept that particular interest rate. And you've got, you know, by the time it gets to you, you literally have five to seven minutes to make that final decision. So it's, it's an interesting process, and then that once that rate lock is in, you're done.
Erwin  
So is this like a zoom call? Like, what are you actually you're together on the floor? The trading floor?
Christian  
It's done via email, right? But yeah, it's literally done by email, but you're on standby. You're sitting there there, say, Look, we're gonna go to the bond market at 10:30am. Make sure because we're going to have probably about seven minutes for you to confirm in total, fascinating. 
Erwin  
Wow, what was it like the first time you did this? It doesn't have to be a little, like, I don't like that word, throw it back there catching on?
Christian  
Well, you can do that, actually. So you can go and you said, No, I don't want that. Right. But most of the time, things are not so volatile, what you're getting is the rate for the day, right. And it might go up through the afternoon. But if you don't like that, when they're probably just go back to the market the next day. But usually, what you're you're hard pressed against is your close date. So your close date, you don't really it's hard to move in a lot of cases. And then you have at most in most cases, 10 days before the close date where you can do your rate lock. But you don't want to heat up that buffer because there's the other side of it, which is let's say I do a rate lock 10 days before my clothes, I have to now close on that date. If I don't close on that date, I have to start doing buy downs on that that bond. So it costs me like it costs a lot of money. Think of like 1% per day kind of penalties associated with that.
Erwin  
So who walked you through this process the first time?
Christian  
Oh, I was totally naive the first time.
Erwin  
That's the best way to do it. Right? 
Christian  
That's just just on a roller coaster ride. But first, I had no idea what was going on.
Erwin  
By your email, okay.
Christian  
Yeah, it'd be fair, the lenders are really very good at managing all of this. So it's not like I'm trying to work as straight the lenders just tell me what's happening. And like I said, the bond yield rates, they don't fluctuate that much in a day. Recently, I've seen them fluctuate by a full quarter point. But most times, they don't, most of the times, they're really pretty stable and that fluctuate by, you know, maybe five or 10 basis points at the very, very most. So it's not normally it's not that unnerving. But it wasn't nerving this time only because the bond yields were actually fluctuating. Well, when I say fluctuate, they were going up, and they were going up fast. And you'd see like quarter jumps easily each day. Right? Yeah, so it's not a pretty process when the markets are really volatile. But you know, the vast majority of situations that because I really don't want to scare people either, right? It's just the vast majority of situations, I would say, literally every other deal besides this one, it's a very simple normal process, you'll do your rate lock, everything's gonna go fine, and really not going to worry about it. But this time, it was a bit harrowing, just because the yields had gone up by almost two full points, right? 
Erwin  
In the span of a few weeks, and then crashing, you just like us, like piles of cash waiting around for foreign deals are available. 
Christian  
So what I did in this case was I was starting to stockpile cash because I've got a major repositioning project that I'm doing. So I've set aside credit, I've set aside cash, I've got refinances that are happening all the time. So all this cash was just kind of coming in. But you're you have other partners involved or No, no, no, this is just our money. We don't take external investors. So we don't take any external equity investors at all. But we've got enough of a portfolio now that there's always a refinance going on in some property. So we're extracting new capital, all the time that we can use towards new projects. So a good chunk of this was capital that was going towards a repositioning project that I have, but this deal was just too too good to pass up. It was highly accretive that portfolio. I mean, we advanced the clothes I think I mentioned by two months. And the reason was that it adds cash flow to our portfolio as soon as we close and it was substantial cash flow. So you don't want to pass those things up. And the so I didn't and but we have probably three or four other reifies coming up at the back end of this year, where we'll be able to take them to more cash for projects that we have to go. So we kind of entered this discussion. I think a little bit about what's happening with the economy. 
Erwin  
And more specific more about what are you planning to do with inflation? Oh, I actually had to add a comment to that totally agree with your point. No one really knows that idea about the economy. He's going, one thing we can predict is the central banks will in generally they will, there will, there will be more money supply. So that's what I predicted. 
Christian  
I think you're absolutely right. And that's kind of where I was going before, when if the bank decides to prioritise the economy, over fighting inflation, we're gonna see loosening things like quantitative easing is going to start to happen again, which kind of increases the money supply, interest rates will probably come back down, or at least be moderated. So that stuff can all happen. But what I don't do is rely on that, right? Because I just don't know what's going to happen. There might be another war, there might be, God forbid, another pandemic, right? It's, anything can happen. And we just don't know. So I really look at things on a risk management basis. So I take look, so I look at things on a risk managed basis. And when I take a look at things like interest rates, inflation is something that I kind of like, you know, in the context of it makes my debt cheaper. Right, and that's the way I look at it, I don't think about it, as you know, it makes my assets worth more, because there's nothing that's fundamentally changed about the assets, their intrinsic value is the same, you don't think that change was the value of the currency that you use to buy it, but my debt is tied to that currency. So with rapid inflation, so for example, 6.7%, you know, year over year inflation you were talking about earlier? Well, my debt just got cheaper by probably about 6% as a result. So that's great. Right now, the side effect, of course, is interest rates. And that's where you need to decide, how are you going to mitigate that particular risk. So a lot of people are in variable rates, I have no issue with variable rates. And if you believe that you can weather and you know, when interest rates storm, right, in that the variable rates probably make the most sense for a lot of reasons. But in my business, you know, there's such a huge debt and asset value that a significant fluctuation in the interest rates could affect my operational budget. So I like to have predictability on that. And so for me, I look more at fixed rates that match the duration of a particular project or objective. And it's not unusual for even my larger competitors, if you will, some of the bigger companies like hazel view, or Memento or homestead, they won't even look at just a five year lock, they'll be looking at a seven or even a 10, depending on how much they need to weather a particular storm, you know, so in my view, predictability of cash flow trumps any potential gain I might have from a variable rate. Now, there is the other thing too, that when you're dealing with commercial loans, you know, almost every product is a fixed rate because it goes to the bond market. So it's not like, you know, I have to make a lot of these hard decisions. But some of my smaller mortgages have a choice of being between variable and fixed. So I run it at about a ratio of, I would say, 75% of my mortgages are fixed products, and then the rest are some form of variable, whether it's line of credit, or traditional, very tight mortgages.
Erwin  
And then how do you hedge for like, all the renovations that you have planned, because that's like, I was talking my handyman just on Friday. And he was telling me, he couldn't find any ABS plumbing materials, you went to like six different retail stores like Home Depot, Lowe's, no ABS,
Christian  
you have to, you have to buy, you have to buy well ahead and a lot of these things. So we've always had a process when we're doing our renovation projects, or reposition more specifically in the repositioning projects, we know the timeline that that's going to work to and then what we've typically done is buy the supplies when they're discounted. So if we know that we're going to be doing, you know, full electrical overhaul of the building, or we're doing a lot of plumbing work, or we're going to be buying, you know, doing hardware floors, or H vac systems, then when there's a price break, we'll buy it, then we'll store it. So that's that's the way we typically deal with it. And certainly for retail stuff, you just watch for discounts everyone else, everybody's got a discount, maybe once a quarter, once every six months, where you might be able to get like a 20 or 30% discount on something. And they're storing it. Yeah, we store it. So we'll we'll pay for the storage cost, right. But that's, you know, it's a lot less than if we have to buy it on demand. But right now, like if we're, I'm looking at heat pumps on a repositioning project. That's a 12 unit building that we're doing. That's a conversion of a seven unit to a 12 unit building and my age back guys told me that they need about six to seven months lead time to guarantee that they'll have the equipment.
Erwin  
So is that timeline work for you? Oh, yeah,
Christian  
no, it's because I mean site plan, control and re train. And you know, the city, alright, it'll probably take six or seven months. So as soon as my site plan, I get it, I get a thumbs up that it's going to go through the process. So I'm just waiting for feedback on that. As soon as I get the thumbs up on that, we'll put the order in for the equipment, so we'll have to pre buy all that stuff.
Erwin  
What about the properties in Elmont? Like, don't those renters need to be done sooner than later? 
Christian  
Well, we have to wait for tenant turnover, right. So we store so sorry,
Erwin  
apologies, because you mentioned like after about a quarter of them need to go back to the stud. There's people living there.
Christian  
Okay, got it. But I don't want the tenants are going to move out. But we some of the harder things to get or appliances, for example. So we just we've been hoarding appliances, we usually buy them on a secondhand market anyway. So when we see stuff that we think we might need, we we literally just go buy it, pick it up, and we store it, right. So literally, when somebody needs a new stove or a new fridge, right, we get one to them the same day, we don't go out and try to source it and buy it. We usually have them on hand.
Erwin  
Christian for the for the novice, can you explain like, do you have staff or you and your wife are going out with a truck and picking up stoves and washers.
Christian  
I'm getting too old for this shift. My wife still tries to get me to try and move the stove and I will in a pinch. Right. But you know, I didn't want to be lugging these things upstairs. I'm just not built for this. And you know, so we have people that will do that. And we do have some amount of staff, although it's been a bit more challenging through the pandemic, but then we also have subs as well. So we've got we've got a team of people that will do stuff like that for us.
Erwin  
Can you share how many staff you have?
Christian  
Yeah, sure. We have five people all told combination of T four and T four A's. Got it? And then we can as well. 
Erwin  
So again, for the more novice like what would you recommend me first hire a bookkeeper, bookkeeper. And then after that, when you say bookkeeper or the T four, they have a sub contract. 
Christian  
Now, there's especially when you're first starting out, right. But that's a mistake I think a lot of people make right off the bat is, is you really do need a bookkeeper to keep your book straight. Because most people really don't know how to do their books properly. I think I know what I'm doing with the books, but even I won't touch them, right? My bookkeeper is still 10 times better than I'll ever be, and much more efficient. And it sure makes tax time a lot less expensive. 
Erwin  
My wife appreciates those things. And then can Sorry, could you go through what positions do you hire for versus which ones do you sell out?
Christian  
That's what you're doing really. But I would definitely get a somebody who can do some basic maintenance, right? Not necessarily a full handyman, but you're going to need yard work done, you're going to need someone to take out the garbage, you're going to need somebody who can do some basic painting and drywall repairs. So we have a maintenance guy that does all of that stuff for us. And then we also have a column. We kind of refer to him as a man, but he's really a builder, right? So he's a builder. He does framing he can basically do everything is a bit of a jack of all trades. And he literally moves from renovation project to renovation project, and then they supplement so when we're doing full repositioning that we're going to hire out, the crew will supervise the crew, right, but we'll have somebody who acts as a foreman. They'll be under contract for that period of time. And we'll bring in people that we need. Our plumber is a contractor. They're always handy to have. I can do plumbing, I can do a lot of things right. But I don't really want to do it.
Erwin  
Any job. So yeah,
Christian  
literally the times. But it's funny to our plumber, he only does work for us. And his main gig is actually real estate. So he's a real estate entrepreneur. Now. He also has a an appliance rental business. And he's he's just a natural entrepreneur, but he still likes to do the plumbing and he only does the plumbing for himself and for us. And he can fix appliances. Now he doesn't fix the appliance now. Okay. He has a an appliance rental business. So in Quebec, it's typical that you get an apartment that doesn't have appliances. That's the norm. And so it's quite an industry on that side where there's rent appliance rental business. So tenants can either buy their appliance or they can rent their appliances. And so he has a business that literally just does that. But for the rental appliance business, his MO on that is he'll buy new appliances, he'll put them in and then when they come off rental, he just sell them on the US market. He doesn't try and redeploy them at all. And then he just buys more new stuff. Cool. Good. Yeah, the markets are all really dynamic, right?
Erwin  
Christian Did you share? Well, at what point do you go to outsourcing to a crew? Again, you know, not everyone forget that the term you use was does the positioning and repositioning yeah Oh, okay. 
Christian  
Yeah, so it'll completely depend on the nature of the project, right. So normally, what you want is for tea for staff, it's where you've got a very steady amount of work, right. So if you've got work, it's just routine. Again, you know, for the next few years, you're always going to have this kind of work, you might as well hire them on as T for, right if you've got work that can fluctuate, right, so you might have demand in one year, but it may not be there the next year, then you want temporary staff that fall under a T for it, there's still contractors, if you will, but they really just work for you or predominantly for you. And so you're supposed to give them a effectively a T for a, so it gives you a bit of flex. And then you'll have also subcontractors, which are job specific contractors, and, you know, they're invoicing you that kind of thing. So that's sort of a third tier. So when it comes to that third tier, it's literally project by project for me. So we don't do secondary suites, but a lot of your listeners will do secondary suites. And if you're doing a second, the single secondary suite, you're gonna go, you're gonna get a bunch of quotes from a bunch of different contractors in terms of how it's going to get done. And then you're going to pay them a contracted price. Or you could go time and materials as well. But it's, it's going to be for a fixed period of time, and the project's done, and they move on, and they go do another job somewhere else. So our projects are similar to just Baker. Right, so we're doing a 12 unit repositioning project. So in that case, we're going to have to hire a crew of people, right to do the work. And it's always an interesting discussion with my accountant, right? Because on one side, you could just say they're regular contractors and other cases, you do have the issue of default rates, depending on the nature of the relationship, right. And, you know, Terry would be a better better person to speak to that than me. But depending on the nature of the relationship, right again, and almost irrespective of the nature of the relationship, it just allows you to flex so I'm not constantly doing repositioning projects, you know, I have them, they get it done, right. And then I might have another one like a year later, right? Or six months later, or two years later. So I'll just take a crude one specifically do that. And then when they're done, they move on to their other projects.
Erwin  
I don't know Krishnan sounds like you're pretty busy.
Christian  
That's why That's why we have a builder on staff. Right. 
Erwin  
So we can keep in one builder. But your projects you've taken on a couple disaster projects,
Christian  
you but like I said a lot of those disaster projects. 
Erwin  
So the builder bases, their disaster before you set foot on them, that you created the disaster. 
Christian  
To clarify, maybe we could do like an HGTV show on this kind of stuff. But in and I've certainly talked about them before, so we won't recap them here.
Erwin  
For folks who have been listening Christian when he was on previous episodes. The last one in September some crazy stories with break ins and cops and cameras and yeah, yeah, cops the leading to evictions. And it's actually a great argument for why you need tech in your in your buildings. 
Christian  
Sorry, there's a continued podcast to go with it. We talked about one of my buildings had, you know, had all kinds of problems. I had a, it was an acquisition where it was basically a 10 unit building where we had two hoarders we had a drug dealer, we had a guy that just liked to beat other people up, we have one good tenant and three vacant units. And that building is beautiful. Now it's performing incredibly well. But the reason we have a builder and staff is he's typically doing all the turnovers. Right? So he's isn't more of a jack of all trades, he can do everything, right. So when we have a unit that needs refreshing, he'll do that it'll take it all the way back to the studs if that's what's required. And then when we're doing a repositioning project, that's typically a different crew that we'll hire out. So he's not tied to that. Or if we have peak demand work, then we'll just add contractors into the mix. Right. So we did one of our office buildings with you know, there's obviously issues with respect to renting out larger square footage of space for office use during the pandemic. So we've completely reconfigured them into individual offices and rented those out, increase the revenue by about worked out to roughly 50% increase in the revenue per square foot for the same space. But in order to do that, we have to hire a crew and to come in and rebuild all this stuff. So you're often flexing up and down on on these types of projects.
Erwin  
And then you need before recording you're even though you're restoring you're improving these properties a lot. Some of that doesn't. So you have three vacant units in a very, I'm sure you've had he's been cases in Ottawa just as well. And you're saying he had a building with three vacant units. I'm guessing there was something wrong with the building.
Christian  
That was we talked about that in a former podcast. I think but it was we did that acquisition back in 2017.
Erwin  
All right, but even your current your current downtown property that you bought, that's hard to track all these things.
Christian  
So we bought a seven unit, roughly a year ago, that project we're repositioning the building into a 12 unit building.
Erwin  
Do you try to paint us a picture with the seven unit building is like, is it like a three story or four stories that purpose built? What does it look like?
Christian  
Yeah, it's, it's in centre town. So it's it's right downtown Ottawa. It's in a, you know, Premier area, if you will. But this building was built in 1901. Secure home. Yeah, exactly. Now, interestingly, it's just outside the Heritage Overlay district. So I don't have heritage requirements. But I'm making it as part of my proposition for site plan control, that we're going to beautify the building and preserve the heritage nonetheless. And well, I'm doing that because I need a favour, right. I need some concessions from them.
Erwin  
They'll play ball they will like this is they will negotiate on stuff like this.
Christian  
Yeah, yeah, they're not unreasonable. You know, I think the city gets a bad rap at that time, I usually find that they are willing to be reasonable about things like this. But on something like this. So another building, which I never told you about, we have another centre town building. I was at Heritage Committee a few weeks ago, it pleasantly surprised as part of the heritage strategy, as you know, as a secondary effect of the new official plan. They feature two of our properties as examples of what developers should be doing to preserve heritage within the centre town district. And we had two counsellors, including a counsellor I'm going to need support from for my new project, she was on the call, as well. So it was kind of a you know, at call it out. And as well, I really, thank you very much, I appreciate the fact that you've featured a couple of our buildings. So in the site plan control, I'm just referring back to that as well. Right. And so my, you know, going in compromise, if you will, is to look, I'm going to do this because we like beautiful buildings, okay, I'll be perfectly honest. So we're not beautifying these buildings, because the city is making us do it. Right, the city will give us incentives to do it. But we like to be proud of the buildings that we own. So with this building, the one that I'm talking about the seventh unit that we're going to convert to 12, it has a lot of heritage value, and can add a lot of character and the rest of the street has beautiful homes, there period homes, but the owners of all lovingly restored most of them, right, so it's really very nice. So that's what we're going to do with this building. So it is three storey building, it's in what's called an R four UD zone, which gives us an awful lot of latitude in terms of what we can do even including height. So you have to respect things like transition between houses or between buildings. You need to respect what's called massing as well. So how much of a presence it has on the street. And in the city, you basically asked us to do other things. They say, Well, can you do something to prevent tenants from parking on the front lawn? Right? So yeah, we'll put that design feature in, that's fine.
Erwin  
But that'd be like rocks or like a fence or
Christian  
No, what we typically do in our properties is we'll put some sort of artwork in the front. So we'll we'll create some sort of stonework from a perimeter and will create sort of a nicely landscaped interior to it. And then we put some some amount of artwork in the front as well.
Erwin  
Is there an address you can share as I can do a Google Streetview? 
Christian  
Sure, I'll give you two addresses if you want to take a look at that. So one of the properties that was featured in the centre town heritage plan is 314 Frank Street, in in Ottawa. And even if you do a Street View, I think it's fairly current in terms of what it looks like. And then an example of our work that we also did was, this was a project we did back a few years ago, on 442 McLeod Street, and that's a six Plex. So it's a little one, but you'll get an idea of the kind of artwork that that we might put there.
Erwin  
Right, Frank shooting looks a little overgrown, even while you're transitioning it. That's a nice like a building.
Christian  
It's beautiful that you'll take a look at the all of the detailing on the front, we will restore all of that millwork.
Erwin  
Wow, that's doesn't look cheap, and I don't really see much of this stuff. 
Christian  
I'll send you some pictures of what the gardens look like because the gardens are absolutely beautiful. Now they're on your Instagram, they're on our Instagram and they'll also be on on our Facebook page. If people go to a live first group on Facebook. You'll certainly see all the pictures there we post them regularly.
Erwin  
So did the city people like you? They don't like more landlords? Oh, not in my experience.
Christian  
Like is a relative term?
Erwin  
Oh. Oh, McLeod, look at that. Oh, wow. Yeah. Hopefully no one parks on that. No, it would be painful for their vehicle if they did. Oh, yeah, that's, that's by design. Right.
Christian  
Exactly. So that's the kind of stuff that that they asked us to do. So So yeah, that's no problem. So we put that into into our design. So we kind of show that we're compromising. So what ends up happening behind the scenes in a site plan controller later on in the committee of adjustments, if anybody's ever been to a committee of adjustments, is basically set up where the committee is an elected committee. And then you go in to put your case forward. And if somebody wants to oppose, they can come and give a counterpoint to the committee to say why you shouldn't get those variances. But before all that happens, they also look to city staff to say, You know what their opinion is. And so if you work well with the city staff, and you've shown that you're willing to accommodate what they want, and you're not trying to just bully everything the way you want, then the city staff will say, Look, we support what they're doing, they've done everything they can in order to not ask for these kinds of variances, and they've made concessions and other areas in order to enable this, then you've got the backing of city staff, which helps. And then the other thing we do with things like committee of adjustment is I'll shop these plants to the neighbours, you know, the 10 closest neighbours, I'll just shop it with them. And, and I will also shop it to key influencers on the street, and tell them what the project is about why it's going to enhance the neighbourhood. And I'll ask them to sign off on a letter of support. And then I submit those letters of support with my application in a committee of adjustments, and it usually turns into a non event. And I kind of in one scenario, we had someone who was objecting. Right. And that took a little bit more time in the committee of adjustments. But in that scenario, because we had overwhelming support, the Committee of adjustments went in our favour without having to go with appeal.
Erwin  
In Hamilton, we have overwhelming on support of our garden suites.
Christian  
Different projects have different acceptance by the community to look at it as a as a democracy, if you will. So if I'm putting in a project into a neighbourhood that doesn't really fit the character of the neighbourhood and isn't going to garner support of the neighbours, then, you know, I probably wouldn't go ahead with it anyway.
Erwin  
Right. Well, look what Frank street McCloskey for example, did you reposition them? Did you add suites? Did you add stories, additions, anything like that?
Christian  
You have Frank Street was easy. So Frank Street, that was a it was a six unit building early.
Erwin  
 And telephone. It was sorry, Frank. Sure. You can tell you. 
Christian  
Right Street was a six unit building that we converted tonight. Okay. And we did that back probably about seven years ago.
Erwin  
Okay, what were the extra units come from? Walls?
Christian  
Kinda, yeah. So, on the second floor, there was a very large three bedroom unit, it had two bathrooms in it already. And it was the previous owner was living there. So it was very spacious. And renting out three bedroom apartments is actually pretty tough. Meaning it is so you know, uncommon, well, the city would say they'd like to have families move in there. But in our experience, you know, I'd say 25% of the time it was families. And then the other times, it was people who, you know, usually students who wanted to rent an apartment, and then each of them would use a bedroom. So we didn't really want to do it as student housing. And then the other issue was that the revenue per square foot of a three bedroom is a lot less than the revenue per square foot of a one bedroom. So what we did was we took that unit, and we split it in half created two very nice luxury one bedroom units. But even on you know, as is basis, the revenue per square foot went up by about 50%. Right off the bat for that same floor space. And then there was unused room in the basement. So we expanded there and we added two new basement micro suites in there. 
Erwin  
So the previous owner just left unused space.
Christian  
He did because there's another problem in Ontario. If you go above six units, then you get into the the MER tax rate, the nil rate there in the mill rate in Ottawa. So residential mill rate is about 1.0 1.05, somewhere around there. But as soon as you go above six units into your seventh unit, you're now in the MER class network class has a nil rate of about 1.4. So your time taxes go up about 40% of your property taxes go up by 40% by adding a seventh unit. So that's where I say, Look, if you're going to redevelop or reposition, you know a product like that, and you're going to take it above six units, unit seven, and eight is kind of the valley of death. Right? Like, there's literally no point to do it, because you have that seventh unit, and all the revenue you get from it just goes to pay property taxes. So and then the city wonders, why don't we have more people doing seven and adding a couple more units on the six plexes you guys taught, you know, basically, you're telling us through the tax system not to do it. So that's why you need to really jump to about 10 units before the business case starts to hold together and some would suggest up to 12 units. And so the McLeod Street property that I showed you there that one was originally a triplex and we did talk about this in a previous show, so I won't get into into the details on that one. But that was a troubled building, but it had a lot of square footage space on it and we turned it from a triplex with one illegal unit and converted it to a six Plex. A modern six Plex that's a beautiful building.
Erwin  
And it was time to see some of these places when I when I come visit you.
Christian  
Yeah, for sure. Yeah, we'll we'll do that we'll do we'll go take a look. At least the Ottawa some of the Ottawa properties for sure. 
Erwin  
Alright, so to talk about that, actually, no, yeah, so June 8. When we come in to visit you I can share charitably speaking and Oreo.
Christian  
We're gonna have June 8, that Oreo 7pm. So we're going to have both cherry Chan and that's Irwin's better half. And Elizabeth Kelly, will be there as well. So we're gonna have both of them speaking that evening.
Erwin  
Fantastic. And Oreos, the largest real estate organisation in Ottawa and not
Christian  
Yeah, we refer to it as a club. Yeah, it's the largest, the organisations and the most active, certainly within the city, we have about 400 full time members, and they don't all show up all meetings, but they're always there. And we've also done an association with Eastern Ontario's landlord organisation, which represents all landlords. And what we did, there was a an alliance where they do our lobbying. So particularly with the municipal governments, we've had some great outcomes on that side, which we can certainly talk about as well.
Erwin  
So we're running out of time on that part.
Christian  
On the boreal piece, though, we went back to live and hybrid two meetings ago starting in March so we do our meetings in person at the Infinity centre, and then we also remote members or members that aren't quite comfortable coming in person yet come in through zoom, and it's an interactive discussion so people on Zoom can still participate with what's going on on stage as well and q&a still work etc. And members that are presenting while they're on Zoom calls, it's all seen from within the Infinity centre so it's a real cool setup that we've got on the go. So we're still going through a few teething pains on it, but it's pretty neat.
Erwin  
Where can people find out more about Oreo and I want to attend the event is to…
Christian  
Go to our website oreo.org So let's spell the Ottawa real estate investors organisation so our e io.org. And they can always reach out to me if they get lost and where can they reach you can reach me any number of ways Christians still Szpilfogel on Facebook is an easy way or via email Christian at
Erwin  
All positive there this is internet this is for life, you should wash your email well if your website and the contact us page
Christian  
i don't know i don't get too much spam. The most spam I get these days is purely from people trying to tell me why I shouldn't be trading Bitcoin.
Erwin  
Trading Bitcoin. Do you do any bitcoin any gold, silver Bitcoin?
Christian  
I don't I focus on real estate. And you know, that discussion we had earlier we were talking about the economy is that the punch line through that whole thing is the smart money right now is putting their money in hard assets, right? Whether it's real estate, whether it's certain precious metals, I've seen Bitcoin now described as a hard asset, although I'm still struggling to get my head around that. And trust me, I'm a technology guy. Okay, so I'm not shying away from Bitcoin because I don't fully understand it. And I think it's an interesting area to investigate. Right? But it's not the technology that scares me.
Erwin  
Well, what are your friends from the tech world thing? Are they divided?
Christian  
Yeah, I say that tech investors, so people who are technology background, and our investors, most of them, I would say have thought about Bitcoin more in the context of experimental hobby and not necessary really as a serious investment vehicle, and I'll admit, I do get worried when everybody is talking about any specific investment class when I go and get my hair cut, right, and the barber is talking to me about bitcoin and how he's trading, when the Uber driver starts talking to me about bitcoin trading, when I get approached endlessly on Facebook with people who want to be my friends, but only really just want to sell me bitcoin trading stuff, I get nervous about that, it makes me think that there's something not quite right.
Erwin  
Right. They're all trading, none of them are holding. 
Christian  
No other trading, people are trading. That's what I'm typically seeing. People aren't necessarily holding your trading. Even my 86 year old father was asking me, How do I get into Bitcoin? It's always Dad, is this just for play money, right? Or are you doing serious investing? Because I think you really need to do a lot of studying on this. But if you just want to, if it's play money, and you don't mind losing it, that's fine. Right? I can help you with it. But that's kind of where it stops.
Erwin  
You remember me time people talked about trading gold?
Christian  
Well, exactly. And I think that's because a lot of people don't fundamentally understand what crypto really is. And when we take a look at something like Bitcoin, to me, the equivalency is gold. You know, it's a storage of value, right. But what a lot of people are doing? Well, no, that's right. Yeah, there's a lot of speculation as to where they think it can go. But it's just that speculation. But what a lot of people are doing is trading on the volatility, right, and just like people do in the stock market, their technical traders, so there's that piece going on Ethereum is really kind of interesting, because it's more of a platform, where other things can be built on top. So I'm kind of curious to see the companies and the business opportunities that emerge on that platform, because that could be interesting. But personally, I prefer assets that generate some form of a dividend, right? Real estate is a great way to do it. And when we talked about earlier, it's effectively a storage of value in an inflationary times. It's one of your best hedges, for sure. Because regardless of what the market does, you're still getting an income stream out of it. 
Erwin  
Yeah, the price of two by fours go up. I got lots of two by fours in my house. So my house is actually worth more. Right. So hopefully, no one goes breaks into my house and steals by two by fours.
Christian  
Just go back one podcast to hear about those stories.
Erwin  
And you can't, it's not the two by fours.
Christian  
 It's the copper.
Erwin  
That's not enough copper, my property steel, hopefully knock on wood.
Christian  
Don't go into the walls.
Erwin  
Thankfully, we're only places all tenanted so hopefully they'll defend my copper. Garage, Christian, this has been a blast. I know we could go on for another hour or three. Thank you so much for your time. Any any final words you want to share? Could you imagine if people are still not convinced to own art assets?
Christian  
No. I mean, it's become so obvious after a while, right. And sometimes I think it takes wisdom of time, right to kind of be able to see the history for yourself, right? I got into real estate in 2005. And in terms of, you know, picking up rental assets, if you will, right, obviously, I had my house, I had done some land stuff before that, but it was never really serious. And now I look back and think I really should have started a lot earlier. Because at the end of the day, they're not making any more land, you know, cities are still continuously growing rural to urban migration is a real thing. And then even if you're not in the high growth area, at the very least, it's a storage of value that generates cash for you. So it's an asset class that I think everybody needs to hold. And the only recommendation beyond that is that I think people shouldn't just buy willy nilly, I think people really do need to get some level of training, some level of education, maybe some level of coaching or mentoring to make sure that they go about it in the right way. But it's one of those asset classes that even if you do the wrong thing, time will forgive it. Right. Time cures a lot of mistakes. Yeah, real estate time for the central banks to create more money, because they create more money. Again, I will say it again, when they start printing money, your debt fundamentally gets cheaper, protect yourself against the interest rate hikes, you know, if that's what you feel you need to do, but your debt gets cheaper relative to the asset itself.
Erwin  
And that same time your savings go down in value. That's right, your cash savings.
Christian  
Yeah, only hold the cash you need for reserves. Right. And if you can hold it as credit, that's better. But yeah, I mean, just think about the price of the house that your parents bought, right? What did they pay? What was their loan value? Right then if you just did it as an interest only loan from that period of time, so we'll talk about the cumulative carrying costs. But if You had to pay off that mortgage now you'd be whipping out your Visa card. That's ridiculous. Well, I don't know my parents bought in the 60s. So they would be whipping out a Visa card.
Erwin  
Yeah, mine might have three mark, my parents had three mortgages on their first house. Visa card, maybe all my credit cards. But yeah. That's pretty insane thing to think about. And then you'd own a house free and clear from my parents would be Scarborough and that house is probably worth I can't imagine it can't be worth 900 grand.
Christian  
So just just one other mentioned, I guess is for contact. So we, you know, I'm on Facebook. I'm on Instagram as well. Our company Liveris, right, Al, I F, E R O U. S, we have a presence on Facebook Live first group, we're on Instagram. And then of course, there's our website live for us.ca. And I have a bunch of resources there for investors as well. We call it the investor hub. And that's where I write my articles. And they're practical things. So I tend to write things that are going to be useful to people. It's not market speak, it's not, you know, market fluff. I have nothing to gain by that. Because I'm not really trying to attract people to my website, unless your tenants but for really, it's just a resource that I like to create and share.
Erwin  
You share a lot. Is it just for fun?
Christian  
Yeah, yeah, I just I like to I like to help others. I like to give back to the community. You know, I don't really have any commercial interest in in the sharing that I do. It's really more about educating and helping others. I just want them I like people, and I like to see them be successful, quite frankly. But no, I mean, I don't take external investors. So I'm not doing that. Right. And my target market is primarily tenants. But helping landlords doesn't necessarily get more tenants.
Erwin  
There's plenty of tenants. So it's not something we need to necessarily repeat over. But you also volunteers, the Vice President of Oreo. That's right. Yeah. That take much of your time.
Christian  
More than my wife would like me to contribute Sure. Right. Yeah, it's a little bit of time. But it's it's hard commitments. Two evenings a month. And then there's some work in between. But myself, Victor Menashe, Michael Chan, but that Turner, Jacob Homer and Brad car K, we just volunteer our time to do this. Unpaid? Volunteer? Yeah, it's absolutely volunteer. And we do it. It's just, you know, our obligations. Were just members of the club that volunteer our time to do it. And then eventually, we'll tire out and somebody else will want to come in and basically do it. So, you know, people within the Oriole club, each case, you know, a lot of them have taken a turn to running the club. So this isn't my club. It's not Victor's club. It's the club, right? And we each volunteer for these positions and get elected in. Cool. So we had an election in May, actually. So when you do come down in June, right, we'll see if I still have a board position. Cool. See, if we're still invited. You won't change a thing, right? So it's all locked in there.
Erwin  
Christian great catching up with you. I'm impressed how much you're up to. I don't know how you do it. And still, like, make the time to volunteer and talk to all your neighbours.
Christian  
It's fun. That's why amazing in the new tech job. 
Erwin  
Yeah, you know, more fun than your tech job. 
Christian  
Oh, I had a lot of fun in tech. I really did. And in anything I do, it's not a job, right? It's focused. It's a hobby. It's what I live in, breathe. So I can't do stuff halfway. It's just not the way I'm wired. in tech, you know, I was one of these people that work all the hours of the day, it really didn't matter. But I enjoyed it. And we built some really cool stuff over the years. And now that I'm full time in real estate, and I've been full time in real estate since 2017. And it's it's the same way and I think I mentioned to you my younger daughter joined our business almost two years ago, and she's coming up through the ropes and you know, that excites me as well. I kind of want to see her eventually take over the reins. That would be wonderful. Cool. I could stop now. Honestly, I could stop that could have stopped maybe two years ago but I just have fun with this all the time. And as long as I have fun we'll keep doing it.
Erwin  
Amazing. All right graduation tradition on all your success and I'll see you June 8
Christian  
Yeah, hopefully in your nice shiny new Tesla
Erwin  
And we'll see you no idea when it's showing up that just like oh just like to say goodbye to these gas bills. Like your brain like crack the crazy this morning and I need to fill my car like you know that's one of the use cases for having an electric vehicle. You know, when I leave the driveway, it'll be full. The fuel tank will be full. I don't pump gas in the cold or rain ever again.
Christian  
Well, there's definitely not I mean, there's no need to charge up unless you're doing a long haul trip. Right. But I think so electric. And I know we should probably wrap this up, but I'll tell you electrical vehicles, electric vehicles are going to be really interesting in terms of not just what they do, including the autonomous vehicle. So but think about the innovation, that's going to start to happen related to the electrical grid. Right? Because you've got all these cars that are there, and their batteries are all full, I think about what happens when you've got, you know, basically load sharing that has to happen, you're not relying completely on the generating site. So you know, to spin up a, you know, a nuclear station in terms of turning the the electricity up on that is, you know, takes a long time. That's why they still have some natural gas generating stations. And then when you're taking a look at wind or solar, right, there's fluctuations and variance that happens there. But if you've got these batteries spread out all over the grid, you know, if you're an electrical engineer, you'd understand the concept of click capacitance. But basically, what happens is, you're basically buffering all this electricity. But if you need to, you can kind of feed back to the grid, all right, at times where there's a bit more demand on the grid. So it actually will be an interesting enhancement to the electrical grid over time. Now, this is going to take probably 20 years, at least for this job, because you gotta get smart technology to do it. Right, because the system is largely wired to feed demand, as opposed to being able to go back the other way. But with the feed in tariff programmes, you know, with the people doing local solar generation, people already have the constant being able to feed back to the grid, this just adds another interesting dynamic to the overall next, it'll be fun.
Erwin  
I haven't really interested in seeing what happens with full self drive, which I think will happen before 20 years. And you can essentially, have your car be its own Uber taxi, you can basically have a built in designated driver, think about what that's going to do to public transit, or smoke it.
Christian  
Yeah, I've seen some towns already, instead of getting their own buses, right. They're literally just contracted with Uber to be their their public transportation. I think Ingersoll Ontario was is one city that did this probably four or five years ago. And there's a few other cities, I have to confirm that right, because I'm just doing this from memory. But I thought that was an interesting shift. Now if you go to autonomous vehicles, then that becomes much more feasible even in larger, larger urban centres think about it as a feed into a main transit. So if you've got light rail that is part of your main corridor, where you could have these autonomous vehicles bring people to those stations, or at least main transit points, it gets really interesting.
Erwin  
And it gets cheap. Transportation gets really cheap. When you don't have humans involved, we get to see this in
Christian  
Ottawa. Irwin, right? Because Ottawa is one of the few level five self driving tracks test tracks in the world because of our climate. So auto was a hub for, you know, the illusion of autonomous vehicles
Erwin  
On the streets of Ottawa
Christian  
There's a track you mean, some of the streets in Canada north, so in the major tech park there, so on a Hertzberg, and like it drive, and Terry Fox drive, that area, that loop, if you just stand there are some days you'll see some autonomous vehicles driving around. So that's cool. It's becoming more and more common. Originally, it was a special event, and everybody would come out to see it, but you'll still see them testing. And then they've got even the traffic lights, and so on have special transmitters in order to enhance some of the autonomous vehicle. Things that we're working on, that our test track is actually not far from the Infinity centre, it's probably about a 10 minute drive from there. And it's a really neat little track there. But autonomous vehicles, you know, you talked about within 20 years, I think most people are predicting it'll probably be about 20 years before the technology is really in what's called level five, full automation. And then there's going to be another period of 10 years where there's a transition of those vehicles as well into the marketplace. That's a long time. Yeah, I'll send you an article that kind of describes the timeframe in the evolution app. Okay. Crazy. Yeah.
Erwin  
Cool. All right. I'll make sure not to buy FSD for my Tesla. Did you buy it?
Christian  
Yeah, I did for sure. Absolutely. I did. Just love that feature. When you know, I was just imagining right I like to always tell my friends so think about when you're in in a mall, right? It's raining can't Have some dogs, your arms are full of things that you just bought. And normally you'd have to try and run through the rain get to your car, put the stuff in, or you'd have to have somebody wait with your stuff while you go get the car. But with the full self driving, you can summon your car to come and pick you up. What's not to love
Erwin  
This order all my stuff on Amazon and Costco delivery.
Christian  
Kit lineup, right. So the good thing is I paid it, you know, I've locked in a January of 2021 prices. Right? We'll see when I actually get the car.
Erwin  
So there's you still bought the full self drive? That's awesome. Amazing. Yeah, that'd be a fun toy. That's like a fun trick. Question again. Thanks so much for doing this. And I'll see you June 8. Right.
Christian  
See, well, we'll probably see you in May. Right at the multifamily.
Erwin  
Yeah, that's right. less than less than a month. You're crazy. But we'll see you there. And then we'll see you in June. Yeah.
Christian  
Amazing. All right.
Erwin  
Thank you, Christian. Well,
Christian  
Well, thank you for having the early season.
Erwin  
Before you go if you're interested in learning more about an alternative means of cash flowing like hundreds of other real estate investors have already, then sign up for my newsletter and you'll learn of the next free demonstration webinar I'll be delivering on the subject of stock hacking. It's much improved demonstration over the one that I gave to my cousin chubby at Thanksgiving dinner in 2019. He now averages 1% cash flow per week, and he's a musician by trade. As a real estate investor myself, I got into real estate for the cash flow. But with the rising costs to operate a rental business, it's just not the same as it was five to 10 years ago when I started there are forget the cash flow reduces your risk. The more you have, the more lumps you can absorb. And if you have none, or limited cash flow, you're going to be paying out your pocket like it did on a recent basement flood at my student rental in St. Catharines. Ontario. If you're interested in learning more but secure for free for my newsletter at www dot truth about real estate investing.ca. Enter your name and email address on the right side. We'll include in the newsletter when we announce our next free stock hacker demonstration. Find out for yourself what so many real estate investors are doing to diversify and increase our cash flow. And if you can't tell I love teaching and sharing this stuff.

To Follow Christian:
Web: www.aliferous.ca 
FB: https://www.facebook.com/AliferousGroup
IG: https://www.instagram.com/aliferousproperties/
HELP US OUT!
Please help us reach new listeners on iTunes by leaving us a rating and review!
UPCOMING EVENTS
You are the average of the five people you spend the most time with! Build connections with empire builders and trailblazers at our iWIN events.
BEFORE YOU GO…
If you're interested in being a successful real estate investor like those who have been featured on this podcast and our hundreds of successful clients please let us know.
It is our honour to give back and educate others on how we build cash flowing real estate portfolios using all the best practices shared on this podcast, from the lessons of our hundreds of clients and of course our own experience in owning investment real estate.
If you didn't know already, we pride ourselves on being the best of the best real estate coaches, having the best property managers, contractors, handy people, cleaners, lawyers, accountants, everyone you need on your power team and we're happy to share them with our clients to ensure your success. 
New investor or seasoned veteran investor, we can help anyone by providing our award winning coaching services and this isn't all talk.
We have been awarded Realtor of the Year to Investors in 2015 by the Real Estate Investment Network, 2016 by the Canadian Real Estate Wealth Magazine and again in 2017 because no one told the judges no one is supposed to win the award twice but on merit, our peers deemed us as the best.  In 2018, we again won the same award by the Real Estate Investment Network.
Hopefully being the most decorated team of Realtors in Ontario will make you consider us for your first or next real estate investment.  Even if you don't invest in our areas, there's a good chance I know who would be ideal for you. 
I've been around for a while, some Realtors are talented at servicing investors there are many with great ethics.  The intersection of the two, talent and ethics is limited to a handful in each city or town.
Only work with the best is what my father always taught me.  If you're interested, drop us an email at iwin@infinitywealth.ca.
I hope to meet you at one of our meetups soon.
Again that's iwin@infinitywealth.ca
Sponsored by:
Infinity Wealth Investment Network – would you like to know how our investors returned 341.8% on positive cash flowing real estate over the last five years? On average, that was 68.4% per year.
Just imagine what winning in real estate could do for you.
If you would like to know how we did it, ask us how by calling 289-288-5019 or email us at iwin@infinitywealth.ca.
Don't delay, the top markets we focus in are trending upward in price, so you can pay today's price or tomorrow's price.
Till next time, just do it because I believe in you.
Erwin
Hamilton, St. Catharines and Toronto Land Development, Real Estate Investor, and soon to be builder.
W: erwinszeto.com
FB: https://www.facebook.com/erwin.szeto
IG: https://www.instagram.com/erwinszeto/
https://www.truthaboutrealestateinvesting.ca/wp-content/uploads/2022/05/Christian-Szpilfogel.jpg
630
1200
Erwin Szeto
https://www.truthaboutrealestateinvesting.ca/wp-content/uploads/2017/06/TruthRectangleLogo.png
Erwin Szeto
2022-05-24 14:27:51
2022-05-24 16:41:49
Finding Multifamily Development Deals In Ottawa With Christian Szpilfogel