Chef Anderson Is Cooking Up Side Hustles of 25k/year and 4%/month With Anderson Carter-Griffith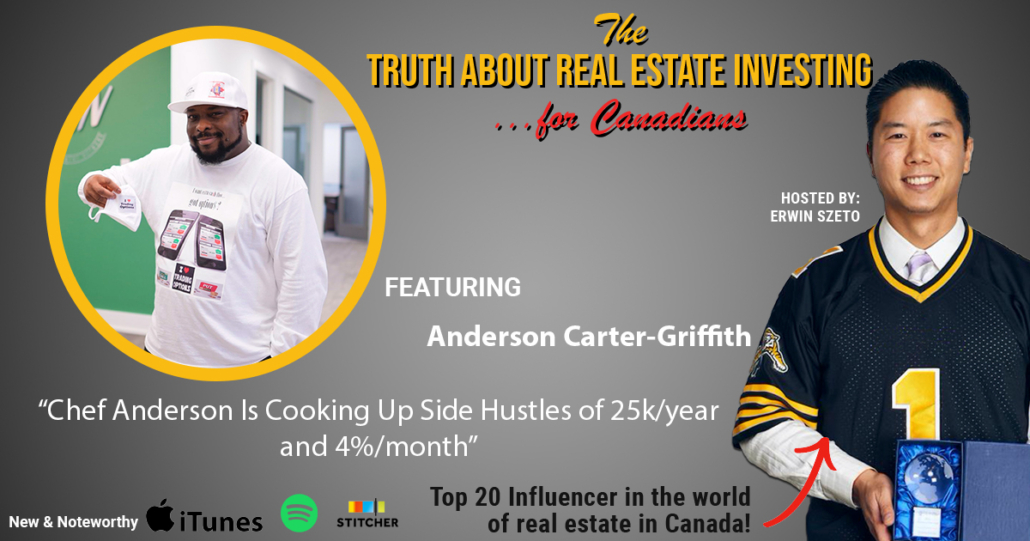 Greetings friends and welcome to the Truth About Real Estate Investing for Canadians and here is one of the darker truths about some real estate investors.  Some are out there to line their own pockets at the expense of others.
I don't mean to be a Debbie Downer so I'll share some more altruistic means to invest in real estate after but first the bad news.
I attended a golf tournament on the weekend and ran into some old friends who own and operate a very excellent gym and I asked them how business was.   They got through the pandemic and told me about their new landlord who bought their property and then tripled all the rents of their several commercial tenants. Folks who poured their lives into building businesses including investing hundreds of thousands of dollars into equipment and renovations.
For some real estate investors, their plan to make money is to buy property, raise rents without adding any value at the expense of small business owners.  Sadly this is not affordable to many small businesses forced to move or close their doors forever.  The investors' plan is to sign some leases at these new rents to flip the property to another investor at a higher price thanks to inflated rents.
To each their own and as I often ask my son when he vandalizes our home by drawing on the furniture or hitting his sister, I ask "who are you helping and who are you hurting?" 
In this commercial investing scenario who benefits and who loses?  The investors obviously benefit from higher property values and small businesses lose and so do all those who enjoy the services from the small businesses.
For Cherry and I personally, we will continue to invest in real estate that aligns with our values which is helping people and I firmly believe that the most effective way to improve housing affordability is by adding supply, especially for renters as they are statistically the most at risk financially.
Investing in a single family home be it a house or condo and renting it out adds to rental supply.  Duplexing a property is even better which is our preferred strategy. Next is adding a third unit via garden suite: an addition or tiny home in the backyard for another apartment.
Once rental licensing moves into Hamilton, we may even convert our student rental into a rooming house for adults who can't afford one bedroom apartments and want a communal living style.  FYI the waitlists for affordable housing are in the tens of thousands for most mid sized cities.  This is how Cherry and I choose to invest to contribute to a solution and we'll continue to help our clients invest for the greater good while achieving fantastic returns.
Speaking of fantastic returns and helping people we have Anderson Carter-Griffith who has a new side hustle and wants to share it with anyone willing to listen to him including his community back home in Barbados.  
Just check out our picture together in the show notes: Anderson loves Stock Hacking.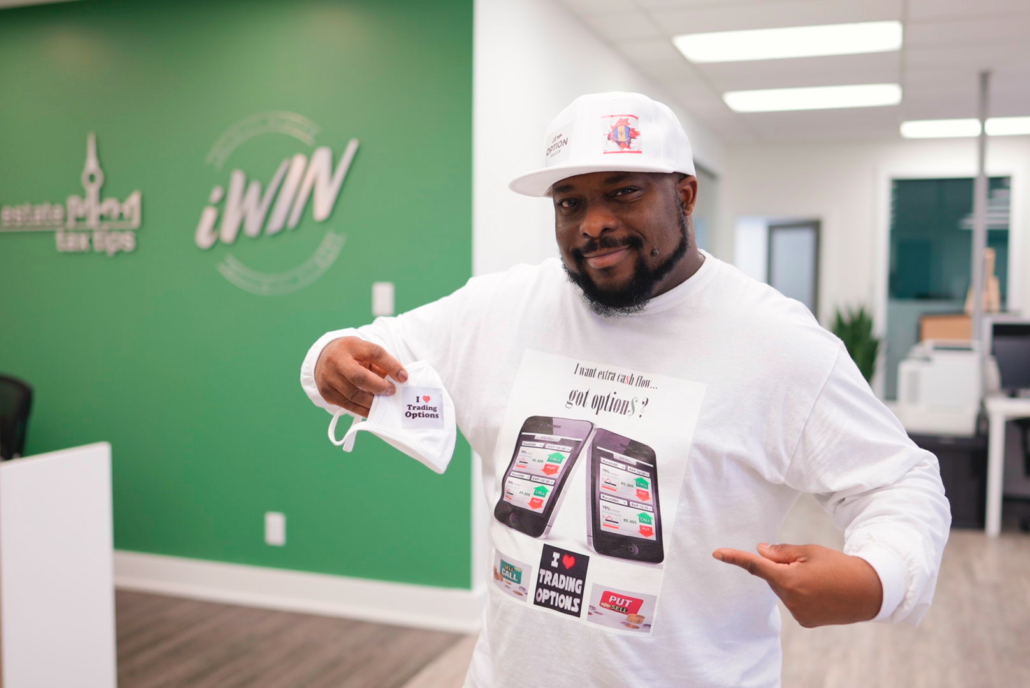 I know very little about Barbados other than it's a beautiful country but as Anderson informs me, opportunity is scarce and minimum wage is $4-5 Canadian dollars per hour.
Chef Anderson Is Cooking Up Side Hustles of 25k/year and 4%/month With Anderson Carter-Griffith
On today's show, Anderson shares about his humble beginnings, immigrating to Canada (no one told him how much it snows here when he was recruited), how he underemployed as a Chef thanks to the pandemic but pivoted starting new businesses, the side hustle that earns him $25,000/year after expenses to fund his investing, how Anderson explains Stock Hacking to his friends and how he spends his profits on his passions.
Oh yeah, and Anderson cash flows 4% per month on average.
We're hiring!
Just a friendly reminder that we are hiring more investment Realtors who want a full-time challenge to help our clients, regular everyday people, mostly from the GTA, invest in the top investment towns west of the GTA. 
This is for driven folks who want to multiply their current incomes.
APPLY HERE: https://www.infinitywealth.ca/hiring

To Follow Anderson:
Bajan Kitchen on Instagram: https://www.instagram.com/thebajankitchen_ca/?hl=en
Email: foodiefleet@hotmail.com
Personal Facebook: https://www.facebook.com/dj.gatess
HELP US OUT!
Please help us reach new listeners on iTunes by leaving us a rating and review!
UPCOMING EVENTS
You are the average of the five people you spend the most time with! Build connections with empire builders and trailblazers at our iWIN events.
BEFORE YOU GO…
If you're interested in being a successful real estate investor like those who have been featured on this podcast and our hundreds of successful clients please let us know.
It is our honour to give back and educate others on how we build cash flowing real estate portfolios using all the best practices shared on this podcast, from the lessons of our hundreds of clients and of course our own experience in owning investment real estate.
If you didn't know already, we pride ourselves on being the best of the best real estate coaches, having the best property managers, contractors, handy people, cleaners, lawyers, accountants, everyone you need on your power team and we're happy to share them with our clients to ensure your success. 
New investor or seasoned veteran investor, we can help anyone by providing our award winning coaching services and this isn't all talk.
We have been awarded Realtor of the Year to Investors in 2015 by the Real Estate Investment Network, 2016 by the Canadian Real Estate Wealth Magazine and again in 2017 because no one told the judges no one is supposed to win the award twice but on merit, our peers deemed us as the best.  In 2018, we again won the same award by the Real Estate Investment Network.
Hopefully being the most decorated team of Realtors in Ontario will make you consider us for your first or next real estate investment.  Even if you don't invest in our areas, there's a good chance I know who would be ideal for you. 
I've been around for a while, some Realtors are talented at servicing investors there are many with great ethics.  The intersection of the two, talent and ethics is limited to a handful in each city or town.
Only work with the best is what my father always taught me.  If you're interested, drop us an email at iwin@infinitywealth.ca.
I hope to meet you at one of our meetups soon.
Again that's iwin@infinitywealth.ca
Sponsored by:
Infinity Wealth Investment Network – would you like to know how our investors returned 341.8% on positive cash flowing real estate over the last five years? On average, that was 68.4% per year.
Just imagine what winning in real estate could do for you.
If you would like to know how we did it, ask us how by calling 289-288-5019 or email us at iwin@infinitywealth.ca.
Don't delay, the top markets we focus in are trending upward in price, so you can pay today's price or tomorrow's price.
Till next time, just do it because I believe in you.
Erwin
Hamilton, St. Catharines and Toronto Land Development, Real Estate Investor, and soon to be builder.
W: erwinszeto.com
FB: https://www.facebook.com/erwin.szeto
IG: https://www.instagram.com/erwinszeto/
https://www.truthaboutrealestateinvesting.ca/wp-content/uploads/2021/10/Anderson-Carter-Griffith.jpg
630
1200
Erwin Szeto
https://www.truthaboutrealestateinvesting.ca/wp-content/uploads/2017/06/TruthRectangleLogo.png
Erwin Szeto
2021-10-25 19:29:35
2021-10-25 19:36:13
Chef Anderson Is Cooking Up Side Hustles of 25k/year and 4%/month With Anderson Carter-Griffith