Beating Rental Licensing and Cancer, Investing in Apartment Buildings and Cryptos
Can the Spring weather start yet? I had tickets to the TFC game for Tuesday night, but gladly gave them up to watch the Toronto Raptors indoors at the Air Canada Centre!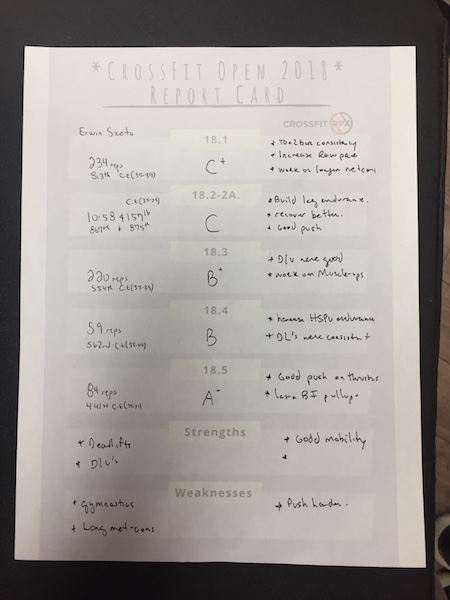 On Saturday, I got my Crossfit report card from my head trainer, which is awesome because he took time out of his busy schedule at no added charge to review my performance, grade my efforts, and provide feedback on areas of weakness and strength.
This is my first report card since graduating university in 2002. High school gym class was one of my worst subjects in school, and I'm still not a good athlete. Also, my worst average in school between high school and university was about 78 in first year, when I was young and dumb and drunk too often, so seeing C's on my report card is something new to me. :p
Now I'm old, less dumb, and quite sober, and I'm not much better at gym, as you can tell by my report card. It is a great punch in the stomach to the ego and I'm motivated to target my weaknesses in gymnastics. Luckily, I'm at my ideal body fat, so I don't need to lose any weight but I'm still heavy, making gymnastics a challenge.
No thank you to additional training for longer metabolic conditioning, as that will require a larger time investment, plus recovery time, and gymnastics are way cooler than cardio.
This relates to real estate if you can't tell. 😛
None of us real estate investors are good at everything. We all have to pick our spots to focus on in order to maximize results.  Some are great at financial analysis, some are great with tools and know everything about house construction, but we all have to move forward without having all the answers and knowing everything, or else you'll never make progress.  So pick your spots, move forward, and have fun!
Beating Rental Licensing, Cancer, and Investing in Apartment Buildings and Cryptos with Mike Iuliano
My friend, Mike Iuliano, is many things: a backyard gardener, a foodie expert of restaurants in the Niagara Region, and an expert on apartment buildings in the Niagara Region.
Mike lead a coalition of Niagara landlords to fight the city of St. Catharines in Ontario Superior Court and won, thus allowing all us student rental investors to operate our safe, clean rental properties for young adults. Mike's advice and lessons are now more important than ever, as a couple Niagara Region towns are implementing licensing, including St. Catharines, which is getting started with theirs.
Mike is also a savvy stock investor, who consistently outperforms the market. When folks know how to make money, that always peaks my interest. He also trades Cryptocurrencies, including Bitcoin, so if that interests you, you will want to have a listen on how he does it.
Finally, he is a Cancer survivor and it has shaped how he now lives his life. You don't want to miss this episode!!
To get in touch with Mike:
Sponsored by:
This episode is brought to you by my networking group, the Halton REI. We meet in Oakville (part of the Halton Region), but mainly invest in the top investment towns west of Halton: Brantford, Hamilton, Niagara Region.
We regularly feature the top speakers from our industry. The vast majority of our attendees are seasoned investors, so you will want to spend more time around these folks, as you are the average of the five people you spend the most time with. Your net worth is your network, so choose how you spend your time wisely.
Knowledge is power. Every meeting we share the latest in market rents, prices in the top neighbourhoods, and strategies for investment. We share the best property available as our Best Buy Property of the Month. We share the best tips and tricks for you to implement immediately to your investment businesses to fast track YOU on your journey to financial freedom. It's up to you if you'd like to be on said journey.
But don't listen to me, here's what members of our community are saying about the Halton REI!!
Until next time, Just do it, I believe in you.
Erwin
Hamilton, St. Catharines, Toronto, Land Development and Real Estate Investor
https://www.truthaboutrealestateinvesting.ca/wp-content/uploads/2018/04/15541361_10154762881577999_8297355794275506194_n.jpg
401
602
Erwin Szeto
https://www.truthaboutrealestateinvesting.ca/wp-content/uploads/2017/06/TruthRectangleLogo.png
Erwin Szeto
2018-04-19 01:56:19
2018-04-20 02:29:22
Beating Rental Licensing and Cancer, Investing in Apartment Buildings and Cryptos