66 Wholesales/Year, Scammed By Fake Seller, Flipping In A Down Market with Aaron Moore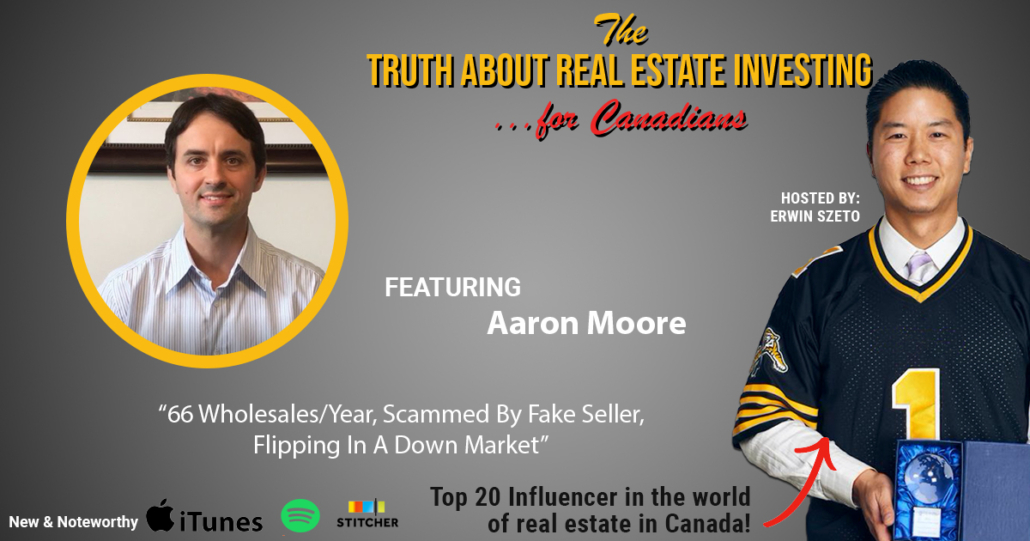 We are one of the oldest, most listened to, downloaded and rated podcasts, as we've kept it pretty real on this show.
The show name "The Truth About Real Estate Investing," was inspired by my experience of being full-time in real estate since 2010 with the number of unsavoury characters, investments and courses out there and seeing hard-working Canadians lose money in what, in my experience, has been a very boring, all but guaranteed strategy to get rich.
My own journey started with $30,000 in student debt after graduating from Business School shortly after September 9/11, the subsequent recession and dot com bubble burst.
My wife, Cherry Chan, CPA. CA. and I now own an eight-figure portfolio consisting mostly of small multifamily and student rental houses.
My wife has around 500 real estate investor clients, and I have over 350 real estate investor clients, including 45 self-made real estate investor millionaires and multimillionaires.
The lessons are aplenty between the investors I've masterminded with, my clients' experiences, my own experiences and the 300+ plus successful guests of this show.
Cherry and I have found a strategy that works with our busy schedule having businesses and young kids, and we hope you, too, find your own efficient path with the help of this podcast and the many education events that we host, plus the one-on-one coaching for the action takers who want to work with us.
Unfortunately, we haven't reached everyone, and even worse, many have lost money on get-rich-quick schemes involving high leverage or flips.
A listener of this show, Jay, sent me an article titled "House-flipping influencer and life coach hit with hefty fines in bogus $400 million training program."
Mentioned in the article is Dean Grazioli, who agreed to pay a fine of $1,250,000 by the Federal Trade Commission.
That's a massive, massive fine!!!
I first learned of Dean while following Tony Robbins, author of the best-seller "Money – Mastering the Game," and Tony endorsed Dean Graziosi, the author of "Millionaire Success Habits," Dean was Tony Robbins' go-to for investing in real estate.
I remember watching Dean's commercial walking across his property on his massive estate, greeting his young girlfriend and hearing his pitch.
This was years ago, and his investment model was hyper-aggressive, so I dismissed it immediately; it was too good to be true.
According to the article, 700,000 people attended a free introductory course, and 70,000 paid $1,000 each for a three-day course.
30,000 of the 70,000 paid $40,000 more on courses and coaching. "FTC investigators say the courses did little beyond explaining the basics of real estate investing and were primarily designed to upsell students on more expensive classes."
Sadly, this all sounds familiar to me.
Last week, I spoke to an investor who paid $15,000 for courses and a coach who bought a pre-construction condo Realtor who sponsors the club, a condo that will bleed money.
That same sponsor sold the investor a non-conforming duplex and did not disclose to the investor the house is located within the rental housing licensing area and the property has zero chance of passing.
Not only that, if there was a fire inspection today, the investor would have to evict tenants to the streets or face severe fines—international students nonetheless with nowhere to go.
I don't have $15,000 or $40,000 courses or coaching to sell, but I will get on a call with serious investors if they need help, and that's what I did here, explaining how she was led astray, and I connected her with Andy Tran of Suite Additions to get her on the right path to legally suiting her basement.
Speaking of legal suites, we will be touring small multifamily, income properties around $400,000 this Saturday, June 3rd, east of the GTA, where one can actually cash flow.
Learn how our successful clients invest for themselves to create generational wealth.
No get-rich-quick schemes but rather boring, systematic, proven process, located in a high-demand area by both buyers and tenants, side hustle investing so you can get back to living your life.
The cost is a measly $20 plus fees and taxes, and all proceeds go to charity to provide impoverished children with warm winter clothing.
66 Wholesales/Year, Scammed By Fake Seller, Flipping In A Down Market with Aaron Moore
On to this week's show!
We have my old friend Aaron Moore on the show, who is an extremely successful real estate investor, wholesaler and flipper.
Aaron and I met monthly to mastermind for three years, so I know him well and can verify he's a nice guy, and he's much more successful than many of the real estate influencers on Instagram.
Aaron is the only wholesaler I know who guarantees the purchase from the seller, including the time he got caught in the downturn; he knew he was going to take a loss and did it anyways.
Aaron takes us back to 2008 when he would deliver hundreds of fliers and hang bandit signs, you know, those unauthorised signs on traffic lights saying "I Buy Houses." Soon after successfully cracking the Google SEO and Ads code back in 2010, Aaron's one of the best at generating leads for off-market properties. Hence he can wholesale 66 properties in a year.
Aaron walks us through how he grew his organisation, number of employees, his journey from harder deals to easier for long-term holds, what he thinks of the current market, several pro tips, and, if you can believe it, how a scammer impersonated a seller leaving Aaron in limbo as the "new owner."
According to Aaron, these scams are becoming more common, so you do not want to miss this episode; listen to the end.
To follow Aaron, his website for investors is www.housedealsgta.ca and for sellers www.gtahousebuyers.ca
Please enjoy the show.
This episode is brought to you by me! We don't have sponsors for this show. I only share with you services owned by my wife Cherry and me. Real estate investing is a staple in my life and allowed me to build wealth and, more importantly, achieve financial peace about the future, knowing our retirement is taken care of and my kids will be able to afford a home when they grow up. If you, too, are interested in my systematic strategy to implement the #1 investment strategy, the same one pretty much all my guests are doing themselves, then go visit www.infinitywealth.ca/events and register for our next FREE Online Training Class. We will be back in person once legally allowed to do so, but for now, we are 100% virtual.
No need for you to reinvent the wheel; we have our system down pat. Again that's www.infinitywealth.ca/events and register for the FREE Online Training Class.
To Listen:
Audio Transcript
**Transcripts are auto-generated.

Erwin
Welcome to the truth where real estate investing show for Canadians, which started back in 2016. We're at somewhere over 300 episodes. Each is an hour long episode of hour long interviews of many of the best investors in Canada. We are one of the oldest podcasts, probably this is actually the second oldest podcast in the real estate space. We're one of the most listened to and downloaded and highest rated podcast and we've kept it pretty real on the show. The show is named the truth about real estate investing, as it was inspired by my experience of being a full time real estate investor since 2010. So it was inspired by the number of unsavoury characters, there's still many of them, and many of them are making news, rumours. All those things will be flushed out, probably in the near future, bankruptcies and lawsuits and whatnot. But yeah, again, unsavoury characters for investments being promoted securities laws, violations, abuse and other people's money and credit courses out there. And we're seeing many hardworking Canadians lose money and what in my experience, my journey has been very boring. In my experience, real estate is a pretty all but guarantee strategy of getting rich. I see all but guaranteed because it can be done wrong. Thankfully, in my my seeking of the truth about how to successfully invest, it's worked out. So my strategy is worked out. My journey started with $3,000 in student debt when I graduated business school shortly after September 911. So the subsequent recession that followed in the.com bubble burst, so it was a terrible time to graduating. My wife and I now own and if your portfolio consisting mostly small multifamily and student rentals and be only have one partner on one of the properties, so it's generally all my cherries, and plus the bay was a good portion of their own money in these deals. Cherry my wife cherry has around 300 Real Estate Investor clients, they have over over 500 Real Estate Investor clients, almost all of them with corporations, so they're generally successful investors terminal and successful people financially, and I have over 350 Real Estate Investor clients, including 45, self made real estate investor millionaires and multimillionaires. The lessons are plenty between the investors I've masterminding with, including our today's guests, and more my clients experiences, my own experiences and the 300 Plus successful guests we've had on the show, my wife Sherry and I have found a strategy that works for us with our busy schedule. We are I consider ourselves side hustling investors, because our businesses keep us busy, and our young kids and we have young kids as well. I hope you to find your own efficient path that makes sense for your situation with our resources, your skills, experience, your age, the time you have available with the help of this podcast, and the many education events that we have. And also we do coach one on one with action takers who want to work with us directly those who prefer to work with professional service providers. Unfortunately, we haven't reached everyone and so even worse, many have lost money on get rich quick schemes involving high leverage or flips, or both. A listener of the show Jay sent me an article just yesterday titled house flipping influencer and life coach hit with hefty fines and bogus $400 million training programme. The programme costs 400 million it was the Alex payment the details mentioned in the article is Dean Grazioli who agreed to pay a fine of $1,250,000 as laid down by the Federal Trade Commission in the US. That is a massive, massive fine, one and a quarter million dollars a fine. I first learned to Dean while following Tony Robbins, Tony Robbins being the author of money mastering the game, Tony endorses Dean Grazioli, and Dean is the author of millionaire success habits. Dean was Tony's Tony Robbins is go to, for investing in real estate. I remember watching Dean's commercial watching across his property, which was a massive estate. I'm guessing it was in Florida, and he's greeting his young girlfriend and hearing his pitch and remember exactly what the picture was about. And this was years ago. That's why I don't remember all the details. But I remember that his investment model was something I hadn't seen done successfully. It was hyper aggressive. It was so aggressive that I immediately dismissed it as as being too good to be true. Now, according to the article, 7000 people attended a free introductory course, that was promoted by Dean Grazioli, 70,000 of them so 10% of them paid the $1,000 fee for a three day course. And then 30,000 of that 70,000 paid $40,000 more on courses and coaching. FTC investigators say that the courses did little beyond explain the basics of real estate investing, and were primarily designed to upsell students on more expensive classes. As a direct quote from the article. Again, the article link is in the show notes. As you Google it, I'm sure you'll find it. Sadly, this all sounds too familiar to me. I spoke to an investor last week who paid 15,000 for courses in a coach and that investor bought a pre construction condo from a realtor that sponsors that club, a condo that will Lead her money that same sponsor sold the investor a non conforming duplex. So non legal non conforming duplex and did not disclose to the investor that the house was located in area within the rental housing licencing programme. So from what the investor explained to me about the property, it has zero chance of passing a licencing programme. Not only that, if there was a fire inspector, if a fire inspector went there today, that investor would have to evict tenants to the streets or face severe fines. I've seen investors find $1,000 A month pretty hard to cashflow and are being fined $1,000 a month, and I'm sure things escalate from there. And those are international students living in the property nonetheless, and they will have nowhere to go. So I don't have 15,000 or 40,000 or courses or coaching to sell, but I will get a call on investors like this like this one who need help. And that's what I did get on a call explained to her necessarily a couple of things. I met this semester actually one of our one of our tours. I invited her on another one of our tours so that they could see both husband and wife I invite them to so they could see how an actual small multifamily conversion is done properly. So we toured two properties one with my clients one was a conversion in the works. Anyways, I also introduced her to any train of sweet additions to get her on the right path to getting herself getting that property legally sweet it in the basement. Speaking of legal suites, we will be turning actual small multifamily income properties in and around the $400,000 mark this Saturday, June 3, east of the GTA where one can actually cash flow. So you want to if you want to learn how our successful clients invest for themselves to create generational wealth, no get rich quick schemes. But this is rather to us is rather boring, systematic, proven process. If you'd like those things systematic proven and located somewhere with high demand for both buyers and tenants. The side hustle side hustle investing at its best, so that you can go get back to living your life. The cost is a measly $20 plus fees and taxes. And All proceeds go to charity to provide impoverished children with warm winter clothing. For details you can go to our website truth about real estate investing.ca. There's a link there for you to get more details and to register. Again this Saturday June 3 starts at 10am in the morning. And yeah, onto this week's show. As mentioned, I have an old friend of mine air Morin on the show this week who is an extremely successful real estate investor, wholesaler and flipper. Aaron and I used to meet monthly to mastermind for about three years or so. So I know him well. I know him very well and can verify that he is a nice guy and I'm quite confident he's much more successful than 98% of The Real Estate influencers on Instagram. Aaron is the only wholesaler I know who guarantees the purchase from the seller, including the time he got caught in the downturn. This most recent downturn, he knew he was gonna have to take a loss but he did it anyways, he followed through on the contract and his word that they would he would purchase the property from the seller at the stated price. Aaron takes us back to 2008 when he got when he got started delivering hundreds of flyers and hanging bandit signs. bandit signs are, you know their last professional looking signs that are hung on traffic lights that say like I buy houses and there's a phone number to call soon after. He cracked the code on Google SEO and AdWords back in 2010. And yeah, it's just been gangbusters for Matt since then, Aaron's one of the best at generating leads off for off market properties. Hence he has successfully wholesaled 66 properties in the year Aaron walks us through how he grew his organisation, number of employees whose first hires were his journey from hardware. He used to do hardware deals. And now he's looking for easier for his long term holds what he thinks of the current market have recovered, are we heading lower plus a whole bunch of several several pro tips. I hear novices making all sorts of mistakes out there. Honestly, if you listen to this podcast, I am purposely digging into our guests to extract those pro tips so that you can avoid mistakes and you know, trading real estate like professional like an errand more. And if you can believe in a scammer impersonated a seller, leaving Erin as the buyer. Well, Aaron is actually now in limbo. Because the seller, a seller wasn't who they said they were. There's a real seller out there who is not living in the country. The property is vacant. It's a bit of a mess. Aaron will explain to you the story. And according to Aaron, these scams are becoming more common. So you do not want to miss this episode. And listen to it all the way to the end in order to become a good investor to follow Aaron his website for investors is WWW dot house deals gta.ca. And for people who want to sell off market, GTA host buyers.ca Please enjoy the show. Hi, Aaron.
Aaron
Hello, everyone.
Erwin
What's keeping you busy these days?
Aaron
Our business as usual growing my company so it's all real estate related. So that's what I do.
Erwin
And I imagine it's been busy. Has it ever been not been busy? Are you busier?
Aaron
We get lots of phone calls. We get lots of problematic small sellers with challenges and problems. And since the downturn is certainly a lot of people calling us so it does keep us busy. Then there's you know I've had certainly had some staff challenges Over the past year with the team people coming and going, so it's sometimes it's hard to match our capacity with the leads coming in and so,
Erwin
so more leads more distressed people more people are wanting to sell.
Aaron
We've seen some tough overleveraged challenges right now. So really with the the overleveraged house, it's like, you know, second or third mortgages, it's more than worth right now, because prices have dropped significantly over the last year. You know, I guess if they refinance back in early 2022, then there's, you know, what's the overleveraged we're finding it and then there's the you know, say the finding some older houses that need rentals. And if you look at you know, the rental needed where the the mortgages owing are and then the future value, that's there's just no room either so it's, it's kind of, they're over leveraged, given the the rentals needed are finding these sort of problems. But in between, there's still find enough people we can we can help out and buy their house and make it win win win for everyone.
Erwin
Right. So I was wrong. I gladly admit when I'm wrong. Yeah, I was thinking that there be so many distressed sellers, the spring market. Yeah, we're middle of April, right now, as we're recording, I thought there'd be a lot of distressed sellers, that would actually bring down the average price of housing. And every market is different. But but I thought it'd be noticeable enough that we'd actually see it in the data when you're shaking your head. Yeah,
Aaron
no, I assume the major problem is still the demand and lack of supply. There's my we both assume, but you're you live, you both live in people with the problems, you know, there's some, but a lot of them will just list on MLS, and then those houses will get eaten up. There's just still not enough supply. Right now. There's not a large enough basket of motivated sellers or people with these major problems. And some of the ones who are, I am seeing more of it just this spring, the overleveraged. Like problems come with the overleveraged. So those are gonna go power of sale at some point. I'm not sure we've been seeing the power of sales on MLS recently. But I do see more power of sales coming. Are they going to be great deals these power of sales in MLS? Probably not, I don't think it's going to be the quantity is not going to be huge enough to make the market go back down. Personally, I think the worst is behind us. And it's we're going up until the next catastrophe, like the next thing that rocks the industry and lowers prices,
Erwin
right? Because I actually think most of the public doesn't realise I actually I concur, or the market that we operate in, in this in this because we are mainly started homes, on ground on land. Like for us, based on our data, what we're seeing in terms of pricing. The bottom was last August. Yeah, so we're well past it. Yeah,
Aaron
I think is done like the bottom has gone. Like there's still a lot of people with equity. So if you got a tonne of equity, you know, I don't know the stats. But if someone looked into it, I'd say the majority of homeowners still have a lot of equity. Prices have gone up so much people have owned for such a long time. So that kind of buffers a lot of the problems, you got a lot of equity, you know, you don't really don't have to stress out so much you can sell your house at a casual pace, get a loan against your property, then sell it at a casual pace if you get into financial trouble. So you got Yup, just more options if you got it.
Erwin
And like you said, there's buyers out there. Yeah, in my experience, we're not seeing a lot of power sales. I actually think that a lot of them are getting done as pocket listings. So they never make it to the MLS to the realtor.ca. So my theory was proving wrong, that I thought that spring would be the bottom. It looks like we're past the bottom. Yeah.
Aaron
And the power of sales will be with private lenders. So we'll see what you know, they probably private lenders are probably, you know, with the big banks, they go certainly more on MLS private lenders, I'm not I'm not too sure what they do with as far as selling and dispose new primaries, but they're probably probably find ways to get around certain rules and do the pocket listings
Erwin
can be pocket listings, because they may still less likely likely still list with a realtor. But even the realtor may already have buyers or buyers within their own brokerage for example, get
Aaron
it done quick get it out of the way. Yeah,
Erwin
it's just my observation is in just from I have a lot of friends in the industry, it really seems like there's the demand is still greater than the supply. Even with more the most distressed sellers we've seen in a while, you know, you've been around a long time.
Aaron
2008 full time and
Erwin
she went to the financial crisis. Yeah, lots of distressed sellers, right. Yeah.
Aaron
But yeah, last summer so summer 2022 That was when there was probably the we were getting a lot of calls from distressed people. But part of the distress was the neighbour sold for so much a few months ago and I can't get that and you know what, you pay me that and then they keep chasing the market down, you know, until it really becomes a significant problem. Sometimes people just to keep chasing the market and then they get themselves into it or real situation, right? They really gotta take a haircut. Right, right.
Erwin
The how's the recent downturn compared to the worst you've seen previously?
Aaron
Compared to the worst. And so, you know, I
Erwin
think we need to like take a step back. Yeah, as far as I know of you, you're one of the most well known higher volume wholesalers, you spend what wholesaling? Real estate is Yeah, so
Aaron
wholesaling. We do, it's we're going out, we're buying properties at a discount, likely from a motivated seller, someone with problems. So like, it's people with major fixer uppers, power of sales coming their way. They want to just sell real fast that the bank is coming to take the properties, no one else is going to close in a week or two. So they call us there's someone has problems, we're buying problems, but we're buying at a discount to take these problems and stress and just make it easy for the seller. And also I just
Erwin
want you to spell I want them to listen and have an idea of what these problems are these problems that are you're dealing with, yeah. How often would there be like major construction issues,
Aaron
I'd say major rentals, if 70 to 80% of what we buy is theirs, it needs some rentals, needing work needing renovations. There's a whole spectrum of that. Sometimes it's people just embarrassed of, you know, maybe a dated house or a worn house. And sometimes it's like, sometimes they're unlivable. But people are living there, like you know, I did have some months ago, like the holes in the roof. Were you know, you could just climb up through the roof from inside the house to the holes in the roof. And so there's water coming for, I don't know, possibly years. You know, of course that creates wood rot mould and a host of other issues. So no bank is touching that no bank will touch that. And they'll laugh at you. Someone's living there. They're extremely how they got in this situation is obviously a life is hard kind of time in their life. And they're embarrassed about it. They don't want this publicly known. They didn't always live like this, right? It's tough. We just want to make it like easy stress free, take the prom off, you know, they understand they're not going to be maximising their equity pulling out all their. So they're not there to sell it on MLS hold offers have massive showings, that's not their cup of tea. So you'd want to talk about more problems or talk more about what what is wholesale.
Erwin
This is what I want people to know. Because, like, you know, you've dealt with these people, lots of people buy courses. Yeah, and they're marketed as something and they don't know how gross it gets. Yeah. If you didn't, I'm sure you've dealt with hoarder houses, Cat people
Aaron
in the animals and the little kids take over the House. Like sometimes. You know, I think of some of these single mother houses. I've been into whatever situation puts them in a house that they can't manage. And, you know, they got pets, they got kids, and for some reason life's out of control. But it's like the cat urine smell, the faeces is everywhere in the house. Like it's just out of control. They can't. It's not within their power to clean things up and to fix the problem.
Erwin
And people teach me a scratch that before people buy a wholesaling course. Yeah. This is what you're getting into. That is the smell of money. Right, right.
Aaron
Yeah, it's like, you know, problems equals the money. So
Erwin
the smell sexy. This Lambos.
Aaron
Yeah, it's not beautiful houses and marble countertops. It's houses that are falling apart in disrepair and common situations. The inheritance, someone inherits a house. Yeah, great. Fantastic. What a great blessing to them. And then a year and a half later, yeah, it's like the house is falling apart, they're not maintaining it, things are going down hill gutters are hanging off. Just last couple of months, I was looking at a lead with one of my sales reps. It was inherited. So I just had some notes, looking at their notes in the CRM about this. And it was, you know, it sounds like the kind of house the situation we buy from an inherited need somewhere else. And then I looked at Google Maps. So you know, Google Maps has the date. So one picture of the house was 2020. And then you just zoom over to the other angle, it was 2022. So the 2020 He looked beautiful and well maintained. And then 2020 After inheriting it was like all overgrown and a mess. It's just a common scenario. People kind of get themselves in these holes. And we're here to kind of just make it easy. Yeah, we're gonna make money. But we can, you know, get them out of this.
Erwin
How is it dealing with the sellers? Yeah. Well, hey, they're all They're all. We're all in good health and good spirits. And we just bought one
Aaron
in the last month. And this one, you know, we our company closed on ourselves. We're a little lacks and lenient sometimes. Like normally I would have done a whole back with the lawyers for this kind of person. I knew they weren't going to move out on closing date. But I also you know, I talked with him myself over, you know, months, so I was comfortable enough, but I know they're broke. They're not moving on closing date. But then it just keeps dragging on. So, a week after closing, they're still there to ask for more and more days. Is it the sellers or sellers? Yeah. Oh, the sellers. Yeah, we know they've got a large amount of money from the sale now in their account. So it's like, please just, you know, hotel move out. So I did you know, at some point, I gave him a few days, Lindsey, but then my guys, I send my rental guys there who are going to do some cleanup in demo. So they actually helped them, pack up their bags and carry stuff out to the garage to just get their stuff out of the house. Typically, when we're buying, we're saying, Take what you want, leave what you don't want. But then the second day of them still be in there with my guys trying to clean up and demo. I said, Listen, demo the kitchen, they gotta go today, get a hotel, like that's it like, so. Sometimes it's just yeah, if keep being nice to keep kind of using and abusing you. So at some point, so we just started the demo. The end of the day, you know, che put a deadbolt on boarded the windows and on the go. But you got to work around these people sometimes, right?
Erwin
Are they cooperative? Is there tears is there anger in it happy.
Aaron
People are thankful like these people are very thankful, it's just they need a lot, maybe hand holding or assistance. Just we deal with a whole variety of people. Sometimes we're dealing with people on the ball, like, they just need a fast sale, because they got to close on something else. And you know, they're willing to sell to us at a discount to do that, you know, they're very on the ball capable people. Other times it is these people than me, maybe let's say a challenging life situation for a while. They're broke at this point, they need the money from the sale of the house to move on to their house rich, rich cash poor, we got to be lenient. And typically I don't like to let them stay. After closing on this. I have a major hold back with my lawyer. But there's been a few times, like in the past month where I've let it happen. And it's it's kind of it's always a concern.
Erwin
Do you imagine not being elite if they were not least house rich? Yeah. Yeah. House poor and cash poor?
Aaron
Yeah, that would be trouble. And we've had that before. But you got to make sure you get the vacant possession. Yeah, we've done security hold backs, and another one I just bought in the past two months. And they just moved out. I'm told yesterday, we're sending someone today to verify it's vacant. For that one. We do have a large security hole back soon. I'm not too concerned that they will never be able to have like 50,000 with my lawyer deduct penalties from that if they move out later than expected.
Erwin
And just for context, to share. For example, I had to add a student of another programme. He bought a house off a wholesaler a local wholesaler, this is this is I think it's r&d has nothing to do with you. But he had negotiated vacant possession. It was rented tenants were there, right? And then on closing day, was not vacant possession. And the wholesaler told them, oh, they'll move out. Don't worry. And this gentleman, the student band who shared on the show, like he just took their word for it. And I looked at him like, I would have held back a lot of money. It's a tenant. Yes. Like, you're harder to remove, then, yes, if the previous owner, if not for putting anyone I'm just sharing that lesson so people can learn from it
Aaron
exactly. And like, I don't always do this myself. But if I'm closing on a property, I'll go the morning of closing to see how things are going. Does it look like they're moving out? Does it look like they're absolutely not moving out? You know, I want to see, maybe they've already moved out, there's good progress made, there's boxes there, there's a moving truck there, then, you know, then if I see all this progress, I'll probably be pretty lenient. Like, you know, I'm pretty sure just if you need to sleep overnight, then move out tomorrow. But otherwise, it's no, we need a significant hold back. Otherwise, you're not getting the rest of your funds today.
Erwin
But you see, like, that's fine expresses to the to the listener. Yeah, we had a you had an amateur, even though he take he spent like 50,000 and courses he didn't know hold back on attended that property. Yeah. Right. Versus you held back 50,000 from the previous owner? Yes. Like your situation is likely easier. You held back and you actually held back a good chunk of money. So good on you. The difference between what a Pro does versus an amateur? True, right. True.
Aaron
Most of the time, there's always risk out there though.
Erwin
As you've you've seen the other side. Yeah, when you don't hold back, and then I've ever gotten really bad. I've never had it
Aaron
really bad. You know, it's, I do have someone we assigned it to. It all worked out very well in the end, but we had to lower our hold back because the seller had so many mortgages liens that couldn't close unless we lowered our whole back half. I think we had a whole back of its own between 15 and 20,000. It was like maybe 70,000 But that whole Buck did get eaten up and but it was used to and this wasn't me this was an investor and what we've done multiple deals with him wholesaling. So he had to use that money to basically pay for a rental to move As a seller, this happened around the COVID time as well. So COVID hit, it was early 2020 COVID hit during this long window she had, she had to move out. So she had months she stayed after closing, where she could move out. It's kind of okay. Because it was during the winter months, unfortunately, it was Winter COVID Winter COVID hit. So of course, it lots of excuses once COVID You know, I can't, you know, can't move out because of this, that the other all kinds of reasons. That's the smallest one we ever did. Because we had to because all the equity was eaten up. It all got used up in penalties. We I think we typically do that somewhere between 400 to 500 a day. penalty that out of the security hole back if they don't get out on time. It's good. Every beefy, good. Yeah. So it's a significant. So it's a penalty. It's like, please leave when you say otherwise. This is happening. Hotel is cheaper. Yeah, hotel is much cheaper. all worked out? Well, it took extra extra, like we gave this person months to move out. But then it took way more months to actually get it out. It all worked out great, because house prices went up so much. And the investor flipped into flipping and making a bunch of money. And it's all worked out well eventually. But with some stress.
Erwin
In not it's not worth it. Yeah,
Aaron
it's not worth it. No, but it all worked out. Well. He's very happy with the end result.
Erwin
Because to find return is often in grief. Is this something especially during this, this downturn is just going to keep popping up? Maybe I'm too pessimistic, but there's like no easy money. Yeah,
Aaron
I've done multiples of these deals where I've had a significant pullback. And I've had people move out, you know, five days later, 15 days later than expected. And my Lord sends me that check that 500 bucks a day. That's pretty good. So I'll take the penalty.
Erwin
So again, you've seen a lot, you know, you're around 2008. How is this time better or worse? Because yeah, you were around during the COVID. Crash? Just short. You're on the 2017. Correction,
Aaron
your COVID was really quick. This seems to be going on. It's it's went on a bit longer, right. I think it's this one's going on longer. It's certainly taking our investors that we wholesale to taking them longer to sort of get back on. Now. I think the majority of people they see that, okay, markets going back up things things are moving things are active in the MLS markets, they see things are moving. So they're, it's like the investment investors are backing down, basically. So they're flipping again, they're buying rentals. I think they agree with us, the bottom is behind us as far as we can foresee. So they're back and it took investors a long time. And it might just be the last month or two that we really see the buyer enthusiasm again. So we came quick to yet so well, yeah, it was a long time, there was a lot less buyer activity from the late spring, last year. So it's getting close to a year but in you know, January, February this year, so it's able to use a lot less buyer interest. It's been about a year you're saying yeah, let's like at least three quarters. Like it's not that long. But it's I think never Behold, yeah, no, I'm old. I do tell my team like, there's always going to be downturns. But you know, here in the GTA my experience is it's, you know, maybe 10 to 50% of the time 80% of time, we're on the upswing. Yeah, there's going to be some downtime, like downturns and, you know, we're not going to do as many deals or make as much money, but you got to have the long term vision. All right, stick hang in there.
Erwin
I'm sorry. Because I'm just a geek, I always have these questions, but also just to give some context as well. I'm on Twitter probably too much. Yeah. But for months, it was all loss porn. As in like, people are sure like screen captures of like a host sigma. See, see what's on boarded for and now they're selling it for like 200 $300,000 last. And this was what was going on was all over the screen captures were all over Twitter. Now. It's more like these prices are ridiculous and went for this much over asking. I can't believe this what what a million dollars gets you in Toronto? Like a two bedroom bungalow? Yeah, it's completely shifted to prices are high. Yeah. And not a long
Aaron
time. Yeah. And it's it can't be things like prices aren't as high as they were in early 2020. So we've been doing this for years and years. So we're always hearing people say, you know, calling out for Doom, it's the downturns come in, the prices are gonna go down to the 1980s price you hear kind of like people say these sort of things, but it's hard to believe when we see we've been around doing this for a while. And, you know, the downturns are relatively short, like, typically less than a year like this was nine months of, let's call it nine months. And the upsides are going for years. So it's you know, it's kind of like the 8020 rule.
Erwin
Because even though we I mentioned that you're wholesaler you still you still buying hold some of these two.
Aaron
Yeah, still still buy and hold one of the ones I bought a couple of months ago. It's a long term hold for us rental property, open a tenant. That's it. Just keep it small. Keep collecting rentals every year.
Erwin
What are you looking for in a long term buy and hold? I'm assuming you're renovating to refinancing
Aaron
we make it we typically buy them ugly, renovate, refinance, make them beautiful. I would see something that I'm looking for is just ease of management at this point in my life, I want to nice nice properties, nice areas, I would consider an apartment building a multifamily. Unless it's if it's in my sort of neck of the woods where I have my other rental properties like basically Scarborough to Oshawa in that corridor. That's what my rentals are. So if it was there, anyway, I'd consider self managing it using my trades. Otherwise, if a deal would come along, I'd consider partnering with someone local who would do more of the management. But my track record is kind of like you know, in in my area where I've already got the team I've already got connections. It kind of easy. I don't want the cheap triplex in the in the worst part of town. I guess that's not for me. Not buy the triplex in Sudbury, no, nor even in the rough areas of say, Oshawa or something. But I love the nice series of Bosch and give me give me a nice two unit in a good area of Oshawa.
Erwin
That sort of thing. Often does, like an apartment building show up, you're going to see a colour from a foreign apartment building.
Aaron
Not too often we get much more the single family houses or the two houses with basement apartments, or some triplex is things like no, it's usually the converted house, we did have a really nice purpose built four Plex in Brantford late last year, we didn't make much money on assigning it, we did end up assigning it, but I was getting close to close on that myself with someone I know who invest in brands, and he would be more boots on the ground. So I was kind of actually disappointed. We ended up assigning it and wholesaling it last minute. Because it was a nice purpose built four Plex at a great price. You know, it had its own its shares problems, but those will get fixed over time.
Erwin
Right? So assigning is you someone buys is basically buying the property off you you make your fee. And then who's buying because it's law listeners have no context for Yeah, for the listener who has no context what wholesaling is, which we still didn't finish talking about what is wholesaling did me this will be great editing for Adam to Yeah, to make it what is wholesaling a 92nd clip.
Aaron
I'll do what I can, but it's basically we go out we buy, when I say buy, we sign an agreement, we get that document signed an agreement of purchase and sale, purchase agreement, whatever you want to call it, but then we're not closing on the property, another investor can step in, he can think of it like you're just changing the buyer name. Think of it that way, just changing who the buyer is, let's say it's my wife, my brother, or someone who paid me $50,000 To buy this property instead of me. So it's we're buying at a discount, someone else wants this deal, because typically they're gonna flip and make money or maybe it's a rental property. Those are some of the typical ones. And it's a great deal for them. It's what they're looking for. So they're gonna pay us a fee to close on the property.
Erwin
And then who is your typical icon buyer? Who's your typical buyer? What are they buying what they're doing with the typical like the
Aaron
majority would be a flipper, because just because they have you know flipper will buy more properties per year typically than a landlord. So flipper would be number one, someone who's going to renovate rent and resell. Number two, I would say would be the landlord's people who, you know, it could just be a condo in Toronto or a condo somewhere in the GTA. They keep it as a rental. It could be some of these nice two unit properties of bungalow, like I have a number of these bungalows we've made as legal two units. So it could be that strategy. Or, you know, certainly these not exactly legal tutus like there's lots of houses with basement apartments, some people just some buy them keep them as a two year rental, it works much the same as a legal one. It's just the awesome little bits of the building code aren't in place, that's all. So those are the top two, we do get some homeowners that will move in. And typically they're also investors or realtors, usually people there are some the business in in real estate to some degree. Sometimes they'll just get as a one off homebuyer as well. But real estate investors are number one, whether it's a flipper landlord,
Erwin
and then the flippers. So through the downturn, something I've observed is the people that didn't lose their shirts, were often the ones that were on the tools as well. Right. So again, I'm often leading with my question. Yeah, where I'm leading from is for example, there's a lot of marketing out there says like, you know, you can, you can be a flipper, and sell a four hour workweek, right. You know, it is hiring it all out. Yeah. Are you seeing that? Are you seeing successful people being able to, you know, not be actively on their practice on the flip? Because that's that's sort of yourself.
Aaron
Yeah, the people who do you got to buy Well, you got to buy well, and you probably you have some of your own capital, so you're not paying the highest private money prices. There's definitely people you know, they're buying with, like 100% financed even more Borrowing for the rental cost, you know, that's you better be in and out pretty quick. If you're doing that have a really good buy price. It's those people who are gonna get if your cost of money is very high. And yeah, if at all, if you're buying, renovating with an expensive contractor, like those two things can hurt
Erwin
you pretty quick. Because you kind of have like your own team.
Aaron
That's yeah, like I still do. Like I have team like a full time staff team of six local people. And we still have some bas as well, full time. So we're up to nine now, nine full time people. And I do have contractors I've worked with for over a decade. And same with like trades as an electrician, plumber, all this sort of thing, different ones different areas. So you know, between my full time staff, and my connections, and I'm not I'm not doing a high volume of flipping, but I might have two or three going on at a time. So it's enough to two is plenty. And there are times when we might not have anything for a couple of months. But yeah, like you still gotta be somewhat hands on in that. For me, it looks like now it's I do have staff who are doing it. They're not just doing my, like looking after my trades people in flips, but they certainly make it easier for me, so I can do other things. And they've got my go to trades people. So it's really not that challenging. Yeah, the more you do this easier, it gets
Erwin
maybe easier for you. Because I was trying to explain to them what you did for a living. Yeah. And then his automatically his question back to me was how does someone get started in this right?
Aaron
Well, definitely getting started kind of with real estate sort of one property, whether it's rentals or flips or wholesaling. With wholesaling, let's say, between me my brother, we had sort of two rental ish properties to start then I got into marketing that this this wholesaling constitute you do some marketing, you attract discounted deals. So how I got started it just sending letters to houses and kind of older neighbourhoods where I'd want to originally was I had other investors, more seasoned investors than myself who wanted to buy so I, I just sent letters, different areas, you know, saying things like, I want to buy your house, I'll bite in any condition, I'll do the rentals make it easy for you that sort of concept. That's kind of the basic way to start. You don't have to overdo it. But if you're focused on buying a house in a certain area, you know where those houses are, you can drive right over there, throw in a couple 100 letters yourself. I remember some townhouses. Like I remember hiring a local guy, like, Let's go deliver specifically to townhouses, it's, you can do it real fast, we're going to bang out, maybe a bottle fire of 500, let's say in an afternoon, so you either got time or you got money. So when you're first starting out, you tend to have more time, hopefully a little bit of money. So you got to leverage that. And if you go, even like that example I gave, if you want to buy townhouses, whether it's for flips or rentals, then put yourself out a letter. If you want to speed things up, you hire helper, it's always good to have helpers. And talking like 15 bucks an hour or 20 bucks an hour, whatever it is, and you go an afternoon, deliver some hundreds of letters and you know, see what you get from it, hopefully get some calls. And maybe you'll even get a deal from it.
Erwin
Right? And then when did you start doing more online advertising?
Aaron
I know it was 2010. So I've been doing that for a long time as well. And it definitely like the majority of our leads do come from online nowadays. And we built up to a significant web presence. So we're very easy to Google and find our Google reviews and our website and people talking about us on the internet. So we've built into that.
Erwin
So Google is what works best AdWords SEO
Aaron
yet, we probably still Google AdWords is our number one source of leads, you know, we get good leads from just as SEO from web searches. Those are probably the top two. The internet's powerful these days, so people are searching for what they want.
Erwin
Alright, but it is competitive out there though. Yeah, for flyer in
Aaron
my space. Yeah, keeps getting more competitive. I'd say like, every year it kind of gets more competitive. So you gotta keep getting better. I was just looking at my team and what we're doing and we've had a lot of leads in the past you know, so far this year, but not many appointments. I can look at previous years and we certainly had less leads with more appointments. So it's kind of like sometimes you just get a little lazy. This is the bottom line. And you just got to do the little things add up like it just don't prejudge this or you just go to the appointment just go see the house instead of waiting for the easy you know that kind of the no brainers it's kind of like our team has been waiting for the price has to be near perfect on the phone before they go to a an appointment. It has to be a major motivation, major problems. So we're talking this week, okay. New rules, focus on appointments. It's sort of a not busy. Exactly. Because we have not been got nearly enough about it? They're not busy enough. So it's new role. Go deployments, like any motivation. It doesn't have to be high motivation, any motivation? Go if you're not going, then you need to kind of tell Aaron why you're not going. Yeah,
Erwin
I hate my neighbour good enough CNCO 12
Aaron
There are certainly rules like, I would not go see, like if they're over leveraged, or if they're listed on the MLS already, then, you know, there would be reasons why we don't go see them. But
Erwin
yeah, yeah, it's funny because I put a put a post on my socials about, you know, my teammates inventory, and just please send some stuff over. Yeah. And I was not specific enough. Right. So over half the stuff was already listed. Thanks. Yeah, I know how to use the internet. I was looking for that I would found it all.
Aaron
We asked for referrals as well. We get Yes. Sometimes too many of oh, this is on, you know, just send us the MLS as well. Yeah. That's not what we're looking for it
Erwin
because it's easy for us to find that to say that's not what you're looking for. No, wholesalers do not want listed properties. Got it? You said the competition still is consistent. It gets hard. I wouldn't have thought the downturn would have likely because for example, like one of the education companies, so a couple of them are actually gone now. Yeah, I'd imagine all their students are wiped out
Aaron
to you know, I should probably pay attention to that some of the names? That's a good question. I should probably look into some of the smaller companies see if who's disappeared in the last couple of years? Because I've noticed a lot who are gone quiet. Yeah, I know. Some people have to think that one person has moved on doing other things. But it's still pretty. It's definitely consistent. Like there's a good number of competitors good number of options for for our industry. Definitely compared to I mean, I think like eight, nine years ago, when I first started, there was like this industry has grown so much in Canada in Toronto area. Yeah. Since since I first started night and day, which is good. It's great for the sellers, more choice for them.
Erwin
And then was it just the downturn report for the we were recording? We were talking about the downturn? And how is different more difficult for buyers to follow through with the actual purchase?
Aaron
Right? Yeah. So we did have some first during the downturn, there were multiple deals of ours where buyers were backing out. And you know, fortunately,
Erwin
sorry, but these repeats, were these regulars are these newbies.
Aaron
I don't think we had any repeat investors who backed out. So it was, you know, the first first timers. And fortunately, you know, I'm thinking, I think there's at least two or three scenarios, we were able to reassign it. There was one where it was day of closing, the buyer kind of just makes up an excuse on the day of close on the day of closing, like, oh, I wasn't, I was out of the country. I thought everything was all set to close. And I don't know, didn't close the walkway from the department, which is pretty a little smaller than I liked. And our company ended up closing it takes us a few days later. I'm sure with less than a week we closed on it. But you know, it does leave a bad taste for the seller. You know, when closings delayed that much it's not the end of the world either. But we made it good for the seller. But yeah, we stepped in and we knew like it was not this was during the downturn. So from when we got it under contract to closing prices had fallen. So we did not want to buy it. We knew we'd lose money. We lost money. We flipped it. It was in Kitchener as well. So it's not my area. If it was kind of an East GTA that I might have considered, I probably would have kept it as a long term rental actually, but being out of my area, I just I gotta get rid of it. So
Erwin
well, you start you bought it knowing you'd lose money. Yeah. So why? Just because you just walked away?
Aaron
Well, it's a firm, it's a firm deonna. It's just our company is like the guaranteed buyer. So we do to give different options to sellers. And there are and we started during the downturn, we started being less of the guaranteed buyer. But there are still times we were you know, typically if we're the guarantee buyer, we do buy at a lower price. Now, it's kind of like we go to different ways with our options for the sellers. So yeah, I'm willing to keep our company reputation to lose a bit of money.
Erwin
Yeah. Because I don't think many people would have done that help to the seller, probably not.
Aaron
Probably most people would have configured their contracts from the start to be easily back out a bowl or something. Right?
Erwin
No, I literally spoke to wholesalers recently, who said to just give it back? Yeah, the whole the buyer bailed?
Aaron
Yeah, but we, you know, we do like that our contracts are a bit stronger for the seller. And we're, we don't want to be back in. Alright. And to make that happen, we do ask for bigger deposits from investors. You know, we started doing more more of this since the downturn. So increasing our ask for deposits when we have an investor and, you know, buy price has to be right. But yeah, a lot of the things we're buying we're willing to close on.
Erwin
So what do you see going forward? Like, anything changing your plans?
Aaron
Well, for our company, we just we are focused on growth. We like we see opportunity, you know, part of it's just within the company tweaking what we do. To being better at what we do, we just see a lot of opportunity and, and we expect to continue like growing and doing a lot more deals per month. Like we're in the Greater Toronto Area, there's tonnes of people, tonnes of sellers, tonnes of sellers with problems. The only question for us is, are we attracting or making ourselves known are, are the sellers with problems going to come to us, when they get into these situations like that's, that's where our heads are at. And we want to be the ones who are able to help them out, handle the problems, solve the problems, I just see more opportunity. And now with the market getting better, our investors and other buyers that are more eager for deals now. So it's easier for us, it's becoming you just last month or two. It's getting a lot easier for us to wholesale those properties and to be tighter deals like we don't have to have as big of discounts as we did maybe four or five months ago.
Erwin
So you feeling that people are pretty much back your regulars are back?
Aaron
Yeah, I wouldn't say it's we're not back to early 2022. But yeah, definitely the regulars are back. Yeah. And getting back in. Yeah. You know, I got a couple of calls myself, some regulars who have been haven't even like I'm thinking of one who hasn't, hasn't bought maybe two years. Chill it out for a bit, but ready to jump back in. You know, some of these some of these flippers are, you know, people have good financial positions. So, you know, whether they, you know, what, they make more money this year or not, it's not a huge deal. But it's sort of a choice, right.
Erwin
So we talked about some problems in the industry, specifically before we started recording red flags, if you could share, because I know some things we could keep confidential. But can you share some red flags that some general red flags around when you're acquiring property? Yeah. And because I had no idea. Yeah, probably well, so I read about it, I shared with no knew personally, I shared with Irwin, earlier
Aaron
that we did get hit. And we bought a property from a fraudulent seller. And we closed on that property. So we currently now own the property. And it's going to be tied up with, you know, title insurance, legal issues for many months, probably a lot more months than I want to know about. Or I will try to speed it up as best as I can, when you're not working for you. Yeah, it's money tied up. And you know, insurance, I find are never the quickest. So there's a legal process it has to go through as well. And this has been popular in the newspapers in the media, I'm sure people listening. So I remember starting to read the papers here about this on the news in let's say, this summer, late in 2022. And the past six, eight months. So really, I know for people personally, this has happened to it's because I'm in the industry, the you know, the industry of wholesaling and buying and selling houses from people with problems. But we've all heard it's also happened on the real estate market. There's MLS listed properties this has happened with so one thing like we've had to start, you know, checking IDs of sellers just being really cautious and aware already did because yeah, we already checked IDs from the person that we bought from so yeah, we've got their fake ID, their fake, Id passed us it obviously, they've got good fake IDs to get through their lawyers and get through bank to open a bank account or get money out of the bank and to discharge the use of mortgages. There was an existing mortgage on the house we bought that got discharged. So yeah, by the banks lawyer to Yeah, they got past all kinds of lawyers and banks, and which is totally crazy. Yeah, it's totally crazy. Like, in the past, we didn't ever even use to worry about checking ID because we're like, what, kind of like a private buyer, but we've had to step it up. But you know, we always relied on the lawyers like, yeah, probably because it's since COVID. And it's gotten easier. People don't have to go in you don't even have to go into the lawyer's office anymore. Like there's a lot more you can find. You send them your ID you have a video card. Maybe it's just getting too easy, but please don't change that. I like that.
Erwin
I don't want to go to my website, like assuming with my lawyer. Yeah, but but my Lord allows me to do business for years.
Aaron
Yeah, I'm sure title search is going to work on solutions like something needs to tighten up because they're eating it on the insurance. Yeah, I'm sure it's not good for title insurance. Between Insurance
Erwin
companies do not like losing money,
Aaron
or losing money. They're telling me because it Mikey's got private investigators looking into this. So I'm talking with that I'm talking with like the title insurance. Telstra has hired a lawyer to represent me, they've got private investigators. And so it's like, there's all these people working on the case. Yeah,
Erwin
they're probably investing in the lawyer. Yeah. And they're the banks probably doing their own internal investigation. You know, all these resources are being used on this.
Aaron
It's pretty clear to me and everyone that is a fake seller, but then, you know, there's still always sort of initially there's Okay, which seller is the real seller, but it's pretty obvious, but then it's like, is the actual seller involved with this somehow, like, you know, what, do we really know what's going on? So there's still all these Questions, but it then there's it has gone through a legal process with land titles, which you know, I don't know much about, but I know this, it'll take time. So where was it going? We do red flags. Yeah, like the red flags. As a company buying houses, we are a lot more cautious now just we have our spidey senses up for like vacant houses. If there's no like family living there, you I guess, like it could be, if there was a family living there would have to be sort of like a tenant who's selling behind someone's back or assuming someone's identity. But the scenarios we've seen, it's more the vacant house, we're not quite sure the relationship between the fake seller and the real seller, like I believe one common scenario is someone who will rent the house, and then sell it. But for us, you know, we see a common term sort of like vacant or almost vacant type houses as opposed to a lived in house. But we're still like the property we bought, we met this fake seller there. It's someone on my team met them there at least three times over a series of almost a month or maybe three, three week kind of closing. They were committed. So they were committed, like, you know, I seemed like a nice person. So it's really like I don't have the ideal answer on how to stop this. We do need title insurance. And banks and lawyers sort of helping this is an off market deal. It's an off market deal. Ours. Yeah, that's what we deal with. And I'm sure that
Erwin
for cars, for example, like they give like, for example, my tennis tried to sell a property. Yeah. And there was a for sale sign that whenever you align, you know, most of the neighbours know me. Yeah. So that would look great. You know, I'd probably get a phone call. Yeah. I have friends that live in the neighbourhood. I have friends that are already in the neighbourhood, laying your houses for sale. Why don't you listen to yourself?
Aaron
I heard from one of the other not ours. But another fraud cellar case that I heard about for someone else is that's kind of how it was found out. The property has been flipped. And then so the new owner put a for sale sign on the property, and then the real owner drove past. And then what's going on? Discovery and
Erwin
all that sort of thing. So it makes sense for Facebook to do it off market. Yeah. Because you wouldn't want it online. You wouldn't want to belong sign. Yeah, we'd have you'd have to have it because then my friends would see it go on sale. Like hey, your host for sale like yeah, it'd
Aaron
be much easier. It's much easier from sure for them to do it private. I know. Some have been doing it on the markets, which they probably have to really know. The seller is the seller, like? Can't be someone who's going to look I don't know how they could do that. But we gotta be really careful. Yeah, wild times because past six, eight months a lot of this has been happening crazy, man. Yeah. Can't trust people these days.
Erwin
wasn't happening. Wife and Kids are good. Ha
Aaron
yeah, my wife. She's busy with me and real estate doing her thing and helping me with our things. So the child is we bought our cottage the past few weeks nice fixer upper cottage so that so it came in through your marketing through my marketing. Gotta a fixer upper cottage that's in a good area for me like Cortes, a lot of my family's out in Oshawa. So it's good for me and my family.
Erwin
We just thought it was excited. Was it in your marketing targeting a cottage or they just happen to come across your marketing? I do.
Aaron
Yeah, I do marketing for cottages. So we do have some internet advertising specific to cottages or we don't get we do get some cottage leads and waterfront properties and he was not our bread and butter or anything. Our sort of bread and butter would be you know single family homes or duplexes in the cities but some intention to get a cottage so there it is. How bad is a fixer upper? It's it needs you know everything new inside new kitchens baths but it's nothing nothing too crazy. It's it's a 90 Honestly, late 80s built house. So like it's it's it's a house not a three season cottage or anything. So it's it's good on the water on the waterfront. Yep, waterfront. So we'll use it as a family cottage for some years. If we don't like it, we'll rent it or resell it. See how it goes.
Erwin
See multiple exits. Yeah, right. Yeah. Not highly leveraged.
Aaron
No, no. Right. After we renovate will refinance. Yeah.
Erwin
Right. For like a Schedule A or you or
Aaron
what? We'll see what I can get these days. Oh, yeah. I'll probably talk with the big banks. Yeah.
Erwin
That's our attorney. Again, I'm trying to be unleashed. Apologies for leading with my questions. Yeah, you're not highly leveraged. You don't have super expensive private mortgages, no promissory notes and second mortgages and no, I'm
Aaron
not at the moment. No, but you know, I do I do use short term private money and it's typically you know, eight to 10% sort of sort of money, but you know, it'd be under six months but I'm looking to do that. It's rare when I've had that for projects over
Erwin
six months. Let's use today's environment. When would you go back to using private money six months eight to 10% annualised
Aaron
for for some flips, it And when we do buy one of these houses where it's really rundown, like myself, I've been doing this while so I have some large lines of credits on properties and different ways to get money, right. But But yeah, for houses in really rough condition, you're not going to, you're not going to get a good loan from any bank. And especially if it's a fast close a week or two, typically, usually only private lenders who will do that, you know, if you work with the same lender quite a bit, you know, I have had experience with the big banks, they can do in like, less than two weeks and things like that, but it's, it's pretty odd and stressful. I it's been a few years ago. So things play keep getting slower with the big banks. Trying to remember the last time they did something fast. Yeah, anyone big I find this slow. Yeah. Yeah. They seem to be slow. And slow to get done. Yeah. Oh, yeah. They're
Erwin
two weeks. I would know, I wouldn't dare.
Aaron
I wouldn't have counted them for two weeks. If it would be, hey, if you can do it in two weeks. Great. Otherwise, I'm closing on it with my line of credit. That's kind of what I would have your plan would be that I have
Erwin
kneaders. Landry. I can't count on them for as close. Because like what my Lord has told me about one of the one of the well known beat lenders. I think he said he does. I think he says one of the three do not close on time. Yeah. Because of the lender. Yeah. Yeah. You're waiting around Friday afternoon. Yes. Where are you? Ready for like banking instructions. And it doesn't come.
Aaron
Which reminds me, I never like to close on Fridays.
Erwin
Yeah, I don't know. I speak a little obsessed with closing on Fridays.
Aaron
Yeah, it's a terrible day to close because or Rick for a long weekend. Because then if any delay, like you know what you said, What did three or whatever. Then you got to wait till the Monday or if it's long weekend, you're waiting four or five days, whatever it is. So it's just a nightmare. Would you like to close on Monday? Tuesday and Wednesdays, Tuesday, Wednesday. Thursday is good, too. But sometimes I remember closing on a Thursday, and then you find out it's long weekend. It's like, oh, I didn't know it was long weekend on Friday, then, you know, something that happened to us last year, closed on Thursday. You know, it happened. There was a delay. And then it's the long
Erwin
weekend. We're gonna deal recently where it was. The conditional days were business days. But we just had Easter right? And no one factor that in so yeah, just be careful out there, folks. Yeah. there anything else you want to cover?
Aaron
Oh, that's the gist of it. I can always talk about how people can find us that sort of
Erwin
thing. Of course. Where can people follow along your journey? Where can people learn about more about GTA host buyers? I see your ads.
Aaron
You can google GTA has buyers and will probably follow you around on the internet on retargeting advertising. But investors like like to learn about us from our, from the our investor, website, house deals gta.ca. So people can go there. And we're covering we are doing deals across Ontario these days. Like we do have a kind of Golden Horseshoe focus, of course, Toronto, GTA Barry, really a PWC down to Niagara and like, OSH, we're clearing in all that area. But you know, we've done deals in the past year or two in Sarnia, Kingston, Huntsville, you know, we're getting all over. But yeah, so if people want to, you know, go to our website, see our deals tell us the areas that they're interested in, they can, you know, sign up, and we'll we can send out the deals that sort of match their criteria. And that's just house deals. gta.ca
Erwin
And if you're driving, folks, I'll have it all in the show notes. Perfect. Aaron, thanks so much for doing this. It's always I joked with someone that like sometimes I need a nice interview for like a palate cleanser, as they call it. Because sometimes it's we have some disaster stories on the show. So it's nice to hear. It's always nice to have a nice guy on the show. Yeah. And like the fact that you closed your clothes in the wholesale deal that you knew you're gonna lose money on, right? I like do you know what anyone you know, do that. Don't know of any of those stories. That's the truth about real estate investing. I think it's a great place to end like urine. Thank you everyone.
Erwin
Before you go if you're interested in learning more about an alternative means of cash flowing by hundreds of other real estate investors have already that sign up for my newsletter. Find out for yourself but so many real estate investors are doing to diversify and increase our cash flow. And if you can't tell I love teaching and sharing this stuff.

HELP US OUT!
Please help us reach new listeners on iTunes by leaving us a rating and review!
UPCOMING EVENTS
You are the average of the five people you spend the most time with! Build connections with empire builders and trailblazers at our iWIN events.
BEFORE YOU GO…
If you're interested in being a successful real estate investor like those who have been featured on this podcast and our hundreds of successful clients please let us know.
It is our honour to give back and educate others on how we build cash flowing real estate portfolios using all the best practices shared on this podcast, from the lessons of our hundreds of clients and of course our own experience in owning investment real estate.
If you didn't know already, we pride ourselves on being the best of the best real estate coaches, having the best property managers, contractors, handy people, cleaners, lawyers, accountants, everyone you need on your power team and we're happy to share them with our clients to ensure your success.
New investor or seasoned veteran investor, we can help anyone by providing our award winning coaching services and this isn't all talk.
We have been awarded Realtor of the Year to Investors in 2015 by the Real Estate Investment Network, 2016 by the Canadian Real Estate Wealth Magazine and again in 2017 because no one told the judges no one is supposed to win the award twice but on merit, our peers deemed us as the best. In 2018, we again won the same award by the Real Estate Investment Network.
Hopefully being the most decorated team of Realtors in Ontario will make you consider us for your first or next real estate investment. Even if you don't invest in our areas, there's a good chance I know who would be ideal for you.
I've been around for a while, some Realtors are talented at servicing investors there are many with great ethics. The intersection of the two, talent and ethics is limited to a handful in each city or town.
Only work with the best is what my father always taught me. If you're interested, drop us an email at iwin@infinitywealth.ca.
I hope to meet you at one of our meetups soon.
Again that's iwin@infinitywealth.ca
Sponsored by:
Infinity Wealth Investment Network – would you like to know how our investors returned 341.8% on positive cash flowing real estate over the last five years? On average, that was 68.4% per year.
Just imagine what winning in real estate could do for you.
If you would like to know how we did it, ask us how by calling 289-288-5019 or email us at iwin@infinitywealth.ca.
Don't delay, the top markets we focus in are trending upward in price, so you can pay today's price or tomorrow's price.
Till next time, just do it because I believe in you.
Erwin
Hamilton, St. Catharines and Toronto Land Development, Real Estate Investor, and soon to be builder.
W: erwinszeto.com
FB: https://www.facebook.com/erwin.szeto
IG: https://www.instagram.com/erwinszeto/
https://www.truthaboutrealestateinvesting.ca/wp-content/uploads/2023/05/Aaron-Moore.jpg
630
1200
Erwin Szeto
https://www.truthaboutrealestateinvesting.ca/wp-content/uploads/2017/06/TruthRectangleLogo.png
Erwin Szeto
2023-05-29 20:13:21
2023-06-16 17:02:36
66 Wholesales/Year, Scammed By Fake Seller, Flipping In A Down Market with Aaron Moore