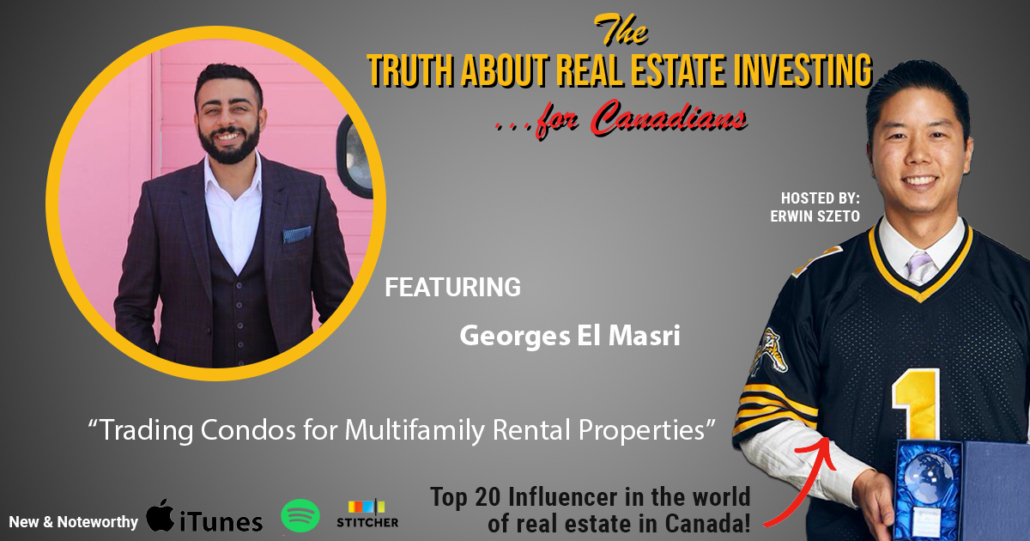 Greetings friends!

Since 2016, I've invited investors of varying success onto this show, the Truth About Real Estate Investing Show, including some mega-successful like Grant Cardone, Don Campbell, Dmitry Buterin and several everyday investors; Some just starting out, some our clients and many were able to create 7 figure net worths.
 

 

View this post on Instagram

 
Apologies for my ramblings; by the time you listen to this, I will have turned 43 years old. It's my third birthday since the pandemic began and the celebrations will remain muted, which is fine by me. 
We had a family dinner that was a bit over the top – Peking Duck and Portuguese scorpionfish and lobster and steak. 
Cherry paid for an Apple Watch and let me pick it out. I've always wanted one but could never justify spending that kind of money. To me, those are the perfect types of gifts, stuff people want but wouldn't pay for it.
My brother is also taking me to the Leaf's game vs. the New Jersey Devils, but what's super awesome is Mark Giordano, our new deadline trade acquisition, will be making his debut which is exciting.  That reminds me, I need to make dinner reservations. Lol.
Yup. I don't need much. 
We just returned from a March Break ski trip in Muskoka, and we all had a blast.  Andy Tran and family joined us for a couple of days, and it was great to chat with someone so like-minded about what's happening in the world and how we investors should prepare for it.  
It's no secret either, there is a method to my madness in the guests I've hosted on this show and Cherry, and I are quite transparent with our investments.
Andy even updated me with the latest on garden suiting, aka building an addition or separate tiny home in the backyard of our investment properties to rent out as an apartment. This is what I'm advising my team and clients as the next leg up in real estate prices, as we saw in Vancouver when laneway houses were first approved.
It's not all roses, though. The real estate market looks like it's taking a pause or a breath. More listings are coming out, fewer of them are holding offers, some that did remain available after offer dates. 
We could see a dip like 2017, which will present a great buying opportunity.  We'll go into more detail are our monthly real estate meetups. We are back in person, meeting up, so you don't want to miss out! 
If you're on my email list, you know how to register. If you're not, well, that's just silly. Go to www.truthaboutrealestateinvesting.ca, enter your name and email address, and you'll be good to go!
Trading Condos for Multifamily Rental Properties with Georges El Masri
Georges and I used to work at the same real estate brokerage called Rock Star Real Estate, owned by my good friends Tom and Nick Karadza. Although I'm still at Rock Star, Georges has moved on to Keller Williams.
He's on the show today to share his journey from getting fired from his first job out of University and transitioning into real estate full time.
He's hustling, as you'll hear from the interview.  He's driving around and targeting small multifamily properties to acquire with partners. He shares how she sold his wife's home, a condo, during the pandemics and used the proceeds for two multifamily properties.
Georges also shares how he's finding deals, the strategies used and the success rate.  
No, it's not easy, even though Georges makes it look easy, and that's what this show is about, sharing the truths about real estate investing. 
It's not all roses, but those with the hustle and resiliency will win out.
Please enjoy the show!
This episode is brought to you by me! We don't have sponsors for this show, I only share with you services owned by my wife Cherry and I.  Real estate investing is a staple in my life and allowed me to build wealth and more importantly, achieve financial peace about the future knowing our retirement is taken care of and my kids will be able to afford a home when they grow up.  If you too are interested in my systematic strategy to implement the #1 investment strategy, the same one pretty much all my guests are doing themselves, then go visit www.infinitywealth.ca/events and register for our next FREE Online Training Class.  We will be back in person once legally allowed to do so but for now, we are 100% virtual.
No need for you to reinvent the wheel, we have our system down pat. Again that's  www.infinitywealth.ca/events and register for the FREE Online Training Class.
This episode is also brought to you www.stockhackeracademy.ca where everyday real estate investors learn the best practices in stock investing to earn cash flow in about 15-30 mins per day from their mobile phones. After real estate, Stock Hacking is the next best hustle as you've heard from many past guests on this show. Among our students last year, 31 trades were shared with them. 30 were profitable for an over 96% success rate. I will be giving free demonstrations online, very similar to the one I gave my kid cousin, a full time musician and he just made 50% return in 2021.  Past of course does not predict the future but if you'd like a free demonstration go to www.stockhackeracademy.ca in the top right, click FREE Demo.  At the demonstration I'll have special bonuses. We do not advertise publicly for all my favourite listeners and I only have two more demos to give in the next few weeks.
Don't delay www.stockhackeracademy.ca, what I consider the future of side hustles with real estate so unaffordable for many.
We're hiring!
Just a friendly reminder that we are hiring more investment Realtors who want a full-time challenge to help our clients, regular everyday people, mostly from the GTA, invest in the top investment towns west of the GTA. 
This is for driven folks who want to multiply their current incomes.
APPLY HERE: https://www.infinitywealth.ca/hiring
To Listen:
Audio Transcript
Erwin
Greetings friends welcome to another episode of The Truth about real estate investing show hosted by me Erwin Szeto. Where since 2016, where we've invited on the show investors of varying success, including some mega successful folks, like Grant Cardone, best seeling author, Don Campbell, Dmitry Buterin and has recently and several everyday investors as well. Some just starting out some of my clients, many of whom are were able to create seven, seven figures of net worth.
Erwin
Apologies for my ramblings, second time you listen to this, I will have turned 43 years old. This will be my third birthday since the pandemic began and celebrations will remain muted, which is fine by me. We had a family dinner that was bit over the top in terms of what we get back Portuguese scorpion fish, lobster and steak yes all in one seat. Cherry paid for an Apple Watch for me for my birthday present. Actually, let me pick it out though because I'm picky. There's a lot configurations to choose from. I've always wanted one an Apple watch that is can never justify paying that kind of money for what's mostly a toy. That to me, those are the perfect types of gifts. Stuff People want to pay money for. Speaking of my brother, he's taking me to lease game versus the New Jersey Devils. But what's super awesome is Mark to Dino our new deadline trade acquisition, we making his debut which is exciting. That reminds me I need to make your dinner reservations. And yet the rich food court keep things simple and cheap. I don't need much. We did just returned from a March Break ski trip in Muskoka. And we all had a blast, Andy Tran and his family joined us for a couple days. And it was great to chat with someone who's so like minded about what's happening in the world, and how investors should prepare for it. It's several ideas several crazy interesting and likely quality ideas. It's no secret either. There is a method to my madness and the guests that we have on the show and Cherry and I are honestly quite transparent our investments are doing with our money we think the best thing to do is a crazy thought in training even updated me on the latest in garden suiting during our trip a building in addition or tiny home in the backyard apartments and properties to rent a separate apartment apartment. This is what I'm inviting my team and my clients is the next leg up real estate prices like we saw in Vancouver with laneway houses were first approved. It is not all roses out there in the real estate market though, it does look like we're taking a pause or a bit of a breath here. More listings are coming out. fewer of them are holding offers because some of them remain on the market after offer dates, we could see a dip that 2017 Which to me is just presents a great buying opportunity and likely the only buying opportunity would get for the next 5,10 years beyond that. We'll go into more detail at our monthly real estate meetups as of course. We are back in person meeting up so you don't want to miss out from my understanding people are tired of COVID and what to do back to back in person meetings. If you're on my meal email list and you know how to register if you're not well, that's just silly. You can go to www.truthaboutreal estateinvesting.ca. Just enter your name and email address. You're good to go!
Erwin
On to the show, George and I used to work at the same real estate brokerage called Rock Star real estate owned by my good friends Tom and Nick Karadza. I'm still a rock star and George has since moved on to Keller Williams, which is totally cool. He is on the show today to share his journey from getting fired from his first job out of university interested in transitioning into real estate full time as an investor and realtor. He's hustling and you'll hear from his interview, he's driving around and targeting small multifamily properties to acquire with his partners. He shares how he sold his wife's home, which was a condo during the pandemic and use the proceeds to buy two multifamily properties for a total of seven doors in St. Catharines, Ontario, Jordan shares how he's finding deals, we get really specific specific, because you know, the point of the show is learn. So I'm going to ask detailed questions, how he do it, so that we all repeat the same success. And yeah, this is the show The show is about truth about real estate investing. So I do ask himm about success rate as well. What kind of success rate in the strategies so that we only set reasonable expectations? No, it's not easy, but it's worth it. GEORGE does make it look easy, though. That's why he's on the show. Sharing the truth about real estate investing. Again, it's not all roses out there. It's not easy money by any means. But with hustle and resiliency. You know, like, please enjoy the show.
Erwin
Georges?
Georges
Georges. Yeah, sure.
Erwin
We spent some time working on your name before the show.
Georges
Yeah, no, it's not. It's not the simplest name, I'm sure.
Erwin
Oh, dude we look you're talking to me? It's always been a thing a thing for me too, because it's in the book, Win Friends and Influence People get people names right? Yeah. Right first of all know their name. Yeah. And then even better said how they say it.
Georges
Yeah. Well, just to clarify for anyone listening if you ever meet a George and there's an S at the end it's silent. It's the French spelling.
Erwin
Right? Let's American then. Yes. I don't like he's we're talking about like Georgia St. Pierre like, Yeah, I've seen American St. Georges. us know, I've seen saw seen lots of people.
Georges
Yeah, which is incorrect. Yeah. And whether you're American or anything else, that's not the right way to say it.
Erwin
All right. So how do you say your name full name?
Georges
Georges El Masri is the way I would say it, I don't know if you want to hear the Arabic version of it.
Erwin
I like the Arabic version.
Georges
The Arabic version if you were to say it legitimately would be Georges El Masri. Don't Don't try to search for Romania. George, yeah. Yeah. I'm named after my grandfather.
Erwin
This is the same grandfather we were talking about?
Georges
No different
Erwin
Okay. We'll get to that. Yeah. So what's keeping you busy these days?
Georges
Keeping busy we have a baby at home. So I'm a new dad just getting used to all that getting back into working out to had a little little break from that when he was born. It was kind of hard to to have the energy to do that. But yeah, been running a little bit set up a little gym at home, going back to lifting and working hard on on the investments. We've got a bunch of renovations happening. We have some some townhomes that we tied up in welland that we have under contract. So bunch of stuff.
Erwin
So you had I was doing the math in my head. That's when he was my shop. So give it a pandemic, baby.
Georges
Yeah, we did. Yeah.
Erwin
How is having a baby in the pandemic?
Georges
For the most part, it was fine. The only thing was the hospitals really short staffed. So when we were when my wife was in labour, she didn't get like she didn't get the epidural right away. They had to kind of wait and then it was painful for her. And you know, it's a little bit more challenging when the they're short staffed. Right.
Erwin
I remember when Cherry before she got her epidural, she had my hand for our first child when Robin was being born. As wear my wedding ring I don't wear I rarely wear just for I have eczema. So that's why I can't wear a lot of jewellery. She had it, she got a hold my hand, the contraction came and she found the way to manipulate my hand to make to maximise the pain. And I was not going to say anything. Yeah. Cuz I did not deserve any empathy.
Georges
Yeah, for me was a little different. She was like, in so much pain that I felt bad for her. Yeah, like, I wasn't even worried about anything other than like, Oh, I hope you're okay, you know, this looks like it's really excruciatingly painful.
Erwin
I remember being at the the prenatal classes where they teach you like breathing technique and stuff for like, natural birth. And then I was like, I put my hand up. Because, you know, I'm not the brightest. So I have questions. So I asked the nurse who's given the lesson? How many people get the take the epidural versus natural? She was over 90% of the epidural. Yeah, like, Okay, well, we need to pay attention, just like the epidural.
Georges
We can hear women from the next room screaming. It was the loudest scream. I've heard from like three different women after our son was born. And it was obvious they didn't have the epidural. It was crazy.
Erwin
There's no doubt to me with the stronger sexes. Happy International Women's month this is. So how's the investment going? Can you start with? What was your motivation? So I take us back to the year you started getting motivated to buy real estate.
Georges
Yeah, I think I'm going to start a little bit before that because I think it's a kind of cool part of my journey. But when I was studying at U of T, I had this part time job. I was working for a tech company called Flip. I don't know if you've seen it, you know, the app where you can kind of like, look to see what's on sale at different stores, whatever. So anyway, I worked for them.
Erwin
And oh, cool, like a retail Groupon.
Georges
Yeah, it's similar to that. But like, let's say you're looking for a chicken that's on sale at different grocery stores. You just pop in chicken, and then they'll show you all the stories that have been on sale that week.
Erwin
Are they still around?
Georges
Yeah, yeah. They're one of the top apps, I think, on the Apple App Store or whatever. But anyway, after graduating, I just took the easy route. They offered me a full time position accepted, even though I didn't really like what I was doing. The company's great, but I just wasn't happy. And after working there for a couple months, I think they noticed that I wasn't too happy doing what I was doing. And they called me in 4:55pm on a Friday. Oh, no, I get the phone call at my desk. And I'm like, Okay, I know what's about to happen. I walk in the lawyers there. He's got the documents in front of them. The managers there and they very nicely, let me go. So I felt like a huge like weight off my shoulders. I just felt although I was kind of you know, nervous about not having a job and whatever. It gave me an opportunity to really reflect and think about what I want to do and it took me a couple months but I realised I wanted to be in real estate and my intention was to invest. That was always kind of like since I was a I had this idea of owning homes and renting them out and whatever. So, yeah, I got my licence. This was in 2013. And I started in I think 2016 really considering buying because I had some income now and a bit of a track record. So I just reached out to a bunch of people, like I Googled, we buy houses, whatever, I was just trying to get in touch with investors. I called like, 10 people, they all turned me down. Nobody wanted anything to do with me, except one person. I had lunch with that person, hs named Sandy Mackay, by the way. He he was nice enough to like, sit down with me. And tell me about the BRRR strategy. And from that point on, I was like, Wow, this makes so much sense. I'm going to do this. And I bought my first rental in 2017 and Hamilton, little fixer upper for 215,002 and a half storey detached home, still have it to this day and kind of just kept going from there, refinanced it and moved on.
Erwin
Who gave you the idea, like not many kids think about owning real estate?
Georges
My mom, my mom, I remember as a kid, she just said, Hey, did you know that some people buy homes, and then they rent them out and the rent they get covers the mortgage payment? Really, you can do that. Cool. And then I just kind of you know, let the idea slide and later on, ended up doing that, right.
Erwin
Did she own investment property?
Georges
No, my parents never owned a rental. Actually sorry, no, they they had they bought a condo in Lebanon at some point, which they were gonna they were thinking about, like maybe moving to when they retire or whatever. And they rented that place out. But that was the only only rental experience they have. Right? Yeah.
Erwin
So you have your roots in Lebanon. You're not just like, you know, OG Canadian. But the name like alabaster?
Georges
Yeah, yeah. So I was born here, born and raised in Canada always lived here. But my parents left because of the conditions in Lebanon back in the civil war broke out in 1975. And my parents were both really young at that point. It was really tough for them. Like they grew up with people killing each other, and missiles going off. You know, my mom lived close to Beirut, close to the Capitol. And it was really tough for her as a kid, she I think she still like has trauma from her childhood. So yeah, they decided to leave in 89 came to Canada, and I was born a year later.
Erwin
Any parallels to what a route was like to today's world?
Georges
You know, I don't really know like, personally, I don't I it was a political thing. There were political parties that were, you know, going to war with each other. And there was also some religious aspects to it. So I guess there would be but I'm like, I'm not really a political person. I don't I don't understand too much of what's going on today. I don't I don't read too much about it. So I can't say other than what I just shared.
Erwin
So So Civil War, so his fellow country people, yeah, fighting because they have different ideals in religion?
Georges
Different religions, different political beliefs. So yeah, like, it got to a point where, basically, if you entered, sir, because they have checkpoints in Lebanon, and that they're short soldiers that are carrying like these rifles and whatever. I think my dad was telling me that at some points during the war, if you went to certain pockets in Lebanon, and you said your name, and let's say you had a Christian name, then you might get killed. Right there. You know, it's it was crazy. Like, just to just to think.
Erwin
Seems like a nice place to raise a family.
Georges
Yeah, definitely not.
Erwin
Lucky for you to be Canadian.
Georges
I'm definitely grateful. Yeah, it's, it's totally different. I never had, I mean, the only experience I know I'm kind of rambling here. Just let me know if I'm talking too much. But um, the only experience I have that's somewhat related to my parents experience was we went on a trip on a vacation to Lebanon, I think it was in 2006 or 2007. And a war broke out between Lebanon, Israel. So there were actually like missiles launched towards Lebanon, and we would hear them and we were terrified because I was a young kid. I was like, I don't know. 15,16 years old. Yeah. So I remember we had to take a, like Canada, the Canadian Embassy sent a ship to take us to Cyprus to evacuate us because they had bombed the airport, we couldn't fly out. When we went to Cyprus. At one point, we were staying in this place with a bunch of other Lebanese Canadians. And the lid of a garbage bin dropped. And it was a loud sound. And I just remember kind of being scared like, oh my god, or there are the bombing this area too. So that was like the only traumatic experience that I had, that I can kind of relate to my parents. But that was it. Nothing, right. Like in Canada, you don't ever experience anything like that.
Erwin
I had my air pods in the other night. And Putin had just declared war on Ukraine. And then I don't know what time in the morning, but that emerged another emergency, you know, Amber Alert. Yeah. And that's all I hear like, Oh my god. Putin's probably doing some shit. By launching a missile, because you know, you get waking up at 4am in the morning, you're from a deep sleep. You're not rational. Yeah, for sure. That's That's my closest to so grateful to be living here.
Georges
Yeah, yeah, for sure.
Erwin
So you shared before we were recording you talked about your your grandfather still lives in Lebanon.
Georges
He recently passed away. But yeah, yeah, he was there his entire life. Yeah. Right.
Erwin
And he had saving his life savings were in the local currency.
Georges
Yeah, yeah, that's crazy. My grandma used to be a saver, she saved all her life. And they were living off of their savings. So they were, they had their money in the Lebanese currency. And they were earning an interest. And I think they were living off the interest that they were earning. But Lebanon experienced hyperinflation, I think around two years ago, it started. So whatever money they had, basically became worthless, almost worthless. So my grandfather who was counting on this money to live out the rest of his life, now everybody's worried, is he gonna have enough, you know, cuz he's only got like, maybe he was able to survive for five years from the money before 5,10 years. But now he's only got a couple months left. So it was a very scary thing and makes you realise how important it is to have assets have something to counterbalance against inflation. I don't know if we would ever I don't know if we would experience hyperinflation here with the Canadian currency, but you never know. Right? You got to protect yourself right?
Erwin
Before recording, we're talking about like hyperinflation versus inflation. Yeah. Because, you know, Canada's law, we've spent a lot in the pandemic, I think, rightfully, and then we're gonna experience inflation. And I keep reading headlines that we're we're investing or donating military resources to Ukraine. This is all gonna cost money. Yeah, someone's got to pay for it. Yeah. Right. I'm not gonna argue right or wrong. But just, there's going to be inflation, more than ever. And, yeah, so of course, no one gets their questions in advance. Yeah. How would you advise your grandparents to invest?
Georges
I don't know. It's, it's a little bit tough for me to say what they should have done over there, like, or even translate the other way.
Georges
I always like to translate. The usual question I usually ask is, What are you teaching your kids? Yeah, I know, you can't really have that conversation today. But looking back, before I'll answer your first question, looking back, I think they would have been much better off had they converted their Lebanese currency to US dollars, because US Dollars are accepted in Lebanon. So that would have been a lot safer for them. I don't know. Maybe they couldn't have invested the US dollars in Lebanon turn an interest? Maybe that's why they didn't do it. But the treasury bills 2%. Yeah, yeah, anything would have been better than what they had. But for my kids, I mean, I just have the one the one right now. But I want to make sure he understands that saving for your entire life, and then living off those savings. That's not a very strategic way to live in this day and age. And you have to get creative and find other ways. And don't worry about what most people are they're doing or what most people are doing. Just do what is strategically make sense for you and maybe follow our model, right? Because we're we're doing pretty well with our investments. So yeah.
Erwin
Statistically, most people won't be able to ever retire. Now, if you don't have a pension, then then there's different quality of pensions. So not all pensions are good. But yeah, statistically, I think it's somewhere around two thirds, two thirds of teens will never be able to afford to retire. So don't do what most people do.
Georges
Yeah, for sure. For sure. I don't know why people just like if most people are doing it, you just feel like it's the right thing to do kind of like what you said, when you said 90% of people are getting the epidural. So you're like, oh, okay, let's do it. That's a different situation. But when it comes to finances, that's not not a very good way to go about it.
Erwin
Well, the I brought up the epidural thing is like, I don't think most people know what most people do. Yeah. So ask questions. Yeah. And like, for example, if you want to be rich, find out what rich people do. Yeah. Yeah. But we talked about most people, most people say they want to be rich, they're not willing to put in the work.
Georges
And it's not just that, I think a lot of times fear gets in the way because you have to take a risk when you're investing. And I guess maybe sometimes people need more a lot of information before they can take action. And one thing that I think I've been either lucky or stupid and doing is that I don't I've never had too much information that I was just reflecting on this but every single real estate investment I've purchased so far, I felt like I wasn't ready for it in that moment. You know, like you'd never be ready yeah, you just you just do it and it somehow doors open. Like I've experienced it so many times where I didn't feel like I had everything in place but I committed to it and like the doors just open for me. Obviously I took took action but it just works out all right.
Erwin
The analogy I give is no different having your first kid. Yeah, you're never going to be ready. Yeah, you know, I'm talking Yeah, you're sure you're never be fully prepared.
Georges
You can read all the books you want when that baby comes There's gonna be a lot of surprises yet…
Erwin
You can be as rich as you want, you still won't be fully prepared. Yeah, that's true. She's things do not go smoothly. Yeah.
Georges
But that's that's what separates people being able to figure it out. I think that that makes a big difference. Like if you have obstacles in the way some people might walk away or might be afraid, but I think people who are successful, take on those obstacles and just move forward. It's not just being just not knowing that you can take it on. It's also knowing that you'll figure it out.
Erwin
Yeah, just no different than the analogy of having your first kid. You'll figure it out. Yeah. It's not like all these booklets, not like all these people have failed as parents. Yeah. It's not rocket science. You will figure it out. Yeah. And how did people figure it out? It takes a village. Yeah. That's the beautiful thing about the investor community. Like we are a village and we're very open. You have a podcast, I have a podcast. Like when we started, there were no free resources. Yeah. That were quality. You still You said you'd all these people turn you down to teach you. Yeah. Versus we just give the stuff away for free. Yeah.
Georges
And yeah, that was funny. That reminds me one of those guys I think is like website was Mr. Nice Guy, real estate buyer or something. And he yelled at me because I called him he's like, Do you have a house to sell? I was like, No, I'm just trying to learn for you. Is it good? Don't call me again. He just hung up on me. I don't remember what it was. Exactly. It was something along those lines was the nicest salesperson.
Erwin
I know who it is. Do you know who it is? Or not?
Georges
I don't even know who it is. So I never had I never spoke to him again.
Erwin
Okay. Yeah, I think I know who it is. False advertising. You want to talk about your wife's condo? Yeah. Tell me Tell me about your wife's condo.
Georges
Yeah, she she bought a condo few years ago that she lived in. And North York by the subway line. Nice building nice place. When we moved in together. She rented her condo. And then when the pandemic hit, I don't know if you remember this. But there was a time where rents just dropped in Toronto. The drop significantly. So the tenant that was there was like, hey, I can just move to another building down the street or even in this building. Yeah, yeah. And pay like 600 bucks less a month. So I'm leaving.
Erwin
What percentage? Is that? Like a like a third. I didn't drop.
Georges
She had it rented for like, 2300. And they went down to like, 1700.
Erwin
That's pretty good. But yeah, big drop. Yeah.
Georges
So yeah, he left and then we just got together. And we're like, hey, what do you think we should do? Because if you're renting right now, for 1700, it's gonna cashflow negative, we're gonna have to be paying out of pocket and who knows what's gonna happen with the market. So we decided to let's sell it. So we put it on the market, got a decent price for it. And we took that money. And we bought a four Plex in St. Catharines. We ended up doing really well on that four Plex, we also used some of the sales proceeds, and we put it into a triplex and Hamilton. So we basically were able to take her her condo, and essentially turn it into seven units. And that was so beneficial for us. So I think it's just, it's just an idea for some people who might have a rental condo. I think if you keep an open mind, you can end up doing a lot better by reinvesting your funds into something different. Everybody's different, but that was our experience.
Erwin
So this is a conversation I have with many new investors. Yeah. I think part of the first level of challenge is often that, let's let's take a step back in my own head. Sorry, there's a lot of realtors who just focus on pre construction condos, because to be honest, they pay very well. And you have a large supply of them to sell. Yeah, right. Which versus when we do regular real estate, there's not much supply. No, right? It's a very, it's a very lucrative business. Most of the most successful realtors are in the industry. For like you and I, we want scale. So we're often having to educate investors around that, including my dad, who does buy new construction condos. So when we're comparing investments, he says, oh, like my condo did just as well as your duplex, like no dad. Because I get all this extra rent. I can refinance that house and go buy another Yeah, you will never be able to do that with your condo. Yeah. And then also my next leg up is I mean with the guard, maybe the garden suite, some of these duplexes? Yeah, yeah, right. I'll be able to add more more value to it. I'll be able to cash 1000 bucks a month. Now again, my credit will look better. And I can go buy another house. Yeah, right. You can't scale your new construction condo portfolio. Right. And you're just your example exactly that because what could you have done with that condo? If you held it? You just wait. That's it.
Georges
But yeah, you're waiting but like in that situation? We'd be we would have been short 200 bucks a month. Yeah.
Erwin
You would have been fine. Yeah, we would have been okay, I'd rather but you did. Yeah. Uh, yeah, if you run for the person who's willing to hustle, right? I always tell people there's nothing wrong with owning preconstruction condo. And if that's your goal for someone wants to hustle and scale, then that's not going to work.
Georges
Well also if you want to compare values, so let's say that condo today, okay, she sold it, or we sold it, I think for 530 or something at the time lesson a pretty nice condo. Yeah, yeah, it was one plus 10. And then we bought the four Plex in St. Catharines. For 465. The legal fourplex we refinance that four Plex a year later for 840. So we did some work to it. Like we renovated two of the units, actually, sorry, three of the units we renovated. So we put some money into it. Yeah, 840. If you look at like even today, I don't think that condo is worth 840 Today, I think it's worth less it's probably worth 750 would be my guess somewhere in that range.
Erwin
Can you rewind the condo? Can you share what you originally paid for it?
Georges
I think she paid maybe 425 or something in that range.
Erwin
So still fantastic investment.
Georges
Yeah.
Erwin
Alright, so just to recap the condo north, you're paid around for 25 as a pre con pre K.
Georges
No it wasn't pre con it was like Sorry, relatively new was like three years old. Just kidding at the time.
Erwin
Yeah. Yeah. Nice. Time to get it.
Georges
Yeah.
Erwin
So bought 425 sold for 530. Yeah, in a pandemic.
Georges
In the pandemic at the height, like just maybe three months before we sold it. It was worth like, 570-560-5570 came down. Yeah. Yeah.
Erwin
And you decide to put more money in the real estate market?
Georges
Yeah. Yeah. Cuz I had seen what was going on, because I had sorry, and we're kind of jumping all over the place. But I had bought a place in well, and that did really well as well. So I'm like, Hey, let's just take this money, put it in that area where we're doing well, there. So but yeah, anyways, keep going with your numbers.
Erwin
I think I'm good. So I paid 425. It went up in value to 570. Because the market was hot. Yeah. And pandemic hit. Yeah. But yeah, condos were among probably the worst performing asset during that time. And then for anyone who listened to me, I was saying, you know, while we're early pandemic, like, to me the best investment is condos and student rentals. Yeah. And even if you can't buy a condo, if you're a renter, like go rent something, lock it lock up that new rent. Yeah. And that would have worked out well. Because if someone who rented if someone got that rented your condo for 1700. Lock that in?
Georges
Yeah. Yeah, we would have been stuck. And that tenant probably wouldn't leave me to see what rents are now. Yeah.
Erwin
Wouldn't for the tenant. Sucks to be because the market rent was likely bounced back.
Georges
I think it has Yeah, yeah. I'm pretty sure like, I don't really monitor that area too much. I'm not really in that market. But last time I checked, it was a lot higher than 1700. or
Erwin
Pretty close to previous.
Georges
I think so. Yeah. I think it was in the mid 2000s. Maybe low to mid 2000s. Yeah.
Erwin
Because we're seeing it now. I'm seeing a lot of headlines about the back to work. Yeah, people are being asked to go back to work. Yeah. So let's see lots of pain on that.
Georges
Oh, yeah. And condos are hot right now. Like we had a client that was looking for a condo we looked in Vaughan, Mississauga, Oakville, everything had multiple offers on it. So we know that that condos are back now is just, you know, like for our model, we prefer these multis, it's it just works better for us.
Erwin
Yeah, again, is I need I need higher rents to in order to be able to get refinancing. Get more.
Georges
Yeah, it's more sustainable over time.
Erwin
For growth.
Georges
Yeah, right. Yeah.
Erwin
Yeah, cuz the condo models not gonna work for growth unless your your income is exponential, like our real estate is.
Georges
Yeah. Yeah, that's true.
Erwin
Cool. Cool. What's your wife think about all this? She's supportive. Imagine Yeah, she sold her house. She sold her home.
Georges
I sold mine too, by the way. Just just to be fair to live in the triplex four Plex? No, we don't live in it. I sold I had bought this little bungalow in Hamilton in a pretty bad area. North End. But yeah, so I had this place and I had it rented for 1350. Then we were just kind of looking over everything and I'm like, Hey, I lived in this place for a bit but it doesn't really make sense for us to keep it as a rental anymore. So ended up selling it got a good price and dumped a bunch of that the sales proceeds into a renovation that we had going on I one of our multis, so I'm not just telling her what to do. I'm kind of doing it myself, too. So yeah,
Erwin
Where do you live now?
Georges
We live in Brampton.
Erwin
Bounced around.
Georges
I grew up in Brampton, my wife's family's in Woodbridge. So she wanted Brampton because it's close to my family and close to her family. I didn't want to be encrypted. If it were up to me, I would have been in Oakland.
Erwin
Not bad. I'm obviously biassed. Yeah. So what other investments do you do? Actually, let's go let's killing to deal with this with this real estate. So what's the plan now? Are you looking to buy more Multis?
Georges
Yeah, the goal is to buy some more Multis. We have a cash flow goal that we want net cash flow.
Erwin
Would you share?
Georges
yeah, our goal is to get to 15,000 a month in net positive cash flow.
Erwin
Can you share where you're at now?
Georges
It's kind of hard to say we're not because we have a bunch of vacant units. Like we I have one building a five Plex that's completely empty because we're renovating it. We have a triplex that has two empty units. So if I gave you what our cashflow is now owed wouldn't be terrible.
Erwin
In the last year, well, thanks. Appreciate sharing, because that's the reality of a growing portfolio. Yeah, no, definitely like a growing growth stock. Like, say, robots, for example. They don't make any money. Yeah, they're supposed to grow. Right? Like you're just doing your growth stage not expected that cash flow.
Georges
Not right now.
Erwin
You're speaking to negative cash flow?
Georges
Yeah. Yeah. It's kind of challenging in that sense. Because like, when you have a five Plex that's totally empty for months and months, because you're renovating it. It's not easy. But you have to set money aside for that kind of thing. Right. But yeah, I think it's important to say there's all this glamour around having cashflow. And some people think, well, I'll just replace my income right away. I think it takes a couple years before you get to that point. And you've got a depends on what kind of properties you're buying, but we're buying fixer uppers and those ones, it takes a few years to really get them to perform at their highest level. So something to keep in mind for investors.
Erwin
Can you share how you you're finding these deals?
Georges
So some of the ones that we found a couple years, two years ago, roughly, I did a marketing campaign directly to owners. And we picked up the the five Plex that I just mentioned in well in we picked up the four Plex in St. Catharines. That way, sometimes we find deals straight off the MLS. And recently I actually picked up a nice deal off another realtor, an exclusive or a pocket listing. I got four side by side townhomes freehold with a 73%, VTB 1% interest.
Erwin
Sorry, he owned these who did the realtor own the more and all his or her client? Yeah. And they're willing to give up the VTB. Yeah, in this market?
Georges
Yeah. Yeah, that's pretty crazy.
Erwin
What was the motivation that they would take a VTB?
Georges
The rents were really low. And the owner owns a lot of real estate. So he understands the game. And he just said, like, I'll do it for one year. I'll help you out. Because I know there's a lot of work to be done here. So I think that was the motivation. He was kind of helping out. Your fellow investor.
Erwin
Isn't it nice to work with people to speak the same language?
Georges
Yeah, it's awesome. I love it.
Erwin
And let's just let's, let's give some context. How you Realtors you think know what VTB is level negotiate? One? I've actually negotiated.
Georges
I think a lot of them have heard of it, but they don't understand it. I'd say like 95% of Realtors don't understand it yet.
Erwin
So they're naturally going to be afraid of it.
Georges
Yeah, for sure. They're gonna, they're just gonna say no, you'll be like, Have you even discussed this with the client?
Erwin
Lawyer and the lawyer is gonna say no to yes.
Georges
It's true.
Erwin
That's awesome. Sorry, when you mentioned them, when you send the marketing campaign to owners of fire. Google AdWords.
Georges
It was a flyer.
Erwin
So very targeted, like you dropped people in the door.
Georges
Like, yeah, actually sent to in the mail. Yeah. So what I like to do sometimes I used to do this, maybe more, but I would just drive around, pick out certain properties that I liked. Either drop off a flyer or mail it to them.
Erwin
Driving for dollars.
Georges
Yeah. Yeah. So that I've had some good success with that kind of thing. Nice. Yeah. Cool.
Erwin
Do you do this for clients too?
Georges
No.
Erwin
That's what people need to understand that how much work this is. Yeah. Right. Yeah. Because you're investing a lot of time. Yeah, to do this. And then it's not like these deals match to this happen. You someone flyer doesn't deal with this happen. Right? Like, how long does it take to do a deal? Can you share some metrics? Like how many flyers yet? So you're driving for dollars as a highly targeted?
Georges
Yeah. Even even with that I still get depending on the campaign, a one or 2% response rate? Yeah, even recently been on the direct flyer. Yeah. Wow. Yeah, yeah. So one to 2%. And then out of those I call, I might get, like, one out of five of those calls, leads to an opportunity because four of them, either the owner is not that motivated. They're overpricing it, or they're just curious to know what you're gonna you know what what price you want to give them tire kickers. Yeah. And then you'll have that one out of five that's like, Hey, I'm actually thinking about selling. So yeah. And then you might go over there. And you might see like, this place is in really, really rough shape. And I just, I don't see how this doesn't fit my, my portfolio. So it's pretty rare. Like it does take a lot of work and a lot of screening to get to that one property that you'll actually buy.
Erwin
So I can't just offer to pay you a commission and you do this for me.
Georges
I mean, I would do it but I'm not that focused anymore. I'm not as focused on like, just finding deals for other people at this point. I'm finding I'm just reaching, trying to reach our goals for now and I help people along the way, but yeah, it's kind of a different phase of my life at this point.
Erwin
That's pretty cool. happy for you guys. I tell I tell beginner Realtors all the time, like people who are interested in getting in. I always start off with, please understand investors make more money than realtors. Yeah. Right. Yeah. If you want to be a realtor, it's purely cashflow play. Yeah, right. It's a job. Yeah, it can be very lucrative. But I know lots of real estate investors will make more money than us for sure.
Georges
Yeah, that's really important to know. Like, I wish more Realtors would understand this and spend more time investing because it's going to change their lives. I know tunnel.
Erwin
We don't want them to do that. Then there's some competition for us.
Georges
It's yeah, yeah, maybe maybe stick to the north there somewhere like Barry or something. No, I hear all these great things about Sudbury. So yeah, North Bay. But yeah, it kind of makes me sad to see that 75 year old realtor that's still working because they have to, you know, it's you're in the industry, you should be investing at least by one one rental property. But again, it's harder than it looks like dealing with tenants. You know, we all made mistakes. When we started investing. We've all got, we've all put ourselves in a position where we had a crappy situation. And it was stressful, and you have to dish out a bunch of money. And then you never make that mistake again. It's just part of life, right part of investing.
Erwin
Yeah, I have conversations with all these people that want to be entirely passive. So they'll tell me about, Oh, this guy's offering this and he's guaranteeing that rent for however long and I'm like, I don't trust that guy. Want to just buy a property yourself? buy anything? Yeah. Right? Because I wanted us to call me. Like, do you understand that your worst case scenario versus losing your investment is my worst case scenario? Yeah. If you invest with someone else. Yeah. Like, people just don't want to put in the effort. Yeah, yeah. The worst case, which is possible, you and I know people who've lost all their money on passive investments. Like that doesn't sound worse than attended calling you. Yeah. Yeah.
Georges
Yeah, they're both stressful, obviously. But one is worse than the other. But, I mean, you could you could lose everything. If you make big mistakes in real estate investing, like we've gone to the tribunal where we've experienced a guy who had three separate cases with tenants. And among the three or across all three, he was owed over 100 grand in rent. Like that's, you've gone way too far. If that's how much rent the tenants oh, you should have filed and hired a paralegal and done it properly. Way before. Don't let yourself get to that point.
Erwin
But you said it though. Do it properly. Yeah. Yeah. If you're exposing 200 300 grand, isn't that worth doing it properly? Yeah. Pay pay a paralegal three grand or whatever. Hire property managers, screen tenants. Yeah. Use. Use landlord credit bureau to screen tenants. Yeah.
Georges
And I was I made that mistake when I started. When I bought my first property. I found the tenants and I did a terrible job. I found really bad tenants. And I had to go to the tribunal and lose 1000s of dollars. And it was part of the experience and I never made that mistake again. I use a property manager now I work very legal. I do everything the way you're supposed to do it now. And we it's been so much better, obviously. Right.
Erwin
Sorry. You share you live in Brampton, your property sound like they're all Hamilton further west of you.
Georges
Yeah. Niagara.
Georges
And so they're all under Park Management. Okay, so we're high managing the ongoing stuff, but we have a property management to fill our property manager that fills all our units. Yeah.
Erwin
Anything else you outsource? Are you unplugging toilets? And oh, changing them?
Georges
No. No, I don't do any of that. We've got plumbers, electricians, everything. I don't want to drive out to well, and to fix it to I don't even I think it changed the toilet once. It did a terrible job for you if it was in my own house. I put the bolts in the wrong place. And the tank was leaking. And I had spent so much time trying to fix this that toilet. So after that, I said I'm paying somebody to replace toilets for the rest of my life. Never doing it again.
Erwin
Yeah. Anything plumbing related to our high risk if you do it wrong. Yeah. Well, you know, in families, I've had leaks and properties that can cause a lot of damage if done wrong. Yeah. Yeah, that's fine. Don't mess with it. No, for even in my own home. Maybe if it was in the basement, so like, you know, so it's near. It's not that far from a floor drain. Yeah, dare risk it, doing it myself. But yeah, I categorise that with electrical. The worst case is just too much for me for sure.
Georges
Yeah, yeah. But I thought changing a toilet would be easy. And I was like, Hey, I just want to learn how to do this. That's why I'm just curious. I want to see how hard it is to change a toilet. Right? I don't want to do it every day.
Erwin
Just watch YouTube.
Georges
Yeah, you can watch YouTube but the bolts I don't know, it was just too similar bolts. I put them in the wrong place. And it caused the leak. So I have to pay someone like 200 bucks just to replace the bolts later because I rented the house after and the tenants are like, hey, it's leaking. Okay, so I got to spend 200 bucks on where I could have just done that originally.
Erwin
Wherever you're lucky as always. 200 even cause any damage. Yeah, like a ceiling leak or something. Yeah. Inexpensive, inexpensive problem. Anything else you wanna chat about?
Georges
Anything else?
Erwin
I want to ask is your realtor. Yeah, we used to be along the same one. Yeah, you left not me because people always ask me if I'm still at rock star. I think you own rock stars. Because of stuff that I've said, that implies that I own it. I'm gonna go home rock star real estate and you've been to different real estate brokerages. Yeah. So I only bring this up because I know there are aspiring realtors who listen to the show. How did you choose? Where have you been? And how did you choose?
Georges
The first office I went to I picked it. It was a real page office because it was a nice office. They had like glass doors, and nice little offices, whatever. So I was like, Okay, this looks like a nice place to work. I'll work here. Second place was Rockstar. And I picked it obviously, because it was investor focused. And that was my goal. And I had to fight to get in Nick didn't want me. I was like, Nick, I'm not taking no for an answer. I just kept pestering him until he said yes. And then I eventually switched because there was a an investor at KW. That was like, recruiting me pretty, pretty heavily. And I really respected this investor. So I wanted to learn from him and be close to him. And that was the reason that I left and then I stayed. I've been with kW ever since my wife and my mother in law, they're both realtors and we all work together and word of the kW and Vaughn. So that's the reason. But to be honest, rockstars one of the better experiences that I had, I loved the morning meetings, just talking to investors all the time making Tom and Nick's brains on marketing. They have so much knowledge. It's an awesome place.
Erwin
Yeah, if you'd stick around, you're playing some bitcoin.
Georges
Yeah, probably for better or worse. I know. Yeah.
Erwin
Yeah, I appreciate being around Rockstar. And to add to that, you know, be able to talk about economics with Tom and Nick time, you talked about being a business owner with them as well, and then even talking to like, the other successful realtors that are around what they're seeing in the market. And I don't have I don't know what it's like in other brokerages. That's why I ask people like yourself, you know, what is the grass really greener on the other side?
Georges
Well, if your goal is just to sell homes and not work with investors, then maybe Rockstar is not the best place like you can find another brokerage that'll serve you better. But for investment focused, I don't know if there are too many brokerages that focus on investors other than Rockstar.
Erwin
Maybe small ones that are started by people that we know.
Georges
But yeah, yeah. There's a couple of maybe I'd Yeah, it's this one. No, yeah. Cool.
Erwin
And then oh, the your, your wife and your mother in law. Was that more recent? Were you the agent first? Or were they first to be licenced?
Georges
No, they were. They were licenced before me.
Erwin
Oh, you're recruited these people?
Georges
Yeah. Yeah, they were they were looking for a change. We were all gonna join forces. And yeah, I just told them kW has been good. And I think it offers room to grow. And at first they were so against it, because they were Remax. And, you know, ReMax is all about the marketing and whatever. And they're like, we can't change, people aren't going to work with us anymore. And whatever. And we went had the meeting with kW, and they they liked it. And so.
Erwin
Yeah, that's interesting, because I mentioned to my marketing team, that we have to push a personal brand. Yeah. Right. Like people don't even know I worked for a rock star. Yeah. And then some people actually think I own it. That's a much smaller number. That's the only thing it because I haven't heard of it before. Yeah. So it's the first time you hear it, they think that you own it. Right. Right. That's my experience. When I mentioned I were a rock star like, oh, I never heard that you own it. You're a broker? It's like, No, it's not my brokerage. Have you never heard of it before? Yeah, but because we're small. Yeah. And the goal is never been to make a huge Yeah, I can't speak for them, because I'm not an owner. But again, the point was, their focus is investors. And it's not for everyone. That's true. Because, you know, investors can be hard to work with. Yeah.
Georges
And you're always on the buying side with investors, right? For the most for the most part, like Yeah, you get some listings, but in a market like the way it is now, it's a little bit tougher for buyers. So you face some challenges in that sense.
Erwin
Yeah. Yeah. That's like doing someone who's interested in getting their licence just yesterday. Just you know, like, I love investing in laptop investing. Good. Lots of will do. And lots of investors will take your time and they'll be nothing in it for you. Yeah, they'll gladly waste your time because people don't have to invest. Part nearly as motivated. Like when people when you work with homeowner homebuyers, for example, they often have a really motivating reason, job change. They need to upsize because there's a baby on the way you know, you know, the feeling. Yeah, right, versus an investor's. It's really, you don't have to do this It's true, right? At least bless the masses think, like from from from your background like, like knowing what inflation hyperinflation looks like. To me, that's incredibly motivating. You have to do something to hedge against inflation.
Georges
But that's the nice thing about working with investors. If you get that one investor that's driven, you might do five, six deals with them in a short period of time. Right? So you're not maybe not working with as many people, but you can group them all. Or sometimes it'll buy a full portfolio and you just do like five transactions at once.
Erwin
Yeah. And then if you have other investors, like they want to buy when, so I have investors want to exit because I've been around for a while. So they've gone they've aged with me. So now they're exiting. Yeah. You know, taking some profits too. Cuz they're near retirement age. And then we have clients that will buy them. Yeah, nice.
Georges
Oh, yeah. That's awesome. Yeah, you're a good person to be in touch with for that.
Erwin
Well, yeah, like you said, like, you had to do a pocket deal to do an exclusive deal. Yeah. Do you know wants to fight over property on MLS or realtor.ca?
Georges
And I wouldn't have gotten a VTB if it was an MLS deal. Most likely?
Erwin
Yeah. Yeah. That's the wild part. Yeah. For me, I always try to list everything on realtor.ca. I don't know.
Georges
I didn't ask him any questions.
Erwin
Of course not. To deal. Yeah. Yeah. What some? I'm always I'm always it's I think it's funny. Why. Yeah, there's pluses and minuses, because if you put on realtor.ca You're gonna have a wave of people going through that those four townhouses? Yeah. So were they all rented?
Georges
Yep. They're all rented.
Erwin
Okay. Yeah. I don't know if people appreciate how hard it is to show property that is rented. Yeah, that's right. The tenant has no motivation to allow people in
Georges
Actually not during a pandemic or during whatever, right. Like, yeah.
Erwin
We have a high incidence of properties that were trying to sell attendance, high innocence, they already have COVID. And they can't allow showings.
Georges
So I find some tenants say that, like, there is one tenant I had in my building every single time I'd see him. He says, no, no, don't come close of COVID. And this was like, you know, every couple of weeks had seen him. I think part of it was lying, because he didn't want anyone to enter his unit. But whatever.
Erwin
Yeah. Having tenants does not actually help resale value. No. But yeah, it sucks to hold a property that's not as vacant. Yeah. So why did you choose these areas to invest? What markets are you looking to expand in now? You mentioned Hamilton, St. Catharines? Niagara, welland?
Georges
Yeah, just Yeah, well, in St. Catharines. And Hamilton, those are the three areas I don't really think I'm going to go anywhere else. I don't want to. If I have to funk driven out for whatever reason, then yes. But yeah, those are the areas I like and really well into was introduced to me by another investor. A few years ago, he bought an apartment building there. And he bought it for like a million bucks. It was 21 units. So that was my first introduction to Welland. And I went to see this building. I'm like, wow, this is nice. This is like I can see this area kind of growing. I understand that it's close to whatever this and that and, and then, yeah, I started exploring opportunities.
Erwin
A million bucks is hilarious.
Georges
I know, for 21 units crazy.
Erwin
How's it? Is there any way? It's not under over $2 million?
Georges
I don't know. So it's got to be probably a 3 million I would guess.
Erwin
That's pretty good.
Georges
Yeah. And this was, I think, around 2017, that he bought it.
Erwin
Oh, during the correction in 2017.
Georges
I don't know if it was an off market deal as well. So yeah, I don't know. I don't remember. But the correction was mostly for like residential homes. Right? Because it was the first time buyer. They hadn't they had put in the stress test. Right. Yeah.
Erwin
It doesn't take much to spook the market. Because neither of those things bothered us. Yeah. So actually looked back. And as a business, we actually did left way less transactions after the fair housing plan came into effect. And the stress test, even though really didn't change anything for 99% of our clientele. Right. They just got spooked.
Georges
Yeah. And it also kind of could trigger some people to sell. Like, we have some clients now because of this interest rate hike, which was almost nothing, point two, five, and this lady calls us and she's like, I think it's time for me to sell this. I'm kind of worried that this interest rates going to impact the market. Okay, that's interesting that like that tiny thing caused some people to sell their homes. But yeah
Erwin
We're seeing some softness now. Yeah. So I've told our clients if you have plans to sell them in 12 months, next 12 months, this would be the time Yeah, right. Just in case we have to 2017 is it'll take some time for the market to recover. So for anyone who's buying holding long term like I am, yeah, yeah. Holding stuff for my kids, right. Like, I plan on holding stuff for like over 10 years. So this doesn't faze me. You're not selling anything. Yeah, yeah. But if anyone, like for example, I have a client who has a flip. I'm like pushing them. Get it. Get it ready. Yeah.
Georges
Yeah, that makes sense. or maybe for some people who are downsizing it could make sense. capitalise on the market now and yeah.
Erwin
Or even the refi is done now. Yeah. Right. Like, take advantage of this. The worst seller's market I've ever seen. Yeah, get your reifies now get your appraisals done now at these all time all time all time highs.
Georges
Yeah. Crazy Crazy
Erwin
And be ready for in case it does dip has metadata available for sure. George, anything else you want to cover?
Georges
I don't think so.
Erwin
You don't ever look.
Georges
I don't have a book. No, I have a podcast.
Erwin
And it's called the well off podcast.
Georges
You've been on it.
Erwin
Thank you for having me on.
Georges
Yeah, my pleasure.
Erwin
Hopefully people aren't worse off for having listened.
Georges
I doubt it.
Erwin
Where can people find it? Welloffpodcast.ca, Spotify, Apple podcasts
Georges
Would you recommend Realtors do so what is your goal with the podcast?
Erwin
Actually, I really just want to like motivate people and and help them improve their lives by investing not just sitting on the sidelines.
Georges
So you think people should still get in? Interest rates are going up? Absolutely. Absolutely get in. If you can get in you won't regret it and 5,10 years.
Erwin
Do you have a lot of people that challenge you on that opinion?
Georges
No, not really.
Erwin
Yeah, even newbies?
Georges
Okay. Yeah, sorry. I shouldn't say that. I think some people, they create these excuses for themselves. Like I'm not going to invest now. I'm just gonna wait because I think the markets gonna dip. I think there's gonna be a correction, I'm just gonna win. That I don't know, they wait a long time. And by that point we've made how much in equity and cash flow and all these things. So I just don't think it's a good strategy to just sit and wait.
Erwin
The reason why I mentioned that. When I look back at our stats for 2017. A lot of people did not buy the dip. Right? They actually waited to the market recovered. We sold way more properties till after the recovery was done. Yeah. Right. So all this dip buying in reality people say it. They don't actually do it. Right. That's true. That's true. True. Oh, we're gonna wait for the dip. We for the dip. The dip comes. And you find another reason to wait. Yeah. Then they get cold feet. Not not. Like, I understand. No one knows what the bottom is. Yeah. But my point is, they don't do it.
Georges
Because you start building a habit of waiting. And then, you know, the people who are buying they build a habit of buying. So they're buying before the dip they're buying during the dip. They're buying after the dip. And they're just their portfolio is growing.
Erwin
I have no interest in showing off to anyone. Yeah, I bought two houses in 2017 in the fall near the bottom of the dip. Yeah, right. In the pandemic. We bought two houses last year, like well into a dip. Yeah. Very well for us. So even in the stock world we teach I teach people that you need to exercise that muscle of buying dips. Even if just one share. Soon as soon your favourite. You have an iPhone, you have an Android or an iPhone, iPhone. So you'd like apple?
Georges
I do.
Erwin
So my suggestion to someone would be buy one share of Apple during this dip. Yeah. All right. If you don't if you start that still doesn't make you feel comfortable. Do it on paper. Yeah. Right. So then you you build that muscle. And then at least you're not waiting. Yeah, right. build that muscle being an action taker. Yep. And then then look back. How did it go? How did it feel? You regret it? Are you happy with it? And then learn from that move forward? Yeah, for sure. Yeah, I want to buy some bitcoin this week. We'll see if I regret or not. Yeah. Adam Bitcoin time. Oh, yeah. This is not a financial advice, folks. Please. This is just our experience and some really idiotic ideas. If you're licenced, or licenced, George and I are licenced in real estate. We didn't talk about real estate all day. So you're not you're not capital raising at all?
Georges
Yeah, yeah. I am. Like these townhomes. They have individual titles. So I was able to get separate partners for each nice. I have one left that I don't have a partner on. But I have the three of them with our partners.
Erwin
Fantastic. Yeah, they have to be happy.
Georges
Yeah. Well, I think it's pretty good deal.
Erwin
May I ask did you based on? So did you have to sell it to them? Or before the deal closes? They got put on title type thing?
Georges
Oh, it's a VTB. So okay. Yeah. So like, I'm on title and the owners trusting me. Right. So I'm not gonna start like swapping names and doing this and that. So yeah, we just have a co venture agreement.
Erwin
Got it. Yeah. And then for that CO venture did did the price go up for each individual unit? Or did you just give them a deal at the same? Yeah, the same that as a sweetheart deal.
Georges
I got a pretty decent deal on and two, I think like there's a decent discount on on the properties.
Erwin
So these properties built up equity on day one. Yeah. They made money on the buy. Yeah, it's pretty sweetheart deal. Because I bet you most deals like this do not happen like that.
Georges
Yeah. I never even thought about increasing the price on our agreement. That'd be pretty smart. Actually.
Erwin
I've ruined George for everyone. Oh, I bring I bring it up because other passive investments I've looked at, that's what they do. Yeah. Right. All the power to them. Like, I'm a bit of a capitalist as well. If you can do it, why not? Yeah. Right. So, you know, make your money. So you have money for rainy days. Yes, there will be other there'll be other rainy days going forward. Yeah, for sure. And yeah, you bear lots of risk. Yeah. Do you on the BTB? Right. So you're bearing lots of risk. Cool. George, something to think about? Thanks. I always want to allow my guests to have some time to share what it's like to have an open mic. Yeah. That's the first time I've called it that. Any other final thoughts? Maybe something for beginners? Maybe something for people afraid of? Anything?
Georges
Beginners, don't overthink? You're not going to have all the answers. You're never going to have all the answers. We talked about this earlier. Every single purchase I've made so far. I felt have never felt like I was 100%. Ready. So if you're gonna wait for that time, it's probably too late. So just go just go for it. Do something. Don't wait.
Erwin
So I have this habit of always thinking overpaid on every single deal. Yeah. And so as a team, we do a well over 100 deals every year. I think we overpaid for all of them. Yes. It's It's laughable. But you know.
Georges
I feel that way too. Yeah. And then I look like we bought a place in September at the time I thought. I was like, oh, man, I kind of think we overpaid for this. It's gone off like 300 grand since then. Did so I don't think we overpaid anymore.
Erwin
Yeah, we're paying around 840 For duplexes last fall. And they're all over a million now. Yeah, very between 1.1 1.2 Yeah. Right. So yeah. I thought, well, I can't go any higher. I'm not saying people should chase prestigious appreciation. But I do think there's a chance of a dip, there could be a great opportunity. And that can be the life like since 2017. It's been five years. Yeah. Right. Who knows when the next opportunity to buy is. So this, you know, I'm preparing our clientele and our team. But you know, this could be the next buying opportunity and buying opportunity for the next person the next 10 years. 5,10 years. Right? It's true. Because immigration ain't going nowhere, right. can't build nothing.
Georges
Yeah, it's not like the supply is increasing. At a very slow rate.
Erwin
I actually saw this I went to a presentation this week. So it was never explained to me this way. I actually don't know why I didn't know this number. But we have over 1 million job vacancies in Canada. How do you fill that? Right. And so you have no option but immigration? Sure. Right. So yeah. So then if we know we have to have immigration to fill these job vacancies, and we know the government, what the government's plans are, where these people are going to live, right? Crazy. Yeah. Magic grandpa saw you now forming all these hard assets?
Georges
Yeah, I don't know what he would think. I don't know. I know my parents are happy.
Erwin
That's pretty awesome. Yeah. This is not like didn't go through a lot to get here.
Georges
Yeah, for sure. My life was a lot easier than theirs. That's for sure.
Erwin
Pretty cool. All right, George, thanks for doing this.
Georges
Thank you appreciate the time and you have me on.
Erwin
Don't be a stranger.
Georges
All right, cool.
Erwin
Before you go if you're interested in learning more about an alternative means of cash flowing like hundreds of other real estate investors have already, then sign up for my newsletter and you'll learn of the next free demonstration webinar I'll be delivering on the subject of stock hacking. It's much improved demonstration over the one that I gave to my cousin chubby at Thanksgiving dinner in 2019. He now averages 1% cash flow per week, and he's a musician by trade. As a real estate investor myself, I got into real estate from cash flow, but with the rising costs to operate a rental business, it's just not the same as it was five to 10 years ago when I started there. Forget the cash flow reduces your risk. The more you have, the more lumps you can absorb. And if you have none, or limited cash flow, you're going to be paying out of your pocket like I did on a recent basement flood at my student rental in St. Catharines. Ontario. If you're interested in learning more register for free for my newsletter at www dot truth about real estate investing.ca. Enter your name and email address on the right side. We'll include in the newsletter when we announce our next free stock hacker demonstration. Find out for yourself but so many real estate investors are doing to diversify and increase our cash flow. And if you can't tell I love teaching and sharing this stuff.

To Follow Georges:
Podcast: https://welloffpodcast.ca/
FB: https://www.facebook.com/georgeelmasriWO/
IG: @welloffx
HELP US OUT!
Please help us reach new listeners on iTunes by leaving us a rating and review!
UPCOMING EVENTS
You are the average of the five people you spend the most time with! Build connections with empire builders and trailblazers at our iWIN events.
BEFORE YOU GO…
If you're interested in being a successful real estate investor like those who have been featured on this podcast and our hundreds of successful clients please let us know.
It is our honour to give back and educate others on how we build cash flowing real estate portfolios using all the best practices shared on this podcast, from the lessons of our hundreds of clients and of course our own experience in owning investment real estate.
If you didn't know already, we pride ourselves on being the best of the best real estate coaches, having the best property managers, contractors, handy people, cleaners, lawyers, accountants, everyone you need on your power team and we're happy to share them with our clients to ensure your success. 
New investor or seasoned veteran investor, we can help anyone by providing our award winning coaching services and this isn't all talk.
We have been awarded Realtor of the Year to Investors in 2015 by the Real Estate Investment Network, 2016 by the Canadian Real Estate Wealth Magazine and again in 2017 because no one told the judges no one is supposed to win the award twice but on merit, our peers deemed us as the best.  In 2018, we again won the same award by the Real Estate Investment Network.
Hopefully being the most decorated team of Realtors in Ontario will make you consider us for your first or next real estate investment.  Even if you don't invest in our areas, there's a good chance I know who would be ideal for you. 
I've been around for a while, some Realtors are talented at servicing investors there are many with great ethics.  The intersection of the two, talent and ethics is limited to a handful in each city or town.
Only work with the best is what my father always taught me.  If you're interested, drop us an email at iwin@infinitywealth.ca.
I hope to meet you at one of our meetups soon.
Again that's iwin@infinitywealth.ca
Sponsored by:
Infinity Wealth Investment Network – would you like to know how our investors returned 341.8% on positive cash flowing real estate over the last five years? On average, that was 68.4% per year.
Just imagine what winning in real estate could do for you.
If you would like to know how we did it, ask us how by calling 289-288-5019 or email us at iwin@infinitywealth.ca.
Don't delay, the top markets we focus in are trending upward in price, so you can pay today's price or tomorrow's price.
Till next time, just do it because I believe in you.
Erwin
Hamilton, St. Catharines and Toronto Land Development, Real Estate Investor, and soon to be builder.
W: erwinszeto.com
FB: https://www.facebook.com/erwin.szeto
IG: https://www.instagram.com/erwinszeto/
https://www.truthaboutrealestateinvesting.ca/wp-content/uploads/2022/03/Georges-El-Masri.jpg
630
1200
Erwin Szeto
https://www.truthaboutrealestateinvesting.ca/wp-content/uploads/2017/06/TruthRectangleLogo.png
Erwin Szeto
2022-03-29 17:32:59
2022-03-29 19:19:09
Trading Condos for Multifamily Rental Properties with Georges El Masri