The SingleKey to Screening and Insuring Tenants Thanks to Technology With Founder Viler Lika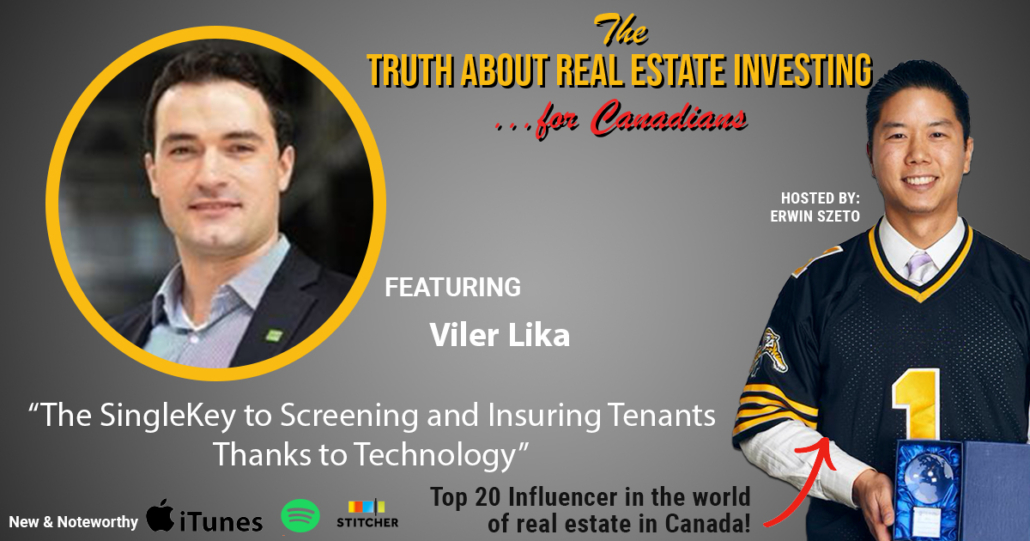 The interesting thing about this show is that I never know what episodes will perform well, and Ben Bergen's episode did indeed surprise. 
Who knew you, our 17 listeners, would be interested in a newer investor who almost lost it all even though they'd spend around $50,000 in real estate investor coaching?!  
Please allow me to reiterate… Based on my observation, what allowed Ben to survive was:
A) He was local to the investments, so he had a team and could be hands-on. 

B) Ben's construction background and full-time involvement allowed him to control his renovation costs.
For an out-of-town investor who doesn't understand renovations, how to work with contractors and has no income coming in as they already quit their jobs due to promises of retiring on real estate? 
That investor is flirting with disaster!
I'm not saying don't go big, just go about it slowly, ideally have deep pockets from a quality portfolio of properties for security and have better mentorship/coaching than those who went bankrupt recently. 
I've had several guests on this show who followed this exact path: Charles Wah, Steve Kulakowsky, Ken Bekendam, Victor Menasce, Ryan Carr, Sarah Coupland, Quentin Desouza, Hussein Kudrati, Denise and Stuart, my wife Cherry Chan.
All of the above investors benefited from the market, time in the market; they are skilled investors, already made good incomes before investing, and some have extensive renovation and construction experience. 
In addition, some benefitted from intergenerational wealth.
The whole point of this show is to share with you, my 17 listeners, what has worked and what didn't. 
None of the above investors went as highly leveraged with expensive debt as the folks losing their shirts right now.
Back to our last guest Ben Bergen, what surprised me was how many folks DM'd Ben and me their approval in sharing the truth about real estate investing, including near bankruptcy.  
One said it was refreshing to hear an episode that was not all cheerleading Ra-Ra, getting rich quickly with high leverage in real estate.
Ben is hearing the same, including some big names in the industry sending along positive messages. 
It's as if investors derive value from learning from loss, so they may avoid the same, which is why I don't understand why some of these networking/coaching groups are not open about the losses going on within their own four walls.  
Even Warren Buffet shared his lessons from the Kraft-Heinz merger and why his airline investments were losers.
I do believe all the educational groups mean well, but teaching excessive risk, not sharing about losses in my experience… note that I've seen all this before, excessive greed, ego investing in 2008 and those who fail to teach history fail to prevent their clients from repeating history.
Shout out to professional coach Elizabeth Kelly for referring Ben Bergen to me as a guest on this show!
On a personal front, Cherry and I had a fantastic March Break. It wasn't without bumps, though. 
We found out last minute that our short-term rental, STR for short, has a max limit on occupants, so we had to borrow a friend's cottage while our friends stayed in the STR.
We skied for five days… well, at least the kids and I did, as they were in March break camp. 
The other parents are mostly Accountants, so they couldn't ski much as it is tax season, including Cherry, so I booted around hills checking in on everyones' kids.
I hung around my kids' camp group for a bit as well as 80% of the time; I had no one to ski with. 
I was welcome as I stayed out of the way, and I had some use as the kids were just learning to lower the chair lift's restraint bar. That's their seat belt when riding the chair lift.
By midweek the kids had learnt how to lift and raise the restraint bar, so I was getting ditched, which made me emotional. 
This small moment is a reminder that the kids are growing up and need me less and less. 
I know they won't want to be around me next season as my dad jokes that I tell their friends are terrible, and soon enough, this old man won't be able to keep up with them.
I'm grateful to provide and enjoy these experiences with my kids as my parents immigrated here when they were 17 from the tropical climate of Hong Kong. 
With no money and anyone to teach them, they had never skied before, so I only ever skied on school trips growing up.  
To this day, I remember seeing my friends at school collecting ski lift passes attached to their ski jackets and as silly as it is. 
I do the same today, so if you see me in my winter coat with lift tickets still attached to me, that is why; I'm making up for lost experiences 😊
The SingleKey to Screening and Insuring Tenants Thanks to Technology With Founder Viler Lika
On to this week's show!
We have the founder and CEO of Property Technology company SingleKey, Viler Lika, on the show. 
SingleKey is the largest tenant screening service out there with their recent acquisition of Naborly.
If you haven't heard of them yet, you will want to pay attention to this show as in my experience, they provide us, investors, with a ton of value at affordable prices. 
The majority of the professional investors I know are already using their tenant screening, AKA credit checking online software, as it's fast, cheap, encrypted, and the reports are written in plain English. 
Even our big local REIT uses SingleKey.
Viler is super smart, having degrees in Engineering and an MBA from the same Business school I graduated from – Western University in London. 
On today's show, Viler shares his journey of starting up a real estate technology business that brought us small investors the same tools the big corporate REITs use.
SingleKey will even underwrite insurance on the tenant, which the landlord OR the tenant can purchase. How amazing is that? 
The rental market is highly competitive in most medium/major cities.  
If I had to enter a bidding competition to rent a place, I would insure my rent to set myself apart from the others.
Viler is also kind enough to share what features are coming in just a few months to forever change how we screen non-Canadians and report tenant rents on their credit/Equifax.
This is not an episode to be missed; Please enjoy the show!
As a bonus, Viler was kind enough to provide us with a discount code "erwin" my name, a five-letter word for 20% off a tenant screening background report that also works on Americans. 
20% off discount code: https://platform.singlekey.com/screen/request?promo_code=erwin
This episode is brought to you by me! We don't have sponsors for this show. I only share with you services owned by my wife Cherry and me.  Real estate investing is a staple in my life and allowed me to build wealth and, more importantly, achieve financial peace about the future, knowing our retirement is taken care of and my kids will be able to afford a home when they grow up.  If you, too, are interested in my systematic strategy to implement the #1 investment strategy, the same one pretty much all my guests are doing themselves, then go visit www.infinitywealth.ca/events and register for our next FREE Online Training Class.  We will be back in person once legally allowed to do so, but for now, we are 100% virtual.
No need for you to reinvent the wheel; we have our system down pat. Again that's  www.infinitywealth.ca/events and register for the FREE Online Training Class.
To Listen:
Audio Transcript
**Transcripts are auto-generated.

Erwin  
Hello and welcome to the investing show. It's Erwin Szeto. Interesting thing about the show is I never have any idea what episodes will perform well. And last week's episode with Ben Bergen did indeed surprise who knew that you are some good listeners would be interested in a newer investor who almost lost it all. Even though they'd spent they spent around $50,000 In real estate investor education. Please allow me to reiterate based on my inner observation, what allowed Ben to survive with a he was local to his investments. So we had a local team, and he can be hands on beyond sight the hands on, he then has a construction background. And because he's full time in real estate and allowed him to have more control in his project and control his renovation costs for an out of town investor who doesn't understand renovations, or how to work with contractors and has no income coming in. Because they already quit their jobs on some sort of promise to retire on real estate investing that and plus investor we're Flirting with Disaster. I'm not saying don't go big, I would just say go about it slowly. Ideally have deep pockets from a quality portfolio of properties or security, and to have high quality mentorship and coaching than those who went bankrupt recently. I've had several guests on the show who follow that exact path. Charles was difficult. kowski can be in the panache, Ryan cars or Koechlin. Quint de Souza, St. Good, trotty. Nice and Stuart McPherson from Ottawa, cherry. All of the above investors benefit from the market. A lot of time in the market. They're still investors, strong analyzers, it already made very good incomes before investing. Some have extensive renovation experience and construction experience, some benefited fitted from intergenerational wealth. The whole point of this show is to share with you my 17 listeners, what has worked and what does not work. None of the above, investors went as highly leveraged with expensive debt as the folks who are losing their shirts right now. That's, I think that's pretty obvious. None of them we're trying to be nearly as aggressive and grow as this fast early on. Back to our last guest has been Bergen. What surprised me was how many folks DM Ben and I, their approval and sharing the truth about real estate investing, which include includes a near bankruptcy, one said it was refreshing to hear an episode that was not all about cheerleading rah rah, getting rich quick, let alone tie leverage in real estate. events during the same event had some big names in the industry sending along positive messages, folks who did not know Ben previously, it says investors derive value from learning from loss. So they made it void the same, which is why I don't understand why some of these networking coaching groups are not open, about sharing about losses that are going on even within their own four walls. Even Warren Buffett, the greatest investor in the world, maybe because he is the greatest investor in the world. He's willing to suck up his ego and share lessons from, for example, the Kraft Heinz merger that didn't go perfectly well. Mostly the company did quite badly, or why his airline investments were losers. I do believe all educational groups mean well, but teaching excessive risk not sharing about losses in my experience. Well, note that I've seen this all before. I've seen people go belly up back in 2008. From excessive greed, ego investing back in 2008. During the credit crisis during the correction during the recession, those who failed to teach history failed to prevent their clients from repeating history. Shut up to professional real estate coach Elizabeth Kelly for referring Ben Berg into me and the guest of the show on a personal friend Jerry and I had a wonderful March Break. It wasn't without bumps. We found out last minute that our short term rental we were sharing with our friends, short term rental STR for short, had a max limit of occupants. So when we were over it, so we had to borrow our friends College, thankfully, potentially Wasn't she didn't need it. At the time. She wasn't using it at the time, while our friends stayed in an str. we skied for five days, while at least the kids and I did we see for five days as they were in heartbreak camp. Do the parents that we were with are mostly accountants. So they can see nearly as much as I did, some didn't see at all as it is tax season including green cherry. So I booted around the hills checking on everyone's kids. I hang around my kids camp for quite a bit as as well as 80% of the time I had no one else to ski with. I was welcome as I stayed away from the state of truckers way and I had some use to the kids. Because I happen to have a highly valued skill I was able to lower raise and lower the chairman restraint bar. For those who don't know that's the that's like a seatbelt when riding a chairlift at a ski resort. By midweek the kids have learned how to lift and raise their own restring bar so I started getting ditched which makes me emotional this small moment is reminder how my kids are growing up in need me less and less I know they won't be around next season. No, my dad jokes are pretty horrible. I tell them to their friend, I tell them to their friends anyways, they're kind of at the laugh, but they are terrible. And soon enough, this old man will be able to keep up with all these young kids. I'm grateful to provide and enjoy these experiences with my kids as my parents. They immigrated here to Canada, when they were only 17 from a tropical climate of Hong Kong, with no money and no one to teach them the basics of university before so I only ever skied during school trips growing up, which is already grateful for an opportunity many hours. To this day. I remember seeing my friends at school, in their nice ski jackets, they would collect ski passes, so they leave like the ski pass attached to their jacket. And that was never me. So to this now to fast forward to today. I didn't say I've had friends comment that you know, electricity tag on and like yes, and I'm keeping it there. It's silly. I know it's silly. Maybe I'm just making up for lost experiences. onto this week's show. We have founder of property technology company, Bill Lika. On the show, he is the founder and CEO of SingleKey. And if you haven't heard of them yet, you're going to want to pay attention to the show, because in my experience, they are providing investors a tonne of value at affordable prices. SingleKey is now the largest tenant screening service out there especially with their last fall they acquired a company called Naborly. So if you been an investor for any amount of time, you likely know who Naborly is single T has consumed them. So now their their tenant screening services have, you know, scaled up and include best practices from both companies. The majority of professional investors I know, were already using a SingleKey before I ever met a biller, because it's cheap. It's cheaper than it was one of the great things about technology is it's brought down the price of credit checking tenants. It's done online, using their fast cheap encrypted software. And the reports are written in plain English. Even our local bank REIT uses SingleKey and they have I don't know how many hundreds or 1000s attendance. Anyways, below is a smart, he's super smart. As you can tell. He has both degrees in engineering, and an MBA from the same business school that I graduated from at Western University in London. On today's show below shares his journey of graduating from school and starting up a real estate technology business. He was previously in financial services. And he's brought to us this company that a small investors get to use the same tools that big corporate REITs use. SingleKey will even underwrite insurance on tenants, which can be purchased by the landlord, US or the tenant, the tenant can insure themselves. How amazing is that? For anyone who follows the news or has been around or have people have friends or family looking to rent places, then you know that the rental market is highly competitive in most many major sized cities. If I had to enter a bidding competition to rent a place, I personally would insure myself, I would buy insurance on myself to be able to pay rent in order to set myself apart. Hopefully no one thinks that's a red flag that I have to buy insurance. I would do everything I'm big on winning, I enjoy winning, I will do everything in my power to be able to win in a multiple offer situation. Villa was also kind enough to share what features are coming up in the next few months that will forever change, change how we screen non Canadians and also report tenant rents on your credit, aka Equifax. This is not an episode to be missed. So please enjoy the show. You really need to know what's on the horizon for for Best Practices and Technology for tenant screening. So you do not want to miss this. As a bonus biller was kind enough to provide us a discount code. It's Irwin, five letter word starts with an E, my name. And now we get to 20% off of your tenant screening report, your tenant screening and background report. And it also works on Americans. I've included a link in the show notes. Please enjoy the show. 
Erwin  
Hi, Viler, what's keeping you busy these days? 
Viler  
Erwin, how are you? Thanks for having this podcast. What's keeping you busy? Well, running SingleKey is kind of like my day job. So that's always a nonstop project. Some of the big things that we're actually working on now in q1 of 2023 You know, we've got a brand new website coming out so keep an eye out for it two weeks from now it'll be online and we're working on completely refactoring our application. So all of the products you know and love the SingleKey are gonna have brand new look brand new features, all that stuff is coming up at the end of March. So as you can imagine, there's there's a bit of a spread now to the finish line to get a lot of these big initiatives out and excited to see kind of the results from them. 
Erwin  
So this is pretty exciting stuff and like we were chatting before we were recording. Tenant reporting has come a long way. I've been a landlord since 2005. So you know I was doing the old school and we didn't even always get a cracked was having folks papers to fill up paper forms to fill out for tenant applications. And then like the process kept changing, like the regulations around privacy and whatnot. And like, I remember literally having a tenant fill out a form. And then the company that would that was going to actually run the check said, this one's no good. It's outdated. The Privacy language has been updated. Don't do it again, like, oh, yeah, choice language for that. You know, I mean, it's so much easier now, in terms of being a landlord and for tenants to submit, especially great tenants to deal to apply for rental property. 
Viler  
No, absolutely, I think I think there's been a lot of changes kind of in the macro environment as well earned it because like, you know, 2005 was a very different real estate market than right. So I think the stakes have have increasing significantly where, you know, rents are higher property values are higher, also, it's just a much more competitive rental market, there's less stock available, there's less vacancy than, then there was historically low vacancy. So you know, now we're seeing kind of like, not only that, but also the risks are higher, too, right. You know, right now, we're in an eight month backlog at the LTV, so you don't lose a whole year's worth of rental income. So 20 $30,000 is at stake, I tell people, it's going to cost you more to have a baton in your property than if you total your car in an accident because of the losses. So what's happening now is that you'd have to be crazy not to actually do due diligence on a tenant before you put them on the lease given how severe the losses can be. So where 10 or 15 years ago, were like doing a credit check was not really kind of the mainstream thing to do, people would just kind of like meet tenants, you don't you kind of suss them out and get a good feel for them, and make a decision based on their income or whatever. Whereas now, people are going a lot deeper, and rightfully so because they have a lot more to lose if they don't get it right. So for that reason, because it is much more of a need now that you've seen a lot of a lot more kind of products in the market like SingleKey like Naborly and so they have tools out there to help landlords kind of facilitate that process of tenant screen. Because you know, and we were talking about this before, as you mentioned, you know, before, you'd have to ask the tenant to go to Equifax or TransUnion. And actually, yep, I did that. And then just kind of by the report printed out and handed over, which takes a lot of time, probably why because you know, these are not consumer companies that they sell to banks and insurance companies in the volume of millions, boards of tenants isn't really their priority. And they don't have a great experience for that reason. So I think that's where we kind of come in is that, hey, we looked at the rental application process, and they said, Okay, well, how do we make this super easy three clicks to order, like, you know, less than five minutes to get your report proposal entered, and the tenants make it a very simple, easy online mobile experience for both for both sides. And then don't just stop with the credit report. But let's ask for more questions. Let's have a full on online rental application, let's allow them to upload proof of income and pay stubs, an employment letters and IDs and pet photos and everything, they need to basically build that online kind of like tenant resume, and put together a nice package that they can hand over to the landlord. And then, you know, let's do that in a compliant way, where lenders can get like a link directly from SingleKey and not just like a PDF that can be modified, etc. So the next frontier that we're all kind of working on this year now is how do we build trust on that application? And how do we deal with some of the fraud that we're seeing in the market now, especially given how competitive the market is right now, I don't know if you've experienced any of that yourself. 
Erwin  
I see some crazy stuff. In terms of fraud. Like I was saying, before, we're recording, like, you mentioned that you mentioned a lot of risks to the landlord, because properties are more expensive, or mortgages are bigger, right. So to be vacant, or sorry to be having non payment or rent is the risk is higher than ever. But for the listener, like don't be scared. I've been at this for a long time, I think I've only had really one significant non payment of rent tenant. But it was it wasn't a huge amount either. But my point is, the tools and technology are better than ever it kind of like you owe it to yourself to kind of go through that process and do their homework upfront, because I'll go a step further. What I've been telling you, especially my clients have been telling you is you're negligent to not do a proper tenant check. Absolutely. Right. Yeah, it's no different if you're, if you're gonna loan someone $100,000 Here I am learning someone an asset worth $500 million, or half of that because they're in the duplex of mine. That's an asset worth, you know, 400,000 500,000. So a significant mount of due diligence is required. Absolutely. And it's easier than ever. Right. And also, just to take it let's take another step like I was telling you before, whenever you read about professional tenant stories in the media, I always tell people, like people always send it to me or people say, oh, what this happened this happened like, yeah, okay, read the whole thing. So that's the first thing is read the whole article, get the entire story. And near the usually near the bottom, you find out that the landlord did not do a tenant checked, right? Or that the landlord did not Google the phone number that was given to them. Because literally, in one example the phone number led to a escort company. So if you just Google the phone number, they would have found out that that belonged to an escort company. 
Viler  
No, you're right. It's easy to kind of like check those things after the fact you know, like, oh, wow, I pay close attention like I could spot some red flags, you know, up front as opposed to being frustrating. 
Erwin  
So actually already recorded the time. missing men just with McKenzie on how to read your credit report. Sorry, let's actually go back for anyone who doesn't know SingleKey Naborly. What is it? 
Viler  
Yeah, at a high level, our mission as a company is let's take the risk of renting for, you know, small landlords, independent lenders that are out there kind of, you know, building their real estate portfolio. And you know, as you know, very well are in real estate investing has become a very common practice now, for most agents to build, you know, to build wealth plan for retirement and kind of create greater a bit of a nest egg, right. So we want to do is make sure that they protect it. And what we found is where a lot of the landlords that are doing this out of their desk get in trouble is when it comes to these tenant issues, because they're not, you know, they're not like a big property management company. They're not professionals, and they don't have the team of paralegals and superintendents, and what have you do to really support you if anything goes wrong. So we decided, hey, why don't we bring the tools and the scale and the risk management tools that the big multifamily guys have in the hands of the small mom and pop landlords are protected, basically, their investment and the way we do this in three easy steps. So first, we'll help you screen your tenant do their proper due diligence that we just talked about upfront to make sure that you can reduce the risk as much as you can spot any issue that refines before you lease out to the tenant once you listen to them. Second step is we offer a kind of almost free rent collection tool that not only automates rent collecting for you, and, you know, basically through a pre authorised debit solution, but it also takes us payments or a portion to the Bureau, which is great for two reasons. First, it helps tenants build credit through their rent payment, which is very important. But secondly, it also incentivizes them to pay the rent on time, so that they don't constantly miss it or late, which could affect their credit. And then thirdly, after we collect the rent, we then guaranteed even if tenants don't pay, so that's our rent guarantee programme, which is more of an insurance type product that basically, the lender pays us about 5% of their monthly rent. And in exchange, what we do is we guarantee up to 12 months of rental income, in case the tenants stopped paying. As part of that package, we also cover any property damage for up to $10,000. And we even support with the legal process of eviction, if required by hiring a local paralegal, having them assist you in covering their fees as part of that package. So the idea here is that, hey, let's make sure you get your rent check no matter what even if a tenant stops paying. And then you know, if you do get in trouble with it, then we can step in to basically supporting the legal side. So you're not stressed and worried about that process. And you know, one of the key principles around this is the fact that as a mom and pop, I've got maybe two, three properties Max, or on average that I'm managing, if one or two of those tenants stop paying the rent, who's uncovered the mortgage, right, I don't have the scale of 1000 units, like the big guys do, were bad rents is just part of my p&l, and now to 30%, I don't really care about it. For me, as a small homeowner, if I lose that rental income, I'm a very difficult cash flow position. Now, because I can't make I can't make the mortgage, I'm at risk of losing my property. And we saw this happen during COVID, you know, when when we had those eviction bans in every province, where you know, some lenders want over a year, like getting your rent check. And some of them were in a very difficult situation, some of them have to sell their properties, oftentimes at a loss because there wasn't liquid tenant in there, because they couldn't afford to stay liquid. So the point with the rent guarantee programme is, hey, you can make use of our scale and our large portfolio to basically spread your risk over the 1000s of guarantees that we have, are just chipping in a little bit. But then hey, if you're the unlucky laner that month that didn't get take out that bad tenant, well, now we can actually dedicate resources towards covering your loss, Roski income, and then also providing kind of like the risk management solution and legal support that you need to kind of get the tenants out and, and go back to being liquid again. So that's the whole concept behind the business, what I think is fascinating about your rental guarantee insurance businesses that tenants have to go through your application process. And then actually, quick question. So let's say a tenant fills an application. I imagine you're not going to insure all of them. Yeah, no, and I'll get into that a second. But, you know, I love what we talked about before everyone we said hate you'd have to be negligent not to actually seen it that way. Oh, absolutely. Well put yourself in our shoes. Right, we're guaranteeing up to $60,000 of Washington income for the Senate, that will be the same as us pretty much issuing the Senate a $60,000 line of credit. Now what bank? Can you go to and get a 60,000 credit without running a credit check? Yeah, you're willing to put your money where your mouth is exactly the same thing for for the average landlord, even if you're not on the rent guarantee, this tenant now pee, you know, if they stopped paying the rent, that you're gonna lose tenant, it's gonna cost you 10 or 12 months of rental last rental income, that's a lot of money that you're pretty much putting at stake. It's the same as basically a right underwriting a loan for this tenant for that amount. And if they don't pay, you're in trouble, right? So that's why it's so important and critical for you to take the proper steps and go through that new diligence process. That's the mindset, you have to think through that, hey, I'm giving this property to this applicant that's worth 2000 $3,000 a month for 12 months. It's the same as me, basically giving them a 20 $30,000 line of credit. Yeah.
Erwin  
I think it's brilliant that you made this offering, because that's usually the number one concern that investors have before becoming investors is one of 10 doesn't pay with the trash property. So you have provided the solution for set problem.
Viler  
That's how we came around to this. You know, we were talking earlier, Hey, how did you kind of guys think about how did you start SingleKey people with the original story? This was a concept that really kind of anchored, you know, with me, I'll tell you kind of how we started. So basically, my background is I was an intern You hear the NBA same school, you went to the best business school in the world, we all know that. And then I spent about five years in kind of consumer risk and finance that you're looking at the banks, the bank and Capital One. And then we were looking at, like, I was looking at credit cards at the time, we're looking at, like the spend at the most people are spending spending 30% 40% of their of their monthly income on just rent. And there wasn't much the bank was doing for them, right? There's no financing behind it, there was no insurance, there's no lending, there's no you know, risk management. And we're like, Okay, well, that's a huge share of wallet. And you know, nowadays, you can go to clean tire and buy a fridge and put on a credit card and get some money behind it. There's no financial instruments to help support rent payments or secure payments. So you know, we started digging in, started talking to homeowners started talking to tenants trying to get a sense of kind of what's a problem that we can solve working, we add value as a financial institution. And that's what we zeroed in on is that, hey, there's a lot of challenges, you know, and yeah, you know, I need some help listing the property itself, finding good tenants need some help collecting rent, blah, blah, blah. But the one thing that was a need, like a must have was, I need to get that rent check at the end of the month, because I need that to be in a mortgage. Right? That was a real pain point that needed a solution. And once we looked into it and looked at the numbers, we're like, Okay, well, this is a perfect use case for applying an insurance product to something that doesn't happen very often. Because as you know, most tenants are good or great tenants. But you have a few bad apples there that when they do go bad, it cost a lot of money. So it's the same as car insurance, right? You know, hey, you're protecting yourself in case of a delinquent. In default, that could be very expensive. And we can put some sort of small premium against that to offset that risk and and spread that over large portfolio. And that's what was seen when he was born. That's a mouthful. Sorry, what you were, is that what you're discussing lucky? Well, it's 2017 was the initial kind of incorporation. So But five years ago, and then 2018, early 2020, right before COVID is only brought the rank guaranteed to market. Oh, nice timing. And that was a bit of a scary moment. You're right, because the world pretty much kind of just completely flipped upside down during that period. And, you know, we thought as a risk management company, we're like, Okay, well, it doesn't get riskier than this, you know, you've got your global pandemic event, like, job loss, you have addiction banned. So you, we had Doug Ford go on TV and say, Hey, don't worry about paying rent, make focus on paying your groceries, right, a nice guy out there, but you know, regardless, and, you know, it was a good kind of stress test, I think for us, because we were one of the few companies that was able to make it through that high risk period and come out the other side and still be successful and profitable. A large part of that is due to the fact that we always, we always kind of like focus on the underwriting first. So you know, like you mentioned, first, we don't allow anybody to get on the rent guarantee without going through a proper screening, right? Getting a credit report, proof of income, all that stuff is part of the actual underwriting process. And while we actually have a very kind of a low hurdle for guaranteeing tenants, I would say 80% of the applicants that come our way get approved, we don't even look at credit scores, we're primarily focused on, you know, spotting any red flags, any recent bankruptcies, judgments, and then we're looking at income, hey, do they have enough income or stable income to cover the rent payments, we're looking for a 45%, you know, rental income ratio, or below, which as you know, is that's actually a pretty low hurdle, because most lenders will look at more, probably more of a 30% Rent income ratio, so we're able to go 45, and that's based on gross income, you know, before taxes anything else altogether, including any assistance that you're getting. So you know, as long as if he should be the primary checks and make sure that he, because you know, everything in life follows the 8020 rule, or 9010 rule where you know, 10% of difficult tenants are causing 90% of the headaches. So if you can figure out who he is the kind of really identify those folks in the application process, you can really manage risk very effectively for him or for him
Erwin  
The 80% of tenants getting approved is actually surprising to me, I thought I didn't think I'd be so high. 
Viler  
We wanted to make sure that I mean, the point here is not to kind of basically put forth a barrier where we're excluding people from this programme. And in the future, we're looking to make it even more inclusive. And we're looking for ways for now to actually also add in students or new to Canada, folks that have no credit, no income, hi, we kind of bring them in as well, right? The problem is constantly evolving and adding in more kind of segments. But the idea here is that he, you know, again, the vast majority of tenants aren't good tenants, and bad credit score doesn't necessarily mean a bad tenant. And I say that while we offer and sell a credit report product, but you have to take a bit more of a in depth look, you have to look at like, Okay, well, what are their debt payments? You know, how much? How much have the board? Have they been paying those those bills on time? Do they have any history of kind of constantly, you know, going to collections or kind of going through bankruptcy, you can just remember and kind of make a decision, it's more of a holistic kind of view of that person. And we found that, you know, funnily enough, we found that credit scores are actually not the best predictor of tenant default, because somebody with a prime credit scores over 720 They're gonna have their pick of the market right there, they're gonna have an easy time finding a new place to rent. So we're somebody with lower credit score closer 600 or below, they're gonna have a hard time so when they do get that lease, they're actually much more appreciative and more likely to kind of go the extra mile to be nice to their landlord and and kind of do what they can because they know they're gonna have a hard time finding another place, you know, if they move on. So it's an interesting concept. What makes the biggest difference in my opinion is just affordability making sure that you're not biting more than you can chew. That's why that that renting ratio Be matters. And on top of that, you probably want to layer on hey, what if they're paying $2,000 in rent payments, do they have an extra 1000 bucks of that payments that they have on their on their credit, because at the end of the day, if you have money left over to just set aside in case of a rainy day, if you have access to credit, those are things that will help you get through a kind of like income shock, let's say you lose your job, or you have unexpected expenses, having a bit of room in your income versus your expenses, is really going to make you a great tenant, and be able to get through those rough times. 
Erwin  
And just for the listeners benefit, like I've been through the SingleKey process and application from the tenant side, and it's quite dynamic. And you can, like you mentioned, you can add, like your pay stub, you can add bank statements, your ID driver's licence, you can add your whoever else is gonna be living with you. Right. So you know, if, for example, if you have two, three incomes in the family that doesn't only help it will help their application. Actually quick question about that, that leads me to think, see, there's three people on the application does the charge change for the tenant application? 
Viler  
Well, we do charge per applicant basis, because everybody will have their own credit history, their own background kind of information as well. So while we can kind of like it typically will ask for the household income, like you said, just to kind of assess the ability to pay for for the entire household, we will run individual credit checks and background checks for each of those applicants separately. But you know, it is kind of an approach on a per applicant basis. Yeah. 
Erwin  
And it's only $25, retail. The Equifax was I think, like at least 36, if I remember correctly, and that was 10 years ago. Sorry, that was nearly 20 years ago. So it got cheaper. Right, yeah. 
Viler  
So I think more people use this. And now that the volume I think helps with it with that, and you know, keeping the price low is important for us as well, just to make sure that everybody, there's no excuse not to use it. And everybody can go through that process. And it's a product that's constantly evolving, as I mentioned, at the end of March, that we're actually releasing a new version of it, it'll look a bit different, you have the option between the new and the old, but we're adding new features. So for example, we're looking towards adding an international credit checks, so you can actually scroll Wow, I've never seen that before. Brand new kind of feature now. And we're working with a partner out in the US who has access to multiple credit bureaus across the world, and they're able to cover about 60% of the world's population, that will be a bit more expensive, but it will give lenders and property managers despise risk. Especially if you have no other kind of way of checking references for somebody that's, you know, international business, at least, to kind of have a good kind of view of their, you know, financial standing. And the cool thing about this now is all the international reports, it doesn't matter if you're from India, or Europe or China, they'll get standardised so they look just like an equipment, you know, the typical Equifax report. So you'll be able to kind of read and understand it, they'll even have a score that's out of 800, similar to your Equifax standard credit score. So I'm very excited about that. Other really cool features that are adding, we're adding kind of like an ID verification, again, to deal with some of these fraud issues or kind of remote screening. So folks that you know, if you can't have them have a chance to meet them in person, but you just want to send them that application link, while we're adding in a selfie and Id check where they'll go through kind of an AI comparison of their liveness check, where they have to basically take a three dimensional selfie, and it'll match your face with their ID and, and run their driver's licence and make sure that they are. So that will be like an add on that you can add to your report. We're looking into bank scans. So the ability for hey, if they have no credit, or you know, low credit, if you want to go one step further, and dig in deeper, we can allow you can allow the tenant to log in with their bank account, and we will look at 24 months of transaction history and assess money and money out. So you know, what's their income? What are they? What are their spending look like? Do they have any savings? Even things like did they pay their last line or on time, because we can see the rent payments on their on their transaction history. So these are some of the really cool things that we're kind of adding on to the technology stack. And these are the landlord benefits a lot more coming on the tenant side. Now we're actually working towards building a tenant portal, where, you know, we realised that hey, you know, we've got 1000s of tenants coming to St. Louis being invited by landlords to run the rental application, what can we do to add value to them as they're going through their kind of their own journey and moving into new home? Well, one thing that we realised early on is that, you know, lenders don't like to see paper applications anymore, because they don't trust them. Because they're like, yeah, if you send me a PDF, or a screenshot, you can easily just modify those on Photoshop Photoshop, yes. 
Erwin  
So everything can be Photoshop, I trust nothing.
Viler  
So I'm not gonna accept that I'm just gonna run my own credit check again. Well, the problem with that is that you apply to five different listings, now you're gonna get hit with five different credit checks, which is not great for your credit score. So what we're doing is we're building what's called a universal rent obligation. So the tenant can basically get access to their SingleKey report for some line of runs before them, they can log in, and then just share a link for them from SingleKey directly with as many ones and it's not non modifiable, they can just basically get it directly from us. So they don't have a chance to change it. And even if you do print it out and hand it off to your landlord, it'll actually have a QR code there. It says scan to verify me see actually, you can actually scan that report, it will take that SingleKey fee site and it'll verify all information. So these are some of the things that we're doing to kind of really kind of combat fraudulent credit reports, frozen income information because we can tap into your bank account and pull it directly, as opposed to just allowing you to upload an employment letter. So this is a great kind of use case of like, Hey, here's the technology saves you from doing going through the manual steps by just automating a lot of these things through through different data providers. 
Erwin  
That's super cool. Even other new features that you mentioned, like international credit checking, like that's a huge win for international. Anyone, just for example, it's actually interesting. It was always hard to get the data on how many work visas and student visas were being given out each year. So now we know the numbers over 400,000. And likely, these are all renters. Yeah, that's a lot of volumes or process, right? 400,000 a year? Yeah, that's a lot. How would we have ever processed their credit. And then what I saw in practice was people were usually asking you for six or 12 months rent upfront. 
Viler  
And I was just gonna bring it up as it that's a big challenge now, especially like in the super competitive rental market that we're in, you know, if you have no credit history, if you have no local income, you're forced to basically pay up front and cash six to 12 months of rent, nobody has $30,000 in their bank account, to rent out a lease. So he puts he puts renters in a very difficult position. So we're we're actually kind of expanding, we're actually running a test with our underwriting partner, where SingleKey will be offered as a as a guarantor service, meaning that hey, if you're a tenant who has no credit history, and you need like a local guarantor, we'll be your local guarantor as 
Erwin  
holy cow really, really willing to put your money where your mouth is 
Viler  
similar kind of spin off on the on the existing rent guarantee programme for landlords, we're just taking that offering to tenants and saying, Hey, look, you know, we'll guarantee your landlord and damages and legal fees, so that you in their eyes, you become a risk weekend, and now you get first line access to that property, and they won't, they'll feel more comfortable renting to you without asking for six months or 12 months, 
Erwin  
you're coming to me as an insured a tenant. Exactly, that makes you much more better qualified candidate. 
Viler  
So that's kind of a whole bit and the problem we're trying to solve is basically how do we get people away from these large deposits and more of an insurance product. And this is a better solution for two reasons. First of all, the obvious solution is that it's much, much more user friendly for the tenants, because they're not having to write $30,000 checks in front, they're just paying an extra 100 bucks a month for the for the insurance premium, on average. And then for the landlord is actually better risk management tool. Because, you know, I've had experiences where I've gone in front of the LTB with like a 12 month deposit, you know, needless to say, they frown upon that, right, and then keep in mind that a six month bonds it all it does is it just offsets the problem by six months, you know, like the risk doesn't go away, he just gets pushed back six months, because what happens if the stock price went down month seven, now you still have an eight month eviction process ahead of you where you're gonna lose a month. So it's not it's not a good solution. It makes it harder for you to be in fight those cases, it only does it offset the problem. The rent guarantee is a much better solution and is much more tenant friendly as well. So that's kind of the mission we're on now is let's replace the deposit with the rent guarantees that you know, which were better for both parties.
Erwin  
This is exciting stuff. Oh. Viler. I apologise. I should ask the sooner just in case anyone's confused. A SingleKey now owns Naborly so is Naborly effectively, just, it's just not only a SingleKey as one company now. 
Viler  
Yeah, yeah. But we acquired Naborly in late 20, late last year, so about four months ago, that was a big kind of milestone for us. Because, you know, as you know, Naborly has had a great brand in the market. And they were probably the most popular where they know that, yeah, they were the most popular tool in Canada, especially since they offered the start offering a free report for a while, which made them very popular with a lot of lenders out there, they had built a great platform, very kind of easy to use very kind of a lot of focus on designing simplicity, and kind of getting as much information as possible from tenants and put together a great profile. And, you know, I think, you know, for us, that was a big milestone, because we got to basically acquire one of our main competitors, and also increase our reach by, you know, two or three fold and bring in their database of users on the SingleKey as well. And then on top of that, also getting their IP and their technology and being able to layer that on top of over offering the SingleKey. So some of these product releases that are coming to market now. And end of q1 is basically a combination of Naborly stack and SingleKey kind of coming together, putting forth the best of both worlds. So we're excited to see how well received that that new solution will be. 
Erwin  
Viler, you mentioned something shocking before we were recording, you were saying that SingleKey is significantly more popular in Alberta than Ontario. Yeah, even though we are what like four times their size and population. 
Viler  
I wouldn't say we sell more more in Alberta and Ontario, but on a per population or per capita basis. basis. Wow. Double or if not more Alberta than then in Ontario, because our risk is what's greater here isn't. Right. And it depends on the product. Some products for example, the report is really well in Alberta has been really kind of embraced by the community there and I think we've been lucky to kind of work with great partners and McKenzie being one of them. He welcomed us into His Alberta Linder community Facebook group and promoted us heavily and did a tonne of great get reviews. So we've been able to get awareness there much faster now, which is, which is great. So I think for this year, that's the next challenge now is how do we kind of really get awareness get get everybody in Ontario, to know what we're working on and how we can add value to their business. And you know, try to reach the same level of penetration here in Ontario that we have an Alberta, 
Erwin  
right, are you looking for penetration in Quebec and BC, where they also have difficult no laws? 
Viler  
You know, we are Canada why so we do well, in BC as well, we're available in the Maritimes as well, Quebec is a bit more of a kind of a work in progress, because they have kind of their own laws and regulations. And also, there's a few kind of language challenges that we're wrestling with as well. So that that will be an ongoing challenge. Rocket back always gets like missed on everything. It is a market that does require these types of things, because are these types of solutions, because there are a lot of lenders out there having challenges, and we have a few kind of folks that use us and love us. And we want to do more there. If we have the opportunity 
Erwin  
Poor Quebec investors, for anyone interested investing in Quebec, you know, you can always talk to me, we can help you in Ontario. So I want to ask the startup story. So again, we went to the same business school, I studied startups, you know, I had the privilege of being lectured by one of our professors, or she wasn't even really a professor, but the owner of Bombay company, or company, it's no longer here. But it still is fascinating to hear his story he was, I think he was close to 80 years old. But he was so rich and so nice, that he flew himself in from, like, his house is built on a mountain, I think in California overlooking the ocean. So I'm pretty sure that the school cannot afford to pay him for his travel. But yeah, to give back. That's what he did. He flew from California, to London, Ontario, the major metropolitan in Ontario, to teach us about entrepreneurship. So I personally have always enjoyed learning about businesses and businesses, I'm interested in learning about your own journey about you know, I imagine you had a lot, you've paid a lot for school. I'm guessing you're paid a lot of money at your job when you're working at the banks. Right, and you decided, screw it, I'll start my own business. 
Viler  
You know what, I think there's a lot of pros and cons to doing this Erwin. And you know, you're an entrepreneur, so obviously, you know, kind of that very well, I think, on the pro side is that you get to do what you love. And you get to kind of like, you know, work doesn't feel as, as kind of taxing as it does, you know, if you're not doing what you love, you get a lot more kind of creative energy, because you get to kind of basically control your destiny and kind of do what you kind of think you get to respond to the market, you get to listen to customers and kind of do something that they appreciate and and kind of get that feedback, which is great. So you know, when you're building that, that's definitely the the benefit. The cons are that hey, now it's just it is a very risky proposition, right, you lose a lot of, as you mentioned, you'd give up kind of stable income and kind of security for somebody that is a bit of a gamble. In that sense. I think I think also, I think by nature, you have to be somebody that enjoys this type of life, where you know, you're not risk adverse, it doesn't keep you up at night, you don't have kids, so you can take a bit more risk. For sure, right. That being said, I see some of the more some of the most successful entrepreneurs I know are in their 40s. And they do really well because there cannot be they can leverage life experience and bring in a lot of transferable skills in the business. I think also, like, there's something that, you know, it should be noted that it's not for everyone, I think you have to stop there are certain I think traits and, and kind of characteristics that separate entrepreneurs from other people. And you know, you have to have the hustle and the grit and hard work, there's no substitute for those things, you know, how smart you are a well educated, if you can't do the work and kind of really kind of solve problems fast, you're not gonna make it right. So you have to be a bit self aware as well. And I think for me, what gave me confidence is that this is my first business, I had another one. During school, I was out there kind of running my own landscaping business. And then afterwards, I heard all my buddies and we kind of had our summer jobs and kind of going door to door and selling and growing the business. So you know, at least I have kind of the fundamentals and the basics down on how to, you know, good run a business kind of sell to customers, talk to customers, build a team, manage them and all that. So which which was helpful for me, but I think you don't really know until you try it. You know, the best thing that to do, especially at a young age during your 20s or you know, like you said you don't have a lot of responsibilities. Take the shot, you won't know if you're good at it until you try.
Erwin  
It's fantastic. And obviously, I'm guessing you're pretty bright. You have your Bachelor's in engineering from U of T, which I'm pretty sure it's not that easy to get into. You have your master's in business from the best business school in the world. Obviously, I have a biassed opinion. You're no dummy. With a fair assessment, 
Viler  
Investing in yourself and your education. It's probably one of the best things you can do. It's by no means a requirement. I've seen a lot of fantastic entrepreneurs with no education at all right? Absolutely. But you know, it's helped me I mean, hey, my first kind of like investors and kind of partners into the business. We're all guys that I met at the ivy business school, right. Oh, the networking paid off this I love it. It opens doors, it also puts you in touch with people that kind of have the experience or the knowledge and the skills that you need. So it's a good kind of supporting network in that sense, and people reach out to and get help and, and all that, right? Yeah. 
Erwin  
So for the listeners benefit, if you're not familiar with how, at least how the MBA at Western works. Again, number one, number one business school and world does the requirement of entering the MBA is real world experience. So I imagined, from my own experience, when the MBAs that I met, it ranged. And on the top end, you would have occasionally someone who were serves on like six boards of like publicly traded companies. So again, the experience is vast in range, but there'll be like top end, like literally, it's actually funny, because that gentleman actually sat in the class by class was Managing Board of Governors. So they literally had someone who sat on like three or six boards, as a student in that class. So wonderful experiences to share in value and networking to be obtained at bat potentially, while doing an MBA. 
Viler  
Absolutely. You're really selling me MBA or? 
Erwin  
No, no, no. So my own journey was right or wrong. I did consider doing an MBA at the time, I think the price tag was at least 30,000, before housing, travel costs, books, all those sorts of things. I literally chose to buy a house instead of an income property instead, instead. Not to say my point, though, is that networking, where there high value people is never a bad thing? Absolutely, it's a great place to find high value networking opportunities would be at a business school. 
Viler  
Absolutely. And you know, what I, if I may add, I think, look, I think at the end of the day, the best way to kind of your life goal is to kind of build wealth and make money, entrepreneurship may not be the best way to do that. Because there's a lot of risks, there's a lot of things that go wrong, you may be better off just kind of working towards a high powered career as a lawyer or a doctor or what have you. Because, yes, it takes probably same amount of work, but the risk is much lower, because you know that if you have the skill set and the experience, you will have pretty much high a higher market market value. But I think the the X Factor is are you doing what you love, right? Is that kind of what gets out of bed in the morning and gives you energy and kind of kind of, you know, inspires you to kind of work hard and then push for some of the roadblocks. And if not, and if this is what kind of, you know, what drives you, then that's what you should, 
Erwin  
just because I love options. One other option where view, for example, is I'm gonna guess that your executives are quite well paid. And they take considerably less risk than you take. Fair enough. So that's it may still get a taste of the entrepreneurial world. So nothing wrong with that. 
Viler  
I mean, we do and look, at the end of the day, we're still young business and fast growing business. So you know, everybody has a stake in our success, and we kind of all benefit, we all kind of go down together. And that's, that's right. So it's, a lot of these guys took pay cuts to work as SingleKey as consulting or kind of banking or engineering careers. But they also have some upside. So if we do kind of really well, they'll, you know, they'll they'll do well as well. Yeah, I think that's that's the main thing that to kind of think about, 
Erwin  
you know, I love it all. I don't think there's ever a wrong answer. I think everything's great. 
Viler  
pointer as well. By the way, if if you want to try out your hand and kind of like working in a small business or startup, the best thing to do is go work for somebody else, right? Go work for somebody where you can learn on their dime. 
Erwin  
Yeah, let them take the risk while they pay you.
Viler  
Right, so it's the best education you can get.
Erwin  
So I think we need to spend more time on SingleKeyKey because again, I think we just went through so quickly, for example, I've lost in rentals. Yes, that is that is your, your SingleKey accommodates for single student tenants. 
Viler  
Not currently but we are with a new programme with a new tenant passport that we're offering around. So the one that kind of allows for new to Canada and students, etc. So we can kind of talk a bit about that. Sure. 
Erwin  
What about just like, you know, my typical tenants usually like you know, 20 years old. So again, my experience is majority of my tenants are Canadians, like they have driver's licences. They're Canadian. Actually, no law, young people don't have driver's licences these days. But for example, if I wanted to, and then in practice a lot of landlords student rental landlords do not and then give this to give context like my properties have usually around six students in them. I'm not talking about instrumental means a lot of the rooming I guess they already like Yeah. Oh, yeah. I think I don't know how you lived when you went to Western. ruin a house that's free? I said, Yeah, that's that's the scenario like a rooming house. Is that user like new? Yeah, it'd be house users can can apply using SingleKey as well. 
Viler  
They can definitely apply using SingleKey piece so we can run the credit, credit and background check and all that stuff and then process the rental application and show you know, the rent guarantee doesn't currently support them yet, but it's something we're working towards. New Version. Yeah. 
Erwin  
Well, if they are willing to put a guarantor on it? 
Viler  
then yes, if they if they're willing to put a guarantor that has income like a parent, then then we can guarantee them. Yeah. 
Erwin  
This is amazing, because like, for example, a client of mine, he listed I'm not listed whatever for rent, he had a five bedroom house, close to McMaster University, two kitchens, five bedroom in law suite. So two bathroom, two kitchens, not illegal duplexes in law suite, whatever, the single family home, he had 25 requests to see it. So if you're one of those parties, and I show up with a SingleKey application, like we are guaranteed, yeah, you would really stand out. 
Viler  
That's the goal here, right? So and yeah, that's exactly it is, hey, this is a differentiator, it puts you ahead of the pack, especially now where it's so difficult to, to basically compete and kind of there's so much demand. And so that's fine, you need any advantage you can get. So this is a great way for you to kind of really stand out and have a guarantor stand behind you. 
Erwin  
This is amazing. Because I'm I see this very low in the news, like people who are competing for for rentals. And they're all looking to stand out. So for example, like it's pretty common practice in downtown Toronto, where people show up, you know, driver's licence, bank statement, you know, and they still lose, you know, they have, they have a six figure job, they still lose. Because again, like, if you have like six applicants, you don't really, as a landlord, you don't have the means to screen them all completely. Versus again, you show up with a guarantee, no guarantees in life, but 
Viler  
It sets you apart from other people, right. And it's, you know, having a kind of professional kind of rental company also kind of guarantee you anything that goes a bit further than just having a regular guarantor, like a parent or so. Because we have a reputation to uphold, and, you know, we'll make sure that, you know, we've seen you properly. And also, you know, hey, gave you a SingleKey, he's willing to stand behind these people, it means that they are comfortable with taking on the risk or risk. So that's, I think that's a vote in their favour to say that, well, at least this tenant has been screened, they've been vetted, they are completely that, you know, they've SingleKey, he feels comfortable guaranteeing them, then as a landlord, I feel comfortable renting to them. 
Erwin  
And that's so for example, if I was trying to rent in a competitive rental environment, so I could stand out by PrincipaI, versus your insurance as well on me. 
Viler  
Absolutely. Yeah, you'd basically approached us on the west side, it's coming out in March. Now, there will be a landing page where you can actually sign up for that and go through the signup process and bet yourself and then we will kind of basically provide you a guarantee certificate that you bring with you, when you apply to to rental property over here, and say, hey, look, I am, I am a guaranteed guarantee kind of 10 by SingleKey. And then here's the benefits of that is that, hey, if I if I default on rent payments, for whatever reason, if it was my job, or I can pay, you're covered for the next 12 months of last rental income you cover for damages up to $10,000. You never for legal fees in case something goes wrong. So you can rent to me with peace of mind knowing that, you know if I can perform on this contract, SingleKey will backstop me. So that was amazing. That's really the value proposition. 
Erwin  
I remember, back in a long time ago, I had this tenant who was an executive from the states who was relocating to Burlington, Ontario, for work, because he was he was the head of all of Canada. Right? He made a lot of money. I think he made close to $40,000 salary, but he had no credit. Absolutely. So the screening was difficult. This is back in like, you know, 2007 or something like that. So before SingleKey existed. I think you were still in University at the time. So the company could have just been the guarantor and insured him. And we could have sped up the whole application process 
Viler  
and attacked me if I wouldn't be able to do things. So for Americans, we can actually right now we can actually screen them. So the SingleKey year report does work on American applicants as well. And secondly, we actually actively work with relocation agencies for exactly what you mentioned, we have, we have executives from Amazon coming over here making, you know, well into the six figures, and they want you they can't get a lease because, you know, they have no credit, Canadian credit. And, you know, landlords are quick to kind of move on to the next applicant. So this is this is a great way for typically relocation agencies or realtors that work with these folks who will partner up with us to basically make sure that we guarantee them and then scan them. So that later feels comfortable ranking for them. 
Erwin  
That's super cool. That's super cool. And then what kind of security do you have in terms of like, protecting people's data? For example, a friend of mine from their for SingleKey, for example, is the tenant who are filling up the application themselves on their own account? Is that correct? 
Viler  
Yeah, so right now typically, the way that works is that we you know, we have to be compliant with these because we you know, and we take security privacy very, very carefully, are very seriously probably want to talk to Mike and our team was spent the last three months kind of dealing with lawyers and the privacy commission, and everybody else to make sure that we're compliance. And but we aren't dealing with a lot of sensitive information. We're dealing with kind of personal information, like your name, date of birth, potentially cin number, if you feel should fit, you know, if you share it, and then we're also dealing with your credit data, which you know, if it falls in the wrong hands can be used to basically, you know, apply for a credit card or kind of fraudulent purposes. So, for that reason, we're very careful in how we basically gather that information, how we share it, how we get consent from tenants, to make sure that we we do it properly. So the rule of thumb is typically we encourage people to or landlords to just invite the tenants to fill out our online rental application, that way, they're voluntarily sharing their information. And going through that process, they're also providing explicit consent to to actually, you know, run the report. So that's a big kind of step towards that, we make sure that currently, the lender only gets access to what the report once the tenants fill out their information, and it's available for the SingleKey people portal. That way we can kind of manage access, we can control the information, we encourage people to share kind of those reports through links, as opposed to just printing out PDFs and saving them on paper or handing them over. It's going paperless. It's a safer way to operate in general. But he also brought up Hey, do we have an offline version? Right? Yes, yes. Yeah. And the answer is yes. So we started to 
Erwin  
See the use case for for the listeners benefit. So for example, if I get a trades person who's in their 50s, you know, you can tell by showing your shake their hand, they're good at their job, if that's what they do for a living, you know, typically they make a really good income. They're pretty much all six figures are hardworking people, blue collar people, right? That's likely someone I want to rent to. But in practice, some of them are not strong with a smartphone or a laptop, but I still want them to apply, right, I still would like to like to potentially have them as my tenant. So I'm in the past, literally, I've given people in that case, we asked him to do Naborly they weren't, they didn't have the tech savvy to do it. So we handed them a hardcopy. And so that's available as well. 
Viler  
Yeah. So if you go to a SingleKey.com, go to the tenant report, and click order now, you'll see two options there. And so one says invite the tenant, which is very similar to that Naborly application form. The second option says entertaining information. So we've had option that now you can actually just enter the tenants name, date of birth address, and potentially it's a number is optional. And you can get the report basically run right away without having to invite the tenants to the online application that requires that you've gotten consent from them offline. So whether they've kind of submitted let's say, a paper rental application to you giving you their information and their their kind of a consent, then that's not probably you take a photo of that and just uploaded with along with your request. And we can basically just run the report and send it back to you. It's also very helpful for folks, you know, for like you mentioned, folks that are having trouble with the technology, or you know, maybe more of an older applicants would be more comfortable kind of going down that path. But also I find that some folks have their own technology. So they'll have their own tech for like property management tools, or kind of like they have their own rental application they like so no problem, you can keep using them. But when the tenant feels that you're in publication, you can just take their info, entered the SingleKey and get the results right away, without having to send another invite to the tenant, and having them fill out the same information they've already provided. So it's all about flexibility to give you more options to make it easier for you to basically run that report. You know, however you like, sir, 
Erwin  
anything guys don't do. You don't manage property?
Viler  
Finding tenants. Because that's where we kind of you ever worked with partners like you guys, the house,
Erwin  
Viler, sorry, for the listeners benefit. Understand, like where we've come from, like I remember, I remember when things change, when paper, something changed in privacy where I can no longer I can no longer run someone's credit report, even though they filled out the paper application. I remember having a discussion with one of these vendors that provide tenant checking services, they basically told us about all the hoops you have to jump through, we have to have like a filing cabinet that's locked in there has to be inspected one time or something like that, to prove that it's private was so then we actually moved towards, they will have to verbally tell us on the report and give us which was some bad actually, I actually didn't mind it at all, because they were giving me my professional opinion.
Viler  
And that's simply because we wanted to get her you know, API access to our credit bureaus. 
Erwin  
Right. Yeah, just so again, for folks, there's a lot of hoops to jump through that you no longer have to jump through now that these technologies, what's the term prop tech is real estate technology firms are doing for us? Absolutely. There's really no excuse now to check your tenant. 
Viler  
Absolutely. Yeah, no. And I think as you know, there's been a few data breaches, especially with some of the major credit bureaus in the past. So when that happened, they they really tighten up their policies, which is understandable. And I think it's good for the market overall, to just have a better kind of better for the consumer, ultimately, and the tenants to take extra steps and protect their data and their private information. So it doesn't get in the market. 
Erwin  
Oh, I didn't actually the the credit reporting. Yeah, sorry. So SingleKey also reports rent to their Equifax. 
Viler  
Yeah. So now the way the way we do that already, is that we don't we haven't challenged with that, because we've seen some options available where you can just pay my tenant and pay the rent, I can just go and report it. We didn't want to do that. Because I think that it's kind of self serve. There's no real you know, it's hard to gather evidence. It's very manual as a process. But why don't we just kind of like, why don't we pair this up with the rain collection tool and offer Canada's first easy automated PD rain collection tool to small homeowners. And as you know, most property managers are out there, they're doing volume, you know, 100 plus units. They're all on peds because it makes life so much easier. Where you set it up what you set it and forget it and then just pull the rents automatically each month. So we said okay, so that's that PD tool and then plug it in To Equifax is metric to formatting for reporting. Now, it's the same as basically reporting payments on a credit card, that payment either went through or didn't. And it's black and white, there's no evidence required. There's no confusion around that. And there's no debating it. So it's a much more transparent, accountable, easy kind of solution to put in place. Currently, we're offering it for, we're offering the rent collection tool free for everyone to use for as long as you need to, for the first three applicants or first three tenants that they set up. And then we charge a small fee, I think three to $5 per month, that's it. That might change them, because I think some of the A, we're getting a lot of demand for it. So we may not be recreated more costs there. But be also the rules around kind of Canadian payment systems are changing a bit more. Some of them are good, some are bad. So like the cost is going up a bit. But also, payments are going a lot faster, we're moving towards real time payments, which is a big innovation now, that payments Canada has been pushing towards for the past five years. It's something that's more akin to like the ACH system in the US as opposed to the for the processing EFT system we have in Canada. So we'll be very excited when that's one that's up and running, because that means you can get your rents on the first of the month, as opposed to the third or the fourth. 
Erwin  
Okay, I have a weird question. There's benefit, no one gets their questions in advance. What if I want to be paid? Can I charge rent in different currencies? Not yet. No, SingleKey is mainly for Canadians and 
Viler  
Mainly for Canadians. But we are enabling credit card payments for rent. And I'll tell you why that's important. Because for French nationals that, hey, I'm sending my son to study in Canada, he's much easier for the parents and just basically put the rent on the credit card, and just say, Hey, I just wanna put on a credit card, see if you guys take AmEx, Visa union pay whatever MasterCard, I'll just throw on my credit card, and I'll pay the rent for them. And that was a worry about effects, I don't have to worry about, you know, having to have a Canadian bank account, whatever, I can just put in a credit card, I'm done. And that's great, because then we just basically build like that cars on a monthly basis as a subscription service. So whatever the rent is 2000 bucks a month, they just get the loan card, and anybody can pay from anywhere, which is great, because you'll take your credit card from my Canadian to them. Right? Yeah, exact when the tenant gets the invite. Now, when your rent collection tool, so this will be available at about in about a quarters in about three months timeframe, when they get the invite to pay. 
Erwin  
Sorry, this was released in three weeks. And we're talking about like, we're talking on May, May 2023. Ish. 
Viler  
Yeah. So So and it's hard to say now, because there's a lot of competing priorities, a lot of stuff as you can see kind of coming coming online. But yeah, I would say probably around summertime, you're looking at kind of having the option to pay rent with a credit card. So the way our rent collection tool works is that you set the terms you say, hey, rents 2000 bucks a month starting on March 1, recording on the first of the month, all right, and then you set up your bank account, then an invite gets sent to the tenant saying, Hey, are we inviting you to pay your rent online, click to set up your your payment method, and you can pay either through a Canadian bank account. So we can only take in a bank transfer now, three EFT payments, which are low costs are almost free. Or you can pay by putting a credit card in right now the credit card, it can be anybody that puts out from anywhere, you can pay that around. And there's some benefits there because you can get you know, you can get points you can get, you know, credit by paying down the credit card, rewards, etc. It also gives flexibility for parents that pay on behalf of the student, 
Erwin  
especially my students. Yeah, that's awesome. Yeah,
Viler  
I'll definitely you know, as soon as it's ready,
Erwin  
for example, like, well, one of the things I'm really jealous about Airbnb is, as an Airbnb host, you have their credit card. That's incredibly powerful. Question, What about damages? For example, say they say they got drunk and fell and, you know, fell on top of the coffee table and broke it. Now I have a $60 damage. Can I put that through? I? 
Viler  
So it's TBD? Because I think we have feature requests, feature requests. We're looking at around the compliance aspect of that functionality. So if you're on the rent guarantee, potentially, yes. But there's still a few things to kind of work out there. Yeah. Okay. 
Erwin  
And then the longer term feature request is you guys ever want to collect rent and Bitcoin? Sure, yeah. Not right away. It's okay. I don't think they were falling onto the world's falling apart yet. Yet? No. Viler, thanks. For more, so much like this is holy. Wow. So as we were discussing before, recording, like awareness, I think, was really the big problem for both yourself and for the public. 
Viler  
No, absolutely. Anything to kind of just like, you know, kind of summarise it all up, right, in terms of kind of what what are we doing? Why are we focusing on this problem? You know, if you look at kind of where the world is going, you know, five to 10 years, you know, there's been a lot of changes to the real estate market and and just economy overall, right? We're seeing more kind of long term renters out there folks that kind of can't afford to buy real estate until later in life, so they rent for a lot longer. We're seeing a lot of urban centres now become very expensive, right, and that we're in a bit of an affordability crisis. Now that's been an issue for over five years. And you know, as we started doing COVID, the government is now looking to take helps to protect the renters because there's more of them. They're staying renters for longer and then on guy that they are responsible for looking after. And then we saw them doing that during COVID, where they said, hey, you know, if you lose your job, don't pay our conservative provincial government. Fair enough. And not just the same thing happened to all in every state in the US and had eviction moratoriums in some places a lot worse than than there were in Ontario. And now they thought California still has there is definitely a lot more. So, in my opinion, that's a trend that's not going to stop now. And you know, I think, you know, as we look to the future, housing is going to continue to get more expensive. Why, because there's constant demand, there's limited supply. So as affordability and vacancy crisis continues to loom, the government's have to take legal action to protect tenants. But in doing so they're making it more difficult and risky for lenders to do business, meaning Hey, hard to get tenants out, you know, more restrictions around kind of like what you can do and kind of flexibility there. So some of the tools that we're offering, the rent guarantee, and these tenant screening tools are going to become more and more necessary as as time goes on, because the risk keeps going up and you know, keeps increasing in the rental market and our responsibilities. How do we kind of basically counteract that? How do we basically offer the tools, the scale, the the risk management, back office, that learners can count on to secure their rental income to protect their property and their investment, even as the as the kind of regulatory environment begins to tighten up around them? So that's kind of where I see you kind of are positioned in markets. 
Erwin  
And it's automated, and it's inexpensive. 
Viler  
We automate it saves you time in the process as well. And yeah, absolutely. 
Erwin  
So thanks so much for coming on. Like you said, we needed more awareness, I am so much more aware of all these things, I had no idea, obviously, all these future future releases that no one knows about, like, I'm excited. 
Viler  
I'm glad you're excited, because I'm hoping everybody else will be as well. And we're definitely super excited to bring the stuff in market and see how our customers react. 
Erwin  
Or any final words about anything. You know, we're the end of February, you know, some people think that real estate markets gonna collapse. I'm sure you're hoping that's not true. Yeah, no, I don't have any more tenants. 
Viler  
Funny, because, you know, a lot of people ask the same thing, are you worried about your business collapsing, because the market is kind of turning right, engineers are going up, you know, prices are coming care, the price shock. And my response is that, you know, you couldn't be in a safer business, because the housing is the is the most kind of necessary spending category that anybody has, right? Everybody needs housing, everybody needs to live somewhere. So if you're a housing provider, or if you're a grocery store, you're not gonna go out of business anytime soon, regardless of what happens the economy. So I think that that should give you at least some peace of mind that you're probably one of the safer sectors in the economy during this time. And you also have a big responsibility, right? Because investors and landlords play a big role that played a big role in bringing affordable housing quality housing to the market, we want to encourage more more landlords and to the market, go out there and kind of renovate properties, bring them in better state, and I can offer them to the tenants so that because that's the limitation factor now is that we have a limited supply. We need more funding and more investment in that area to bring more housing stock to the market, because that'd be Yeah, 
Erwin  
I have no experience in this. But just give me a suggestion. I hope you let the media know in the government know when this when the international credit checks are available, because it's there's a bit of a disconnect in our governments and our universities, processing at post secondary schools in general, that they are regularly recruiting international students to come here, but we have a foreign buyer ban. So you may not buy hosts. So we landlords are the ones who are left to provide housing, but we have no means to properly screen them. 
Viler  
No, and if there's any channels, or any reporters, you work with them, let us know because we're looking to kind of find ways to kind of spread the word. But yeah, we're very excited about that product. And I think we'll be the exclusive provider for the international credit checks in Canada, at least for the next year or two. So we really want to rent that product companies as you said, 400,000 people, that's a lot of folks in need. 
Erwin  
That's like half of the new residents each year. That's a lot of people.
Viler  
It's a big problem that needs solving for sure.
Erwin  
Fantastic Viler. Thanks so much, again, for doing this.
Viler  
Thanks for having me. This is great. I appreciate it.
Erwin  
Before you go if you're interested in learning more about an alternative means of cash flowing like hundreds of other real estate investors have already then sign up for my newsletter. Find out for yourself what so many real estate investors are doing to diversify and increase our cash flow. And if you can't tell I love teaching and sharing this stuff.

HELP US OUT!
Please help us reach new listeners on iTunes by leaving us a rating and review!
UPCOMING EVENTS
You are the average of the five people you spend the most time with! Build connections with empire builders and trailblazers at our iWIN events.
BEFORE YOU GO…
If you're interested in being a successful real estate investor like those who have been featured on this podcast and our hundreds of successful clients please let us know.
It is our honour to give back and educate others on how we build cash flowing real estate portfolios using all the best practices shared on this podcast, from the lessons of our hundreds of clients and of course our own experience in owning investment real estate.
If you didn't know already, we pride ourselves on being the best of the best real estate coaches, having the best property managers, contractors, handy people, cleaners, lawyers, accountants, everyone you need on your power team and we're happy to share them with our clients to ensure your success. 
New investor or seasoned veteran investor, we can help anyone by providing our award winning coaching services and this isn't all talk.
We have been awarded Realtor of the Year to Investors in 2015 by the Real Estate Investment Network, 2016 by the Canadian Real Estate Wealth Magazine and again in 2017 because no one told the judges no one is supposed to win the award twice but on merit, our peers deemed us as the best.  In 2018, we again won the same award by the Real Estate Investment Network.
Hopefully being the most decorated team of Realtors in Ontario will make you consider us for your first or next real estate investment.  Even if you don't invest in our areas, there's a good chance I know who would be ideal for you. 
I've been around for a while, some Realtors are talented at servicing investors there are many with great ethics.  The intersection of the two, talent and ethics is limited to a handful in each city or town.
Only work with the best is what my father always taught me.  If you're interested, drop us an email at iwin@infinitywealth.ca.
I hope to meet you at one of our meetups soon.
Again that's iwin@infinitywealth.ca
Sponsored by:
Infinity Wealth Investment Network – would you like to know how our investors returned 341.8% on positive cash flowing real estate over the last five years? On average, that was 68.4% per year.
Just imagine what winning in real estate could do for you.
If you would like to know how we did it, ask us how by calling 289-288-5019 or email us at iwin@infinitywealth.ca.
Don't delay, the top markets we focus in are trending upward in price, so you can pay today's price or tomorrow's price.
Till next time, just do it because I believe in you.
Erwin
Hamilton, St. Catharines and Toronto Land Development, Real Estate Investor, and soon to be builder.
W: erwinszeto.com
FB: https://www.facebook.com/erwin.szeto
IG: https://www.instagram.com/erwinszeto/
https://www.truthaboutrealestateinvesting.ca/wp-content/uploads/2023/03/Viler-Lika.jpg
630
1200
Erwin Szeto
https://www.truthaboutrealestateinvesting.ca/wp-content/uploads/2017/06/TruthRectangleLogo.png
Erwin Szeto
2023-03-28 19:58:20
2023-03-29 18:08:34
The SingleKey to Screening and Insuring Tenants Thanks to Technology With Founder Viler Lika