Real Estate Investor Impact: Olivia Chow's Victory in Toronto's Mayoral Election with Ming Lim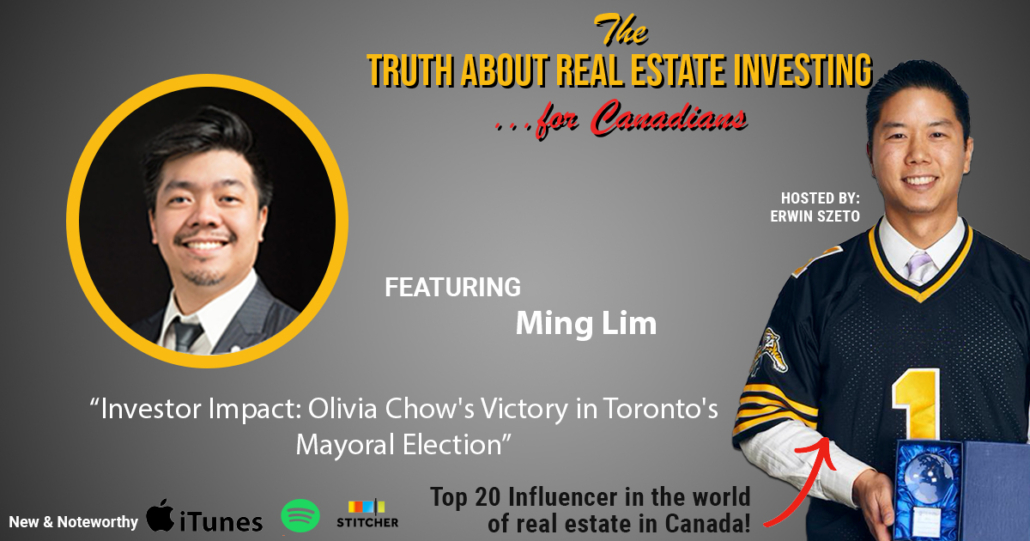 Ming Lim is a Toronto Real Estate Expert and head of Volition Properties' Investment Realty Services. 
He has helped clients accumulate $200,000,000 worth of income properties in the City of Toronto, from condos to mid-size apartment buildings, specializing in small multifamily in top neighbourhoods.
Ming is here today to share valuable insights after Olivia Chow won the Mayoral race of Toronto and vows to build a more affordable city.
Please enjoy the show!
This episode is brought to you by me! We don't have sponsors for this show. I only share with you services owned by my wife Cherry and me.  Real estate investing is a staple in my life and allowed me to build wealth and, more importantly, achieve financial peace about the future, knowing our retirement is taken care of and my kids will be able to afford a home when they grow up.  If you, too, are interested in my systematic strategy to implement the #1 investment strategy, the same one pretty much all my guests are doing themselves, then go visit www.infinitywealth.ca/events and register for our next FREE Online Training Class.  We will be back in person once legally allowed to do so, but for now, we are 100% virtual.
No need for you to reinvent the wheel; we have our system down pat. Again that's  www.infinitywealth.ca/events and register for the FREE Online Training Class.
To Listen:
Audio Transcript
**Transcripts are auto-generated.

Erwin  
For those don't know Ming Lin is old friend of mine. We've been together with investing in real estate for a long time. He works with clients and investment Realty Services role is to help clients build portfolios, if you add them all up together, it's about $200 million. That's a lot of money. And you specialised from condo to midsize apartment buildings. And you specialise in Toronto. We've recently had an election. Very exciting. Congratulations to Olivia Chow, very exciting, if not exciting for everyone. This is not a political statement. But there's implications to the real estate investor like me, what are these some of these implications to the real estate investor in Toronto?
Ming  
Yeah, I mean, you know, that is mixed emotions, being a Asian immigrant, you know, you get to see some representation, then you're like, hop on, I hate the platform. But, you know, politics aside, let's just get into the policies themselves. And what the kind of impacts would would be for real estate investors in the city. So I think first, the right thing to frame is the effectiveness of all this, right, because, you know, she's coming in, it's a by election, she doesn't have a full four year term, just kind of like a three year ish, right? She's gonna get less time than your average mayor. And we're talking about, like, for the most part policy changes that she's hoping for, which will take a long time to actually have an effect. So I think in terms of positive or negative impacts, you have to temper are the reality in that, when do we ever work with anything that's governmental that moves quickly? Right,
Erwin  
to her Queen Street is closed for four years?
Ming  
Right? Or, what is the Eglinton LRT? Like, how is that going? So anyway, so you know, kind of at the speed of government, so take everything that I think is promised and said have a bit of a grain of salt, let's get first and to kind of her affordable housing platform. So that was really around making sure that there is housing for, you know, low income marginalised kind of at risk, folks, I actually think this is great. You know, they're planning to build 25,000 new housing units, it's going to be on city owned land. You know, the impact to investors, investors, though, especially if you know, volition, we kind of take a little more triplexes fourplexes. In higher end neighbourhoods in the city. This doesn't really impact us, right? I think it's a good thing. I'm kind of a liberal socialist, but fiscally conservative. And, you know, this makes that part of me happy and and from the investor side, I think it doesn't have much of an impact to most people. And the only caveat I'd say is, as a taxpayer, and if you're investing in Toronto, or Toronto taxpayer, how do you feel about the city getting into the development game? You know, we just mentioned the Eglinton Crosstown, how's that gone? Is it to budget? It's a long time. As a taxpayer, I'm a little annoyed. I don't want them to become developers, but rather, there was some private partner, private public partnership, perhaps there might be better efficient ways to do this, but doesn't really impact me as an investor.
Erwin  
That'd be nice to just fund a nonprofit, not for profit. That's good at this.
Ming  
Yeah, you can come up with a lot of overhead when it's government run. And it's not their expertise. The city's not developers. Anyway, that aside, I think the intention is good. They're so generally happy about that. The other one was preventing renovations. I thought this was interesting, because, you know, as as the election was happening, is we on the platform was like, how do you actually do that? Because generally, the jurisdiction for these things is Ontario wide. Right? It's not a Toronto specific thing. So I delve a bit deeper into her platform, and quite honestly still can't figure out how she's planning on effectively doing this. So the the ideas behind preventing run evictions are purchasing, repairing and transferring rental properties to government to the government. Basically, a first right of refusal. To me that reads, If a major landlord that runs apartment buildings, for example, is trying to renovate people that the government could step in and buy out apartment buildings. That's how I'm interpreting a policy right now. That makes a little bit more sense. I see. I see your face are away. I'm on my, you know, more community housing. Great. I don't think that is impactful, though, to the kind of real estate that we do. Like, you know, you and I were very much about providing quality housing. We don't believe in things like rent eviction, so I don't feel it directly applies to us and the kind of real estate that we invest in. And I don't think it's gonna apply to your average Mom and Pop investor either, right? Like, I don't see the city coming down to like the triplex four Plex level saying, hey, you know, we don't want you to run away. We want to be able to buy your triplex from you to provide low income housing at that level. Doesn't seem very efficient. And I don't believe that city's getting into that low of a level of housing density. Anyway, there's not a huge detail around this programme. But that's how I interpret it when I read through the platform. And the other stuff is really around increasing social support programmes. So this may be as a way of preventing rent evictions. So it's like investment in the I think it's called Epic. It's the eviction prevention programme. And actually, I didn't know about this until her her campaigning, and she was talking about it. I was like, how come I never heard about it, because it's not really the the tenants were targeting these, again, are low income people, or you know, people at risk lost their jobs. And this is a programme that helps, you know, with substituting somebody's income for a temporary basis, let's say they lost their job, they can't pay rent anymore. So kind of being a backfill there or providing temporary housing for them until they are able to find another place. And, you know, we represent hundreds of hundreds of units across the city though. None of our tenants, none of our clients have run into somebody using this because it's completely different demographic that we're renting to, you know, rent safe, they're putting more money into rent safe, great rent Safe is a programme that basically prevents slumlords from occurring, like, you know, places that needs repair. So I think it's great that they're putting more money into that, again, you know, you and I don't do that kind of real estate, we are into quality, safe, you know, aboveboard. So we don't need somebody knocking on our door, saying, you know, we've got, we've got problems with the place, I just can't imagine that happening. Right.
Erwin  
So it's like how sounds like the platform's largely for the fringe of real estate as more of the outliers.
Ming  
I do think that the things that she's going towards, are the people that need it the most, it is the kind of the marginalised folks, the people who are already at risk if people were potentially are facing eviction, for whatever reason,
Erwin  
but you and I, our clients don't don't have rentals for that market.
Ming  
Yeah, our clients don't don't really play in that area. I think I'll get into this a little bit later. I think, though, that cost for this is being borne by middle class, because and, you know, inherit a fence. She hasn't told us how it's gonna get paid for.
Erwin  
Right, because the city's broke, was very expensive. The TTC is running right and fun, expensive to run during a pandemic, when there's no passengers.
Ming  
Absolutely. And now we're getting into more costs coming down the line, more programmes. Great, but how's this all gonna get paid for? Right? So anyway, so like they're doing rent safe, there's, they're gonna have a seat at city council. So they're establishing this Toronto renters Action Committee to have like renters representatives at city council. Awesome. But again, I don't think it has a huge impact to us. Where I think it might impact our investors, though, is a kind of two places. So one, there is actually a legitimate time for rent eviction, right? Let's say you have a house that you want to change the bedroom count on, right? It's a very large one bedroom and you want to turn into two bedroom, that is a time he may legitimately want to evict so you can turn into a two bedroom unit. Because you're not putting the same type of rental stock back on the market. I wouldn't be doing this kind of thing. But there are some people who want to change their the layout of their property, right. There's also a time that let's say you want to convert to multiple units, right, you have a duplex and you want to turn it into a triplex and you want to use the word eviction process. I feel like that's going to be a lot more challenging to do, maybe not because of law, but maybe because of sentiment that also will impact things on the purchase side. Right now, if you're trying to buy a tenancy property, it's already very challenging, right? Buyers are legitimately worried about inheriting tenants, worried about even their own right to get into a property using something like an n 12. So you're going to see a big premium for vacant properties, vacant multifamily properties, just because people are going to get even more frightened of having tenants is taking over tenants. So I think that is probably where we'll see some impact not necessarily directly from policy, but because awareness and sentiment, and maybe just, you know, maybe renters feel like it's more worth a fight for them. So anyway, I think that's probably where I'm seeing what impact. There's a bit on the public transit side, Scarborough, who often gets the short end of the stick when it comes to anything public transit is getting at least dedicated bus lanes. That shock still they just took away the RT and the solution was buses for 10 years. At least they're getting lanes for those buses now that I'm happy that's happening. Yeah. And you know, kind of the other stuff that she she's doing is again, more on the supporting the renter side, there's increases in Toronto rent bank, again, that kind of helps marginalise people, low income support for through epic stuff like that those programmes are all good for low income folks, not as much for the kind of folks that we're renting to right the young professionals and things like that. I think though, all of this Like I alluded to, he gets paid for through middle class taxes and called the middle and upper class because there's a bit of luxury tax that's coming in, but you have the luxury tax. And that's, you know, not well established. The platform is basically saying, I graduated payment $3 million, not you're gonna get an additional tax. What I think it's not clear is, is it just going to be straight cost? Like if your property is $3 million, over $3 million going to get hit with tax? Or are they going to take a little bit more sophisticated approach? And I hope this is the case that if your housing, your borrowing or housing stock, let's say it's multifamily property over $3 million, are you still gonna hit luxury home tax? I would argue it's not luxury home if you're buying a, you know, $5 million multiplex. Right. Anyway. And that also contradicts some other programmes from CMHC. If you're providing some affordable housing within that, how can you be getting a luxury tax on a property that you're also providing affordable housing for? So I think the detail the devils in the details for the luxury tax,
Erwin  
sorry, that's Toronto tax, the luxury tax,
Ming  
that's a Toronto tax. Yeah, that would be Trump tax. So that's within their jurisdiction. Right. Right. So this,
Erwin  
this only affects like people like yourself, and Matthew?
Ming  
Well, you know, any, anybody who's out there spending big bucks on a multifamily property, it could potentially impact them. The other ones vacant home tax, so that, you know, she's talking about moving it from 1% to 3%. You know, our, our old time buddy, Don Campbell would say that makes a great headline. All right, but what's behind the curtain? And I think they can home tax increase, you know, that's something that people can get riled up for. But in terms of actual effectiveness, you know, I think it does have an impact. The challenge is that has declining effectiveness over time. And, you know, in BC, I think is a perfect example, they were the first place to do this, they started with like, nine, I think, is like 9000 homes that were taxed. And then, you know, that dropped by 30%, in two years, and it's continuing to drop, because people are just like, hey, I'm not going to pay my tax, and I don't want to pay this huge tax, like 3% of the value of the home. So they're going to either rent it out, which is great, like, you know, adding more rental stock, or they're gonna sell their properties, they will leave in vacant. So I think the taxes it's affected purpose in providing rental stock, but I think the tax is a poor place to look for ongoing funds, because that number should decrease and decrease and decrease over time, if it's doing what it's supposed to do, which is provide rental stock, or housing stock purchase housing stock to the city. Sorry,
Erwin  
you said there was 9000 vacant homes and vacant Vancouver.
Ming  
There are 9000 Charge, like, shouldn't charge but like taxed in in BC. I don't know if it's an old BC, I think was all BC, you know, the big thing is, I think the drop, like it's like 25 or 30% Drop in tax homes over a two year period. Right? Because people are going to wake up where they're gonna get this huge tax bill, the bill? Well, I'm not gonna, I'm not going to do that I'm going to do something with that property. So you know, I wouldn't say get the idea is not to get rid of the vacant home tax. But if you're saying that this is how we're going to pay for these additional social services, I don't think that's how you're really doing it, because that tax should be shrinking and shrinking every year. Right. And then the last thing was, and I think this is real, the real Asterix in all this is the property tax increases. So she, you know, Olivia Chow has basically said that she is going to have a tax increase a moderate tax increase, but quote unquote, can't give a number at this point. Fair enough. Take that, as you may, citizens of the city, we know there's a big budget deficit, and we have all these plans to spend more money. It's going to come from somewhere and you know, property tax increases. It's generally your your middle class, it's going to get hit right everybody whose property owner, the city's gonna get hit by this. So yeah, but you know, that kind of leaves us where we are the actual impacts of the programmes. I think the sound like they will help the people who need them, you know, more marginalised, lower income folks. And don't think it's going to help your average person, though, who's like paying 3000 bucks a month for a one bedroom condo downtown. Those rent prices are not going down, you know, a better solution. And some of her competitors will call them We're campaigning on this is to allow for more types of housing and to make it easier for more types of housing. I mean, I challenge anybody on the who's listening to this to try to figure out how to make a legal basement apartment in the city in five easy steps, like good luck. It is. So it's unnecessarily complicated. There's no resources from the city. You make that programme easy. You can get 1000s and 1000s of units on like people want to do it right. People want to do it legally, it's safe. They don't even know where to start.
Erwin  
So So my apologies like there's nothing in ovo Charles platform to make things easier for the private industry to create more housing.
Ming  
I didn't see I didn't read anything along those lines, like that was very much, Anna and a bilateral and Brad Bradford. So the both of those guys sat on the housing committee and city council. So we're both quite intimately familiar with how things work. And they both talked about, you know, easing of development, more types of properties, I think that's the big thing, like, you know, if, if you want to build micro suites, we should be able to build micro suites. And that should be an easier thing to do. Some people don't need a lot of space, but they would like their own safe box in the sky, or wherever that happens to be. So easier, more types, that would have been a big win. And you know, you and you and I, when we had our kind of pre chat about this, I think you you're absolutely right, when you said maybe it's a swing of the pendulum, right. And, you know, Toronto, traditionally, last eight years or so has been very progressive and forward on developments. I mean, allowing for places
Erwin  
there will be in the province, thirdly, in the province in terms of how progressive they were for development.
Ming  
Absolutely. And like, you know, I was happy to it took a long time. But I was really happy to see it. And I was actually a bit surprised it passed the way it did, which is, you know, obviously almost blank slate of you can build a four Plex as long as it's two building code, any residential neighbourhood in the city now. Wow, that's pretty awesome. Now we're kind of in limbo, we're just seeing that pen pendulum swing the other way people like no more of that. So
Erwin  
anyway, just fantastic news for existing property owners, which is not good for society.
Ming  
Yeah, you know, I don't imagine some of these things that have come in to add supply to the city are going to go away. I think that would cause a bit of an uproar. I just don't think that the campaign of providing more better housing is going to be for the middle class which I think is the one we're really feeling it right now. And you know, part of the property tax increase I feel is really tone deaf is like, I'm sure you may every household in in the nation is feeling the inflation crunch like nobody's looking at their bills right now and saying, Oh, this is less than I expected, right? Everybody's really feeling this and then now to increase taxes on top of this. I'm very surprised that the city was like yep, you know what, that's the right thing to do I you know, I want to I want to pay more taxes right now so
Erwin  
well, if I didn't want people to know how much more it's gonna cost I tell him I don't know how much it's gonna cost. Thank you so much for your time. It sounds like a lot of wait and see a lot of great things to help those at risk. But not much in terms of concrete that would help our your clientele or my clientele, except for maybe more property tax. as well. Absolutely. Man, where can people get more information from volition properties?
Ming  
Well, you can follow us on Instagram volition, prop prp.com. Or you can go to our website, volition properties.com. Or reach out to me and Erwin, wherever where to find us.
Erwin  
We're not hard to find much for doing this. No problem.
Erwin  
Before you go if you're interested in learning more about an alternative means of cash flowing like hundreds of other real estate investors have already then sign up for my newsletter. Sign up for yourself with so many real estate investors are doing to diversify and increase our cash flow. And if you can't tell I love teaching and sharing this stuff.

To Follow Ming:
Instagram: https://www.instagram.com/volitionproperties/?hl=en
Website: https://www.volitionprop.com/
HELP US OUT!
Please help us reach new listeners on iTunes by leaving us a rating and review!
UPCOMING EVENTS
You are the average of the five people you spend the most time with! Build connections with empire builders and trailblazers at our iWIN events.
BEFORE YOU GO…
If you're interested in being a successful real estate investor like those who have been featured on this podcast and our hundreds of successful clients please let us know.
It is our honour to give back and educate others on how we build cash flowing real estate portfolios using all the best practices shared on this podcast, from the lessons of our hundreds of clients and of course our own experience in owning investment real estate.
If you didn't know already, we pride ourselves on being the best of the best real estate coaches, having the best property managers, contractors, handy people, cleaners, lawyers, accountants, everyone you need on your power team and we're happy to share them with our clients to ensure your success. 
New investor or seasoned veteran investor, we can help anyone by providing our award winning coaching services and this isn't all talk.
We have been awarded Realtor of the Year to Investors in 2015 by the Real Estate Investment Network, 2016 by the Canadian Real Estate Wealth Magazine and again in 2017 because no one told the judges no one is supposed to win the award twice but on merit, our peers deemed us as the best.  In 2018, we again won the same award by the Real Estate Investment Network.
Hopefully being the most decorated team of Realtors in Ontario will make you consider us for your first or next real estate investment.  Even if you don't invest in our areas, there's a good chance I know who would be ideal for you. 
I've been around for a while, some Realtors are talented at servicing investors there are many with great ethics.  The intersection of the two, talent and ethics is limited to a handful in each city or town.
Only work with the best is what my father always taught me.  If you're interested, drop us an email at iwin@infinitywealth.ca.
I hope to meet you at one of our meetups soon.
Again that's iwin@infinitywealth.ca
Sponsored by:
Infinity Wealth Investment Network – would you like to know how our investors returned 341.8% on positive cash flowing real estate over the last five years? On average, that was 68.4% per year.
Just imagine what winning in real estate could do for you.
If you would like to know how we did it, ask us how by calling 289-288-5019 or email us at iwin@infinitywealth.ca.
Don't delay, the top markets we focus in are trending upward in price, so you can pay today's price or tomorrow's price.
Till next time, just do it because I believe in you.
Erwin
Hamilton, St. Catharines and Toronto Land Development, Real Estate Investor, and soon to be builder.
W: erwinszeto.com
FB: https://www.facebook.com/erwin.szeto
IG: https://www.instagram.com/erwinszeto/
https://www.truthaboutrealestateinvesting.ca/wp-content/uploads/2023/06/Ming-Lim.jpg
630
1200
Erwin Szeto
https://www.truthaboutrealestateinvesting.ca/wp-content/uploads/2017/06/TruthRectangleLogo.png
Erwin Szeto
2023-06-29 18:25:16
2023-06-29 19:21:31
Real Estate Investor Impact: Olivia Chow's Victory in Toronto's Mayoral Election with Ming Lim