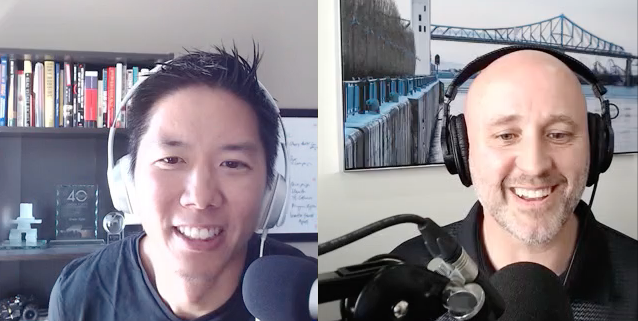 From Renting a Basement to Over 100 Properties with Joint Venture Jedi Russell Westcott
First Day of School
Today I'm a bag of mixed emotions. My daughter is off to her first day of school. No more daycare (saving $500/month in daycare fees is a big win! Like gaining cash flowing property!! HAHA). She's going to a real school, junior kindergarten to be specific. I was choked up watching her get on the school bus for the 2.1 km commute. Cherry, my wife, told me I'm silly and I am.
Here is just one example of how nuts I am. I'm reading Wonder Woman comic to my daughter (I've purchased many children's books showcasing strong female characters where a female is the main protagonist) and we come to the last page of her book and here it is below.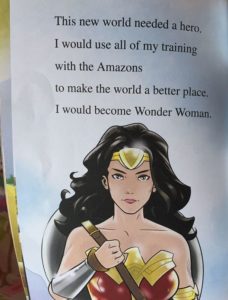 I read the page quickly as I'm getting choked up.  Too often I'm looking for lessons and meaning in all aspects of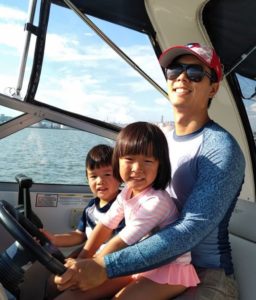 life.  This time I'm reading the story from a parents' perspective, instead of "I would use all my training with the Amazons to make the world a better place." As it is written, I rephrased the words and turned it around to my perspective, "I will use all my training to teach Robin to make the world a better place."
Yeah, I'm nuts, but she's been out of the house a whole two hours and I can't stop thinking about how her first day is going.
And people think real estate investing is hard. Parenting is infinitely harder…
Speaking of real estate investing, check out the new boat belonging to Mike and Evelyn!! Life is good when investing starts at age 26, and 10 properties later they are well on their way to Freedom 45.
From Renting a Basement to Over 100 Properties. Joint Venture Jedi Russell Westcott.
Our show guest is none other than best selling author Russell Westcott who co-authored the book "Real Estate Joint Ventures" with Don R Campbell.
I met Russell back in 2008 as a green investor at the Real Estate Investment Network's weekend workshop called ACRE, and he's always been one of my favourite real estate educators.
He's on the show to share how he got started and his mistakes and lessons from building a portfolio at its peak size of 60 properties. Russell was buying a property once per month even while having a full time job as the Vice President of the Real Estate Investment Network.
I even put Russell on the spot to pitch me his latest project he's raising capital for and it's just as awesome as you'd expect.  
Without further ado, I give you Russell Westcott, the Joint Venture Jedi.
Sponsored by:
TitanInvestmentRealEstate.com – would you like to know how our investors returned 341.8% on positive cash flowing real estate over the last five years? On average, that was 68.4% per year, just imagine what winning in real estate could do for you. If you would like to know how we did it, ask us how by calling 289-288-5019 or email us at admin@mrhamilton.ca. Don't delay, the top markets we focus in are trending upward in price, so you can pay today's price or tomorrow's price.
HaltonREI.ca – This episode is brought to you by my networking group, the Halton REI. We meet in Oakville (part of the Halton Region), but mainly invest in the top investment towns west of Halton: Brantford, Hamilton, Niagara Region.
We regularly feature the top speakers from our industry. The vast majority of our attendees are seasoned investors, so you will want to spend more time around these folks, as you are the average of the five people you spend the most time with. Your net worth is your network, so choose how you spend your time wisely.
Knowledge is power. Every meeting we share the latest in market rents, prices in the top neighbourhoods, and strategies for investment. We share the best property available as our Best Buy Property of the Month. We share the best tips and tricks for you to implement immediately to your investment businesses to fast track YOU on your journey to financial freedom. It's up to you if you'd like to be on said journey.
To get on the invite list please register at https://www.truthaboutrealestateinvesting.ca/meeting/ and you will receive an invite to the next Halton REI meeting once announced.
But don't listen to me, here's what members of our community are saying about the Halton REI!!
To reach out to Russell:
Till next time, Just do it because I believe in you.
Erwin
Hamilton, St. Catharines, Toronto, Land Development, soon to be builder and Real Estate Investor
FB: https://www.facebook.com/erwin.szeto
IG: https://www.instagram.com/erwinszeto/
https://www.truthaboutrealestateinvesting.ca/wp-content/uploads/2018/09/Russell-Westcott.png
356
638
Erwin Szeto
https://www.truthaboutrealestateinvesting.ca/wp-content/uploads/2017/06/TruthRectangleLogo.png
Erwin Szeto
2018-09-07 20:01:34
2018-09-07 20:34:58
From Renting a Basement to Over 100 Properties with Joint Venture Jedi Russell Westcott