10 Duplexes In Five Years, 100% Committing to Wealth Hacking, Cash Flowing 1-2% per WEEK with Kris Lewis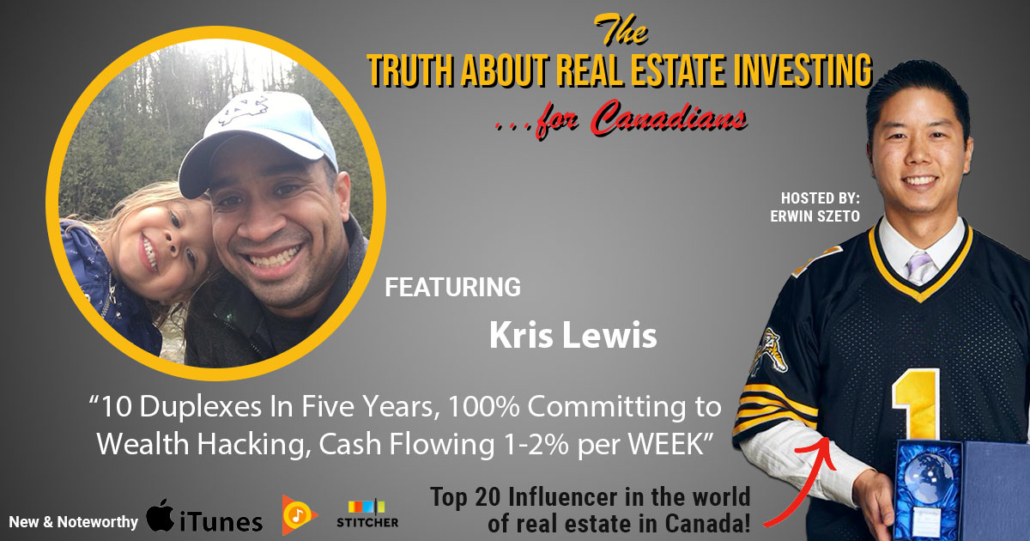 Greetings my fellow Wealth Hackers,
What did you do for Halloween?
I love seeing everyone dress up! For my mastermind meeting with real estate dynamos like Susan White, Aaron Moore, Ryan Carr, Rachel Oliver, Sarah Coupland, they all showed up in costume to our Zoom meeting.
It was hilarious!
As I'm sworn to secrecy of what is discussed, I'll share that "Beaker of the Muppets and a giant Hamburger made appearances" and I'll leave it to you to guess who was who.
View this post on Instagram
My costume arrived late but it's a bit of an evergreen costume, so I'll do a reveal at a later time.
My kids dressed as Batman of course and Captain Marvel but more exciting than Halloween for me was the kids had their belt grading at kickboxing the morning of Halloween. This the first athletic test they've done and it's the first time our club has allowed non-students to watch. 
Thanks to Covid, I'm stuck waiting outside in the car while the kids are in kickboxing class. I was totally surprised by how much the kids have learnt.
For the grading, they had to demonstrate boxing, kickboxing and even Karate style punches and kicks.  I personally appreciate a cross-discipline approach, no different than I invest in real estate and Stock Hack.
Our club is open-minded to teach different styles of striking. For any mixed martial arts or UFC fans out there, you know the importance of multiple disciplines.
The kids both passed and I couldn't be more proud. 
We celebrated with ice cream that I bought on sale at Loblaws 🙂
10 Duplexes In Five Years, 100% Committing to Wealth Hacking, Cash Flowing 1-2% per WEEK with Kris Lewis
On to this week's guest, an award-winning investor, Kris Lewis
Kris is a dad, husband, multiple business owner who is really into spreadsheets while grinding through to earn his 'luck'.
His current priorities include reverse engineering a life he thought was impossible only a few years earlier.  His goal from an investment perspective, which massively goes against his personality, is to make his income streams extremely boring.
Kris is a real estate investor focusing on the Durham region, specializing in duplex conversions, while knowing in the first 30 seconds whether a property makes sense for his long-term strategy. 
Kris believes in multiple streams of income as an insurance policy, which makes sense given his chosen profession. He believes in continuing to educate himself and to learn from what others before him have done.
While Kris knows that knowledge is key, he also realizes that embracing fear, making sacrifices and most importantly being ready to take action is an even bigger piece of the financial success puzzle, as evidenced by his 10 moves in the last 6 years. 
He's come to relish the unpredictability of life and the opportunities that present themselves.
Before you go, if you're interested in learning more about an alternative means of cash flowing like hundreds of other real estate investors have, then sign up for my newsletter and you'll learn of the next free demonstration webinar I'll be delivering.
It's a much improved demonstration of the one I've given to my cousin Chubby at Thanksgiving dinner in 2019. He now averages 1% cash flow per week.
As a real estate investor myself, I got into real estate for the cash flow but with the rising costs to operate a rental business, it's just not the same it was 5-10 years ago when I started.
Never forget cash flow reduces your risk, the more you have, the more lumps you can absorb and if you have no or limited cash flow, you'll be paying out of your pocket like I did at a recent basement flood at my student rental in St. Catharines, ON.
If you're interested in learning more, register for free for my newsletter at https://www.truthaboutrealestateinvesting.ca/ and enter your name and email address on the right side. We'll include in the newsletter when we announce our next free stock hacker demonstration.
Find out for yourself what so many real estate investors are doing to diversify and increase their cash flow. And if you can't tell, I love teaching this stuff 🙂
To Listen:

Before you go, if you're interested in being a successful real estate investor like those who have been featured on this podcast and our hundreds of successful clients please let us know.
It is our honour to give back and educate others on how we build cash flowing real estate portfolios using all the best practices shared on this podcast, from the lessons of our hundreds of clients and of course our own experience in owning investment real estate.
If you didn't know already, we pride ourselves at being the best of the best real estate coaches, having the best property managers, contractors, handy people, cleaners, lawyers, accountants, everyone you need on your power team and we're happy to share them with our clients to ensure your success. 
New investor or seasoned veteran investor, we can help anyone by providing our award winning coaching services and this isn't all talk.
We have been awarded Realtor of the Year to Investors in 2015 by the Real Estate Investment Network, 2016 by the Canadian Real Estate Wealth Magazine and again in 2017 because no one told the judges no one is supposed to win the award twice but on merit, our peers deemed us as the best.  In 2018, we again won the same award by the Real Estate Investment Network.
Hopefully being the most decorated team of Realtors in Ontario will make you consider us for your first or next real estate investment.  Even if you don't invest in our areas, there's a good chance I know who would be ideal for you. 
I've been around for a while, some Realtors are talented at servicing investors there are many with great ethics.  The intersection of the two, talent and ethics is limited to a handful in each city or town.
Only work with the best is what my father always taught me.  If you're interested, drop us an email at iwin@infinitywealth.ca.
I hope to meet you at one of our meetups soon.
Again that's iwin@infinitywealth.ca
Looking to add another stream of income?
We just completed the long anticipated Stock Hacker Academy Live Introductory Course and it was awesome!
Stock Hacker Academy is the foundation that has helped Erwin, Cherry and many other Stock Hackers make thousands of $$ weekly and now they never have to worry about money again!
If you desire the same for yourself, click here to register now
NO MORE Confusion
After all the Youtube videos, books, and forum posts, you're probably still left with questions. Starting in real estate is a tricky thing.
Frustrated beginners often ask how a legal basement suite conversion actually works. Most of the time we can only give general answers. But now, we get to dive in.
At this in-depth, free class you'll learn how to take your first steps as a real estate investor.
Nothing is held back. Everything from analyzing basement suite conversion deals, to renting out your first property at a profit, and even how to refinance and do it all again!
More secrets you'll uncover are:
Profiting in a HOT market…
Municipal bylaws to watch out for…
Mortgage terms that favour refinancing…
AND one barely used tactic for higher appraisals…
If you're frustrated, unsure of how to get started, this is for you.
 Sign up now for the Invitation List and be one of the first to get an invite to the next class.
Sponsored by:
Infinity Wealth Investment Network – would you like to know how our investors returned 341.8% on positive cash flowing real estate over the last five years? On average, that was 68.4% per year.
Just imagine what winning in real estate could do for you.
If you would like to know how we did it, ask us how by calling 289-288-5019 or email us at meaghan@infinitywealth.ca.
Don't delay, the top markets we focus in are trending upward in price, so you can pay today's price or tomorrow's price.
Till next time, just do it because I believe in you.
Erwin
Hamilton, St. Catharines and Toronto Land Development, Real Estate Investor, and soon to be builder.
W: erwinszeto.com
FB: https://www.facebook.com/erwin.szeto
IG: https://www.instagram.com/erwinszeto/

https://www.truthaboutrealestateinvesting.ca/wp-content/uploads/2020/11/Kris-Lewis.jpg
630
1200
Erwin Szeto
https://www.truthaboutrealestateinvesting.ca/wp-content/uploads/2017/06/TruthRectangleLogo.png
Erwin Szeto
2020-11-06 16:23:51
2020-11-06 16:23:53
10 Duplexes In Five Years, 100% Committing to Wealth Hacking, Cash Flowing 1-2% per WEEK with Kris Lewis