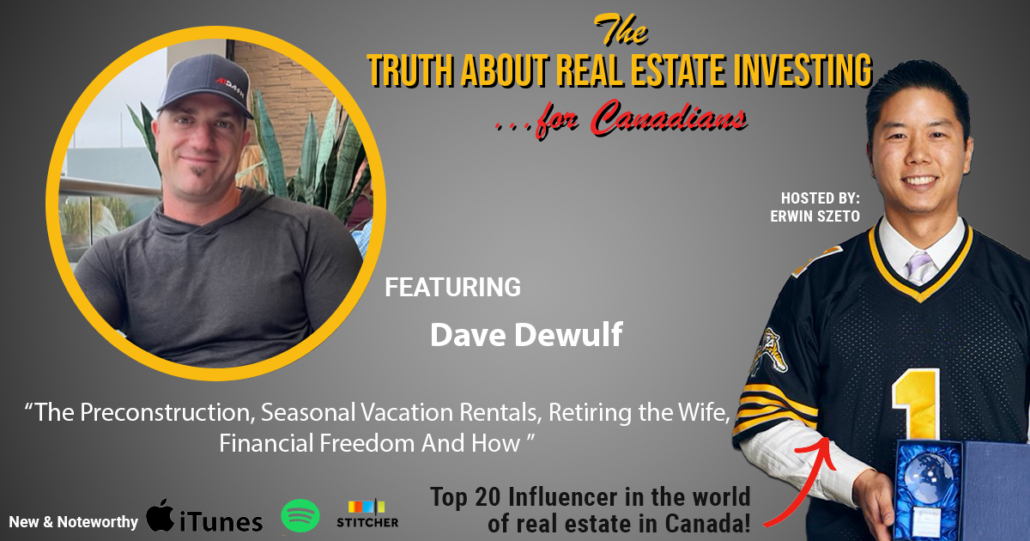 We have a great show today with a guest whose new life focuses on his family and fun, thanks to all the freedoms afforded by his real estate investments, stock option investing, AND former Engineering career.  
It's an incredible journey and one I'm happy to share here on the Truth About Real Estate Investing because these are tumultuous times. We all need a regular reminder that financial freedom is possible and to learn how others got there to pick out the lessons, so we apply them to our businesses, relationships, etc.
In the news, inflation in the US came in lower than expected; the bond markets still predict another 0.25% rate increase at the next Federal Reserve Meeting on May 3rd, then a possible 0.25% cut by September, followed by more small cuts gradually. 
This can all change in a week, especially if another bank needs bailing out.
Here in Canada, the Bank of Canada held rates even though employment continues to beat expectations, including March, inflation growth is slowing, but real estate is already on fire.
Canadian Real Estate Association's chair Jill Oudill's comment on the situation is quite dire:

"As the spring market heats up and it looks as though some buyers are coming off the sidelines, it's important to remember that the intense market conditions of recent years have not gone anywhere; they've just been on pause."
In the markets we help our clients invest in income properties, i.e. east and west of the GTA, we are already seeing listings hold offers again. 
Last weekend, we lost on a listing with 12 offers in Belleville, Ontario.
This is great news for all of us existing landlords or anyone selling and more challenging for investors buying. Thankfully we are able to source some off-market properties.
We're actually planning on touring one of them if we don't sell it before our iWIN Mastermind Tour this coming Saturday, April 22nd. As I type, there are only 4 remaining tickets; we had 30, so do not delay. 
If you're receiving our emails, go there now to register.  
If you're not on our email list and learning about our great events and when new episodes of this podcast are released, well, that's just silly. 
Go to www.truthaboutrealestateinvesting.ca, and enter your name and email on the right side; you're now one of the informed!
For those who prefer to learn about real estate in your pyjamas and the comfort of your home, our iWIN Meeting is completely online this Tuesday, April 18th starting at 7:30 pm EDT.
My team and I have economic and local market updates. We also have a guest speaker who invests in assisted living for seniors, specifically 1,000 units across 12 buildings with a portfolio value of around $200,000,000.
Jim MacDonald is the President of Levante Living.  
They do have a fund; hence, we can learn a lot about this area of real estate investing as the demand is massive and growing.
But all this and more at our next meeting iWIN Meeting, all virtual, 7:30 PM Tuesday, April 18th. 
This event has no charge, and you can find the link to register in our more recent emails.
The Preconstruction, Seasonal Vacation Rentals, Retiring the Wife, Financial Freedom And How With Dave Dewulf
On to the show!
Dave Dewulf used to invest local to himself just north of Toronto in pre-construction houses 20 years ago and has since pivoted to seasonal rentals. 
Dave details what his deals used to look like, and we progress to his more recent acquisitions, detached houses in the Blue Mountains, a year-round vacation destination two hours north of Toronto.  
Dave shares his plans to bring his investing model out to Whistler, BC, with some help from friends he met at Stock Hacker Academy.
My policy for learning is to learn from others who have what I want. 
Dave successfully retired his wife from teaching. The truth about real estate is that most investors who share with me their goals for the first time are not to get rich but rather to retire their spouse. Dave has, so please do have a listen.
Please enjoy the show!
This episode is brought to you by me! We don't have sponsors for this show. I only share with you services owned by my wife Cherry and me.  Real estate investing is a staple in my life and allowed me to build wealth and, more importantly, achieve financial peace about the future, knowing our retirement is taken care of and my kids will be able to afford a home when they grow up.  If you, too, are interested in my systematic strategy to implement the #1 investment strategy, the same one pretty much all my guests are doing themselves, then go visit www.infinitywealth.ca/events and register for our next FREE Online Training Class.  We will be back in person once legally allowed to do so, but for now, we are 100% virtual.
No need for you to reinvent the wheel; we have our system down pat. Again that's  www.infinitywealth.ca/events and register for the FREE Online Training Class.
To Listen:
Audio Transcript
**Transcripts are auto-generated.

Erwin  
Welcome to the truth about real estate investing show. My name is Erwin Szeto. And we have a great show today with a guest whose new life is to focus on his family and fun, thanks to the freedoms afforded to him buys real estate investments in stock option investing, and also a former engineering career. It's a great journey. And when I happen to be sharing on the street about real estate investing show, because these are multiple times. And I think we all need regular reminders that financial freedom is possible and to learn from others, how they got there. So we may pick up their lessons and we may apply them to our own businesses, or lifestyles or relationships, etc. In the news, inflation in the US came in lower than expected, the bond markets still predicted another point two 5% rate increase at the next Federal Reserve meeting on May 3, then a possible point two 5%. So they're gonna give back that increase by September followed by a more gradual, small cuts, this can offer change, and this may even change by the time this episode is released, because it all it's always changing based on the news and whatever Jerome Powell says, and also should another bank need a bailout, the bond markets will be rocking here in Canada. Oh, and also, if every time there's a big bailout, understand that interest rates go down. So that usually means mortgage, fixed rates go down. So yeah, it's bad economic times are actually good for mortgages. Can a lot of us out there can use some relief on our mortgages. Here in Canada, the Bank of Canada held its rate even though it has no increase or decrease either. As employment continues to beat expectations. The March number also came in as well and I came in well above expected inflation is growth is slowing but real estate's already on fire. I actually included a link to an article The headline is, well, that didn't last long. Canadian housing is a seller's market again, so congratulations to all those who bought the dip. It truly does look like the dip, at least in the markets in the properties that we target for investment purposes. It looks like based on our numbers, we're seeing that the bottom was likely this past August, so August 2022. So if you bought since then, congratulations, you've probably got a great deal. So in the article that I posted, it's in the show notes. It's from a towards cleaning real estate associated care deal. Who deal I don't know if I said that name correctly. Binoy, she's high up at the Canadian Real Estate Association, which is the Canadian Association that kind of rules all the realtors across Canada, I pay dues to Korea, the Korea is the is the acronym for common sounds quite dire. So float, as the spring market heats up. And it looks as though some buyers are coming off the sidelines, it's important to remember that the intense market conditions of recent years have not gone anywhere. They've just been on pause. Unquote. So for anyone who reads the news, you know, housing crisis isn't to me is an accurate description of the problems we face out there. So you know, in housing crisis, what would you like to own more of a hopefully I don't have to tell you the answer. In this world. I think we all need more hard assets. I don't think anyone would regret owning more hard assets, does choose the better ones that yeah, it depends on your goals, some are for store value, some are for making money, I lean more towards the latter personally. So in so in the markets that we help our clients, investment income properties, east and west of the GTA, we are already seeing that sellers are listers listings are holding offers again. Last weekend, we actually lost on the listing with over with 12 offers. And that was in Belleville, Ontario. If anyone doesn't know Delve is kind of like the exact middle between like Ottawa and Toronto. This is great news for all of us existing landlords, I'm happy to see my portfolio value going up again, as my properties are going up. Also, I'm sure lots of sellers are happy, isn't missing a great liquidity events are great time to sell and just making things more difficult for buying. But you know, we're still finding deals out there. We're not back at the peak yet. I just don't know when we'll be back at peak, but it seems inevitable. That will markets prices will go up probably like 20% from here and we'd be back in peak back in peak form. You know, maybe within two years. So marks moving quickly. Thankfully, we are able to take some off market properties. And speaking of we are actually planning on touring one of them. We don't sell it before our I went mastermind tour. So it's a new name that we're using our iWin mastermind tours, they begin with a coffee we all meet up for coffee at 9am. And then 10 we all leave to go tour to properties takes about two hours to tour two properties which are the main inside and outside. Highly educational, we explain numbers we explain why our clients bought those properties. What we like about the neighbourhood what the rents would be kind of tenant portfolio expect some home construction sort of stuff as well, because often we're inside a renovation project and that the next our mastermind tour is this coming Saturday, April 22. There are only four Work tickets remaining as I speak, we had 30 on Tuesday. So it's only been, we've only gone on sale for four days, and we only have four left. So if you are receiving your emails, please go there to register, grab, look at one of more recent emails, go there to click on the link to register. If you're not on our email list, and you're not you're missing out on learning about when our great events are, or when there's new episodes of this podcast when they're being released. Well, that's honestly just silly. www dot truth about real estate investing.ca links in the show notes, enter your name and email on the right side and you will be one you'll become one of the more informed for those who prefer to learn real estate while in your pyjamas while in the comfort of your home, are i When meeting is completely online in April, and that will be Tuesday, April 18. Starting at 7:30pm Eastern Standard Time, my team and I will be delivering economic and local market updates. And we have a guest speaker who invest in assisted living for seniors. So that nursing homes this is kind of the in between the assisted living. Specifically, his investments have 1000 units across 12 buildings and a portfolio value of around $200 million. So Jim McDonald is the president of Levante living, they also do have a fun, so they are extremely legitimate and well regulated under the Ontario Securities Commission. So anyways, I think this is an area of investing that we should all be learning about. As the demand is massive, and it's growing. I also think it's important for us to understand what we as individuals are facing or looking at for our parents who are ageing and for ourselves, should we ever end up in an assisted care home? I know Terry and I are personally planning at least I am planning to age in place. And understand that is not cheap. So yeah, focus should always be on making more money, in my opinion, all of this and more in our next hour meeting. Again, that's all virtual 7:30pm. Tuesday, April 18. Demand has no charge, and you can find the link to register in one of our more recent emails. onto this week's show. David Wolf used to Invest Local to himself real estate and he so days from the Vaughn sorry, the No, I think that's right, like the Newmarket Aurora area, which is just north of Toronto, used to buy pre construction houses. He started back in the years ago. I think everyone knows like that model is currently risky. Now prices are very different. Rents are very different than when when they've doing that when he started out doing that. Then of course, he's since pivoted, thank goodness, he has since pivoted to seasonal rentals, Dave details. And actually I think he's probably the first investor on the show to to specialise to focus on seasonal rentals as in renting for a whole season. So it's kind of like mid term rentals. But that's more focused towards these properties are aren't in vacation areas. They've details what the deals used to look like. And we progressed to his more recent acquisitions, which are detached homes in the Blue Mountains area. Blue Mountains is a year round vacation destination, too rough. Just over two hours north of Toronto, Dave shares his plans to bring his investing model up to Whistler as well, with some help with some friends he met at stock hacker Academy. My policy for learning personally, is to learn from others who have what I want. They've successfully retired his wife to her teaching job. And the truth about real estate investing is most investors when they share with me what their goals are. It's not to get rich, it's not gonna make millions of dollars. But the number one goal is usually to retire their spouse. Dave has done so so please have a listen. Yeah, please enjoy the show. Hey, what's keeping you busy these days?
Dave  
While Erwin lights on the go, I've been really focusing on the new life outside of 18 years of living in corporate focusing on real estate, focusing on my family, travel, managing our own schedules, and still actually doing some consulting in, in my old industry as well. So that's pretty neat. But what
Erwin  
is really behind in terms of the corporate world did you leave behind? Pretty good pay and pension? Yep. It was an easy,
Dave  
So it all started back in, I'd say early 2019 stock hacker Academy listening in on what you had going on with trading in the markets and understanding the value of money understanding how the financial system works, led to assessing both my wife's pension she was a teacher, high school teacher for 15 years. She was actually the one to leave corporate world first before me. And
Erwin  
thanks to you, thanks for the investment decisions you made. Yes, exactly. And apologies because I want to clarify you're responsible for the the investment portfolio. Yes. Does your wife have any say
Dave  
for the trading investment portfolio? Yes, I was fully in control of that. But we both grew in real estate together. Got it? So you know, I've been investing in real estate since 2003.
Erwin  
Hey, why did you retire her first want to be a little bit selfish and untie yourself First,
Dave  
it felt like it was the safer decision. Because I felt like my
Erwin  
splitting hairs, I should have pretty safe income too.
Dave  
But I felt like I was more confident in actually replacing her weekly bi weekly salary than I was replacing mine initially. So once we made a decision, which was actually shortly after school was getting back in after COVID, for her not to go back into the teaching worlds. Yeah, it just naturally came to be what should do now?
Erwin  
She retired.
Dave  
You're never retired, you know, we're, we're still young. And she helps out with consulting business real estate. So there's always there's always something to do. There's always something on the go. Okay, so you guys are hustlers. Oh, yeah. And even now for myself. You know, when I worked in the corporate world, I was always quarter to five up workout picture, I got to the office, seven 730. You know, that's changed for me now. Instead of waking up at quarter five, I can wake up at 530 and still do my mornings been sleeping until 530. That's asleep in what's important there is maintaining discipline, maintaining a routine and making sure that you know, I set myself up properly for the day.
Erwin  
Why that moment? Why that moment? Like you and your wife, were making really good income. Both our pensions was worse defined benefit as well. Yep, she boy. Okay, you guys are living the dream. Just to some home. We wanted more. We Yeah. And you know, it's
Dave  
not that, you know, we took our family vacations yearly, you know, give me an example. March Break, right? Just went through March break here in Ontario, I would always leave a few days early to head south to our property in Florida. And you know, I can travel with the kids to kids, for the same price that she was flying solo, right, like $1,200 for her on a Friday night and return Sunday, teachers.
Erwin  
Teachers schedule my marches where the airlines gouge and arch Christmas. Yeah.
Dave  
So she was very determined also in this part of why I think it's a it's a great story. She was looking for, you know, just that little bit more income for that additional family trip every year. So she was tutoring. And she'd take clients and she she'd make an extra 10 $4,000 a year for that extra family trip. And I thought, hey, why I need to figure out a side hustle, they contribute, you know, we've got a real estate, it's a slower investment, obviously doesn't pay as much cash flow than what you can earn trading in the markets. And yeah, as soon as I got into the stock hacker world of learning about how the markets work, how the money system works came apparent to me that I could contribute and all turned out that could contribute a lot more. So that's kind of how we we got to where we are with like I said her initially leaving her job and then me following suit after.
Erwin  
So Starswirl has been a real mess. has been big up. Yeah, big down even more so than the real estate market. Especially depending on what sector Yeah, like we're talking about a fund that's down significantly. I know, their largest largest holding is Tesla. The Tesla is volatile. It's crap. Yep. Right. It was 300 bucks a share not long ago. And now it's 100. No, it's at 180.
Dave  
It's yeah, it's it's hovering around. It wants to break 200 Right now, but I love Tesla, I'm invested in it. But
Erwin  
so what's your what's your activity today in terms of like, trading and options and stocks?
Dave  
So over over the years, I've grown to find what works, right. And you have to find a certain strategy that's going to work with certain market conditions. So
Erwin  
can your lifestyle Yeah, and it wasn't in front of screen all
Dave  
day. Exactly. And I by all means I'm not professional trader. As much as I immerse myself in the books, reading books and trying to get educated. There are people out there who do sit in front of the computer screen 810 hours a day. I don't want that lifestyle. I've tried it. I've actually over the past year been getting into the D trading world now for me was not for most No, it's It's actually a huge psychological part it right, mentally draining. So for me, you know, I found more of the swing trades. I'm always checking my portfolio through the day. But yeah, my long term vision is and you've had guests on this show as well where when my portfolio I feel is at a certain size. I will sit back and just do boring dividend stocks, but for now I'm definitely more active with semi zero DTE to Yeah, that's right. You
Erwin  
did a lot of Yes. Yeah. But
Dave  
sorry, can
Erwin  
you explain what that means for the cod team means to the layman to
Dave  
expiry same day? Yep. Same day expiry, on, say a position on one of the main indexes. And actually, you know, Spy SPX offer that offer that now every day.
Erwin  
So ETFs for the mimic the s&p 500. That's right. Yeah,
Dave  
that's right. Like when I first started trading, I think, because three times a week, options expired Monday, Wednesday, Friday, right. And now you're up to every day. So with the massive volatile swings, oh, on a daily basis, that strategy, again, a little bit too, too much involvement. too stressful. So I've come to more, more of a, you know, three to five day type of swing strategy that seems to be swing.
Erwin  
I think swing I think like three to six weeks.
Dave  
Because, again, I'm trying to generate and am generating income to replace our salaries. Right. So I'm quick in quick out. Right. But
Erwin  
you've you've experimented you found what works for you exactly. Your schedule your personality, and you have to risk tolerance, stress levels?
Dave  
Yeah, I don't think you know, there's a certain personality that it takes to do that all day every day. And that's certainly not not me,
Erwin  
right. Now. I know a lot of people do not sorry. I know a lot. There's a special few who do day trading now. Because it seems to be one of the preferred action is because no one can really guess the direction right now. Right? It's extremely volatile. Like I said, beuter Bank was down 14% This morning. Yeah. Like, holy cow. That's a big bet. Yeah. It's got the biggest Germany. Oh, boy. So yeah, like, a friend of mine asked me, Do you think the risks contain the contagion is contained in the banks? And like, I don't know, I have no idea. And anyone who tells you to do that, or like Janet Yellen, I don't believe anybody. But I digress. Yeah. But yeah, so it's working out? Well, for you. Yeah.
Dave  
Yeah. And again, you know, thanks to stock hacker Academy for the introduction in that world. And, you know, I don't think I would have taken some of the steps I've taken in the last couple years had I not learned this life skill, right. And so in a way, it's been life changing. But you know, what it what it's allowed me to do is, is really step back and take a look at what's important right now, just spending time with family and young kids travelling, trying to keep out of the winter for, for the most part. Yeah, so that's I did has been very enlightening.
Erwin  
The stock market thing has been big for a lot of people. For example, I had a call with a gentleman, unfortunately, broke his dreams. His plan was to be a side hustle, real estate investor, he just closed on a five Plex. His goal was just to keep getting stuff like that and bringing them money eventually generate 10,000 of cash flow a month. And then I was like, I don't know anyone who's done that as a side hustle. Yeah. Who's not independently wealthy. Right. Right. Except for one gentleman that, you know, he's been he's been on the show, Tim Collins. But he was able to do it because he liquidated his real estate portfolio right took his profits reinvested in the dividend payers, right, including high yield ETFs. Yeah. But he will tell you like he wouldn't have known how to do that without having taken stock hacker Academy.
Dave  
Yeah, you need to have that that basis, but also understand, especially if you're managing your own money, which I do manage all of our own money.
Erwin  
We're talking seven figures. So you're managing seven figures of Oh, yeah, fastball and stuff. Exactly.
Dave  
And I'd say the biggest thing that 2022 has taught me is, is risk, how to manage risk, you know, my own risk profile. And, you know, I used to take, for example, take a trade where, in my early days, I was only looking at the profit potential. Now, before I put anything on there, the first thing I look at is, what's my risk? Right? So for me, if I can do one to one or two to one risk reward, that's where I want to be.
Erwin  
So that's wonderful that you've defined your risk. So I give the listener, a real estate analogy. And I've been harping on these folks that are going bankrupt. I'll just that they did not judge what their downside was, for example, a real estate investor should understand that your losses are beyond your investment. Right? Just because you put up a 20% down payment. You can lose more than that, right? Oh, yeah. Right. Oh, yeah. You know, I think there's been a little bit too much of like the go bigger, go home, rah rah ego stuff that's been out there. And so for example, like yeah, go big. That's great. But you also the nursing like going home looks like right and literally, people have gone declare bankruptcy both personally and professionally, and literally had to not go home moving to their parents home. Well, right. Yeah. So that's Wouldn't that's what can happen if done wrong. Right. Right, which is honestly, the feedback I've been getting. But the show is that's not discussed enough out there. So, so that my thing is like your investments should defend that. Absolutely. Let's should know that that's the worst case. So then take appropriate risk. Right, right. But don't don't go out there gangbusters being over leveraged and like having 310 vacant properties that you're trying to renovate. Oh, boy. Yeah. Yeah. Because you're a real real estate investor yourself. Yes. We we much spend much time on it. Yeah. But you've, you've accumulated a decent sized portfolio through real estate. What What year did you start? Do you think?
Dave  
Um, I'd say 2003 2004.
Erwin  
Good touch. Yeah, it's a tricky time,
Dave  
you know, most most of my real estate success, it is different from a lot of what you practice here in the Hamilton area with, you know, the birth style
Erwin  
is different, though, because people are starting now, versus even when you start that early, you have a lot more runway to work, right.
Dave  
And our area in Northern New York Region, at that time, new construction everywhere. So I got into the pre construction type of buys, right, buying from the builder putting 50,000 75,000 down, and always having that next property on the go, where, you know, values of real estate were going up at the same time, while you're waiting for your property to close. So, you know, some of my properties 3x gain on the initial cost of the
Erwin  
house, turned the price 3x rated Investment 3x the price of the house over a period of time.
Dave  
So my my best sale was a seven year hold, you know, and yeah, I would say, actually, the worst one we had was was our townhome investment held onto that for about three years. And that was still you know, but 80 to $100,000 profit by the time I walked out of there, but terrible. And actually, that that one in particular was, you know, my first keys for cash tenant experience as well. I learned, you know, trying to go through the sale of a property with tenants in was not an easy thing to do. See, when you tried to sell it with a tenant in a first or at first, and ultimately I had to go to a keys for cash model. So you know, the costs, I can't remember now 510 $1,000 To get them out. Ultimately, it was worth it because I freed up that capital to use towards another purchase. But, you know, using a paralegal to accomplish that was one of the ways I had to do it. There were a year that was that was 20 is 2019. When we went through that I think I purchased that preconstruction 2015 or so had tenants in there for a couple years. But ultimately, even though you're selling, what's that
Erwin  
they will leave the building are selling now. So how was he
Dave  
great tenants while they were there, right? Awesome tenants while they were there, but trying to have the conversation of and sign this place that I need you leave? Things got a little complicated there, right.
Erwin  
So then we phrase it, which is a house for anyone listening. And the way we phrase it is we try to give them lots of time. We're actually doing this right now with many of our clients that are looking to to exit, take their profits, like our team talks to the tenant, it's up to their client who they want. Usually they want to be asked to do it because we have more experience doing it. We tell the tenant like Klein wants to sell and there's almost no chance the buyer will want to keep you right, either the Union or the public thinks your rent is too low. Yeah, because it is essential. So we want to give you ample time to move it onto your own on your on your own schedule. But this house will be put up for sale eventually. Yeah. And then Mirim 878 times out of 10. That works only one or two times at a time where they entrench themselves. Yeah. Some it's not. Some of us might malicious Yeah, some of it is. Yeah, there'll be looking for money. Yeah.
Dave  
And I mean, your agent at the time, you know, 25 years experience in the industry. That was a surprise to her as well that we had to ultimately go that route but it turned out to be better because now that that capital is doing way more for me and invested in the Blue Mountain area. Hmm.
Erwin  
So actually want to ask you that, like okay, so would you do the same strategy today
Dave  
in terms of fine pre construction?
Erwin  
Because I want the listener understand by the time that you did it was pretty much perfect. Just do it for like a 12 year bull run after that.
Dave  
Yeah. And listen, I fully recognise that and I've seen some of the stories, even some of the ones that you're posting where, you know preconstruction buying, say, at 2 million and the property's worth one and a half. And, you know, the person trying to close can't get the funding.
Erwin  
Well, that was a news article. No. And I know personally, why
Dave  
would I do it again today? Yes, in a market I know, in a market, I know where the growth potential is there. And I know my numbers in certain areas, and definitely if the numbers look good, and I see that future potential, we love the building process. We love the rental process. So yeah, definitely what but again, you have to know you have to know your market.
Erwin  
So I think my question is, do you see that opportunity within the GTA for example, do you see that opportunity in the same area where you already bought them?
Dave  
Not right now. I'm actually considering for what's next for us is more so a an older purchase with a full second story Reno, you know, taking a bungalow to two storey and doing our own thing with that property because there is not as much building happening in the areas we've always invested in. So that's that's definitely changed.
Erwin  
We're about remember blue mountains up
Dave  
in Newmarket Aurora, Sharon area, but you know, blue mountain areas still staying with lots there's lots going on. new development wise so there's there's opportunity we had there for pre construction for sure.
Erwin  
Okay, just for listeners benefit. Blue Mountain is actually the name of the community actually, I didn't know that that was the name of the actual mountain. Yeah.
Dave  
Well, it's actually the the town of Blue Mountain. Right sorry, address on our properties areas. The town of Blue Mountains.
Erwin  
That's a long name. Your address this town Blue Mountains, which is near Collingwood, so
Dave  
it's 10 minutes outside Collingwood,
Erwin  
10 minutes outside of Collingwood, north of the GTA very popular vacation destination. Someone actually told me that it's more it's busier in the summer, which shocks me. Yeah, I mean, that you're you know this better than I would Yeah, it's
Dave  
it's just as busy as the winter. Yeah, absolutely. A lot of love events going on, there's always something happening. Whether it's in the village or no down by the waterfront, there's always something going on. So, you know, if you have a pool, then obviously your property in the summer is gonna be that much more attractive. In the winter. You better have a hot tub divorce or both? No, not at the moment. Not at the moment that's a big right now. It's a big investment right to put a pool in on on something that you may or may not acquire yourself longer term. So still still assessing that.
Erwin  
So tell me what what you're doing Blue Mountain?
Dave  
Yeah, so basically, you know, one of our seasonal renters there now got in early December, they're there till end of May. That that property in particular, as that term is coming up, I will be looking to put somebody in there for the summer. So with those seasonal rentals the difference from doing say that Airbnb, I don't want to deal with the turnover. And I know I've heard you talk about what some of those Airbnb ZZ are going for per night which is a very attractive number. I want the solid cash flow month over month and know that that's coming in to cover what I needed to cover
Erwin  
how many properties you have in Blue Mountain to and one was you're intending to use yourself
Dave  
right? Yeah, the one we actually with the builder built it for ourselves as a you know, our potential retirement property. But you know, just seeing the way that market is right now. It just makes more sense to to have the tenant in and go with the seasonal rentals because you know, as you know, rents or rents are going through some recession we're having well you know, this one fell into our laps our real estate agent said hey, I've got clients who might want to be interested in renting your place and so it was it made sense for this procedure anyway to go with the seasonal group.
Erwin  
Why is the why the end of May I'm surprisingly because the ski season is basically over now
Dave  
kids in school finishing up school year there's private there's private school in Collingwood.
Erwin  
Okay, is this just like a midterm rental done for them or like are they actually moved to the area to ski and go to school?
Dave  
So without saying too much you know, family considering moving to the area not sure if they want to buy it so testing it out term so kind of testing the area before yeah for they make that decision so interesting, perfect type of tenant to have for us at this point in time
Erwin  
fascinating no exist. Here's why then they may is that stands out because I think ski season basically over No,
Dave  
Yeah, we just went up to Mount St. Louis the other day, it's it's starting to get your slim
Erwin  
because your places are occupied. You can go state your own place either go somewhere else. Yeah. So you are delaying your own gratification to yeah, get more
Dave  
rent money, but that's okay. That's okay. We're okay with that right now.
Erwin  
So you don't have a property near St. Mount St. Louis, you're just renting them? You know, we
Dave  
just, that was just a drive for us a trip off from where we live. So,
Erwin  
okay. What are the specs for the Summerlin? I'm sorry, tell me about the property and then tell me Yeah, so rent
Dave  
30 G's is around 3700 square foot single family home. And, you know, seasonal rents go anywhere from 7500 to 9000 a month. We're in that area on this this place in particular and inclusive of course,
Erwin  
yep. Right. Yeah. Plus internet to people include it? No. You know,
Dave  
they pay their own utilities. That's just unless utilities utilities, plus utilities, or drill if they have a hot tub. Yep. One that's that's thing, you run a gas fireplace all day, your gas bill is going to be plus $300 per month. Right.
Erwin  
So this is where you want to grow? Absolutely. Like I said,
Dave  
and I know, we were talking earlier, there's still a lot of opportunity there. I'm seeing semi detached and smaller single family homes like in that 1500 to 2000 square foot range with this current market pullback. These places are, you know, 20% under where they really shouldn't be. So, you know, the opportunity I'm seeing is probably two to five year holds for some pretty great capital appreciation.
Erwin  
Are there many closings happening right now? Because I'm just wondering, I hear friends of friends saying like, do you have someone for this? Because they can't close on it? Are you hearing much of that in that area? There are hoping houses built like I think all the time. Yep. closings all the time. Yeah. Are you hearing much financial pain? Much availability of like
Dave  
assignments? Not in that area? Not? Is the builder even selling any directly? Again, inventory right now is very low. You kidding me? Yeah.
Erwin  
That's interesting. Because for example, Coach Steven, my team. Yeah, I think he was telling me there was 90 listings and all Belleville for example. And something like over 20 of them are from the builder. Wow. Right. So like what happened? I'm gonna just signed it and close. So another builders selling it? Because why would they have built it if they didn't sell it? All? Right. Right. They probably sold it didn't close. Now they're having to sell it. Yeah. Right. But you're not seeing that. Same Yeah.
Dave  
And I think in that area, too, you're you're getting a lot of the well, Oakville Mississauga traffic as well, that wants to get up north. So you know, the money is kind of moved up there. In some respects. It's kind of funny, because like, I live in Ohio,
Erwin  
as well spend money like this. I don't want a vacation property. You know, again, everyone's preferences are different as to what to be mailed down anywhere. You know, I mean, like making a day trip to St. Louis St. Louis sounds more attractive to me than owning a property rare, right? Because it's just like, I don't wanna be committed to like going, it depends on
Dave  
the area, right? Like, for my wife and I, our family, you know, initially, we just were outdoors, people active people bike swim, running outside, and we snowboard. So is like, that's an all round location where every season, there's something to do. So longer term could definitely see ourselves moving there. But for now, with what we've got going on, it's, it's good to just let it let it sit.
Erwin  
So that's your play, then you think going forward, you're just you're looking for some houses, 1500 to 2000 square feet to rent out any sort of style, like what are your requirements for a four bedroom hot tub?
Dave  
So you know, specifically in there's a couple areas where, you know, community pool and clubhouse and so, you know, these these properties I'm seeing right now, where the opportunity exists is whether it's, it's a summer rental or winter rental, those amenities are there. Right. So I play there would be you're either getting a tenant who's going to live in work in that area, or people who are running their own online businesses closer to retirement, one of my properties areas a couple who's retired, living in, in the area, they're just again unsure of do they want to buy or not, so you'll get different mix.
Erwin  
Or it's funny how many tenants I have have been saying that for like, three, four or five years and like you can go I know a good agent. Please leave this.
Dave  
Yeah. Yeah,
Erwin  
that's a while. Are you gonna find it? Are you planning on divesting more of your your previous reconstructions?
Dave  
Yeah, so I mean, looking right now at where that capital could come from I work with with a partner actually, you might know him Brian? gherkin. Oh, small world. Yeah. stocker cattle. Yeah. And actually that's that's how we met. So So since then, right? We've
Erwin  
had our mutual friend out in Whistler.
Dave  
Done some joint deals. So yeah, we're looking at some of these opportunities together. You know, he's, he's out travelling in England right now looking at purchasing real estate in England. So here's a guy who heavily invested in GTA, Toronto. And I'm fortunate enough to have met him and Adam bit as a mentor on on the real estate side as well and some existing property purchases. But yeah, he's Him and I are looking at expanding in that area.
Erwin  
What kind of returns are you looking for? I'm sure you've already mapped this all out and hold it. Long term. or So would you call seasonal rental is the name of the strategy. Okay,
Dave  
I see the returns there more. So in, especially if buying right now in capital appreciation just on the market itself. So
Erwin  
when you're looking at like, what breakeven on the rental if,
Dave  
if I were buying something right now, and breaking even, I'm fine with that, because I know that same property a year from now, two years from now, as the market starts to pick up will, will provide much more value right are very, and that's why he's giving that kind of two to five year timeline on on one of these purchases.
Erwin  
That makes me think about the trickiness of trying to communicate to to novices, something about marketing. It's difficult to market from market, what I do, for example, to novices, for example, because like my model is very similar. Like I've I've refinanced almost everything right. So my cash flow is very close to neutral. Yep. Because I've been going after, honestly, just a hedge for inflation. Right. Right. And with that kind of depreciation, which I've gotten, and I think a lot of investors kind of miss that, is that, you know, there's nothing wrong with all these different strategies, right? You can go for a pure cash flow play, it's just the often you're going to go to a very small town, Ontario. That's right, maybe go to Edmonton. It's not easy, though. And then often, you'll miss out on a lot of appreciation. Because for example, I have a lot of friends from like the rich dad programme, who went to like, really small towns, like you've never heard of this, and that and that and these are my friends and they'll tell me on my on my greatest regrets is that I'm buying a bigger centre, like a berry like an archway, like I like to Hamilton and gotten all the appreciation, because whatever the on cash flow pales in comparison to what why probably one person who just buy and hold 1000 Berry, for example, right? Because I think everyone knows, like, you know, six years ago, you probably buy a house for like 40 grand and bury that same house is probably even now 800,000 $400,000 return? Yep. How much cash flow? How much you've exposed to get $400,000 in cash flow return? Exactly.
Dave  
Exactly. Right. And that's why I think the opportunity there versus if you're looking say, I don't know, the Hamilton area, but, you know, to grow by three to $500,000, in two to five year period, that growth potential exists there. I don't know if it's the same and, you know, theories you play in, but that's why if a property right now, you could break even on all your expenses, you be in a very good position. Right,
Erwin  
right. And again, for context, like you've shared, you're pretty comfortable financially. I believe Brian, we're pretty comfortable financially. And also, we're not just guessing at this, like CMHC came out and said there are an economist said, we're gonna be back to peak past peak, we're gonna be past peak by 2025. Right. All right. So even if we get back to peak, yep, you're pretty happy. Are you not? Well, yeah. All right. I think we'll all be Yeah, absolutely. Alright, take some profits. But damn, like if someone doesn't do something now, because you're talking about like, 150 $200 or $200,000 return when two years? Easy, right? Easy. We can't say easy. Don't be hard, confident. I'm confident. Very you're willing to bet money on it? Yeah, you literally are. Yeah, people who miss out on this.
Dave  
I'm part trader, I put on risk every every day. Right. So you know, where I see where I see the potential opportunity. It numbers make sense now. Right. And you already own in the area? Yeah. And I mean, it will be harder to make that cashflow work on, on the cost of some of these properties because the the single family even bigger than 2000 square foot home. Right now that's selling for 1.2 mil that back to peak market pricing will probably be in that 1.5 to 1.7 mil.
Erwin  
Right. Well imagine trying to start the Strategy two years from now.
Dave  
Exactly. And making the rent numbers work, right? Because Because how much is that? Call it six to 7500. On on rents. How much is that going to grow in that time as well?
Erwin  
Don't know. Inflation. Yeah. We'll see. I don't know if you saw the numbers that came out this week. Ontario grew by 445,000 people and 2020 20 Sorry, 2022 Miles does this Ontario, Canada grew by million this like. So it's funny because I always try like, like, I'm at Blue Mountain, for example. I'm like, I've never remembered it being this busy before. But my context is also from high school, which was a long time ago. And we were a lot smaller as a country, let alone province. So I don't know if I can always draw those comparisons. So for example, when I when I joke around and say, some recession we're having, is that really a fair comparison? Yeah, this is a lot more people here. Yeah. All right, because I remember I remember going through school, like population of Canada was 25 million. Now we're getting pretty close. About 37 million now. Yeah, thanks. Very different. You can't compare. Exactly. So exactly. And let alone what the money supply is. Do you have anything else you want mentioned about vacation rentals? Because you're looking at expanding outside of Ontario to yeah, don't talk about it. Yeah. Yeah. So
Dave  
again, Kenny, the same concept as Blue Mountain. And I know you and I both know somebody out in Whistler. Actually, my sister lives in Whistler, and boots on ground. Nice. Yeah. And so I've, you know, I've been watching that market for the last year, year and a half. And I see a lot of opportunity in that area as well, because a lot of what's been built, since the 80s hasn't been touched in terms of rentals, right? So you're talking 80s 90s decor, where, again, the cost to get into that market for that 2000 square foot townhome is probably in the one seven to 2 million range for the untouched, you know, original state, but, you know, quick lipstick, Reno floors, paint kitchen, bathrooms, again, you're seeing those places sell for two and a half to 3 million. So in terms of looking to expand, yeah, Brian and I have been talking about that. And we also talk a lot about the Florida area. So Naples, specifically, your property there is rented out from time to time over the winter, but that was initially purchased as just for ourselves. And when we realised the rental potential, you know, that's where we're finding specific tenants to put in from, you know, anywhere from two weeks to four weeks. And again, there's lots of these coaches out there right now talking about how to invest in the US and how to invest in Florida specifically, there's opportunity
Erwin  
for sure. Yes, have a lot cheaper down there. Yeah, don't have the same population growth.
Dave  
And again, capital appreciation, slightly less from what I've experienced. But terms of cash flow rental rates, be pretty solid on your numbers.
Erwin  
Sorry, the previous example like the 80s builds that have been renovated the Geneva city
Dave  
i o have done a song specifically about Whistler from the product that I see coming through from the the agent that I'm in touch with out there
Erwin  
is specifically want Windsor because you've a friend there your sister, is there anything else just for example, like just to play double that cricket moves other world class mountains like mountain Monotron blog? I can band for example? Yeah. Why? Why Whistler?
Dave  
Well, the demands there, right? Every winter summer, kind of like what we're talking about with Blue Mountain, four seasons,
Erwin  
same thing summer,
Dave  
it's busy, very busy. downhill mountain biking. That scares the crap. I went out there a couple summers and the chairlift is going, you know, everybody's out there with their downhill mountain. Yes. Right. BC people like the downhill. Yeah,
Erwin  
I'm not I believe they're mountain biking out there. So you see the same Blue Mountain. I know. There's mountain biking trails and downhill and
Dave  
stuff. But nowhere near that
Erwin  
extent. Right. Right. Our summers are nicer. Yeah. Awesome. So yeah, Whistler. What do you have in Naples? Is it like a two bedroom condo or something like
Dave  
that? Yeah. So Naples communities can be what we would call like, a townhome block, right, except what we have there is their two story units. There may be six units in one building, upper lower. Spec towns. Yeah, basically a stack stack townhouse. So you know, three bedroom 2000 square feet. And yeah, rental wise, it prints out for close to $10,000 US per month, when we do want to rent it out. So
Erwin  
excuse me at the Naples. What's the place like this worth?
Dave  
Now they're selling in the seven $800,000 range. When we bought in there they were hovering around 350 to 400. What year was that? I was late 2014. Yeah,
Erwin  
so sounds like you have a lot of irons in the fire. What do you want to expand and do it all at the same time?
Dave  
No, no, no. Again, not risk wise putting putting too much out there. I think that Next natural progression from from what I'm seeing opportunity wise is, is in the Blue Mountain area. And you know, from there, it could be Whistler notes.
Erwin  
That's awesome. Yeah. Just literally chair now we're talking this morning Chair wants to get season passes for, for Blue Mountain bikers, it will be there a lot. Yeah, just if we're there for like four days. That's worth it.
Dave  
They're not that expensive.
Erwin  
I think it was like 250. I think that's a special that's on right now. They
Dave  
charge I don't know what they charge for a day pass anymore because I have the seasons passed. And I think if you go two or three times, it's probably paid for.
Erwin  
I think three times you pay for it? Yeah, I believe when I was there. And when I actually looked, it was $100. It was a Wednesday, right? So weekends or holiday be? Whatever. Yeah. Awesome. So Dave, thanks so much for sharing. Again, like a lot of investors are out there. They don't really know what to expect, or like what their objectives should be in terms of a strategy. Yeah. So I really appreciate that. You're honest about it, that you're in it for the capital games?
Dave  
Yeah, you know, it's it can be a slower game, right, in terms of waiting it out. But from the real estate side, I take that a lot slower than I take the fast fast gains of trading in the markets. Right.
Erwin  
Right. Right. So in the right context, you still have essentially a day job. So you still have income money coming in so that you guys can continue to live your nice lifestyle. Exactly, right. streams of income? Yep. I've been, I've been seeing a lot. So for example, my dad's a doctor, and he advises all his patients who are retiring to never retire.
Dave  
Right? Well, when I when I first stepped back from, you know, my 18 year career, I think in those first couple of weeks, I thought I was going to have all this downtime, and it just didn't go that way. There was just something I wanted to focus on. And when you're highly motivated to still keep achieving, whether it's financial goals or personal goals, it just can never stop, right?
Erwin  
In my own experience. For example, it's because we've put a pause in stock hacker Academy, we were forecasting a loss for the year 2023. So it wasn't something that Trey and I were looking at, were interested in. Hence, because we're having a recession. Yeah. More recently, we're willing to tolerate that since we put a pause on everything to bring in new students to even offer the course we put a complete pause on that. Right. But just by allowing more space in our lives, part of it also we want more space in our lives. My kids are young, my kids are the same age as yours. So it's super fun time. Yeah, we didn't feel that at a time in our lives that we need that we wanted to be pushing so hard, especially for forecasting a loss. And when our kids are so much fun. Right. My point is that by allowing myself more space, I've been seeing a lot more opportunities. Right. All right. I wonder if that's like maybe some of your work? Yes. Now you allowed yourself space? Yeah. opportunities present themselves. Right, right. Absolutely. Absolutely. Can you imagine your life without real estate or stock options? No,
Dave  
it would be go postal service. Same old, right, it'd be grind every day, and really no freedom cut out new schedule. So I think that between real estate and stock options, that's what's afforded the lifestyle change for us.
Erwin  
Here's the challenging part. I've spoken to some people as well. Is that like people like yourself, people like myself, who hustle pretty hard to avoid the afford these freedoms? What do we teach our kids, for example, your kids will see your mom or your wife doesn't work. Which is not a reality for almost every family out there. Right? Thanks to the the standardisation of gold. Everything changed after money was no longer tied to gold. Because everything costs more, but inflation. And then then both husband and wife or parents would often mouth and had to enter the work field. You are one of the minorities that has actually retired your spouse. Right? Sure. What was going well, yeah, what are you gonna teach your kids about all this? But he tells them, they probably see you more than most people see their parents. Yeah, they still
Dave  
need to understand the value of money, the value of hard work and what it takes to get there. Right. Right. So what do you teach your kids while still model that? You know, dad's still hustling following routine and making sure that you know, I demonstrate the type behaviour that I want them to
Erwin  
model? So you're both well educated for example, what do you both have? Like your wife is a teacher? Yeah, that's more than a bachelor's
Dave  
to university degrees, right. double major in engineering and so
Erwin  
yeah, so you did minimum five years Yeah. of university. So we still
Dave  
you know, when, when we talk about what's next for our kids while your business school accounting, learn about the way money works, learn about business, how business operates, because that's crucial, whether you're a real estate investor or actually wanting to run your own business, that it's not tied to Because so yeah, I still think you have to instil those values in your kids, right?
Erwin  
Are you showing your kids around about the stock stuff and the real estate
Dave  
they know about it? I don't think they've taken quite an interest as of yet. You know, their birthdays last year, I think my, well, each of them, I had to be fair and give the same amount, but they got some apple stock. So they know what it is. I just don't think they quite understand it yet. But the value of that means,
Erwin  
right? We're not teachers, you have a teacher and home shoe taking advantage of these. Yeah, a cherry on our own just, she started teaching the kids about money on Sundays. So for example, when we got across, but together, but the kids were there to help facilitate, you know, so we get them like the appropriate appropriate weight. Yep, we wash their form, stuff like that. Yeah. But for example, one of the first exercises Sherry had them do was to ask them questions, she asked him some questions on the business. Like, what do you think the expenses are of running a gym? Right? Right. So cleaning, equipment, costs, utilities, insurance, so she did have to come up with these answers, right. Okay. Now, where does the money come from? Exactly how many members do you need? How much do you charge I was just the things. That was one week. And then the next week, it was very selfishly, I want someone to be a doctor. My kids or my cousin's kids. Than then last week there was there prepare questions for my dad. But it costs to run a medical practice. Yeah, what education you become a doctor, how much cost becoming a doctor. So then they're getting understanding of all these things, stuff and don't think we understand everything, but it's just the least getting going and thinking about these things. Yeah. Because my daughter already said she must be an artist when she grows up. I want her understand what that means. Right? Like, yes, it's great. You want to pursue your passion. Understand what your lifestyle will be compared to a doctor's exactly right. Yeah, very different.
Dave  
Yeah. Well, and you know, both my kids have been in the car driving back and forth to Blue Mountain to manage the properties and nice, and we've had those talks, right? How, how are you affording car payments? How do you afford if you want to go out to dinner and spends you know what it's going to call it? You can't take family out for dinner now for less than 150 bucks. Right? Doesn't? doesn't really exist?
Erwin  
So I'll give you a pro tip later. Yeah.
Dave  
I mean, you know, we talked about money and make sure they're aware of exactly what you're saying, What could this path lead you down? Versus sure if if you want to run a makeup parlour, why don't you own the building? And if you own the building, here's what that can mean for you. So
Erwin  
I've shared before when we were in Miami, because because it was so damn expensive to eat out. And everyone was out actually adding 80% We just got to eat a whole foods. So we're slumming it a Whole Foods. Yeah. Yeah. Right. We'd be more like 60 $70 for the family to eat. Right? Us? Yeah. I would be like 20 have overheating issues. If anyone wants to follow along your journey, where can they where can they find you? Yeah.
Dave  
Yeah, we're no not Tik Tok? No, we're on Instagram de sel investments. My my partner, Brian is ypes website BBH investments. And he's also pretty active on Facebook as well, our website de sel investments.com. It's, it's actually being re rebranded at the moment I got somebody working on it. So that should be a backup sometime soon. So yeah, I'll make sure you have all those links.
Erwin  
Yeah, please. Because I will remember this. Oh, and listeners, I'll have this in the show notes as well, in case wherever they just click on it. Any final thoughts?
Dave  
Yeah, I guess just with with what's going on, you know, if there are any, if anybody is listening and wanting to kind of delve into the world of stock hacking investing, you know, I think there's, there's so much learning, but there's also a lot of lot of noise out there. Right. And you talk about that with your real estate coaches. While I could tell you the same thing exists in in the trading world, so it's so big and global. Yeah. So you really need to know, what are your goals? What do you want to achieve? When you see the coach that striking, you know, seven figures in one day? Maybe one ask them some questions around that. But, you know, is it worth putting the time in the effort? Absolutely. But, again, just knowing yourself and the time that you would need to dedicate is is pretty crucial. So
Erwin  
that's meant the world to you? Absolutely.
Dave  
Absolutely.
Erwin  
Thanks for Thanks for sharing. Thanks for coming in.
Dave  
Thanks for having me and appreciate it.
Erwin  
Before you go if you're interested in learning more about an alternative means of cash flowing like hundreds of other real estate investors have already, then sign up for my newsletter. Find out for yourself what so many real estate investors are doing to diversify and increase our cash flow. And if you can't tell I love teaching and sharing this stuff.

To Follow Dave Dewulf:
Instagram: @dsalinvestments
Facebook: @dsal.investments
HELP US OUT!
Please help us reach new listeners on iTunes by leaving us a rating and review!
UPCOMING EVENTS
You are the average of the five people you spend the most time with! Build connections with empire builders and trailblazers at our iWIN events.
BEFORE YOU GO…
If you're interested in being a successful real estate investor like those who have been featured on this podcast and our hundreds of successful clients please let us know.
It is our honour to give back and educate others on how we build cash flowing real estate portfolios using all the best practices shared on this podcast, from the lessons of our hundreds of clients and of course our own experience in owning investment real estate.
If you didn't know already, we pride ourselves on being the best of the best real estate coaches, having the best property managers, contractors, handy people, cleaners, lawyers, accountants, everyone you need on your power team and we're happy to share them with our clients to ensure your success. 
New investor or seasoned veteran investor, we can help anyone by providing our award winning coaching services and this isn't all talk.
We have been awarded Realtor of the Year to Investors in 2015 by the Real Estate Investment Network, 2016 by the Canadian Real Estate Wealth Magazine and again in 2017 because no one told the judges no one is supposed to win the award twice but on merit, our peers deemed us as the best.  In 2018, we again won the same award by the Real Estate Investment Network.
Hopefully being the most decorated team of Realtors in Ontario will make you consider us for your first or next real estate investment.  Even if you don't invest in our areas, there's a good chance I know who would be ideal for you. 
I've been around for a while, some Realtors are talented at servicing investors there are many with great ethics.  The intersection of the two, talent and ethics is limited to a handful in each city or town.
Only work with the best is what my father always taught me.  If you're interested, drop us an email at iwin@infinitywealth.ca.
I hope to meet you at one of our meetups soon.
Again that's iwin@infinitywealth.ca
Sponsored by:
Infinity Wealth Investment Network – would you like to know how our investors returned 341.8% on positive cash flowing real estate over the last five years? On average, that was 68.4% per year.
Just imagine what winning in real estate could do for you.
If you would like to know how we did it, ask us how by calling 289-288-5019 or email us at iwin@infinitywealth.ca.
Don't delay, the top markets we focus in are trending upward in price, so you can pay today's price or tomorrow's price.
Till next time, just do it because I believe in you.
Erwin
Hamilton, St. Catharines and Toronto Land Development, Real Estate Investor, and soon to be builder.
W: erwinszeto.com
FB: https://www.facebook.com/erwin.szeto
IG: https://www.instagram.com/erwinszeto/
https://www.truthaboutrealestateinvesting.ca/wp-content/uploads/2023/04/Dave-Dewulf_landscape.jpg
630
1200
Erwin Szeto
https://www.truthaboutrealestateinvesting.ca/wp-content/uploads/2017/06/TruthRectangleLogo.png
Erwin Szeto
2023-04-17 20:27:03
2023-04-17 20:27:06
The Preconstruction, Seasonal Vacation Rentals, Retiring the Wife, Financial Freedom And How With Dave Dewulf