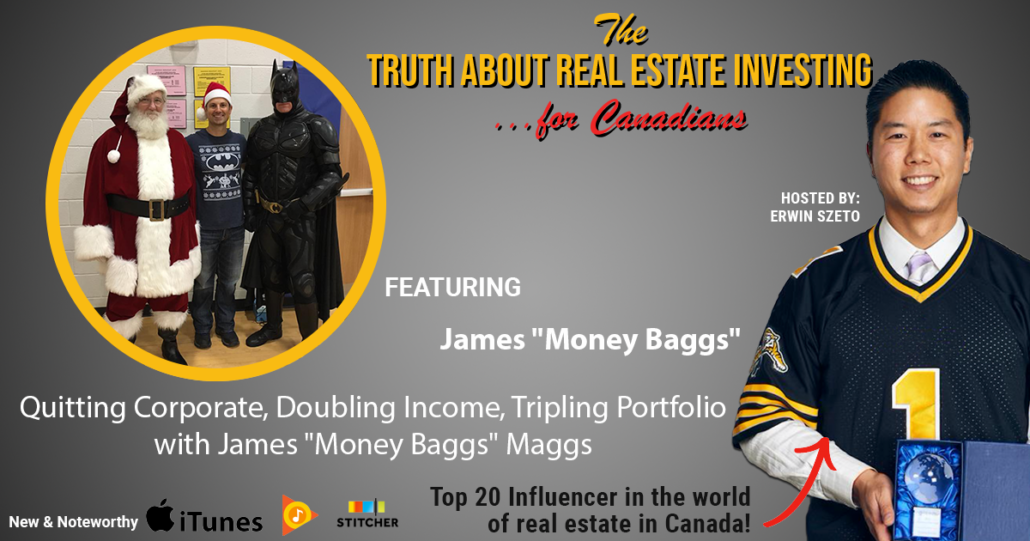 Hello Investors and welcome to the truth about real estate investing show, my name is Erwin Szeto your host bringing you lessons, tips, and tricks from the trenches from actual investors who are self made millionaires and multi millionaires. I ask the questions so we may learn about their habits and strategies so we may replicate their success and along the way I share some of what I'm up to helping myself and others build inter-generational wealth and financial freedom so we may live our lives however we may choose.
First off, my charity, the Hamilton Basket Brigade, we are heading into the final stretch to make this Christmas the best Christmas ever for 24 impoverished families in Hamilton. Where do we find these families, you ask? We asked the Catholic and Public elementary school boards for their worst cases.
We have raised over $12,000 for this event and thanks to a 200 toy donation from Spin Master Toys, every kid is going home with a toy. December 15th could not come soon enough!
If you'd like to donate or volunteer for our next event in Easter of 2019 head to www.HamiltonBasketBrigade.com. We are a registered charity, so you get an automated donation receipt in your inbox. As the President of the Hamilton Basket Brigade, thank you everyone for your support and have a happy holidays!!
On to the subject of investing, I get a lot of questions about my own investing.
In a nutshell, I've transacted personally on over 30 properties. I've done flips, student rentals, regular buy and hold, executive rentals, legal non conforming multis, legal permitted duplexes in Toronto, Burlington, Brantford, St. Catharines, and of course Hamilton.  The only thing I haven't done is rent-to-own because, honestly, I'm young and because I'm an avid student of economics. I'm bullish on the market and didn't want to leave any more on the table on a rent to own buyout. Luckily, I played my cards right.
My wife is also an Accountant to real estate investors, so she knows where the money is…
Admittedly, my portfolio has been neglected as I've built out my investor coaching business, so I'm dipping my toes back into the water with a flier campaign. I've hired a sales person, I launched a new SEO optimized website, created a paid ad on kijiji, and launching a paid traffic campaign. I'm investing a lot of time and effort into this business, but next i'll try going old school and take an ad out in the local paper. 😛
Leads are starting to trickle in, and I'll go more in depth into what I'm up to at my monthly networking meetings.  
This may sound like overkill, but what I've listed is basically the best practice of several investors I've been mentored by or masterminded with. Everything will be measured for performance, but I believe in Sun Tsu's "Art of War" in the best way to optimize the outcome of me acquiring great property is to cover all my bases.
Quitting Corporate, Doubling Income, Tripling Portfolio with James "Money Baggs" Maggs
James is an old friend of mine. We met at REIN's ACRE event in 2010, he's investing in Hamilton, I'm Mr. Hamilton, me teaching him how to invest made a lot of sense.
James was already investing on his own, but was getting a poor return on his time and efforts until I showed him an easier way and he bought FIVE properties in the first 12 months we were working together. With a decent sized portfolio, James started his own property management company with plans to expand. He asked me my advice and I invited him to join my rapidly growing team, and he did, and now he's the top performer on my team and somewhere in the top 10% for the whole country.
After a very challenging few months of transitioning out of corporate to coaching investors to acquire quality investment properties, the writing was on the wall. It was time to leave corporate for his exploding coaching business. The gamble paid off as the next 12 months resulted in six figures of active income, the most he'd ever made, and soon after James was able to 2x his former job income.
Fast forward to today, as a full time coach and licensed real estate professional, James just acquired three more properties in 2018, he vacations 6-7 weeks per year with his family in his condo next to the beach in Costa Rica in the winters, and just renovated his backyard with a pool for summers.  
James is also a founding board member of the Hamilton Basket Brigade and top five sponsor, so he gives his time and money back to the community.
To me, that's what real estate investing is about. The financial freedom to enjoy life, having an impact on those around you, and your community.
Here is James' story and how he earned the nickname Money Baggs.
Sponsored by:

TitanInvestmentRealEstate.com – would you like to know how our investors returned 341.8% on positive cash flowing real estate over the last five years? On average, that was 68.4% per year, just imagine what winning in real estate could do for you. If you would like to know how we did it, ask us how by calling 289-288-5019 or email us at admin@mrhamilton.ca. Don't delay, the top markets we focus in are trending upward in price, so you can pay today's price or tomorrow's price.

HaltonREI.ca – This episode is brought to you by my networking group, the Halton REI. We meet in Oakville (part of the Halton Region), but mainly invest in the top investment towns west of Halton: Brantford, Hamilton, Niagara Region, Kitchener-Waterloo-Cambridge.

We regularly feature the top speakers from our industry. The vast majority of our attendees are seasoned investors, so you will want to spend more time around these folks, as you are the average of the five people you spend the most time with. Your net worth is your network, so choose how you spend your time wisely.

Knowledge is power. Every meeting we share the latest in market rents, prices in the top neighbourhoods, and strategies for investment. We share the best property available as our Best Buy Property of the Month. We share the best tips and tricks for you to implement immediately to your investment businesses to fast track YOU on your journey to financial freedom. It's up to you if you'd like to be on said journey.

To get on the invite list please register at https://www.truthaboutrealestateinvesting.ca/meeting/ and you will receive an invite to the next Halton REI meeting once announced.

But don't listen to me, here's what members of our community are saying about the Halton REI!!

Till next time, Just do it because I believe in you.
Erwin
Hamilton, St. Catharines, Toronto, Land Development, soon to be builder and Real Estate Investor
FB: https://www.facebook.com/erwin.szeto
IG: https://www.instagram.com/erwinszeto/
https://www.truthaboutrealestateinvesting.ca/wp-content/uploads/2018/12/James-Maggs.png
630
1200
Erwin Szeto
https://www.truthaboutrealestateinvesting.ca/wp-content/uploads/2017/06/TruthRectangleLogo.png
Erwin Szeto
2018-12-14 21:26:45
2019-01-23 02:36:51
Quitting Corporate, Doubling Income, Tripling Portfolio with James "Money Baggs" Maggs