Mortgages With & Without Banks For Investing with Claire Drage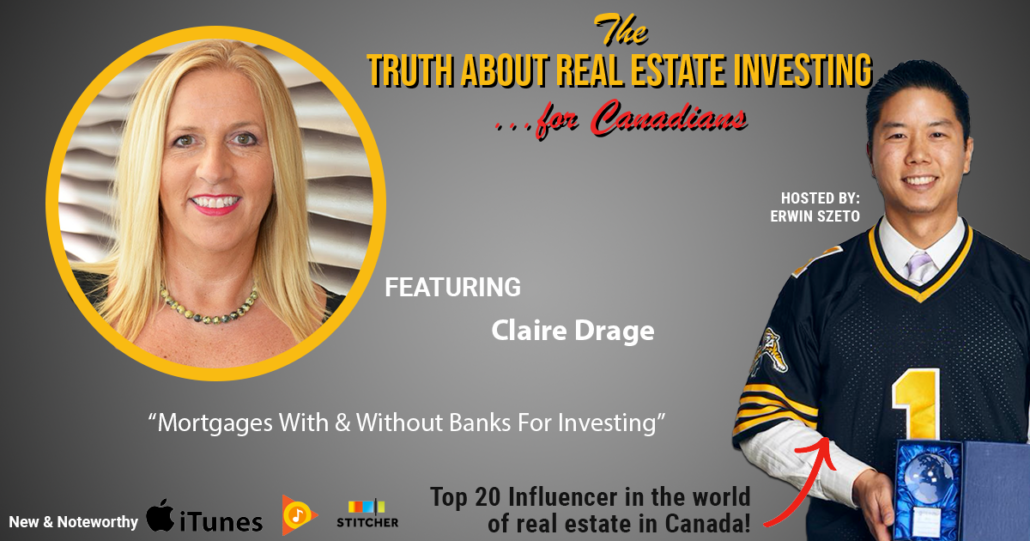 Hello fellow Wealth Hackers!
I thought I would have more time. More time to enjoy my kids, especially my daughter, before she grows up. Then I find out from Cherry my daughter has her eye on two boys from her class and two other boys have expressed their interest in her. She's five years old, about to turn six.
The great thing about turning six is she's now old enough for Brazillian Jiu Jitsu classes, so I'm more motivated than ever to enroll her.  Brazillian Jiu Jitsu, or BJJ for short, is a martial art, a main staple of the UFC and MMA because of it's effectiveness and reliance on leverage over size, strength, and athleticism.  A great analogy for how to run a business or real estate portfolio: efficiency and leverage.
The scheduling is a bit challenging, as our club's classes are on Mondays and Fridays at 5pm, but at least they're only 15 mins away and its not all the equipment, travel, or costs of hockey.  Thankfully, as a wealth hacker, Cherry and I for the most part have control of our schedules without long commutes.
To stir the pot, Cherry informed me that all four boys from my daughters class are invited to her birthday party.
Now, here's an inside look at how nutty my mind works. I'm going to plan future birthday parties for my daughter at the BJJ club.  Why? Because I figure if kids know my daughter can take care of herself, then the bullies will think twice. 😊
Planning ahead is big for Cherry and I. It's why we invest in real estate, invest in ourselves, and in our businesses.  Speaking of planning ahead, we're already planning for the Wealth Hacker Conference of 2020. Thank you everyone who provided their input on who would rock your world as a keynote speaker. We have offers out and will hopefully have an announcement soon to coincide with the release of early bird tickets at early bird prices.
Do stay tuned here and my email newsletter. If you're not already on it, well that's just silly, as you can stay informed when we are offering training classes, street smart tours, special promotions, and notified when new episodes of this podcast come out.
Go to www.truthaboutrealestateinvesting.ca and enter your name and email address. It's that simple to stay on top of the best wealth hacks Canadian investors and entrepreneurs are up to.
Mortgages With & Without Banks For Investing with Claire Drage
Top Producing – Real Estate Investor – Elite Trainer – Mortgage Broker, Mortgage Alliance. Most importantly, she was the lead sponsor of the Wealth Hacker Conference 2019, so obviously she has great taste!!!
Claire has been an active member of the mortgage and real estate investing industry for more than 30 years. She has experience from all sides of the industry, from managing over 140 properties in Spain, to growing her own successful mortgage brokering business in Canada. She has consistently been in the top 1% nationally with Mortgage Alliance, and recently has grown a team of agents, The Windrose Group. 
Claire has a passion for educating and sharing her expertise, from new investors to sophisticated landlords. Claire and her specialized Windrose Group Investor Team specialize in helping real estate investors develop a comprehensive strategy, from purchasing their first property to their hundredth. 
The Windrose Group team focuses include cost of funds, asset protection, minimizing tax burdens, aligning acquisitions and exit strategies together with ensuring access to cash. According to Claire CASH IS KING! Claire loves sharing little know secrets such as being the banker with RSP's, LIRA's and TFSA's, or wholesaling strategies for those with no capital. Claire guides her clients through their entire investment strategy whether you are a newbie or long-term investor! 
To Listen:

Show Notes:
Website: www.thewindrosegroup.ca
Email Address: investor@windrosegroup.ca
Facebook: https://www.facebook.com/TheWindroseGroup/
LinkedIn: https://www.linkedin.com/company/the-windrose-group-a-mortgage-alliance-team/?originalSubdomain=ca
Twitter: https://twitter.com/windrosegroup
Are you newer to real estate investing or unsure of what to invest in next?
Would you like to know where the best areas to invest are near the GTA for the best return on investment?
Then you've found the right place as we're here to help everyone from new investors to seasoned professionals. We have helped 100's of everyday men and women buy their first investment property to their tenth property. It's easier than you think.
My name is Erwin and you may know me as the host of this podcast and I'm also the owner of the iWIN Real Estate Team, the four time Realtor of the Year to Investors per the Real Estate Investment Network, and Canadian Real Estate Wealth Magazine.
My team of investor coaches are licensed real estate professionals who help everyday, hardworking men and women from the GTA grow their real estate portfolio in the most efficient way possible.  You are welcome to use any professionals and contractors you want but you're welcome to our personal rolodex of professionals, the same people I use to become a successful real estate investor.
If you're too busy, we understand. You have better things to do, have dinner with the family, watch the kids play sports. What we do differently is we will preview properties on your behalf to pre-screen only the ones that are ideal investment properties. Many of our clients features on this podcast will even make an offer conditional on a home inspection so they can both beat the competition and have a chance to view the property before making a final decision during a professional home inspection.
After the purchase, we can refer you to our favourite property manager who is a former police officer with 20 year experience with the local police department. He also happens to be well over six feet tall and 220 pounds with a keen eye for finding you great, worry free tenants so tenants never call you and you can go on enjoying life knowing your investment is taken care of.  As an added bonus of being our client, he only takes referrals from our team. This property manager is the most well reviewed property manager I've ever seen in my city.
You can't get financing? You're in luck.  My personal mortgage broker is the best I've ever seen in my investing career. You may just be talking to the wrong people about a mortgage whereas my guy has more relationships with various banks and lenders others just don't and often they're less expensive.
For any of the above, go to www.truthaboutrealestateinvesting.ca/contact, fill out the form and one of the coaches I've personally trained will get back to you.
You don't have enough down payment or earn enough income? On my first properties I partnered with my ex in-laws.  If you don't have family to partner with, then I would suggest you learn how to hack stocks like my past podcast guests Omar Khan and Matthew Todman.  They both earn a mid-six figure income in only 30 minutes a day by getting paid to own blue chip stocks at prices they want anyways. It's almost money for nothing and as Robert Kiyosaki says, a must for the professional investor.
If this interests you, go to www.wealthhacker.ca/stock
Sponsored by:
TitanInvestmentRealEstate.com – would you like to know how our investors returned 341.8% on positive cash flowing real estate over the last five years? On average, that was 68.4% per year, just imagine what winning in real estate could do for you. If you would like to know how we did it, ask us how by calling 289-288-5019 or email us at admin@mrhamilton.ca. Don't delay, the top markets we focus in are trending upward in price, so you can pay today's price or tomorrow's price.
Till next time, just do it because I believe in you.
Erwin
Hamilton, St. Catharines, Toronto, Land Development, soon to be builder and Real Estate Investor
W: erwinzeto.com
FB: https://www.facebook.com/erwin.szeto
IG: https://www.instagram.com/erwinszeto/

https://www.truthaboutrealestateinvesting.ca/wp-content/uploads/2019/12/Claire-Drage.png
630
1200
Erwin Szeto
https://www.truthaboutrealestateinvesting.ca/wp-content/uploads/2017/06/TruthRectangleLogo.png
Erwin Szeto
2019-12-09 22:35:45
2019-12-09 22:35:46
Mortgages With & Without Banks For Investing with Claire Drage