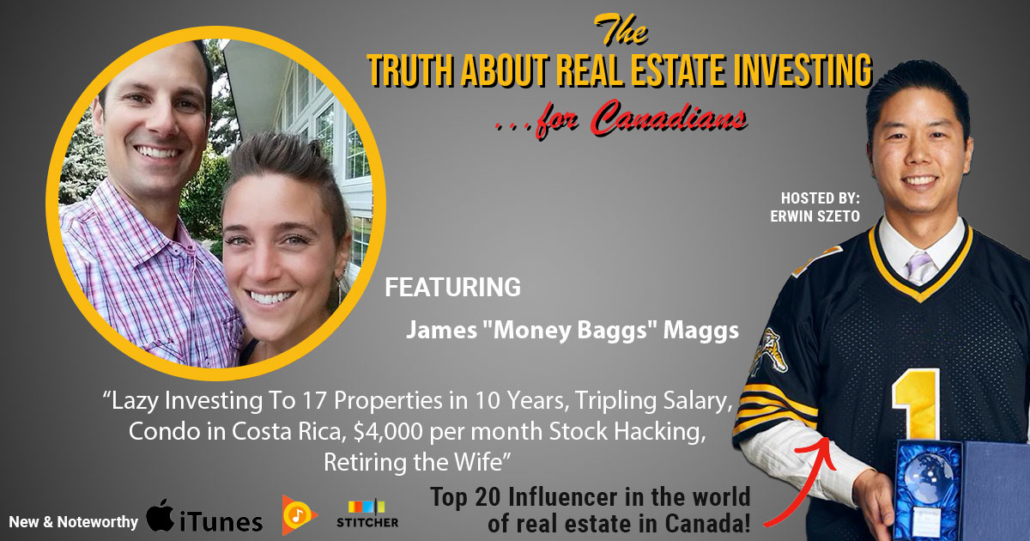 Hello Wealth Hackers!
I hope everyone is having a great week!
Last week my team and I attended two virtual events, the three day Flip Hacker event and Rock Star's Your Life Your Terms event.
Both were excellent!
The Flip Hacker event is hosted and presented by Americans which is not a bad thing.
I was able to take several nuggets of information from the presentations however some of the tactical information I was looking for works great in the US but doesn't apply here in Canada which is understandable and attending the conference queued me to reach out to a wholesaler friend for where I can learn more about the subject.
The referral was to connect with another American but someone who's used to working with Canadians. We're meeting over Zoom on Thursday and I'm excited about it. This was a reminder of how lucky we are to have Canadian content available to us.
I've belonged to two real estate networks in Canada for a long long time and I've known countless people who've been burnt investing in US education material and coaches only to have their investments here in Canada go down in flames.
Every real estate market is different.
Edmonton and Toronto could not be more different let alone Vancouver compared to any major US city. When I was in Fort Lauderdale, Florida in February, I went to see an open house for a house on the water.
The price was cheaper than anything you'd see in the GTA on Lake Ontario, the house had been listed for 60 days already and the normal for conditional periods, 30 days for financing.
This was pre-pandemic too. Add to that the landlord/tenant laws are considerably more favourable in Florida than in most parts of Canada.
One local Florida investor told me if a landlord goes to court over nonpayment of rent, the tenant does not get a hearing unless they transfer the rent in question to the court's trust account to prove they have the money.
Non-payment of rent makes up around 70% of cases at the Landlord Tenant Tribunal.
How much backlog, time and resources could be saved if we had a similar process? This would make the lives easier for tenants looking for accommodation and landlords who are not getting their rent. Win-win.
Do make sure to ask the questions of whatever experts you are following on their local expertise. You know I will when I Zoom meet with the wholesaling experts on Thursday.
Rock Star's Your Life Your Terms event however was highly tactical for the Ontario investor.
I took notes and will definitely be applying them to our businesses to best assist our real estate clients and Stock Hacker community.
Speaker of supporting our community, did anyone take advantage of Amazon's Prime Days?
I bought not one but two 40" Samsung TV's and I don't even watch TV. LOL.
I had them sent to the families I was supporting as part of the Hamilton Basket Brigade.
One family lost their home as it was condemned for being unsafe, the other lost their home and belongings in a fire. They've both found new homes but didn't have TVs so I bought them each a TV.
One of the families has 12 children and we budget based on the size of the family so they got a new Nintendo and Mario Cart. Plus they each received the board game Monopoly for kids because who doesn't need to learn about real estate and negotiation when young 🙂
On the mental health front, I'm hearing from many investors, entrepreneurs and friends the pandemic is getting them down so I thought I'd take a moment to share what has worked for me.
To keep my weight down, I've been fasting after I stepped on the scale back in March and April and I was approaching 190 pounds. That wasn't good weight either as I wasn't hitting the gym.
From then on, about 90% of mornings, I don't each anything till I'm hungry around 10-11 am. I've done this before under the guidance of Dr. Callum Cowan so please don't take my advice, seek professional help.
Getting back into the gym has helped a lot as well.
Personally, I Crossfit in a Crossfit gym and last week when I looked across the gym I noticed coach Amanda, a national weightlifting champion was also working out.
How good is she? Well, she's a national champion and she finished 4th at the Pan Am Games.
I don't know what it is but being around greatness rubs off on me. I get inspired and raise my game which isn't much but I give an extra 10% which isn't much but I get a better workout in and I'm inspired.
When it was time for me to lift weights, I got Amanda's attention and asked her to turn around and not watch. I focused and did my lifts and she said I wasn't that bad.
Not that bad from a national champion is pretty darn good in my books!!
Anyways, I'm still dining in restaurants with friends and family. No hugs and handshakes but I'm still making the time to hang out with high achievers like Mike Rosehart last week, upcoming guests like Rene Masse, Mat Piche, Kris Lewis, Yves Yau and this week's guest James "Money Baggs" Maggs.
James' nickname is MBM.
Lazy Investing To 17 Properties in 10 Years, Tripling Salary, Condo in Costa Rica, $4,000 per month Stock Hacking, Retiring the Wife With James "Money Baggs" Maggs
James MBM or Money Baggs Maggs, left his corporate job with a major telecom company, purchased 17 investment properties, retired his wife, tripled his work income in real estate by helping everyday folks invest in real estate, learnt to stock hack for $4,000 cash per month, and improved his health and spends more time than ever with his friends and family in just ten years.
This is his story.
To Listen:

To Follow James:
Instagram: https://www.instagram.com/jemaggs/?hl=en
Before you go, if you're interested in being a successful real estate investor like those who have been featured on this podcast and our hundreds of successful clients please let us know.
It is our honour to give back and educate others on how we build cash flowing real estate portfolios using all the best practices shared on this podcast, from the lessons of our hundreds of clients and of course our own experience in owning investment real estate.
If you didn't know already, we pride ourselves at being the best of the best real estate coaches, having the best property managers, contractors, handy people, cleaners, lawyers, accountants, everyone you need on your power team and we're happy to share them with our clients to ensure your success.
New investor or seasoned veteran investor, we can help anyone by providing our award winning coaching services and this isn't all talk.
We have been awarded Realtor of the Year to Investors in 2015 by the Real Estate Investment Network, 2016 by the Canadian Real Estate Wealth Magazine and again in 2017 because no one told the judges no one is supposed to win the award twice but on merit, our peers deemed us as the best. In 2018, we again won the same award by the Real Estate Investment Network.
Hopefully being the most decorated team of Realtors in Ontario will make you consider us for your first or next real estate investment. Even if you don't invest in our areas, there's a good chance I know who would be ideal for you.
I've been around for a while, some Realtors are talented at servicing investors there are many with great ethics. The intersection of the two, talent and ethics is limited to a handful in each city or town.
Only work with the best is what my father always taught me. If you're interested, drop us an email at iwin@infinitywealth.ca.
I hope to meet you at one of our meetups soon.
Again that's iwin@infinitywealth.ca
Looking to add another stream of income?
We just completed the long anticipated Stock Hacker Academy Live Introductory Course and it was awesome!
Stock Hacker Academy is the foundation that has helped Erwin, Cherry and many other Stock Hackers make thousands of $$ weekly and now they never have to worry about money again!
If you desire the same for yourself, Click here to register now
NO MORE Confusion
After all the Youtube videos, books, and forum posts, you're probably still left with questions. Starting in real estate is a tricky thing.
Frustrated beginners often ask how a legal basement suite conversion actually works. Most of the time we can only give general answers. But now, we get to dive in.
At this in-depth, free class you'll learn how to take your first steps as a real estate investor.
Nothing is held back. Everything from analyzing basement suite conversion deals, to renting out your first property at a profit, and even how to refinance and do it all again!
More secrets you'll uncover are:
Profiting in a HOT market…
Municipal bylaws to watch out for…
Mortgage terms that favour refinancing…
AND one barely used tactic for higher appraisals…
If you're frustrated, unsure of how to get started, this is for you.
Sign up now for the Invitation List and be one of the first to get an invite to the next class.
Sponsored by:
Infinity Wealth Investment Network – would you like to know how our investors returned 341.8% on positive cash flowing real estate over the last five years? On average, that was 68.4% per year, just imagine what winning in real estate could do for you. If you would like to know how we did it, ask us how by calling 289-288-5019 or email us at meaghan@infinitywealth.ca. Don't delay, the top markets we focus in are trending upward in price, so you can pay today's price or tomorrow's price.
Till next time, just do it because I believe in you.
Erwin
Hamilton, St. Catharines and Toronto Land Development, Real Estate Investor, and soon to be builder.
W: erwinszeto.com
FB: https://www.facebook.com/erwin.szeto
IG: https://www.instagram.com/erwinszeto/

https://www.truthaboutrealestateinvesting.ca/wp-content/uploads/2020/10/James-Maggs.jpg
630
1200
Erwin Szeto
https://www.truthaboutrealestateinvesting.ca/wp-content/uploads/2017/06/TruthRectangleLogo.png
Erwin Szeto
2020-10-23 16:43:59
2020-10-23 16:44:03
Lazy Investing To 17 Properties in 10 Years, Tripling Salary, Condo in Costa Rica, $4,000 per month Stock Hacking, Retiring the Wife With James "Money Baggs" Maggs