Civics Teacher Investing in Real Estate & Stock Options W/ David Rahilly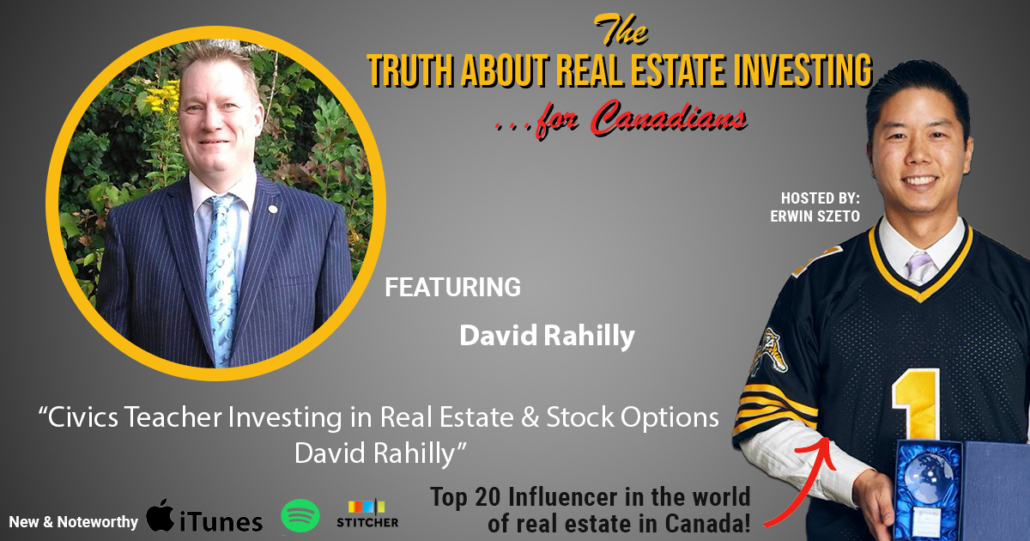 I trust everyone had a great weekend!
In the podcasting world, it's not ideal to drop a new podcast episode on a holiday like we did my interview with OG crypto expert Dmitry Buterin last week, but the feedback has been great. One of our 17 listeners is in management at Google; they're really bright and analytical, so their positive feedback was especially welcome.
 

 

View this post on Instagram

 
As the world is getting back to normal, Cherry, the kids and I have been taking advantage. We all enjoy being active and learning new things, so we've spent quite a bit of time skiing, ice skating both indoors and out and in the pool of our local club. 
The pool is especially fantastic. It is inside a glass enclosure like a fancy greenhouse. It's heated, so it feels like summer when the sun is out, even in the middle of February. Yesterday was so hot I had to jump in the pool to cool off.
I'm so grateful for these experiences we can share with the kids.
While the kids are young and living at home, we'll make the best of these winters, but one day we'll start spending some time somewhere warmer like Costa Rica during these winters.  Personally, I think we will rent and work while on vacation and continue to invest where it's easy for me, within a one-hour drive from home, where my team has boots on the ground because I'm simple that way.
From a market update perspective, it seems all but certain the Bank of Canada will raise interest rates 0.25% on March 2nd, even with war having begun in Ukraine by Russia, which is really sad. Oil prices are up as typical during war times. Inflation is a major story, along with real estate prices going up really fast in a short period.
I can't help but be reminded of 2017 when the Fair Housing Plan came into effect along with a double whammy of new mortgage stress tests from OSFI, the regulator of banks in Canada.  Then the market dipped in the spring of 2017 and took a year to rebound in Hamilton. After that, most expensive markets like detached homes in Toronto and Vancouver dipped more and took even longer to recover.  
Cherry and I took the opportunity to buy two duplexes in late 2017 in the 400-500's range… 
We could be in for something similar this year, but no one knows for sure.  Being part of a team of Realtors, we are keeping tabs on the number of offers on the properties we are involved with and will continue to keep our fingers on the pulse of the market.
We're already starting to see a steep fall in the number of offers on investment properties but last week was a short week with Family Day and all.
We will, of course, go into the subject more in-depth as part of our Lessons for the Street at our next real estate monthly meetup on March 26th. If you're looking to optimize your real estate investments, I can't recommend enough that you join us. If you're on my email list, you're already invited to register; if you're not, you can join our email list of tens of thousands of Canadian real estate investors at www.truthaboutrealestateinvesting.ca
In the stock market, stocks are going down, presenting opportunities to those who value-invest like Warren Buffet. Opinions on the stock market are interesting.  Novices say the market constantly crashes, yet car owners get excited with gasoline prices dropping, and we happily fill our gas tanks when they do. 
Warren Buffet and my friends with more experience like Lee Lowell and Derek Foster are sitting heavily in cash as they've shared with our Stock Hacker community, and I'm grateful to follow along their investment journey.
I've been sitting on a bunch of cash waiting for a good-sized pull back to deploy capital. As someone who enjoys making money, some of my biggest regrets as an investor are not buying many dividend-paying stocks post the financial crisis in 2008 and again post-pandemic crash in 2020. 
Maybe this time I will learn my lesson and stock up on winning companies, including those that pay dividends.  That and to add to my Bitcoin positions.
Of course, none of this should be considered financial advice; I'm not a financial advisor.
On to this week's show!
Civics Teacher Investing in Real Estate & Stock Options W/ David Rahilly
From audience requests, one of our one or two dozen listeners asked for stories from beginners early in their journey and for investors who started later in life. 
Today we have both in David Rahilly, who is close to retirement age, has been real estate investing for only a handful of years and recently learnt how to trade stock options.
David's full-time job is as a high school teacher in Civics of all subjects. Civics class teaches students how government works, how to be a good citizen, the Charter of Rights and Freedoms, etc.  
Unfortunately, we recorded this episode four weeks ago, and lately, there's been a lot of confusion over the freedom to protest and when a protest becomes an illegal occupation. 
As this is a sensitive subject, I think I'll leave it as too much has divided our investor community, and I'd like nothing more than to find common ground – Building wealth using best practices in real estate, stocks, private equities, whole life insurance investments for comfortable retirements and leaving a legacy for our children.
David Rahilly being a high school teacher and like-minded investor like us, I wanted to hear his perspective on investing and what's taught in school.
We ran out of time in the interview, but I asked David if he'd share lessons during this most recent downturn in stocks and cryptocurrencies. I've had to paraphrase for brevity and to reduce the use of technical terms.
For context, David is a student of the beta version of Stock Hacker Academy, which predates the current version we deliver with Best Selling Author Lee Lowell. He also follows the trades of the gentlemen who delivered the beta version vs. I follow Lee; hence our strategies differ.
David's Lessons:
Be light on margin, which is like borrowing to invest

Don't trust the big players who will move the market and look to prey on small retail investors. Sell credit only on a stock you believe in at a price you want to own.

Work slowly during volatile times in a falling market.  Size the risk of each trade based on the risk of the underlying stock. For example, the risk profile is not the same for Apple vs a Tesla stock.

You get paid more premium for more risk, but risk exposure is more significant should the stock fall.

Don't deploy all capital at once on a single stock.
DISCLAIMER FROM Erwin Szeto: I am not an investment adviser. Neither is our guest/s. All opinions are mine alone. Or theirs. There are risks involved in placing any investment in securities or in Bitcoin or in cryptocurrencies, or in anything. None of the information presented herein is intended to form the basis of any offer or recommendation or have any regard to the investment objectives, financial situation, or needs of any specific person, including you, my dear listener or reader. Everything you're going to hear is for informational entertainment purposes only.
Please enjoy the show!
We're hiring!
Just a friendly reminder that we are hiring more investment Realtors who want a full-time challenge to help our clients, regular everyday people, mostly from the GTA, invest in the top investment towns west of the GTA. 
This is for driven folks who want to multiply their current incomes.
APPLY HERE: https://www.infinitywealth.ca/hiring
To Listen:
Audio Transcript
Erwin:
Greetings, everyone. Welcome to another episode of The Truth about real estate investing show. My name is Erwin Szeto. And I trust everyone had a great weekend.
Erwin:
In the podcasting world, it's not ideal to drop a new podcast episode on a holiday Monday as we did with our interview of original gangster OG crypto expert Dimitri booter last week, but the feedback has been great. Thank you to everyone who still managed to tune in on a holiday. One of you 17 listeners is actually management at Google. They are really bright and analytical. They sent me feedback on Sunday or Monday on holiday Monday, and it was overwhelmingly positive kind words are always welcome.
Erwin:
As the world is getting back to normal charity, the kids and I have been taking advantage. We all enjoy being active and learning new things. So we spent quite a bit of time skiing, ice skating, both indoors and out. And in the pool of our local club. The pool is especially awesome as the pool is inside a glass enclosure. It's like a fancy greenhouse. The roof even retracts in the summer. It's heated and when the sun is out, it actually feels like summer inside the pool enclosure. Yesterday was so hot, Cherry had to leave. She didn't she forgot her supposed to. So she had to actually leave the pool area. And there is no way I wasn't getting the pool because I needed to cool off.
Erwin:
I'm so grateful for these experiences that we can share with our kids. And honestly, they're only available because we've put in the work to achieve a certain level of comfort in life. But that's while the kids are young and living at home will be making the best of these winters. But one day I'll you know I want to start spending some time some are warmer in the winters like Costa Rica during these winters. Air Florida is great. But for us I've heard some friends say that it's still too cool and unpredictable in the winter in Florida. So going even further south may be advisable. Personally, I think we will rent we're not going to buy anything, especially with lending being so challenging and outside of Canada for Canadians. And we'll work while on vacation. I enjoy working at least part-time a couple of times a week, even while on vacation. And we'll continue to invest in real estate where it's easy for us with our rules are to be within one hour drive from home or my team has boots on the ground, because we're simple that way. And to be honest, it's worked out very, very well.
Erwin:
From a market update perspective. I'll start with a bit more high level like macro and then work down to a little bit more micro seems pretty much all of a sudden the bank Canada will raise interest rates to 0.25% on March 2, even though we have a war having just begun in Ukraine by Russia, which is incredibly sad. I'm a pacifist for anyone that knows me and I believe in peace. So it's really really sad news. Hopefully, things don't escalate more beyond that, including further escalation of war with more countries of China doesn't take this opportunity to invade Taiwan.
Erwin:
Oil prices are currently up as typical during Warren or times I believe oil prices got over $100 today as I record on Friday the 24th – what happens during wartime. So inflation is a major story in the country and will be more so now. With oil going up in like the support more supply chain issues with other stuff due to the war. Real estate prices are going up and they've gone really fast in a short period of time.
Erwin:
I can't help but be reminded of 2017 when the hit fair housing plan came into effect along with the double whammy of new, more distressed tests from OSFI. Osby being the regulator of banks in Canada. So again, double whammy provincial legislation Ontario from the wind government and then a federal change to mortgage stress tests. Then the market debt in the spring of 2017. And a particular year to rebound in Hamilton we dip probably around 15 to 17% prices dipped that that was how far they fell. But in Hamilton, it quickly recovered again from top to recovery was about 12 months in Hamilton more expensive markets, for example, detached homes in Toronto or Vancouver in surrounding areas, those surrounding areas, they dipped even more and they took longer to recover. Cherry and I took the opportunity to actually buy two duplexes in late 2017 And we bought them in the four to $500,000 range. So I think you'll know how things are gone. So those properties are now worth over a million. So we didn't do too bad buying the dip. So I'm not too worried about dips, it's just to me it's an opportunity to increase your portfolio holdings we could be in for something similar this year. But no one knows for sure being part of a team of Realtors like I am we are keeping tabs on the number of offers on every property that we are involved with either selling or offering on and we will continue to in order to keep our fingers on the pulse of the market. We're already seeing starting to see a steep fall in the number of offers on investment properties. What we consider off investment properties. homebuyers are offering the same properties as well. Same is not the best common investment properties, properties, starter homes, but last week was a shorter week with family day. So as folks' attention was elsewhere, we will of course keep tabs on the subject. And we'll go more in-depth into our analysis as part of our lessons from the street at our next real estate meetup which is March 26. If you're looking to optimize your real estate investments like I do, and my team does, I can recommend that you join us. If you're on my email list, you're already invited. You already get the emails to to register Saturday morning, March 26. If you're not on our email list, you can join the tens of thousand of Canadians who are already receiving email notifications of when this podcast is available. When we have events, simply go to www dot truth about real estate investing.ca. On the right side, you'll see where forums you can put in your name and email address. If you're interested in again, optimising your real estate investing.
Erwin:
In the stock market stocks are going down presenting opportunities for those who value invest like Warren Buffett, opinions on the stock market are interesting. novices say that the market always crashes. Yet all of us as car owners get excited when gasoline prices drop. And we happily fill our gas tanks when they do. Warren Buffett and friends of mine with more experience like myself, like Lee Lowell, Derek Foster, they're sitting heavily in cash, as they've shared with us in our stock hacker community. And I'm always grateful to be following along in the journey, whenever there's tough times, it's always good to know what the pros are doing. And then, you know, hopefully follow along and safe and losses and give him for when the opportunities are there. I've personally been sitting on a bunch of cash waiting for a good sized pullback to deploy capital. And as someone who enjoys making money and despises losing money, some of my biggest regrets as an investor, not just real estate, but invest in other things as well. Obviously, I missed the opportunity to buy a bunch of dividend paying stocks, post financial crisis in 2008. Right, again, post pandemic crash 2020, I did the same thing didn't end up buying and holding positions, especially for finer detail. I own a lot of Bank of America, for example, and AMD, the record processor company. And I would have made a lot of money. If I just held those things. Maybe this time I learned my lesson. And I'll stock up on winning companies, including those that pay dividends that and I look I'm looking to add to my bitcoin positions, because this dip looks to be a pretty decent one. Hopefully, this is the next best opportunity since the pandemic crash or spring 2020. Of course, none of this should be considered financial advice, folks, I am not an financial advisor.
Erwin:
Onto this week's show from audience requests. Once in a while, I get one of the dozen, one of the listeners one of the 17 years of sort of sort of you. I've had requests for guests who are beginners who are earlier in their journey. And also I've had requests for folks who are later who started later in life. Often they're later in life, they want to they want to hear stories of success from other people that are in the same age category as them like you know, it can be like 50 6070 years old. Today we have both in David red Healy, who is close to retirement age. And he's been only real estate investing for a handful years. And he recently learned how to stock trade options, how to trade stock options of holidays. David's full time job is also that of a high school teacher and civics of all subjects. civics class teaches students how government works, how to be good citizen, they teach about the Charter of Rights and Freedoms and etc, stuff like that.
Erwin:
Unfortunately, this episode was recorded four weeks ago. And lately there's been a lot of confusion over the freedom to protest and when a protest becomes an illegal occupation of being this is a sensitive subject. I think we'll just leave that, as is, as I believe too much is divided our investor community, and I'd like nothing more than to get back to normal and dig back to that common ground that all of us have as investors, which is building wealth using best practices in real estate stocks, private equities, whole life insurance investments, for comfortable retirement and leaving a legacy for our children.
Erwin:
Anyway. So David, being a high school teacher, and a like minded investor like us, I want to hear his perspective on investing and what's being taught in school as I think we could all we'd all like to know that the next generation is being taught to invest maybe get ahead in life. Hopefully, maybe not. Please enjoy the show.
Erwin:
Hey, David, what's keeping you busy these days?
David:
I was keep me busy. Let's see, stayed at home trying to learn more about my stock options trading. Trying to figure out what to do with the current market is really keep me busy. And then eventually busy will start on Tuesday when I go back teaching in the classroom. I've been off for a half year at this point did I do every two years?
Erwin:
Oh can you explain to leave I don't think I heard of this before you're able to take such a regular leave?
David:
Yes. So the official name of it is called an employee funded leave but the slang term is a for called for over five to put it in simplest terms. They take four years of your annual pay and they stretch it over five years.
Erwin:
So So you never get stopped paying you still get a regular paycheck then.
David:
You know you get paid the whole way through. So what happens is you work the first four years take the fifth year off, but they do is they take years to get paid four years, your pay over those five years. How it works to us, which most people make sense is, while you're working those four years there with the employer is withholding 20% of your pay for the whole four years. And then that fifth year that you're off, you're taking that money to with help to pay.
Erwin:
That's actually compare taxes to then.
David:
Oh, that's, that's one reason I do it, I noticed it's the first time you did it, because you get paid at 80% of your pay or in a lower tax bracket. So that works as well. They don't notice it as much. And the way I look at it, if I can live off 80% of my pay, and even have time for other ventures like real estate investing and stock options trading. Well, that makes it easier for me, as well. I look at docile lifespan. We never know how long we have. If I could live to 100. I can be run over by us in the next couple of years. So let's make sure I can enjoy time off as often as I can.
Erwin:
Get summers off already.
David:
Yeah, you know, and I find that issues with that too. What, like I can't complain. But there's a yeah, you're really doing a recovery during the summer. But the other thing too, I find with the times off, which is really Christmas, March Break is summer, which are unpaid, officially ready to give you a yearly salary, just spread it out. Let's say travel becomes an issue with those time periods. That's the highest price of travel going. Yeah, Christmas March Break in summer.
Erwin:
So this isn't like a double, almost like it's like double the low price.
David:
Yes. And then I know the bottle the school system originally was because of the agrarian society, something the summers are off so everybody can go home and work the farm. So the argument have your ground school as well. We're no longer in an agrarian society. I don't know if that's true or not, but does sound reasonable to me. The travel business wants to keep it that way. Ah, drama businesses don't want you around school because March Break Christmas and summer is when they can charge the most because they know that's when people are off. That's when the students are off.
Erwin:
Would teachers like it spaced out?
David:
It's been tried in Ontario, I don't know what board they were they went with your round schooling, and it was spaced out so it'd be like a month off and summer to two weeks. March Break. It actually worked out to an extra week off. And from what I heard I didn't hear directly from people who were in that I heard for friends at new people and apparently they loved it. Because it didn't have to look like say summer can be a long way off for a lot. He not so much but for a lot yet. Two months be too much at $1 Even for kids because it gets to be ramie Winterbourne. You got to entertain them. Oh, they was a payroll thing to travel. He was like that agency but travel business in general. Likes to predictability.
Erwin:
Oh, who doesn't like predictability?
David:
Everybody likes predictability?
Erwin:
Yeah, it's part of human being human. What got you to real estate your to do well, then you get a pension. Right?
David:
Yeah, you've really done well, Right. Yeah. Yes, your your middle class still right.
Erwin:
Oh, that's terrible.
David:
Yeah, he has a cake to play. But yeah, your, your cat. Great. See? Well, I think while to get there, he can make 100,000 a year. But then again, what do you get with that? Like, you can't you're not gonna be world travel ever, ever. indepent is gonna be 60% of your pay. So what do you really want? How can I pack this up a little bit or back to your life? Your term, so I was looking leave it was 2015 The first time I looked into real estate investing, I've always looked, I've always been interested, but I had to have the confidence to get in.
Erwin:
So David can ask how old you are 2015 Even just a bracket in our range.
David:
I was born in 1970. So there's your give, again, give you a math question there. That's an easy one to count from 1970.
Erwin:
So 2015 Yeah. Why didn't you have confidence?
David:
Why? Because you hear it a pitfall say yes, we always worry about what's going to go wrong. Yeah. You don't even have the real estate to hear 10 and horror stories. Yep, nobody has the everybody knows somebody that done this unless you hear horror stories that the rules are not in favour of the landlord. So that was and then it's a big investment to how they get the funds to buy a second house usually have to have a pretty big salary to even start or some sort of micro so what I started with, I found a Robert Kiyosaki course. Okay, yeah, so I didn't take that. One. It was free for like, an hour. And then I decided to take a two day course, which is the, I guess, a three $400 But I did find I don't know if you've heard this but Robert Kiyosaki those little two three, sorry, three $400 courses are ready to sell their $5,000 courses. And that's what I found I got into so I got a lot out of it. But the thing is, I still wasn't caught go in. I said they said you had to pay for the $5,000 course to get a mentor. Okay, so there's no guarantee with that $5,000. So I wasn't ready yet. And then in my mailbox, I have on these key mailboxes, meaning I get this fire for Rockstar real estate. If I read to you eventually, I said, I'll go check that out. And the part I liked was, you got mentorship, but you didn't pay out of pocket.
Erwin:
That's pretty good, isn't it?
David:
They made their money. I thought this makes sense. So they got skin in the game, they want to make money, they got to help me like they get and funny enough to mentors will make more money off the because they have real estate licences. So I get help I get the mentorship. Don't make more than that $5,000 off the percentage off to sell the house.
Erwin:
So this business was so nice business.
David:
It is I thought I thought I liked that model.
Erwin:
Because most people are going to need to use a realtor anyways
David:
That means that they have to help me in order for me to succeed. It's not like you get the money up front before I succeed.
Erwin:
Because most people are going to use a realtor anyways. So you know, yeah, this is how we earn our commission is to help make you successful.
David:
And I didn't get it, I did figure out an idea for a rockstar real estate. Mentor, they probably have to have somebody like me with two properties to really make start making money because they have to mentorship as well as being a real estate agent. Really? Yeah. To one host you would have been better off just to be a real estate agent. So well. That's how that started. So funny story this was I bought the first property is closing it. I don't mind say I don't know. I think you say his thing to be safe to say today my mentor.
Erwin:
That's fine.
David:
Okay, so Tanisha Samuels, okay. So I was working with her. And funny enough, I was going to Ireland in October. This is my first time I have my poorly funded leave. So we're literally closing the sale of my first rental property in Peterborough. And I was at the airport waiting to board my plane go through customs and all that we're going back and forth on a cell phone. And then we were in contact by whatsapp when I was in Northern Ireland on my trip to arrange the house inspections.
Erwin:
There's never a perfect time. For anyone who thinks is a perfect time.
David:
Really. You never know it all worked out. And I been asked by teachers Okay. Tanisha she asked me what about a home inspector? He said I have a friend who's a home inspector. I gave him the work. Yeah, he is good. I've used him before to have a friend. Yeah, he used to be a waste ex boyfriend of all people makes him better. But we're still both friends. I have no worries boom. And then he gives me he gave me like $150 off works for me and and the other one too. I was messaging him from an email from Northern Ireland he said so he sent me the invoice and said how much you so how you want me to get you the money like you want me to add on all he says Pay me when you come home. I trust you. So I didn't pay him for the home inspection over a month after the fact. I saw him so most days out friends like that, that will give you a little discount and trust you like that add some humour to how everything worked out there.
Erwin:
So what did you buy in Peterborough?
David:
I bought a four level back split. And right now there's a young couple in there that started out with one child and they've had a second child since I probably went through about 60 screenings before I finally got someone to move in or it's a rent to own arrangement. Okay, okay, but yours this this is 2018 so to rent to own is up this May I believe I'm gonna double check because I'm going to start reminding the tenant that the times coming up maybe you just started looking into making your Rangers a lawyer to close this deal.
Erwin:
And Mortgage, yeah.
David:
Yeah, honestly, I'm hoping they can.
Erwin:
Can we do some numbers? What did you buy it for?
David:
352.
Erwin:
Oh, my.
David:
I know this was why don't want it to close because rent to own. You set the price. So they're going for the right now it goes for 423 if it closes in a No it's worth more than that.
Erwin:
Okay, so let's say you buy from 352 the option price for the tenant to buy it from you is 423. What do you think it's worth?
David:
It could be six.
Erwin:
Approximately 600 it's worth.
David:
Yeah, so that's why I hope I kind of hoping they can't pull off. No, I'm not gonna I'm not going to burn him out or anything we get that type of person can be like okay, well, I guess I didn't get asked when I screening people. What happens if I can't buy you? Well, simple. If you're good tenant. Why would I want to get ready I'll just add another year to the agreement. We just a price. Like if you're allowed if you owe me money, you better get it to me in a hurry. Otherwise you're out you lose your 10,000 deposit but you're gonna 10 it why would I not want to keep us warm kind of hoping you can't buy me out add another year to this. Adjust the price.
Erwin:
They have like 175,000 of built in equity. They just need to figure it out.
David:
Yeah, that's what you're telling me? Yep, that's why I don't I don't want to get really advertise that but I get no you're gonna be I used to tell you'll be up a lot of money the more time you buy a price Yeah, but I'm not I'm still not upset when this because the other day it doesn't always work out that way anyways like I get I guaranteed my profit anyways and that's the big thing like walkway to profit I'm happy. And your team maybe rent to own range of made it protected me from other pitfalls as they have a $10,000 deposit or 10k deposit.
Erwin:
Nice.
David:
Yeah 10,000 deposit. So I was like no they have that they can lose, they have to pay the first $300 in repairs, if they're going to own it. The odds of them looking after it are far better than if you're not at all so hard to read I did to rent to own was to what are my odds that I'm going to protect myself? That's the way that 102 is the what if I didn't rent own and I had lousy tenants. Because it's not theirs.
Erwin:
Right? And they've been good tenants?
David:
They've been excellent and save that sometimes maybe as much as four months in advance.
Erwin:
Nice tenants. Doesn't happen with the regular tenants.
David:
Yeah. I can't even tell you about a friend of mines in the Czech Republic right now. He's retired but he used to work with him and his wife became property manager for their house and Lindsey I was a fourth property manager and I I took it on just for learning experience of firewall. If they're not mine, it can probably be tougher. They're looking at me bad guy because he can blame it on me the landlord's and I figured if I learned that it'd be if I have trouble my own tenants. I've got that experience. Boy did I ever get baptism by fire? So we had tenants while I didn't have the tenants my friends who are retired teachers have in Czech Republic didn't screen them and it was so obvious it didn't screen, didn't take me long. So a year before last August so August 2020. Eventually the sheriff came over to give him the boot look at your home and it's just your that was really cool. But it took it was a long process. I got refused entry. Once by email. Paul was called he said my son's sick and record TV for 14 days. And you come in come to a call the police so called again check it publicly WhatsApp in our Facebook so we're not seeing our business. Okay, well, I'll do what I said. What are police really gonna do? I was like, Why should I show up in the door? Because I gave 24 hours a wire to please can do really they get a handcuff me and take me away? Yeah, yeah, they're probably gonna say no, you can't enter that's not gonna force I'm not gonna force only and I even if even if I'm allowed to use don't do that. So I talked to my friend called the Lindsay police talk to serge. He said yes, you have to go in there. But you got to mention the sun SEC problem. So I talked to the surgeon was like, Nah, sorry, you can't, I wouldn't send any of my boys over. And then he said, but he can't pull that again. So this gets better. So then I call till I put the 24 hours, doors again a month later, it's still they're not paying rent. They're wrecking things. Probably growing stuff in there, too. So I show up the door. The next thing I see another truck, oh, he's got a buddy. Man. This is good. So I get back off six feet. You're not coming in. And then a second older person comes out and they said same thing. And as massive clubs. Really? Ask you. So I asked you I asked earlier. I don't need to tell you who I am. Who are you I set up. I got a piece of paper, say my property manager. So the one tenant slipped and call them dads and I figured it out. So I did some background checks on that guy. But that was squatting there too. Okay, so I thought I'd enforced the way in and like I work for it's a no you can't because then yeah, it looks bad on me. And so the next time I put the 24 hour notice in there, I had either a policeman going in the door. So that's my thought you on it. Okay, your accounting, please. I'll do you one better. I'll call the police. These were to take tests. I had to have a police officer go to the door. So I get it. Thank you The sheriff gun and this was going on. I guess they had it for like two years and then eventually, it probably cost me $30,000 in damages unpaid rent. What they broke in stole. They stole stole even.
Erwin:
We're scaring people, David. Yeah, I see the value of having a coach or mentor.
David:
Yeah, yeah, that's the point. Yeah, have a mentor and what I'm trying to get this one to screen your tenants, you're better off having an empty property and paying the mortgage out of pocket than having bad tenants in there. But to deal with my own property, I thought I had it vacant for four months and just paid the mortgage. Because I'm still building equity doing that. So I wasn't worried about that.
Erwin:
And then how much was the rent on your under Peterborough house.
David:
2090. But then they get a $200 Towards the back end of their bio price for paying on time.
Erwin:
Got it. So just to summarise you bought for 352 Yeah, they have the right to buy for 423. You know what rate? What price appreciation rate you use to calculate the exit price?
David:
We did it three different years. So first year six, next year 5.5. Next year five.
Erwin:
Are you Santa Claus? Do you have any more houses to sell me?
David:
I don't think they go for that much anymore. Yeah. Well, that was what the appreciation was going out high at that point. Anyways, at that point in time, it was a year later would have been a lot more. Yeah, I think the gross appreciation happened after all this.
Erwin:
I'm pretty sure you're guaranteed on your way into heaven for being so kind. Yeah. Well, like you said, like you feel capped right, your job situation like your cap like you're comfortable.
David:
It's comfortable, right. But can we do better?
Erwin:
Right, and then you've more property?
David:
I have one. It's still not built. It's bought into UCC towers in Oshawa. Okay, 25 storey apartment. I don't know what to do with that. Right now. I know and made money off that.
Erwin:
Oh, so what's going on?
David:
Well, I don't know what it's exactly worth because it hasn't been built yet. So I'll get the assignment fees. By assign it before it's built. I want to get a feel for what it's worth. Because right now, they're building you see, two towers or a second building. But it's VIP price. I want to wait to open up the product and see what it's goes for at that point. And then oh, great. Now I'm looking at two bedroom condo in Oshawa, luxury condo, and I paid just over 400,000 for so there could be a couple 100 sitting there.
Erwin:
What year did you buy it?
David:
That would have been 2020 Maybe supposed to be finished. This may have been 2019 I think it's 2019 or 2019. Just thinking big.
Erwin:
Oh, you're probably doing pretty well.
David:
Yeah, I know. I'm tempted to get rid of you guys are having discussion with my mentor on this. Like I getting all these ideas like okay, well build it and then if I need my because I look at it. This is money. It could help me you know, stock up just trading as well. Of course, don't March and of course, if you have that nice amount, why would you need to margin anyways, between the two properties? Like that's why I've looked at it. Yes, there will be an assignment fee by like, Okay, but what can I gain? If I wait, I'm not making money with it. I could get tenants. Okay, but that could be and then get it taken equity long. But my thing is, if it has, I'm still looking into this too. If I'm to assign it early PD is early assignment fee, which is really $7,500 But how much has gone up in value? And not having to have the headache of having a tenant? Why not like and what did they really have to do to make the appreciation? Like nothing so that'd be one of those cases just flip the darn thing you've gone up even 100,000 You're even closing costs to walk away half that what did they really do?
Erwin:
Did you say it's a two bedroom?
David:
Yes two bedroom.
Erwin:
What do you think it's worth?
David:
I think it'd be six easily. I drove by when when he first started selling when I bought there was a sign outside the house. the office where they're selling the condos. It said you see towers from the low 200,000s. That's an old 200,000s is if you buy the no bedroom right? Bachelor that's why it cost me 400,000 Now you drive by the same office it says starting for the low 400,000 I'm thinking wait a second so be bought the lowest price condo has gone up that amount. What is mine gone up by that.
Erwin:
You nailed this one? You bought a pre pandemic in your closing post pandemic.
David:
Yes I think I still tempted might call it the moral like Alicia yes yeah it's a it's an easy profit they go and I always look for maximum profit. Like depending I also got to look how much effort I have to put into profit like I invested the money Hagen Walker never no don't have to deal with the tenants because you don't know what you're gonna get and then you got to hassle screening them and everything else.
Erwin:
You kind of need the tenants to avoid paying the HST.
David:
Yeah, I'm just thinking yeah, what's my time worth and everything and hassle all that I said if it's gone up that much value did he have to do anything like take the money and run.
Erwin:
And that's why long term hold it?
David:
Yeah. Oh even think the other option I thought there too. There's other areas in Ontario that haven't gone up with it the same way?
Erwin:
That's why we're in Belleville now.
David:
Belleville is taken as well. Belleville North Bay. Yeah picked away from there go buy one of those places. And that could be even a retirement property as well. Because I could sell because I retired. Well, full pension is six and a half years.
Erwin:
My friend is managing Belleville so that's what makes me more feel more comfortable about it.
David:
Yeah, and Kingston is expanding too.
Erwin:
Yeah, I hear.
David:
Yes. So let's just say things are looking up but that's right now with the condo I was thinking yeah, I guess assignment and I will make is I don't need to maximise profit because of the maximise means a lot more work. Just take the profit less work. I've even chatted with Nick Krebs about this he's got a green bed the big condo thing. He sees that logic do yes, he bought and he him his brother by and whole get tenants and all that but he's me you see something like that? They did. Yeah. It's going to go up the value like that without even having to balance the money and Ronnie's thinking.
Erwin:
That makes you love it.
David:
Unless you love it. Yeah.
Erwin:
Unless you're like moving into it later.
David:
No, no desire to live in a condor have neighbours read the other side of wall. So I like my privacy. Like right now. My house No, Mimi is I got 200 feet by 55 feet in the backyard. That's nice lot size. And I would never I'd never be able to afford pets to see in the GTA not okay, here's what I paid for. I paid 200,000.
Erwin:
What year is that?
David:
2010.
Erwin:
Oh, that recent? Okay
David:
Yeah, 2010, but 199 Nine. And really, it's I owe 240. Because I pulled money out to nice and vast and to upgrade a couple of things. But recently, the house across the street from you went for 615.
Erwin:
Right. And I just want to I just want to point that out to the listener. And what in your story is very common among my own our own clients is there, they borrow from their homes to buy investment property.
David:
And that's how I did it. That's what I got taught by Rockstar real estate. They said Yeah, take equity out of your home and then and one thing you didn't notice when you do that, you've got enough that you can carry the mortgage to give you time to get a proper tenant in there. You're not feeling I have seen people do this with real estate outside of the people we know they rely on the rent to pay the mortgage, they can't carry it at all without a tenant and then they get desperate. Don't get picky. That's bad. That's bad. Yeah, just That's why I looked at I said so. What do you take I find when you take a home equity loan out of your residence property that gives you enough money not only to put the down payment on but it buys you time to get a tenant there if you have to do a lot of screening cool no big deal that pay a mortgage on an empty house because it does pay down it does add to the equity anyways.
Erwin:
And then do have any more investment properties?
David:
No Just those two I don't know if I'll continue or not just more of a more because of my age because I am looking retirement six half years How much work do I want? I don't want to retire so I could work.
Erwin:
Can I interest you in some boring stock options trading?
David:
Boring stock options trading? Oh that again that's gonna be stock options trading is gonna be lifers i that what that one will be late for one that's not a lot of I don't I guess find it's a lot of being sensible they don't find and once you know what you know, once you know enough it's not a lot of work. Really.
Erwin:
Yeah, I mean, I mean I'm on the results be boring too. So yeah, so you you've ventured down stock options as well. Yes. And how's it going?
David:
What's going good but I'm getting hammered like a lot of people are right now and then its biggest thing right now is just be patient and learn from what happened guy over margin reasonably and typical thing you might just like be told by your parents not to do it not do it why you do it anyways, so you got to learn the hard way. Yeah.
Erwin:
So for the listeners benefit, using margin would essentially be using leverage borrowing.
David:
Using leverage, yeah.
Erwin:
So you get over leveraged.
David:
Over leveraged and when you do it through the broker, it's not the same as doing it from a bank. Yeah, you just can't Yeah, when we borrow from the broker and then you're over leveraged because you sell your position at a loss you don't have you really don't have enough time to put more money in to cover that because even to do a bank transfer anything they'll tell you when you're getting close that's about it but if you get a tank in the market you get him there margin area or overleveraged theysell your position it's not like a bank where you miss a payment they send you a notice that you can buy yourself and you can make the payments later because you know like say if you've missed a credit card payment because you're having a rough month but they're not selling stuff on you to pay it.
Erwin:
They are charging you 20- 27%.
David:
Yeah curious charge a lot of interest but you can buy yourself time for oh great job you know, you've got no time when they get to that point. So that's what I'm doing. I go to repeat with everyone to business repeats has been there done that Be careful with margin. Yeah, I can say don't ever use it and I can say never gonna use it again. But I'm not gonna do it the way I did.
Erwin:
It's a double edged sword just like real estate. Yeah. And apply meet the media soon enough. You know, there's a there's a couple of real estate companies that are going belly up. They Oh, they're over leveraged to promissory notes and second mortgages and I don't know what I don't know all the details, but the details will come out. Yeah.
David:
I'm looking at now is okay. If I learned something SMB profit for later than it was worth it. It's still called I did nothing ever historically is done now forever like that. I'm just concerned right now how long has been going down like we're looking at get we're getting up to three months now straight down time. Honestly, it looks like I'll because I got margin call to like two thirds my whole portfolio. So but if I've been up before it'll be up again and then right now I'm trying to shift around like, Okay, I'm gonna sell some things at a loss on my own terms, knowing what I'm going to replace it with at a lower cost. Because right now there's value stocks like I'm also focusing on companies I believe in Eco soulmate.
Erwin:
Can you share some of these household names of belief in Sure?
David:
Yeah, once I like I'm not giving stock advice. That's a common Regina. advice on this show folks give stock advice. What I personally like a passive no longer is good is too expensive right now and I had to pay up for this. So all my years on the ATM, I love to get into it because it makes price or passes a nice price for being Tesla. Tesla is one of the more expensive US stocks, but they're still close to $900. us to share it. Right and you and I both know really have to have 100 shares to have more things you can do with it. Covered calls.
Erwin:
Don't do those things don't have.
David:
AMD I like because of who the CEO is. Apple's a $3 trillion company.
Erwin:
Hopefully I still as Atlanta today.
David:
Okay, yeah, it got hit a lot. It got hit the lease today. And I guess one thing I had noticed was looking through all this. The solid companies got hit the least survive now look at Apple, 3 trillion. That's more the Canadian economy. Wow, that put that in perspective.
Erwin:
Yeah. I like that statistic that like air pods is like bigger than like, like Uber. knows everyone is Uber air pods is bigger than Uber.
David:
Yes. Uber had a veggie cell, the Buddha even while this is all goal, yes. Yeah, I think I got bargy call because I think it was okay. But then it's just how the length of the time of the drop that could have been going on really from the second week of November on and then as has been really, very few days for air. And I find out even today's call for the next day wipes it out. And that's all the way for November. So it was a no Another lesson learned is just because a statistically your season, you're in season a favourable season doesn't mean it's going to happen. Or Santa Claus is going to come to the mean is coming. For those you out there that no one Santa Claus Rally means is typically around Christmas time or very close to Christmas time are slightly after there is a rally in the stock market. But I also know that to the last few years, Santa has pretty much not showing up.
Erwin:
There was no Santa rally.
David:
It was last year, but it wasn't a year before.
Erwin:
Last year. Were those tied to the US election though. Yeah. So there's more news driven, I think than anything. And these days everything seems to be new news driven season all these different, you know, it's a different world with the pandemic.
David:
Back to what's consistent is stealing the margin as much as possible. Very little into it. Yeah, at any just weathered the storm because you're not taking real losses. Yeah, exactly. Because he can't edit is we can't predict we can play the odds and what's going to happen seasonality, or all these other factors. But at any given time, you can take a hit and submit to blue just changes things that and things that unpredictable can happen. So if you're a margin that's gonna get hit, because I was talking Omar Khan on the phone he is saying, Oh, I've seen this about 50 times who is investing and you never know when you're getting to learn from it. That's pretty much it.
Erwin:
Are you doing spreads you doing naked puts?
David:
I'm doing naked puts Oh, question the cover call. Yeah, I was trying to spread yet. Oh, boy. He go back and look at your course they did a year back.
Erwin:
Please take some time to before you go back to Seattle learn about spreads to find your your loss and define how much capital you've put up portrayed? Yeah, yeah. Because uh, yeah, the markets been the growth market. Seems like it was from what I'm reading is just that every seems a lot of people thought it was overpriced. Yeah, that's why we're seeing the decline in a lot of growth stocks, even Tesla who killed their earnings today, and still the stock is down.
Erwin:
And the Fed announced it yesterday was not a bad one. Not a bad one. No, no, they just said there. If I'm not mistaken. I heard candle one. Thank you. Ken was really, really pleased to say, hey, we're not changing interest rates till March, which probably told me Well, look up March, but and then I was very vague when I heard the radio button said but it sounds like is very similar. We're not increasing interest rates so much, would you think would calm this down? Yeah, no. And even with earnings, they can query earnings you're counting good earnings. Bad news was supposed to be helpful and still no.
Erwin:
The earnings have been good. Microsoft's earnings were good Tesla's earnings were record. Tesla's down rescue Microsoft's I think even and who else Netflix all Yeah, bad good earnings. The growth isn't the same so there's got smashed. Expectations are high.
David:
Alright, takeaway I'm going to be doing now is the thing knowing the companies I'm going to invest in doing any of these strategies. I first learned that people should know the name of the company who is investing in because that means you're probably pretty solid. But do I actually use these things and all these things? Those for example, peloton I get killed too. Anyways, not as bad as it could have been? I almost got a sign at $92 and it's down to 2525. I got assigned at 55 Lisa wasn't 92 I got out of the house. But one thing I look at peloton, do I use peloton I do have a personal training paperwork but my I don't have a treadmill mouse. I have a gym in my house. Very simple. I look at a treadmill. And this is me as a personal trainer works out off to do I will use that treadmill do I want to pay $50 a month for a subscription. And that's me as a personal trainer. I find it very limited what I can do just do a personal training side of it to one problem I have with treadmills. This is a personal training tip for anybody out there. treadmill, you're only moving forward. You're moving forward bike I guess he couldn't. But you can only go no and or uphill you can't keep can't do that. No, she can't do downhill with a treadmill. So I take a five minute walk for my house to Mr. transplanter others and these hill I can climb up and climb down with a weakness in weights. So I get that walking down and visit different type of distancing. Yeah, that'd be much better work. Then the treadmill and no $50 subscription. And that's just me as a personal trainer. So he does work out. Think about how many people who don't work on a regular basis, they get new year's resolution by treadmill. And what eventually happens to it. It sits there sits there. It sits there. And even even when you're if you do use all types of space with a takeout that's where I'm thinking, no my companies and do I use these companies. So I can see that being a problem with peloton people. And that's just from my point of view, someone else may have a different point of view.
Erwin:
So my friends or like one of my good friends, he he'll only invest in a company that makes money as in like they have a steady stream of profits. He's not willing to get in he doesn't want doesn't care for the growth. He doesn't want the risk either. Okay, so for example, he was doing McDonald's today. So I did McDonald's today. Not not doesn't buy the food. No, I would. I wouldn't. You want to talk about personal training.
David:
I'm not condoning doing this. But just to put things in perspective, I would have a beer for breakfast before it has McDonald's. Because at least I know what to be putting into my body and it's a lot healthier too.
Erwin:
Okay, so would you rather have beer for breakfast or own some shares of McDonald's?
David
I'd rather have the shares Yes. rather not eat that we're not want to eat what the shares are doing lately, but I do McDonald's like to me and I'm not invested in McDonald's. But to me what I see in McDonald's is they do make money long term. And what I've always said this but McDonald's, I asked people how many times you see a McDonald's location go under?
Erwin:
Yeah, have you? I don't know that you mentioned it. I don't think.
David:
I've even worldwide how often you actually see models go under.
Erwin:
Maybe when one tries to Unionise I don't know.
David:
Like even if they did Unionise he probably would Yeah, that'd be just to send a message or not because they're losing money.
Erwin:
And their prices keep going up and alliances are still there.
David:
And one thing you know they have a good business model they taught they got one location at work but you don't see you go from one Methos the other no matter where they are the world is set up still the same. They don't want to work and get caught duplicated.
Erwin:
And they pay 20% dividend.
David:
And then yeah, that's one way to look at yeah baby I don't want this video because yeah, I don't use your products. But yeah, as far as business model goes I don't think they're going bankrupt.
Erwin:
I'm not I don't have washers education folks not advice Yeah, they had earnings today and they turned in the stock dipped a bit so I'd like to I like to look at the chart like the I like the price compared to relative to its history so that's why I just grabbed a couple shares.
David:
I think right now to the they're doing a lot of margin call and right now Oh yeah. A bear Yeah, it's taking them days to do it. So until they're done that I think we're gonna work oh, yeah, right away. I guess gotta try to avoid more than me selling because I'm selling my own loss is what I'm willing to lose not everything at once. And I'm more or less focusing on what the dud companies I don't want to be invested anymore. Take my loss and Solid quarter position and a company I want to deal with.
Erwin:
So David, I want to have you on the show because you're a teacher.
Erwin:
Yes.
Erwin:
And you've taught everything.
Erwin:
Everything!
Erwin:
And all ages?
Erwin:
Yeah. So I'll give it if you don't why I'll give you the history that I do that every time I start. We'll do this on Tuesday with all because they introduce myself to especially students haven't seen me. So if I get great minds or new school, I can say this is who I am. This is work. Ask everybody what schools they came from, if they come from a race seven, eight school somewhere or an elementary school somewhere. I said, Okay, I've been teaching this long. I've taught every grade many different sizes. So first time I actually had my own class for the rest of the year was a place up in Kirksville, which is north Lindsey by boat. 30 minutes north west, this school has 50 had 50 students in it before classrooms. Now one classrooms just for pulling the kids for French in special ed. So I taught a 456, 3456 split for a year. So I had all three grades.
Erwin:
Wow.
Erwin:
Yes, that was interesting. And then I also had side 29. And I had what we call IEP, Individual Education Plans and sometimes specialties at 17. And older. So that was a bit of a busy year, same school, I taught seven eight split that same school, believe it or not folks out there, because this is going back to 1800s. When you hear this, there was a class and that school was JK SK 123.
Erwin:
My God!
Erwin:
And I supply taught in that class year before so what is the five teacher? Anything? No, as far as my own class go, I started with four or five, six split student teaching, that was in Niagara Falls. Niagara Falls, I taught geography grade nine, grade 11 and OAC, which is the use be called grade 13 When they had it, that was a geography world issues course. And then, really from the current field days on it was really a great selling a lot of grade seven classes. Officially I started qualified to teach grade seven, all the way through grade 13. I have since lever and I got my primary qualification I could do JK two, three, officially, the 456 story was because I was a contract worker not permanent, they could put me in place as long as was willing, of course with your early on your career and you don't have your own classroom, you're taking what you get. What he did was as a primary teacher, from JK to three, I never had my own classroom those grades. I went from class to class, I taught some called integrated literacy to having a Catholic board where you teach him oral language was kind of fun. And okay, that's a lot of work. Prep wise for the younger grades. But when I went to class class was so much. I also taught music from gate J K to eight when all rotary which going from class to class. Now this got dumped me one year, I got told next year, we need to teach music. For half of my portfolio. I said that's nice. I said, Well, I hadn't taken music is grade eight. on a technicality. They're trying to find a way around it. Guess what my summer is doing?
Erwin:
Seriously?
Erwin:
Yeah. Yeah, there there are some flaws in our kit into Word as board is that it's like, okay, there's something wrong with that. I'm glad he did. I own a few guitars that I'll like, Wow. I did enjoy it. And now I'm in I've been in a high school for the last six years. That's a boville. That has about 1100 students in there. A little bit different in Korea, we had 50 students. So I typically teach anyone they so far I've taught grade nine Jarvey course the civics course, which is teaching but politics and how the government works and all that. And history for grade 10. So far.
Erwin:
Do you see on the politics? Oh, yes. What's being taught?
Erwin:
Oh, I have to bite my tongue a lot in that class. Just put that way.
Erwin:
Because the curriculum has to be taught the ways that's written?
Erwin:
Yeah. Well, the biggest thing is I can't be teaching my bias.
Erwin:
Understandable. But what are they teaching though? What is supposed to be taught?
Erwin:
Teach what the charter and the Constitution teach about how government started power first past the post system. Okay, now teach a little bit what the party stands for. Okay. Yeah. And you try to stick to third party resources instead of what I think. I know there are teachers out there that will violate these things. I even on my own I think as a teacher if he is impartial as possible, give them the information. They make their own minds up. That's just asking for trouble.
Erwin:
There's no teaching around the efficiency of government. or like, even just polling?
Erwin:
What are you talking about? You said, you said efficiency of government is not an oxymoron?
Erwin:
Nothing like, like, like, Man, I don't even know what to say. They've done something as well. You know, I believe in public education, I believe. Yeah, like health care. Right. I believe kids, you know, from an immigrant standpoint, there's not many better places to come.
Erwin:
I'm not one that rate the best. I do have issues with anyone if you don't. And it's we're one thing I do like with Justin Trudeau says, okay, yes, it is good. But we can always be better. And I do believe that.
Erwin:
Of course!
Erwin:
And that's with any country. And I also have a saying for my competitive wrestler days when they're always trying to change your training methods, I can improve on him and improve. Well, if you're not getting better, you're getting worse. Nothing stays the same. Right? They're going to have but the politics can be Yeah. And then I have a little fun with it, too. Like, they talk about laws and things. And then they get into a category called juvenile delinquent laws. Oh, but the youth justice system. So the way I frame it is, yeah, you know, the justice system, like you know, when you have sticky things at the corner store after school, and then you get caught and your parents bring you in? They're looking at me like what? I said, Yes, kids, I do know, people I grew up with and yeah, their parents turned them in. They couldn't believe that. Well, then you get an idea. Well, parenting has changed too.
Erwin:
Can you comment on how kids have changed these days?
Erwin:
Okay, I think it's the system. I find you're a lot more coddled down together. I believe there's a pendulum Right. Like, probably you and I are growing up. You probably heard we probably both heard her say you should see how much we get in trouble what would happen to us? And we're probably thinking the same thing to me on that one is I think I hear back of my parents day and a hero to beat downs. I never agree with that. But I'm one of those right? But nowadays, it's almost like there's no consequence.
Erwin:
So we've swung far?
Erwin:
We'll have to wait for the fire brigade in metaphor of a happy medium for what I'm seeing. Like, I have to I can get question for just talking to them the wrong way gets the wrong tone. And meanwhile, a lot of times there's no consequence that they swear at you.
Erwin:
No.
Erwin:
I can be I have I've had the already question what you did be able to get them to sweat. I'm like, geez, when I was in high school that was that you got five days off?
Erwin:
I can't recall ever hearing someone swear a teacher in school.
Erwin:
I remember three when I went to high school. And two of them well, not being in prison later. That's the tape but I wouldn't even dream about it. Imagine going home and explain that to mom and dad.
Erwin:
Going to prison for swearing at your teacher?
Erwin:
Oh yeah, no, yeah, we're sorry to your teacher. How can we get suspended? I got swore at my teacher and that wouldn't go over well, that's a little bit different. Like yeah, I find that and I will speak for way too but find more of it's out there like a two week parents be I don't want to say parents shouldn't be their friends. But to bring the friend before the reading to parents. I find that's going on and finding it's not just apparently finding him the system is very very soft. I've been told in elementary school. You're not allowed to keep a kid and after school and elementary unless you got parent permission.
Erwin:
So no attention anymore?
Erwin:
Or you keep going at recess but they just call it they don't care. They can't do lies because that's cruel, unusual.
Erwin:
It's definitely different worlds like my cousin went for basic training because he's part of the armed forces. He is going through the two year aviation aviation technician so it is not fighting right. But I thought basic is basic meaning everyone does does does it and does the same thing. From what he told his experience was you don't even have to finish your push ups when you're punished.
Erwin:
Oh, you don't finish your push ups anymore.
Erwin:
You go to failure you're good you're done.
Erwin:
That's an issue I have to listen to it's almost impossible for students to fail now that's real world especially elementary biggest get bumped and the logic behind is a they don't catch up but they get behind not supposed to catch up Yeah, and to me is I I went to school lots people that held back in elementary they never got held back again. To me that tells me well that's the level you're at not every big progressive the same way. Yeah, we're not all wired equally.
Erwin:
They don't get one back they're gonna struggle the entire time.
Erwin:
About this one experience from teaching grade seven eight. I literally have at times three to five different grade levels sitting in that classroom because you've opened all the way through and you know what to do.
Erwin:
Any attention issues among kids that you notice attention issue is just because I see the ICL, popular devices are these days, you know iPads, that parents cell phones You know?
Erwin:
Yeah. To me cell phones are a new addiction. And not just kids. Yeah, they I see what adults do like, you just how many people just can't put those things down?
Erwin:
I'm dying to see what Tesla's training for now.
Erwin:
I'm scared to look. Yes. Hoping for tomorrow because the end of the week, it's the end of the week. Yeah.
Erwin:
I think this is a lesson for times like this to be getting in, not times.
Erwin:
I do try to get to teach them Cell phone etiquette. Like, in school, at school. Yeah.
Erwin:
Wait, they are allowed phones in school?
Erwin:
Oh, well, this was Doug Ford. I'm not trying to be political here. But the policy, it was a law that was already policy anyways, it's up to the teacher to set their own rules. Is it? Okay, so there's, the problem is there's no consistency. If it's the individual teacher, I think it should be a either province wide, hard, fast rule, consequence, our board or school consequence. So we I do see some issues with different teachers have different policies. So if you're wanting to hurt poor ones, you look like the bad guy, or the bad girl.
Erwin:
Too funny, because even in university, my my year was, when I went to business school, my years, the first year, we were all required to have laptops and have wireless, our wireless cards as well. And I think two years after that, they took away all the while everyone's wireless access while in class. That tells you the spouse a school's decision, right? And then it tells you something about adults being the focus yet, you're saying that provincial governments are putting it on the teachers responsibility, whether or not the kids are responsible enough to have their phone with them.
Erwin:
Yeah. And it's a constant battle. So if you play, you play hard with them on the phones, you look like the bad person is a constant battle. So I did that find out I did the reverse because this this lower my stress a lot. I get some flack from colleagues. But this one because victim with that, I just say I don't get I get tell you what cell phones, you know, the rules, the Prudential rules, and it's all up to me. I gotta tell you what, if you don't disrupt me while I'm teaching, I'm not gonna say anything. Because I said legally, you're always supposed to have these things for educational purposes. So I said if you're not, because that's the biggest, hardest one, the hardest things about the job is trying to do a lesson and you're constantly being disruptive and putting out phones. So it's okay, if I'm teaching and you're not disrupting, I'm gonna assume you're taking notes with that cell phone. Oh, boy, I get through those lessons quite smoothly it out. Oh, really? Okay.
Erwin:
And so I can ask How often does it ring the ring go off?
Erwin:
Oh, no, it doesn't. Because he is texting and doing anything else on them.
Erwin:
That's not good for learning, though.
Erwin:
I get more. Right. It's all Vegas, the me having control the classroom to give that sort of leeway these days. And they say so that means that we're on our phones, you're not gonna say, okay, don't turn around too much. If you don't disrupt the consumer taking notes. Take the hint. That's Hi, Tom. And I got funny has come up with parents to parents, like they do ask a number and really Jimmy So. So. But they're not learning if they have their phone. I said which is true, too. And I said, Yes, I do. I agree. But but they're being disruptive because we're in a phone battle. They're not learning either. So what I tell them I say, Don't worry, just keep an eye on the mark. Because the marks dropped below a certain level i That's a phone call, by see below 60%. Below 50% to fail, but I look at below 60 that's at risk. That's when I have to make a phone call. Okay, what do we need to change here? And that's when a conversation might come up with an individual parent. Well, maybe they need to put the phone away. And if the parent says that now you're getting phone now I say yeah, phones being put away. I got parents blessing. I'm getting back. Oh, well, I've it's picking your battles.
Erwin:
So David, I don't know if it's if it's available to you or you have a lot to teach kids about you know, investing for the future.
Erwin:
Um, if I can weave it into a lesson that somebody fits into the curriculum I can I get leeway. I don't have to stick exact word to the curriculum as long as it's relatable. Yeah, I do have leeway to go on a tangent as long as it relates to topic so this will get back to I'll give the example of history. We all know what happened in 1929 folks.
Erwin:
Explain what happened for people who don't know.
Erwin:
The stock market crash in 1929 anybody's watch any movies with any sort of history of it even the Titanic had that right the end of the movie right Deanna Titanic really won the wealthy guys in the movie. It says he wound up committing suicide after 1929 Because of the stock market crash so that again into it's in the textbook even mentions margin but doesn't explain what margin is for Jamaica. I don't think you had much regulation back then. That's probably not a good margin. But there's a lot there wasn't a lot of regulation 2008 There was a lot of He's a bit more than 1829. So what I explain what margin is, and I compare it to like taking a loan for bank or on a credit card, interest rates are better, that's great. Like Interactive Brokers, you're less than 2%, that's great. Problem is, if you don't meet your margin requirements, they just sell you off and take in, even at a loss. So you know, that's, that's the problem there. So if something tanks in a hurry, which happened 1929, so I try to build them an example with numbers, I say, you got $1,000 in the bank, or you have $1,000 invested, you can borrow 3000 more. Now, that's pretty that's faster, you're allowed. But the problem is, if it drops 20%, so I say Okay, now we're down to $800, it's yours, you're only allowed to borrow 2400, you owe that 600. Now, that difference, I do show that I use an easy to use numbers, I'll say 1000 3000, all zeros. I say you owe that now. So with a credit card, you've noticed a higher interest rate. Okay, you can miss a payment or to make it up later if you're having a tough month. But I'm suggesting that, but that's you don't have that same luxury. If something tanks in the stock market and you're over margin, I explained how what you put in goes down by that amount, you're allowed to be margin on those who have more, and they want the difference. So I even go to the same example. Suppose they start off $1,000, borrow another 3000? Well, if it's dropped 50%, your contribution is 500, you're allowed to buy, or 1500. They want that other 1500 difference. So I tell any take it, you don't have a lot of time to make that. And especially if you don't have it, they take it. And I said here's the thing is how they take it. They sell your stocks, guess what happens? The stock market price, they're worth a lot less, you just lost the money. So that's how I explain what happened part of what happened at point, there were margin calls and 18 points to keep it simple. So bringing a little math, they're not a math teach why I did teach how to teach everything. And if you teach a work degree, grade eight have your own class, he keep pretty much everything. So I have taught math, math, and I do have first year university math Hunter myself, so I'm comfortable that I can give examples like that. Yeah, if I can find in real life examples I can tie into legitimately. Absolutely, I will teach it.
Erwin:
Do you tie in Bitcoin?
Erwin:
I wish I could. But if I get to tie something in, by going to tie anything into a classroom buses, it'd be something I'm comfortable teaching. I'm knowledgeable. But if I'm unsure, I made it this way. Usually, if I'm sure but not 100%, I'll say the best to my understanding cover. Cover myself, because we're allowed we're allowed to say that example where that gets tied in because you're trying to get indigenous curriculum into the regular curriculum. And it's a learning curve for everybody involved because you didn't take that through school. So a lot of it comes up is you know, as much as you can then you say the best of my understanding.
Erwin:
I don't want to learn about Bitcoin. I want to learn about the history of money. And then And then yeah, how do you protect yourself from the problems that we that you and I know are out there, and most of the listeners out there.
Erwin:
Fiat currency? Yeah, I have that can comes in history to even a degree 10 course.
Erwin:
So what do you tell the kids about fiat currency, please?
Erwin:
But really, the more money you print, the less it's really worth. It buys less less. That's where inflation comes in. Now there's a place for it. I think we had to have our Veloz during COVID But you need a certain cycle your money they keep the economy going. They just can't keep printing money on something that's that well, you're really when you print money, it's on something that's of low value on paper. It's something that you can produce forever and ever and so I said the more you print Yeah, you get out of control printing and money. You get out of control inflation. And then it goes right back to pre World War Two Germany. There's very pictures of people using wheelbarrows of money got out of control and but notice it wasn't it wasn't anything tangible like a Bitcoin even because bitcoins it is solid material or gold or silver. The media is based it's printed on something that's not worth a lot of value. So the more you print, the less it becomes less it's worth like teaching the fiat currency.
Erwin:
Did the kids ask how to hedge for currency, for inflation?
Erwin:
No, we don't have gotten that much in depth but there may be things that my look into down the road and make sure I'm clear with that. Teaching it but like a whole like real estate, a solid thing. I don't want to get into silver and gold even though I know gold, more and more gold to be mined. But so limit.
Erwin:
The price is flat last year, you have money printing going on.
Erwin:
Then there's Zimbabwe that has a $10 trillion note.
Erwin:
Need to have a reverse split? Like the link to any zeros you need how much real estate on the bill you need versus like this reverse split it. Yeah. Knock out a six zeros off of it.
Erwin:
I don't know who's saying this. I was on a. I guess I just take one of Omar's course of the weekend and he was someone saying he had he has one of those Zimbabwe bills and he said he likes to keep this obese and feel rich.
Erwin:
Feeling like a billionaire in a restaurant trying to use it.
Erwin:
Truly, He has a $1 trillion note.
Erwin:
I'm buying this restaurant here!
Erwin:
Yes, that's cool. That's called zeros, folks. I do try to relate this other thing do with money, too. Because numbers come up in class a lot. No matter what you teach numbers come up. Oh, it's 1000 1000 10,000 100 numbers come up million. Can I find one to get million billion? Buddhists don't have a feel for the difference between the numbers?
Erwin:
Yeah, like our deficit? Yeah.
Erwin:
I feel like they they treat a billion like as 2 million as thought. When you see it when you say a trillion cells in your body are only talking about Dad, because that will come up with a civics course. Yeah. I tell I say this is where people as this where people get upset, you can't leave any government of this one. Most people believe you pay your taxes for to go to good things we don't use most people don't mind that. It's when you're paying taxes for it gets wasted. Those amounts are. So what I say is okay, so ask him. So are how many cells and by I asked him, How many in days year by a number of days, like not in second? How long do you think a million seconds is? And let them try to guess? And then come it's 11 and a half days? For a million seconds? To give an idea how big a billion is? There's no, how long do you think of billions? seconds as they'll come up with? Oh, a couple of months or? And that's what we come up with? I'll tell it's both 31 and a half years, folks?
Erwin:
Oh, boy!
Erwin:
That's it. That's why that's the blessing I do just to get the idea between the difference between a million and a billion just to get an idea. They are two very different numbers. And then we're trying to say roughly 31,000 years is a trillion seconds.
Erwin:
It's like 1000 times more.
Erwin:
Yep. Jasper. Yeah. I said you have to and then I do it with money, too. I say, yes. That's where I can pick up the go. All governments just matter what straight there. Okay, if I had a million dollars, I didn't have any interest on it. I could spend $50 a day for 50 years for it to run out. That's not a lot. Maybe you don't have any expenses, I guess it's okay. I can have expenses. I said no a billion. I'd have to spend $50,000 a day for 50 years to have to run it. Give them a feel for how big that number is. you'd almost have to be creative to find ways to spend that.
Erwin:
So David, if a student asked you, how do I get ahead in life? Or how do I hit your inflation? What would you tell them like this as soon as outside of class?
Erwin:
Well, I strive to be sure what your data is like I can sometimes touch upon those things. Easy I say get educated on it. The more educated you are doesn't matter if it's money or what it is, the more you know, you can only take away that knowledge. More. Be careful where you get the education from.
Erwin:
Yeah, say say they say have 10 grand saved up some magical way. Different Grandfather, I don't know. It doesn't matter what you tell them to do. Yeah, I'll ask you. Same question for 100,000. And then a million.
Erwin:
Yeah. And I'd be like, huh, I really probably the same answer we get we somebody asked us to talk about speak to an advisor, find a professional or learn or take courses in how to do that.
Erwin:
What would you do? What would you do if you just had 10 grand show up? But I do you care about it though? I don't like him too. It's just gifted money like what the government did? Yeah, I don't think that I don't trust what people will do with it that they really think it through versus free money. Yeah, you save to your hard harder and saved up 10 grand what would you do with it?
Erwin:
Yeah, what I do, what would I do there? What do I say? What do I do with it? Have you probably give me $30,000 more wiggle room my Interactive Brokers account right now. Doesn't need to be using it but at least be there to give me that little wiggle room to avoid to pull over to these Virgie calls. You're done.
Erwin:
So much nicer for your American and we got five times as rather than three times.
Erwin:
Yeah, that's true. Yeah. I believe four to four times again, but don't do Forex. So another course they took. It was Kiyosaki good. guy a couple good things are Kiyosaki though Don't be cheap. That's one thing they harped on. Because you get what you pay for. Kind of like finding an agent. Don't be cheap, but the percentage you pay your real estate agent, because if they said they would get an example, he said, 5% pay him 7% Guess, guess where their focus should be? on you, not the 5% people, they have an interest to get you hired the best price possible. Yeah, so that's, that's one thing I took away from that. I also got to one where it's kind of sad. It happens in Ontario, offering tenants money to move out when they're not paying their rent. Because it's cheaper that way. But I don't know if anyone out there has heard that. One. If you get a bad tenant, it's cheaper just to pay here's $1,000 A year you're up by the end of the week, and there's no damage. Because cheaper going through all the jumping through all the hoops to get them in there. But the sad reality is that is there something wrong with a system where you're rewarding people they're not paying you. But that is one strategy is to learn from there something that can't say it was I got nothing. And of course it didn't pull things that Robert Kiyosaki towards but he didn't have enough to have the confidence to get into it.
Erwin:
So Dave, you mentioned you're six years from retirement, but what's your investment sort of look like going on here on out.
Erwin:
A lot better next few months.
Erwin:
Nobody like strategically What do you do repeatedly?
Erwin:
Strategically is I have to wait see my one rental property in that one rental property in Peterborough? Is that going to sell in May or not I'm going to add another year to the lease pending if we bought it on the rental some of those.
Erwin:
May be silly not to.
Erwin:
They would be I'd be happy they did but but think we guarantee brought by I think in both cases are going to close up both properties take by takeaway earn and guess what I do in the stock options trading or whatever doing stock? That's a light that's gonna be something to do for life even retired. That's really not a lot of time in your day. It's half an hour of your day till we get nervous then do so or what I do silly things and over leverage. But yeah.
Erwin:
If you're not over leveraged, I'd love to see you ratchet down the leverage, David, leverage that get down leverage.
Erwin:
And guess what you're right to do the stress so you get your action up to sleep. And ratchet delta time you're in there.
Erwin:
Did you ever take lease CT versus over course, did you ever take Lee's version of stock hacker Academy?
Erwin:
Lee Lowell?
Erwin:
Yeah
Erwin:
No I haven't.
Erwin:
Okay. Yeah.
Erwin:
Sounds like a good idea though.
Erwin:
Stay on afterwards, I'll tell you about it. But like I shared with you before, like his does his trades are extremely conservative. You still managed to 15% return cash on cash last year.
Erwin:
Okay
Erwin:
I often compare, I like to compare what we do. Like if the stock hacking was real estate, this would be private lending in terms of because because it's just as an analogy, that's how, at least how I just think of it in my head. Because it's because we focus on cash flow. So like Barna never never doubt in my opinion that owning a piece of real estate in your own name or in a corporation you own is the best investment you make the most money that way. Right? But no different than private lending people are willing to give up upside for cash flow. Right? Right. So that's why that's why I think of stock hacking. Right? It's meant for cash flow generating cash flow. Yeah. And again, like we generally being extremely conservative last year 15% return on cash on cash based on the trades that we gave to our beginners last year. So ask them not predict the future none of this is advice but that's you couldn't get more boring than his than his stuff.
Erwin:
Well, boring his works and good with it. So just for the record for like say is supposedly looking at an early retirement to what not happy now for me to walk it has been double what I make my day job because that gives me the cushion that means that a bad year I still got back my day income and oh and I will be doing a little differently because they do have that pension at the end of the road. I've probably just taken a leave absence here and they're painted my picture because you want that guarantee. And then yeah, your lifestyle.
Erwin:
Sounds pretty good man. Six months off at a time.
Erwin:
Yeah 50% So quit in the first five years for some reason.
Erwin:
No it's not the easiest job for her. Yeah
Erwin:
It's very takes on like I bought I was ready to boot 2015 I was looking to do career as like, that's what I got my personal training, paperwork, and in my situation work change. But I just found two grades in particular, very draining. I've been doing 14 years. So I would say 77 hits training rates. I find them the most draining Oh, yes. I mean, not everybody maybe get maybe that's just for me, right. You have to find what works for you. Right or some people think Have you want in high school? So I don't find high school. I know far I've been there six years, I joined a gig. I do pairs, I'll give you the advantages for me with high school for seven, eight. If I got a rough bunch, I always see him once a day, not all day. So you got a little bit of respite, there. And then it was great. Seven, eight, you got him all year. He's got you one semester of here. And because there are strategies in place, just like any job, your strategy is in place, how to manage it. I do find once the students get used to your strategy, you're done. With all you do once a day and per semester, you don't get used to it. I find the strategies work long enough. It can be I wish I'd never have to do this. But it does have have definitely there's a door to somebody. It's a lot easier to do in high school than any younger, for whom we had to school to you probably probably no see, we went for elementary High School Discipline pick up a little bit, a lot, because the bigger your old age no better. I also like the high school because it's all subjects that are my areas of expertise instead of teaching everything. Yeah, but that's not my gigs, not for everybody, either. I bet there would be some kindergarten teachers would not want to step foot in my classroom. So hopefully they can avoid it. I would never want to qualify teach kindergarten. I've done it. I love it when I go on there once like the once a day or three different kindergarten classes in a day. Because the kids thought it was funny to sing and answer them and all that they thought it was great. Give me hugs at Christmas and but the amount of prep and planning work is unreal. You kiss your evenings and weekends goodbye for most of the year. A lot of prep work.
Erwin:
Alot of the side that the general public doesn't see.
Erwin:
Right yet. No, no, you don't. That's yeah, that's another part of the gig is when you get the backlash. And that's not the most they see what they want to see. Perhaps a lot of jobs, I see a lot of jobs or look rosy from the outside look at it. And I'll even say that, like I'll give another example. I think this profession police officers must just drive around, drive around go to Tim Hortons. I look at it because I I looked at I've been interviewed for the police officer before to before as a teacher. I look back I was like, think about the people you deal with when you do have to do Yeah, Delphi has had a reason you you see them in the cruisers in a Tim Hortons because they protect you from what they really have to see. It's not like a steady job or it's the same piece for finish this stuff out and stuff happens it Yeah, that's a that's an example of they see the pay the benefits. We don't see a goes with it, or you don't see minimum requirements. Yep. So things. Yeah, I would say looking in it always looks different.
Erwin:
So we're running out of time. Thank you so much again for doing this. In other words, you want to share with the listener, the wisdom and the lessons you'd like them to know.
Erwin:
The first one. I think we know where this was going to be because I guess I hit with it because I didn't listen. And listen as a kid either. Be careful a bargain. I know. And I know there's gonna be less they're gonna do it anyways. So body universe, I thought I figured out because I had it with a seasonality. So santa is coming. And guess what all the rules change? That's one thing and finding it there in that market. No matter what the predictable rules are probability actually probability rule. There's nothing guaranteed and we all found out since November. Yeah, be careful. Don't just extend it tomorrow. Don't maximise your margin, only go half the margin. Because if if you get a 50% drop, like what we've seen in three months, you're 50% margin you're now getting called. So my example is where I'm probably going to be wind up being a safe, easy numbers to work with. If I got $100,000 to work with, I'm using 120,000 not 300 or 4000 That's so very safe level. Or if I had $50,000 My own to play with. I am maybe using 60,000 to be safe that's perfect big because it's a big lesson just learned right now and I still remember you were at the first date of course remember you've been there for a while. I remember one guy came up he wasn't doing any training but what do you say but he just but he save a business business is going to kick your ass yeah I don't remember that guy spent a while he Larry came up there yet he wasn't in the trade he just talked to a business in general your if your have your visit is going to be is going to beat you down. It's going to kick your ass he used those words. And guess what? That's just that now. What dealer gets beat? No, that's going to happen. Learn from move on. Learn from move on abscessed deaf? Definitely.
Erwin:
If you're going to do either real estate, investing or trading as I do, research, get the tools first the tools and and get proper teachings in it. I'm not giving advice for who to go to, I guess get get my experience who I went with, but research the companies or the people that are delivering these things, because they're not all the same as very easy to do right now like you simple Google search, you put a Google search on a company What's your rating and make sure there's a lot of ratings so you see someone with a 4.5 and a five rating there's only eight ratings that's not good enough that's not really that yeah, get three it's not hard and see what people are saying. What's the consistency that's actually how I went with Rockstar real estate to sign up now can you buy me till tomorrow after make decision went home did a Google search and that okay 4.8 to five 400 ratings Okay, that's telling themselves do that. Do your back do background check add Don't be pressured into by to day. One days people teaching or groups teaching if they can't wait until for give you time to look into them. What does that say about product they're confident in their product. A weathers Orion. Whether it's Rockstar real estate, for example, Robert Kiyosaki at their confidence in their product, they will give you the time to go look into it. Because they'll say here's one key thing oh, here's a discount if you sign up now. Yeah, asking to buy 24 hours. There's no reason they can't give you that they have that confidence in their company. And they're that good. That maybe this device off top my head from my experience.
Erwin:
And David, I asked you this before we were recording the thoughts on Bitcoin.
Erwin:
Bitcoin, I'm very new to it. I recently went to a seminar by Greg Fox who's big on it. So very little over the top is presentations that's fine but people who have passion anybody see my posts I stopped anybody who see my poster stock stock out of your 3d No already. So that will tell you something there but it's more of its passion. And yep, but look at the what's the meat potatoes? Is there actually information come there? And he swears by Bitcoin, like when it was worth $60,000 He swore he swears up now and it's going to hit 2,000,001 day. And he brings up be it currency, the fiat currency, inflation. You need something solid, some tangible there's already two countries that are using Bitcoin as our official currency. That's his day. But then of course, a third doubt we had dropped. But what did we get into in the last three months that haven't dropped so far?
Erwin:
When it was the 60,000? Was it the summer or is it November?
Erwin:
Just before November, it was 60,000.
Erwin:
Right! So then it's halved since?
Erwin:
Yeah. So then I went with Yeah, the company I'm currently dealing with is ticker name is Mara, which is short for marathon. Again, bitcoins another funny Bitcoins. Funny is which company does mining This is the one to go with. Is it says new?
Erwin:
What yeah, that's where this goes.
Erwin:
We'll see where this goes. Yeah, exactly. So yeah. So they're cool. And yeah, I'm still got a lot of learning to do.
Erwin:
Yeah, I've said this everybody.
Erwin:
Thought so. Fun to earn nature. You asked? Got any thoughts on our prime minister?
Erwin:
No, no, I don't know what he thinks. So David, thanks again for doing this.
Erwin:
Oh, anytime. It was a pleasure.
Erwin:
Yeah, pleasure, hopefully stocks rally, but I've given up hoping on anything now. Just play the handles.
Erwin:
That's what I'm doing right now. Believe what I see is for about right now.
Erwin:
If you dip, you know, that's the time to buy.
Erwin:
Yeah, exactly.
Erwin:
Yeah, because I'm trying to scrape together some money to buy some more Bitcoin myself.
Erwin:
Okay. All right.
Erwin:
Thanks very much, David.
Erwin:
Before you go, we really had time in the interview, but I wanted to ask David if he'd share some lessons during this most recent during the downturn in stocks and cryptocurrencies for brevity, and reduced use of technical terms I've had to paraphrase. But before I get into that, for context, David is a student of the beta version of stock hacker Academy, which predates the current version that we deliver, in partnership with Best Selling Author Lee law. Hence David follows the trades of the gentlemen who delivered the beta version versus i My style is more to follow Lee. Hence our strategies will differ so David lessons First, be light on margin. Using margins like borrowing to invest. As we all know, using leveraged funds is like a double edged sword. If your returns go up, it goes up higher if your leverage and when they go down, they go down faster because you're leveraged. Second, don't trust the big players out there who will move the market and look to prey on small retail investors like us sell credit only on stock that you believe in at a price you want to own it unless you can afford to own it. Third, work slowly during volatile times in a falling market size, the risk of each trade based on the risk of the underlying stock. For example, the risk profile is not the same of the company Apple versus Elon Musk's Tesla, you get paid more premium for more risk, but exposure to risk is much greater should the stock fall and finally not deploying all capital at once on a single stock. Hope that helps.
Erwin:
Before you go if you're interested in learning more about an alternative means of cash flowing like hundreds of other real estate investors have already then sign up to my newsletter and you'll learn of the next free demonstration webinar I'll be delivering on the subject of stock hacking. It's a much improved demonstration over the one that I gave to my cousin chubby at Thanksgiving dinner in 2019. He now averages 1% cash flow per week, and he's a musician by trade. As a real estate investor myself I got into real estate for cash flow but with the rising costs to operate a rental business, it's just just not the same as it was five to 10 years ago when I started there. Forget that cash flow reduces your risk. The more you have, the more lumps you can absorb. And if you have none, or limited cash flow, you're going to be paying out of your pocket like I did on a recent basement flood at my student rental in St. Catharines. Ontario. If you're interested in learning more register for free for my newsletter at www.truthaboutrealestateinvesting.ca. Enter your name and email address on the right side. We'll include in the newsletter when we announce our next free stock hacker demonstration. Find out for yourself but so many real estate investors are doing to diversify and increase our cash flow. And if you can't tell I love teaching and sharing this stuff.

To Follow David:
Facebook: https://www.facebook.com/david.rahilly
HELP US OUT!
Please help us reach new listeners on iTunes by leaving us a rating and review!
UPCOMING EVENTS
You are the average of the five people you spend the most time with! Build connections with empire builders and trailblazers at our iWIN events.
BEFORE YOU GO…
If you're interested in being a successful real estate investor like those who have been featured on this podcast and our hundreds of successful clients please let us know.
It is our honour to give back and educate others on how we build cash flowing real estate portfolios using all the best practices shared on this podcast, from the lessons of our hundreds of clients and of course our own experience in owning investment real estate.
If you didn't know already, we pride ourselves on being the best of the best real estate coaches, having the best property managers, contractors, handy people, cleaners, lawyers, accountants, everyone you need on your power team and we're happy to share them with our clients to ensure your success. 
New investor or seasoned veteran investor, we can help anyone by providing our award winning coaching services and this isn't all talk.
We have been awarded Realtor of the Year to Investors in 2015 by the Real Estate Investment Network, 2016 by the Canadian Real Estate Wealth Magazine and again in 2017 because no one told the judges no one is supposed to win the award twice but on merit, our peers deemed us as the best.  In 2018, we again won the same award by the Real Estate Investment Network.
Hopefully being the most decorated team of Realtors in Ontario will make you consider us for your first or next real estate investment.  Even if you don't invest in our areas, there's a good chance I know who would be ideal for you. 
I've been around for a while, some Realtors are talented at servicing investors there are many with great ethics.  The intersection of the two, talent and ethics is limited to a handful in each city or town.
Only work with the best is what my father always taught me.  If you're interested, drop us an email at iwin@infinitywealth.ca.
I hope to meet you at one of our meetups soon.
Again that's iwin@infinitywealth.ca
Sponsored by:
Infinity Wealth Investment Network – would you like to know how our investors returned 341.8% on positive cash flowing real estate over the last five years? On average, that was 68.4% per year.
Just imagine what winning in real estate could do for you.
If you would like to know how we did it, ask us how by calling 289-288-5019 or email us at iwin@infinitywealth.ca.
Don't delay, the top markets we focus in are trending upward in price, so you can pay today's price or tomorrow's price.
Till next time, just do it because I believe in you.
Erwin
Hamilton, St. Catharines and Toronto Land Development, Real Estate Investor, and soon to be builder.
W: erwinszeto.com
FB: https://www.facebook.com/erwin.szeto
IG: https://www.instagram.com/erwinszeto/
https://www.truthaboutrealestateinvesting.ca/wp-content/uploads/2022/02/David-Rahilly.jpg
630
1200
Erwin Szeto
https://www.truthaboutrealestateinvesting.ca/wp-content/uploads/2017/06/TruthRectangleLogo.png
Erwin Szeto
2022-02-28 17:27:11
2022-03-03 18:00:15
Civics Teacher Investing in Real Estate & Stock Options W/ David Rahilly