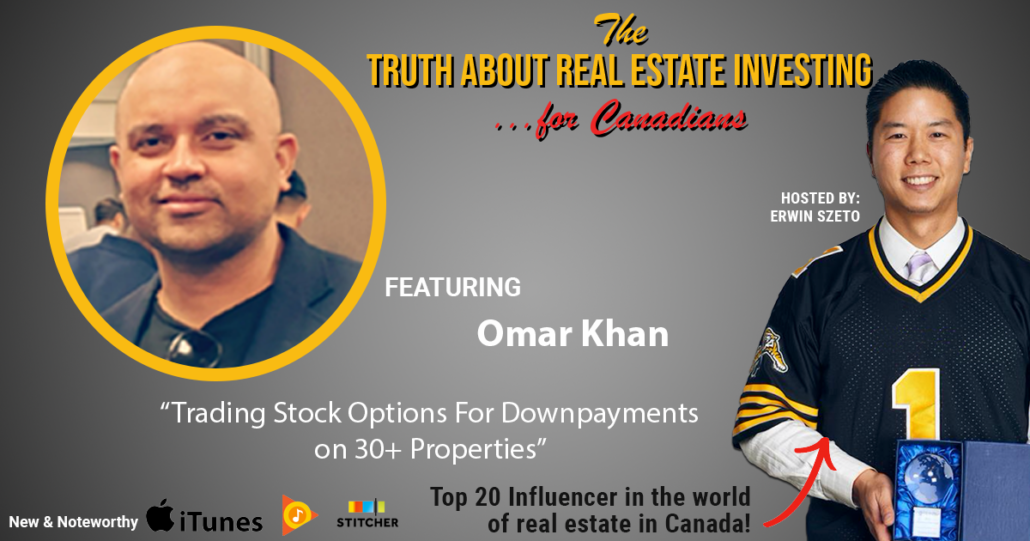 Hello Wealth Hackers and welcome to another episode of the Truth About Real Estate!!
The point of this podcast is for successful investors, primarily in real estate to share their stories and tactical advice on how to be successful.
I'm getting a lot of messages. Thank you to everyone who wrote in, about Matthew Todman, our guest from two weeks ago. He was also on the Facebook Live I did with Omar Khan, who is this week's guest. They are both real estate investors owning 10 and 30+ investment properties respectively, but they're here sharing how the earned six figures a year, in only 30 minutes per day, from their smartphones, by trading stock options.
More importantly, using this virtually unknown strategy they consider to be low risk is how they raised the majority of the down payments for their investment properties.
That's what lead them to be invited on this show. Raising down payments is possibly the #1 question I'm asked by listeners of this podcast, especially you younger listeners. I am bringing you an alternative means to earn passive income and invest to create more down payments for investment in real estate. Most of what is taught out there is to raise the funds with other people's money via private money or joint venture, often offering half the ownership in the property. That all works too. Here is just another option (no pun intended), plus I believe we could all use more cash flow and I'm a big believer in multiple streams of income.
I know some of you hard core real estate, anti-stocks folks may disagree, but keep an open mind. Here's a message from a friend of the show, super successful real estate investor, and one of the most successful people I know personally. He's written three books on the subject of real estate, I own and recommend them all. His episode Double Your Income is the #2 downloaded episode on this podcast  and his name is Quentin Desouza, and here's what he has to say:
Trading Stock Options For Downpayments on 30+ Properties with Omar Khan
Omar is the co-founder of Theta Trading Corporation and an accomplished stock options investor. He left his corporate day job in 2012 to be a full time investor in both real estate and stock options. Omar Khan's day job is spending 20-30 minutes a day trading options, yielding him six figures annually in cash flow from his smartphone. This income formed the bulk source for Omar's down payments to acquire 30+ properties for 100+ doors. 
Disclaimer: This service is provided to you for informational purposes only and is not investment advice to you or any other person. We are describing the investments we have made for ourselves and is reflective of our own circumstances. Your circumstances are different and any discussion here is not intended to be and must not be considered to be a recommendation for you to make the same investment(s). Consult an adviser or dealer licensed in your jurisdiction before making any investment decision.
This past weekend was the inaugural Stock Hacker Academy and I am personally excited to apply what I feel is a low risk strategy I'd never learnt before.
With that out of the way, I give you Omar Khan.
To Listen:

To follow Omar:
Instagram: https://www.instagram.com/thetatrading
Derek Foster on "The Hour": https://www.youtube.com/watch?v=mq1mkP7tLqY
For anyone interested in seeing a live and in person presentation on how Matthew and Omar from Mississauga, Ontario earn six figures in only 30 minutes per day trading stock options from their smartphone, their next public is on November 9th at the Wealth Hacker Conference at Toronto Congress Center.  Do yourself a favour and save $40-50 by purchasing your ticket today as we have already sold out two blocks of tickets and raised prices three times. www.wealthhacker.ca
Your promo code as a fan of this show is thetruth one word. Please write that down: wealthhacker.ca promo code thetruth one word.
Stocks is one of the three pillars to building wealth, you don't want to miss this opportunity to gain a new skill. Get your tickets today and save money before the next price increase. 
Do you have questions on wealth hacking? The shortest path to financial success or questions on investing in: houses, basement suites, coach houses, syndicated mortgages, private equities, public equities, sandwich leases, lease to own, student rentals, AirBnb, wholesaling, off market deals, house construction.  I'll admit when I don't know and will dial a friend for an answer.  
If you have a question, we don't have any fancy means to receive questions, so if you enjoy the show and want to leave a five star review on iTunes, your question will definitely make its way to me and I'll answer your question on a future episode of this podcast.
I'm also grateful for all your positive comments and fans of this show. It is my view that life would be a bit better for everyone if we all could make and save a bit more money at the end of the month and if you make a lot more then your family and community would benefit even more and nothing would make me happier.  Until next time, my name is Erwin and I am a wealth hacker bringing you the truth about real estate investing for Canadians.
Sponsored by:

TitanInvestmentRealEstate.com – would you like to know how our investors returned 341.8% on positive cash flowing real estate over the last five years? On average, that was 68.4% per year, just imagine what winning in real estate could do for you. If you would like to know how we did it, ask us how by calling 289-288-5019 or email us at admin@mrhamilton.ca. Don't delay, the top markets we focus in are trending upward in price, so you can pay today's price or tomorrow's price.
Till next time, just do it because I believe in you.
Erwin
Hamilton, St. Catharines, Toronto, Land Development, soon to be builder and Real Estate Investor
W: erwinzeto.com
FB: https://www.facebook.com/erwin.szeto
IG: https://www.instagram.com/erwinszeto/

http://www.truthaboutrealestateinvesting.ca/wp-content/uploads/2019/09/Omar-Khan-1.png
630
1200
Erwin Szeto
http://www.truthaboutrealestateinvesting.ca/wp-content/uploads/2017/06/TruthRectangleLogo.png
Erwin Szeto
2019-09-13 19:09:34
2019-09-13 20:13:13
Trading Stock Options For Downpayments on 30+ Properties with Omar Khan