Hello Halton Real Estate Investors!!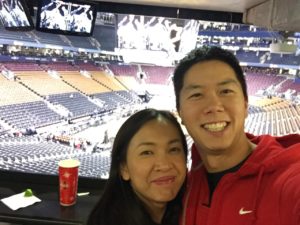 Thank you to Butler Mortgages for hosting us at the Air Canada Centre in a catered executive suite for a Toronto Raptors game!!  Dave Butler goes all out when treating us at Rock Star Real Estate, as the catering menu included vast amounts of: cocktail shrimp, sushi, ribs, wings, cheese, veggies, pizza, desserts, and an open bar. The game starts at 7:30 but, in my humble opinion, to properly enjoy a catered executive suite is to show up when the doors open at 6:30 to maximize eating time 😃. It was a great time, as it always is when the Rock Stars get together. I'm a Raptors fan, so I sat in my seat and just ate until half time. I was so full, I said no to dessert. Summer isn't too far off either, so I have to be ready for swim suit weather. But we did take home two stuffed takeout containers full of wings and ribs, plus another two whole pizzas. It was all going in the trash otherwise. Tammy Ditomaso was too shy to take the pizza, so I walked out with it, but Tammy took it home. I wonder if she reads my blog… Hahaha!
---
Creative JV Structures for More Joint Ventures with Mandy Branham
Mandy Branham, Queen of JV's, has made mistakes along the way to perfecting her joint venture strategy. But that's OK, as she's here to go over her mistakes so we can learn from them, not repeat the same mistakes, and buy more real estate via joint ventures. Mandy has got her JV and investment system worked out, resulting in 15 new properties in 2016, and another 16 new properties in 2017.  If you'd like an idea of how Mandy invests with other peoples' money and credit, then have a listen AND Mandy will be live and in person as our guest speaker at the March 24th, Halton REI event, so make sure to sign up at
www.HaltonREI.ca
 to receive our meeting invites.
Without further ado, I give you Mandy Branham, Queen of JV's.
Joint ventures are typically a partnership; the coming together of two parties who bring different skills, experience, resources, and capital to the partnership. The most common arrangement is Partner A does all the work, puts the deal together, manages the property or the property manager. They are responsible for the day to day. Partner B provides the capital for downpayment and sometimes for the renovations and/or the credit for the mortgage.  There are many ways to joint venture and Mandy has most of the bases covered.
Show Notes:
Favourite content: Jim Rohn, Tony Robbins, Dr John Dermartini, Success Magazine
Till next time, Just do it, I believe in you.
Erwin
Hamilton, St. Catharines, Toronto Real Estate, Land Development Investor
http://www.truthaboutrealestateinvesting.ca/wp-content/uploads/2018/01/Mandy-Branham.jpg
246
246
Erwin Szeto
http://www.truthaboutrealestateinvesting.ca/wp-content/uploads/2017/06/TruthRectangleLogo.png
Erwin Szeto
2018-01-30 22:12:00
2018-02-01 08:14:13
Creative JV Structures for More Joint Ventures with Mandy Branham